5 Ways to DIY Your Own Yoga Sanctuary at Home
You won't even have to leave home to achieve that same sense of bliss you get in your favorite yoga studio.
Heading out the door? Read this article on the new Outside+ app available now on iOS devices for members! Download the app.
There's an overwhelming sense of calm that washes over you the moment you step inside your favorite yoga studio. Maybe it's the scented candles or the smiling Buddha statue greeting you at the entrance. Or maybe it's just that less really is more, at least when it comes to creating a space for spiritual awakening.
"The best yoga spaces are sparse and calm," says Jennifer Jones, Principal Designer at Niche Interiors in San Francisco, a company that specializes in eco-friendly design. "Sustainable design focuses on preserving our planet's limited resources by utilizing materials that are rapidly renewable as well as minimizing waste."
See also DIY Project: Craft Intention Cards for Your Home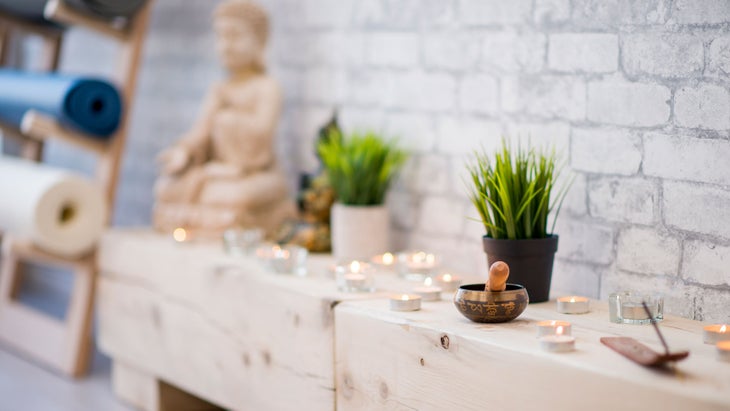 How to DIY a Yoga Sanctuary
According to Jones, you don't even have to leave your home to achieve that same sense of bliss that you get in the yoga studio. Here are her top five tips to create an inexpensive yoga sanctuary at home.
1. De-clutter.
"Only include items that are functional or beautiful. Remove anything that doesn't serve either purpose and design your space to suit your specific needs. This will instantly remove distractions, turning your room into a blank canvas." Get more help paring down in Clearing Clutter for a Simpler Life.
2. Choose calm colors.
"Opt for muted, cooler tones or warm whites. They recede rather than demand full attention. And be sure to use non-toxic paint such as Benjamin Moore's Natura line. Yoga cultivates both mental and physical health, so by choosing eco-friendly products, you can feel good about nurturing yourself and the environment."
3. Set the mood with lighting.
"Don't underestimate lighting. It's incredibly important and has a huge impact on your mood and well-being. If possible, install dimmer switches on overhead lights and purchase lamps with a 3-way switch. Lightweight cotton drapes are also a great option to help with light filtering and privacy, as well as adding softness to a space."
See also How to Build a Home Practice
4. Accessorize with intention.
"Use scented candles, incense or aromatherapy spray to create a welcoming feel to the space. Consider reserving a small shelf where you can place an object such as a candle, statue or flower to represent your intention." Find more ideas in How to Create an Inspirational Home Altar.
5. Hunt for treasures.
"Head to your local flea market, thrift shop, or salvage yard to hunt for treasures. Try searching for unique storage solutions, such as an antique trunk or chest to house your yoga mats, props, and blankets. Keep an eye out for interesting sculptures or wall art that could serve as a focal points and keep it simple and intentional."
Get more tips on creating a home yoga sanctuary in A Room of One's Om.
—Dana Melter Zepeda