Looking for a Healthy Snack? Start Adding Nuts to Your Diet
Lower your cholesterol by the handful by eating nuts as a healthy snack.
Heading out the door? Read this article on the new Outside+ app available now on iOS devices for members! Download the app.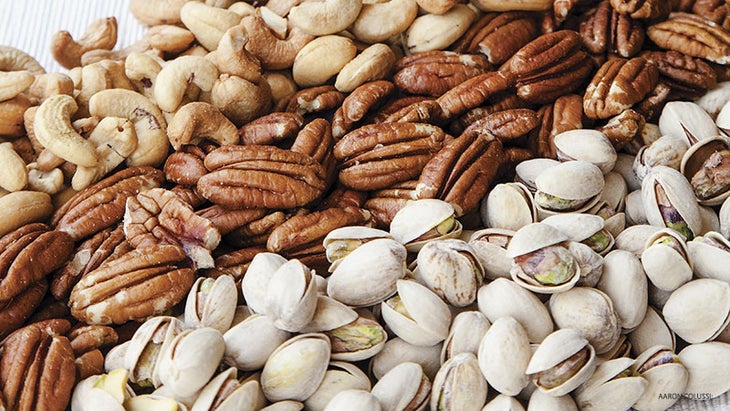 Lower your cholesterol by the handful by eating nuts as a healthy snack.
Roasted, toasted, soaked, or served raw, a handful of nuts is a superfood snack that's hard to beat. Nuts of all varieties are chock-full of satisfyingly rich flavors, healthful fats, protein, and fiber. And in a recent review of 23 studies, scientists confirmed that eating nuts on a regular basis—anywhere from 1.5 to 3.5 ounces five times a week—could lower total cholesterol by between 2 and 16 percent.
One of the darlings of the nut world is the almond, a favorite among nutritionists for its high levels of the antioxidant vitamin E. A study published last year in the Journal of Nutrition showed that eating three ounces of almonds a day might help prevent chronic diseases by reducing oxidative damage. That's the kind of damage you can get from, say, breathing polluted air, which has been linked with the development of cancer, heart disease, and Alzheimer's.
See also DIY Almond Milk? Finally—What to Do With the Pulp
The study noted that whole almonds seemed to have more preventive benefits than vitamin supplements. "We don't know whether it's the good fats, the proteins, the antioxidants, or a synergistic effect of this mixture," says study author Jeffrey Blumberg, also director of the Antioxidants Research Laboratory and professor of the Friedman School of Nutrition Science and Policy at Tufts University. "But when we looked at the effect in the whole food context, we determined that eating almonds was more beneficial in reducing oxidative damage."
Not all nuts pack such a powerful punch, but each variety has its own unique nutritional benefits to help you stay healthy. Toss a few in your salad, dessert, pasta, and cereal, or enjoy a scoop for a protein-rich snack in a small but tasty package.
The Nutrition Benefits of Nuts
Almonds
Nut (Serving Size): Almonds (1 oz/about 23)
Good Because: Loaded with calcium and antioxidants.
Who Knew? One serving has nearly half the recommended daily allowance of vitamin E and as much antioxidant power as a cup of green tea.
Hazelnuts
Nut (Serving Size): Hazelnuts (1 oz/about 20)
Good Because: Rich in immunity-boosting antioxidants and heart-healthy monounsaturated fat.
Who Knew? Hazelnuts are also high in tryptophan, the amino acid that's the precursor to sleep-inducing serotonin and melatonin. Eating a few before bed might help you fall asleep.
Pistachios
Nut (Serving Size): Pistachios (1 oz/about 45)
Good Because: Packed with the antioxidants lutein and beta carotene, which reduce cholesterol.
Who Knew? One study concluded that eating three servings a day could reduce the effects of physical and mental stress on blood pressure.
Benefits of Walnuts
Nut (Serving Size): Walnuts (1 oz/about 14)
Good Because: The most significant nut source of omega-3 fatty acids.
Who Knew? Omega-3s boost the immune system and promote heart health. A half serving contains a little more than the recommended daily value.
Benefits of Pecans
Nut (Serving Size): Pecans (1 oz/about 20)
Good Because: Great source of fiber and antioxidants.
Who Knew? One serving has the same amount of fiber as a medium-size apple.
See also3 Tree Nuts to Add to Your Diet