Fight Fat on Your Mat
A regular yoga practice increases mindfulness, which has proven an effective tool for weight loss.
Heading out the door? Read this article on the new Outside+ app available now on iOS devices for members! Download the app.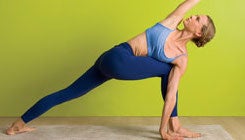 There's no question that yoga practice builds body awareness and acceptance, but yoga as a sure-fire path to weight loss? Until now, doctors and scientists weren't convinced. But a study from the Fred Hutchinson Cancer Research Center in Seattle may make them sit up and take notice.
Researchers queried healthy men and women about their weight history and physical activity from the ages of 45 to 55. It turned out that study subjects who were overweight and did yoga at least once a week had lost five pounds over the 10-year period, while their non-yogi counterparts had gained eight. (Yoga practitioners of normal weight did tend to gain weight over the years, but people who didn't practice gained more.)
The reason? Lead researcher and Anusara Yoga practitioner Alan Kristal believes that it's not the number of calories that yoga burns, since only the most vigorous yoga practice will burn enough to trigger a weight loss. "But yoga builds mindfulness," says Kristal, who is also a professor of epidemiology at the University of Washington School of Public Health. "You learn to feel when you're full, and you don't like the feeling of overeating. You recognize anxiety and stress for what they are instead of trying to mask them with food."