Is There Anything Adriene Mishler Can't Do? The Creator of Yoga With Adriene Announced Her New Manduka Collection
Add "yoga collection connoisseur" to the YouTube yoga teacher's resume.
Heading out the door? Read this article on the new Outside+ app available now on iOS devices for members! Download the app.
You may have stumbled across her name while looking for a free practice online. Or maybe while in search of a quick flow. With more than 11 million YouTube subscribers and 1 billion views, Adriene Mishler is impossible to miss when it comes to online yoga. Mishler, the face behind Yoga With Adriene, is one of the most popular yoga teachers on YouTube (along with her adorable pup, Benji).
And this month, she marks 10 years of creating yoga content for the video platform. Last weekend, Mishler announced a forthcoming partnership with Manduka in her email newsletter. "Designed and made thoughtfully in tribute to an international community of over 11 million people… and pets," she wrote. "This collection is limited, and intended to live beautifully in your home and your practice space." She also teased the launch of it on her Instagram, previewing a corner of the mat imprinted with her name. (You'll also spot Benji's paws resting on top of it.)
The limited-edition collection, named Manduka With Adriene, is available for purchase beginning today, September 1. It includes a PRO Balance Yoga Mat ($139), a PROLite Reversible Yoga Mat ($109), a rectangular bolster ($99), meditation cushion ($85), foam block ($25) and cork block ($25).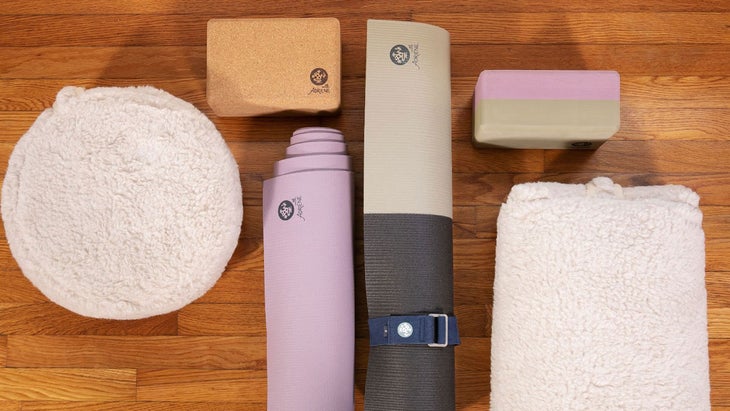 Mishler's love for Manduka mats is well-known. In an interview for Martha Stewart Living in 2020, Mishler shared her love for the Manduka Pro and Pro Lite. When it came to her own collection for the yoga brand, Mishler wanted to create minimalist pieces, as well as a hand-poured two-toned mat, she said in a press release. Beyond the aesthetic factor, the environmental impact of this product is significant, as it's hand-poured in a zero-emissions facility. Additionally, the Pro mat, one of our top yoga mats of 2022, is a closed-cell mat, eliminating the possibility of air or moisture seeping into the mat. This design contributes to its long-lasting quality.
Even though Manduka With Adriene may only be available to purchase for a limited time, we feel comfortable saying, based on our experience with Manduka, that these products will be with you long past another 30-day challenge. 
The rise of Yoga With Adriene
Mishler rose to celebritydom during the pandemic, as people pivoted their practice from in-person classes to at-home YouTube sessions. Since March 2020, she has gained over 5 million subscribers, according to Social Blade. During times of uncertainty, her energetic voice and adorable pup were exactly what many of us needed.
Her 30-day challenges, a popular collection on her channel, are full of comments about the positive impact of Mishler's virtual teaching. "Thank you for saying 'the hardest part is showing up,' because today that was the hardest part. This is why I come back, you're so real and validating," one user wrote. "Adriene, You are a miracle worker," added another "That was the most beautiful session….so peaceful, so optimistic, so reassuring. I simply LOVE spending time with you….each morning. Big hug!"
Mishler's ability to connect with such a large number of students is one of the reasons why Manduka pursued this partnership. "We are honored to partner with Adriene who is not only a teacher and a mentor in the yoga space but someone who acts as a friend to everyone who tunes into her classes," Nicole Carbone, Manduka's global marketing director, said in a press release. "She truly embodies the practice of yoga."