Combine Your Love For Yoga And Travel On A Budget
Tried and true tips for the people who love yoga and travel on a budget.
Heading out the door? Read this article on the new Outside+ app available now on iOS devices for members! Download the app.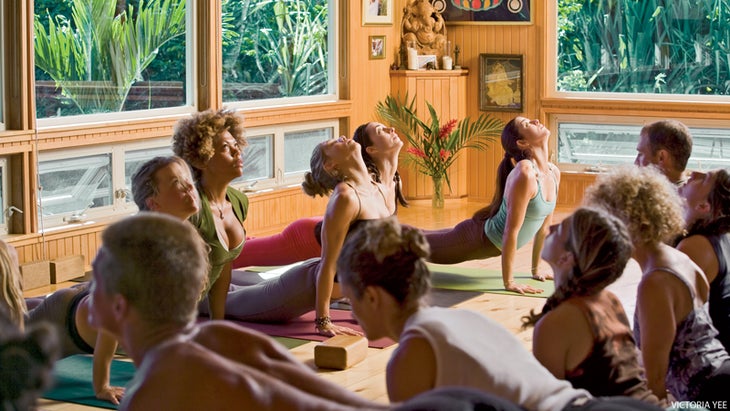 Tried and true tips for the people who love yoga and travel while on a budget.
It took a while to recover—fiscally more than physically—from my first yoga vacation. My best-laid plans did not cover the unexpected long-term effect of extra expenses, but I quickly learned—just like with my practice—that experience is a great teacher. I know now how to gauge the finances of a restorative getaway and return with both my energy and checkbook in balance. What's the secret of cost-saving success? First, budget how much you would like to spend—and how much you are willing to spend—and then let the following travel sutras guide you.
Find Your Way There As Cheap As Possible
Getting there may be half the fun, but it's also frequently half your overall cost. If you're flying, opt for early purchase, special fares, and budget seating. Popular sites to compare travel and airfares on the Internet include Travelocity.com, Expedia.com, and Frommers.com.
According to Frommers, the lowest-priced domestic air tickets to almost every major city or area in America is likely found with Southwest Airlines (800-435-9792; or www.southwest.com).Discounted flights can also be found at Cheap Tickets, Inc. (800-377-1000), Fly Cheap (800-FLY-CHEAP), and 1-800 AirFare (800-AIR-FARE). Many of the major airlines offer Internet specials when you book directly with them.
Fares to busy destinations are often available at lower rates. For example, flying into Los Angeles is almost always cheaper than a smaller market like Santa Barbara. Also, keep in mind the distance between the airport and the retreat. Some out-of-the-way spots require additional travel time, which usually means extra expense too. Is your destination within driving distance? If so, bring along some friends and split the gas.
See also Chicago Airport Adds Yoga Room
How To Make Sure Your Retreat Includes A Room
After transportation, the three big cost considerations in pricing yoga vacations are lodging, meals, and classes. Some retreat prices are all-inclusive, while others vary widely. Rooms at Inner Harmony Yoga Retreat Center near Cedar City, Utah, for example, range from $625 to $1,295. Pricing rooms can sometimes be like buying a car: The sticker price is never the same as the final amount. Always inquire what the price of admission includes. Costs that might be charged separately are meals, yoga classes, private consultations, gratuities and taxes, props, and facilities use.
The greatest range of price differentiation, though, comes in choice of accommodations. If the idea of "roughing it" in a tent sounds energizing, you may want to opt for camping, which is by far the least expensive route. At many yoga retreats, campsites are available, sometimes at one-half the cost of a private room. For some, camping adds a sense of expansion to the overall yogic experience, but if you don't own the necessary equipment or don't plan to camp often, it could cost more to get outfitted than you would save in one or two vacations.
If you're strictly the indoor type, you can save on room and board by bunking with someone. Sivananda Vrindavan Yoga Farm near Grass Valley, California, offers a Sunday to Thursday dorm room for $35 per day, compared with $70 for a private cabin. But in many cases, a dorm is only $10 less than a campsite, and for a little more, you can have a place all to yourself.
See also Yoga Retreats For Every Budget
Plan Your Retreat Closely To Eliminate Extra Expenses
Smart packing is key to eliminating unexpected expenses. Dress properly for the climate and be prepared for any sudden weather changes. (Temperatures in the mountains in mid-July can still be close to freezing at night.) If food is not included in the price, bring simple snack food along; nuts, granola bars, and dried fruit can save the cost of a few meals. If you regularly use props, don't leave them behind—unless they are provided, which they probably won't be. The must-have props include a yoga mat, blankets, a meditation cushion, a belt or a strap, blocks or bolsters, and an eye bag. This may entail packing an extra bag, but it's better than buying a $60 sheepskin you probably won't use again.
Many destinations have ways to reduce your costs—but they won't tell you unless you ask. Discounts can be arranged with special promotions, longer stays, residency programs, or planned budget weekends. For example, high-end Feathered Pipe Ranch in Helena, Montana, offers two retreats per season at a lower rate ($995 per week compared with $1,599, and often with lower-profile instructors), as well as scholarships for guests with budget concerns. Destinations like Mount Madonna Center in Watsonville, California, and Sivananda Yoga Ranch Colony in Woodbourne, New York, have programs that allow guests to exchange work for a portion of their costs. On a grander scale, you can have your meals, accommodations, and classes covered for three months at Kalani Oceanside Eco-Resort in Pahoa, Hawaii, in exchange for 30-hour work weeks.
Other tricks of the trade: Surf the Internet for early-bird specials or opportunities for immediate travel at reduced rates and for facilities with immediate openings. You can also check for bargains at sites such as 11thhourvacations.com, Yogadirectory.com, Yogatravel.com, Yogasite.com, and Ashram.com.
See also Wish You Were Here: 5 Luxurious Yoga Retreats
About our author
Between yoga vacations Elizabeth Cutting lives and writes in Smithville, Missouri.