Live Be Yoga: If You're Seeking the Alchemy of Wellness, This Is Where You'll Find It
A Tantra meditation with chocolate. A life force-giving tree. Nourishing meals that give back to the community. In photos and vignettes, Aris Seaberg recounts a magical, sustainable retreat in Northern California.
Heading out the door? Read this article on the new Outside+ app available now on iOS devices for members! Download the app.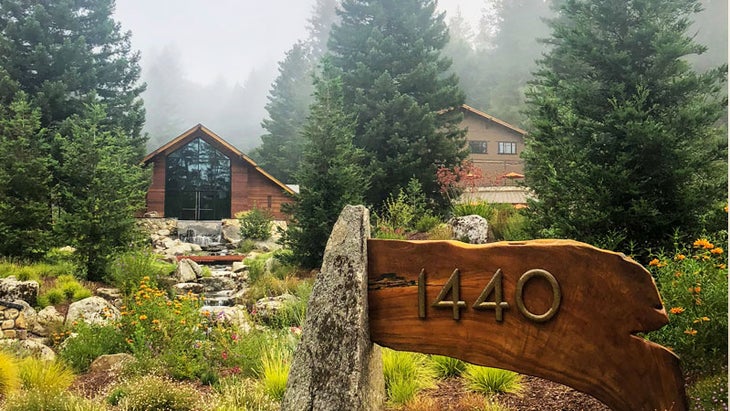 Live Be Yoga ambassadors Jeremy Falk and Aris Seaberg are on a road trip across the country to share real talk with master teachers, explore innovative classes, and so much more—all to illuminate what's in store for the future of yoga. Want more stories from Live Be Yoga? Follow the tour and get the latest stories @livebeyoga on Instagram and Facebook.
Just north of Santa Cruz, nestled in the rolling hills lined with Redwoods, lies a sanctuary, 1440 Multiversity, named after the number of precious minutes in a day. It is a space to retreat, rest, heal, and expand your knowledge with visiting renowned yogis, health gurus, and personal development coaches.
Jeremy and I were able to spend three glorious days exploring the grounds, getting to know the amazing, fervent staff, and attending an illuminating Tantra workshop with Sally Kempton. Here, in photos and stories, five aspects of 1440 that contributed to my magical experience there.
Watch also Inside 1440 Multiversity, the New Retreat Center on Every Yogi's Bucket List
1. Mindful Entrepreneurs Who Embody Their Missions
Within an hour of arriving at 1440, we were riding alongside co-founder and co-director Scott Kriens in a golf cart, getting an in-depth tour. I always love learning background stories from entrepreneurs in the mindfulness space. He is passionate about the center and recalled every detail that went into the property's remodel and design: where the materials were sourced; who made the furniture and decorations he and fellow co-founder and co-director Joanie Kriens—his wife—found abroad; fossils intentionally hidden in secret places; artists on the walls; and the names of every staff member we passed.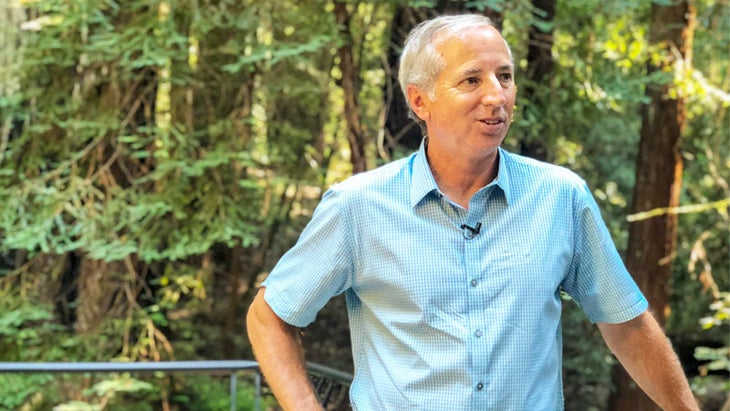 Scott told us about the day he and Joanie viewed the property. It used to be a bible college in its prime—until a fateful fire burned down a couple of buildings on campus. When they saw the property, it needed some love, but they were already imagining their dreams coming true here.
Watch also Inside a Sanctuary in London That Offers Refugees a Safe Space to Practice Yoga
2. Sanctity Within a Sanctuary
One of the few standing buildings remaining from the bible college is the old chapel, now renovated and called the Sanctuary. It's hard to choose a favorite space at 1440, but this might be one of them. The moment I walked in, I noticed the vaulted wood ceiling and the wall of windows overlooking a small, soothing waterfall that flows into Carbonera Creek, which runs along property. I also experienced a permeating sense of stillness.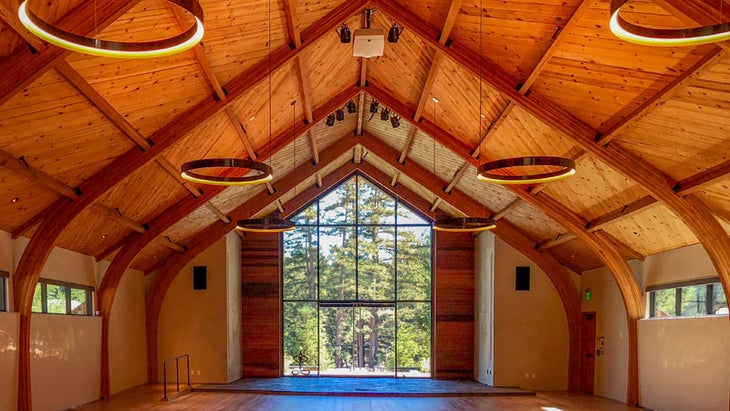 After attending a meditation class, qi gong class, and candlelit restorative yoga class here, we left with a deepened sense of peace. There is pure magic in this elegant, high vibrational space.
3. Artful, Nourishing Meals That Support Local Farmers
We met with executive chef Kenny Woods, a man ardent about his work and the people he nourishes. He spoke with great enthusiasm as he talked about the method behind his creations and being able to offer healthy, clean, and allergy friendly stations so anyone can come here and enjoy meals that will only uplift their bodies. When it comes to the food he prepares, he says "simplicity is beautiful."
(Speaking with him reminded me of our time with other conscious food purveyors, such as Nirvana Bars owners Nina and Nedda Janatpour, who are just as passionate about using simple yet wholesome ingredients that go into their bars.)
Watch also The Origin Story of Nirvana Bars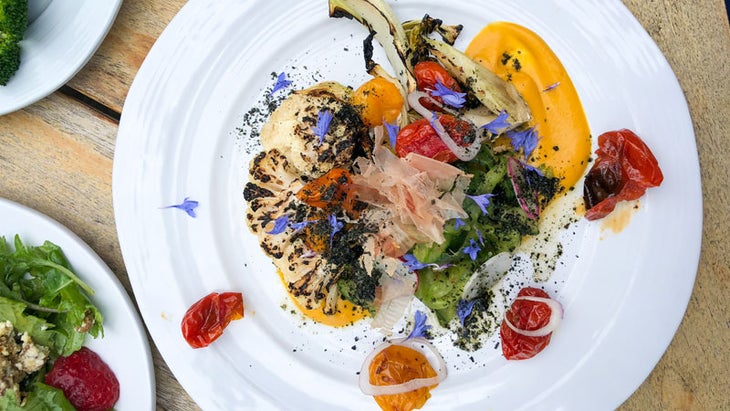 The dining hall mimics a cafeteria, but it is unlike any you've ever seen. The food stations have gourmet-designed creations that are buildable, so you can choose what goes into your meal. Even the way the kitchen staff places each item onto your plate is done with the utmost mindfulness. Honestly, we've eaten at many highly rated restaurants across the country during our tour, and 1400's food is some of the healthiest, most delicious, and most beautiful we've enjoyed!
It's remarkable that Woods supports local farmers by purchasing extra produce that isn't sold at the farmers markets. He described this as a way to support the community and allow farmers to bring more to market without the worry of throwing away food that isn't sold. He now works with 28 local farmers, and trucks come by twice a week to deliver extra produce.
He hopes this model of sourcing local produce, supporting local farmers, minimizing food waste, and preparing healthy foods is one that other chefs will follow.
4. An Ancient Mother Tree That Emanates Life Force
Another enchanting space on the property is appropriately called the Cathedral. An outdoor amphitheater encircled by the forest, it is the perfect space to meditate, reflect, deeply inhale clean air, and even host a small concert or ceremony. The Cathedral is built around the creek and among the oldest trees on the property.
Everyone we spoke to about the Cathedral told us about its energy, which brings about a sense of protection and oneness with the elements around you.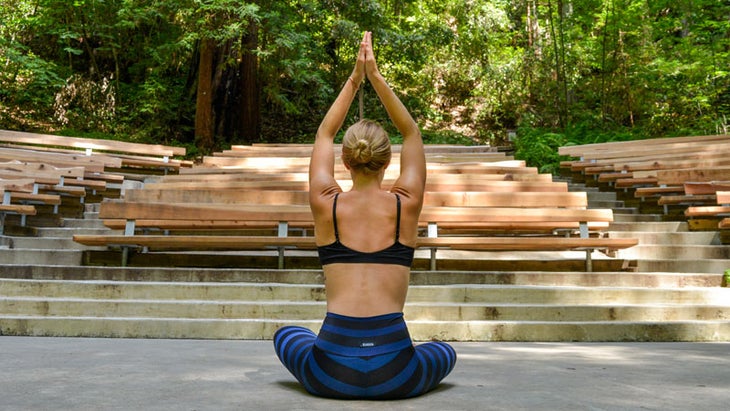 In particular, everyone mentioned one regal tree named Mother. The tallest tree on the property, she is said to be approximately 1,200 years old! She sustains life to many surrounding trees and emits a powerful and awe-inspiring energy.
I took some time to practice on the platform stage underneath Mother's canopy. Surrounded by nature, the oneness I felt within my body as I moved was profound.
5. Finding Wisdom (and Savoring Chocolate) in Sally Kempton's Tantra Workshop
Just when we thought our time at 1440 couldn't get any better, we attended a workshop with renowned spiritual teacher, Sally Kempton. Sally has been teaching yoga and meditation for over 40 years; she studied with her own teacher, Swami Muktananda, for two decades. As a yoga instructor, the opportunity to absorb wisdom from Sally was a huge honor.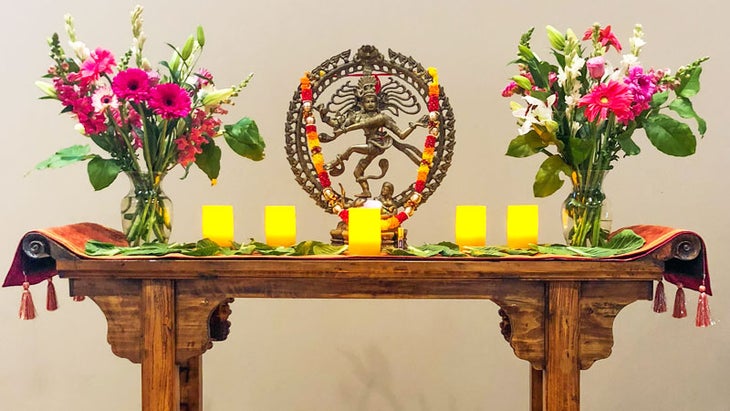 We dove deep into the Vijnana Bhairava, a Tantric text of 112 meditation techniques—including breathwork, mantra, and visualization—for self realization. I hadn't yet studied the Vijnana Bhairava, so this was truly special. This text is a dialogue between guru, Shiva, and disciple, Shakti. A prominent god and goddess in Hinduism, Shiva and Shakti (sometimes named Parvati) are traditionally taught in yoga as representations of the masculine and feminine energies that reside within us all.
In the text, Shakti asks a line of questions about the reality of the universe and how to understand them in her physical form, and Shiva responds with the 112 practices that will help her find answers for herself. It's truly a captivating text filled with loving dialogue and, most importantly, easy-to-grasp meditation tools anyone can use.
One of my favorite moments in this workshop was the meditation that involved eating chocolate. (I know, no big surprise!) But it wasn't the treat that made the experience so memorable; Sally led us through a tantric practice that elicited a deeper awareness of our senses and experience.
"While eating the chocolate, can you come back to the divine reason you can enjoy this? Can you enjoy the pleasure without attaching to it?" she asked us.
So, we all closed our eyes and ever-so-slowly took a bite of our chocolate; we let it melt in our mouths, let the taste linger, and tried to stay deeply focused on every sensation.
"The senses invite in the God experience," she said.
But what if we were to apply this mindset to moments within our daily lives? From time to time since the workshop, I have tried it, and despite what I'm doing, this idea connects me to calmness that already resides within. It can really strike any stress out of the picture, which ultimately reduces anxiety and creates more balance.
Looking Back: An Abundance of Connection at 1440 Multiversity
I could write a post for every aspect of our time at 1440! There is an abundance of intention, passion, oneness with nature, and connection that organically transpires on the grounds. Scott told us that, when deciding on whether they would buy the property, his and Joanie's biggest question was, "Can this be special enough?"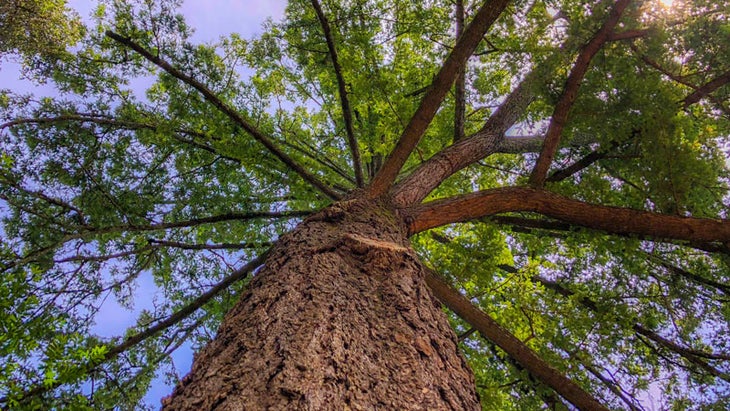 They took a leap of faith—and I have to tell you, it is!
As a yogi and business owner, I am passionate about supporting those who truly have the best interests in mind for humanity and the Earth. Scott and Joanie have created a truly tranquil space that honors nature.
So, need an escape from the city? Want to recharge in the luxurious spa or the warm infinity pool overlooking the forest? Hoping to expand your mind, body, and heart? The staff at 1440 (and Mother) are ready to welcome you home.
Namaste to Our Partner!
So grateful for Nirvana Bars keeping us fueled with high quality ingredients and anti-inflammatory properties on our busy missions documenting yoga across the country! Not only do they taste great but they are easy to take with us whether we are checking out retreat centers, driving from one event to the next, or need after yoga nourishment!