Try This Breathing Meditation to Get Through Your Jitters
Try this pranayama meditation from yoga teacher and founder of Manduka, Peter Sterios, to quell the jitters.
Heading out the door? Read this article on the new Outside+ app available now on iOS devices for members! Download the app.
My relationship with meditation is bittersweet. Early on, I sensed that it could be useful for my hyperactive mind, but sitting for long periods of time proved difficult: it was a never-ending saga of battles between the urgency to fidget away from painful sensations in my stiff body and the perceived obligation to remain still, follow instructions, and meditate the "correct" way.
Part of my struggle was that I believed that hatha yoga and meditation were separate. It took decades for me to recognize (mostly through practicing asana, which slowly prepared my mind for the rigors of sitting) the irony in this common misperception. The dichotomy in these two practices eventually showed me that the joy brought about by movement is a necessary component for learning how to sit quietly and contentedly. This insight allowed me to explore other stillness practices found in Patanjali's eight-limbed system of hatha yoga, including conscious breathing exercises (pranayama), sense withdrawal (pratyahara), and mental concentration (dharana)—techniques that, over time, transformed into merged awareness experiences (dhyana) and freedom from the fluctuations of the mind (samadhi).
In particular, I found pranayamic breath-retention practices powerful for building mental energy and creating deep inner tranquility and poise. Mastering breath retention, for example, involves a series of slow practices that can take years to develop, such as preliminary periods of deep relaxation and stillness in comfortable seated or supine positions. Retention practices, if used skillfully, can help ease anxiety, in part by showing you that the breath will always return. They can be a form of meditation by themselves or can be integrated into the practice of individual yoga poses or dynamic sequences.

See also 17 Poses to Prep for Mindful Meditation
Practice Breathing Meditation
Start in a comfortable position and consciously slow your breath until you have established effortless breaths lasting 3–4 seconds through your nose. Keep the sound of your breath soft and the texture of your breath smooth. After an initial 4–5 rounds of breathing, change to a rhythm of inhalations and exhalations lasting 6–8 seconds.

When you have settled into an easy rhythm, change it again, this time aiming for inhalations and exhalations of 10–12 seconds. When you feel your breath reaching its longest rhythm, stay there for another 4–5 cycles of breath.
Slowly breathe in until you're comfortably full, and hold your breath here (inhalation retention). Consciously soften your diaphragm. Gently swallow; if your diaphragm contracts, re-release it. Hold your breath as long as you can without feeling anxious. If you feel stress or tension, swallow and re-release your diaphragm again. When you need to, slowly exhale, and resume breathing with whatever rhythm feels natural. Breathe this way for 4–5 rounds. Once you are complete, this technique for creating extensions and retentions for inhalations can also be repeated for exhalations.
Retaining breath in this way helps concentrate mental energy while drawing energy out from the sense organs and turning your attention inward. It creates a state of being where time and outside concerns dissolve. It changes brainwave activity.
See also Everything You Need to Know About Meditation Posture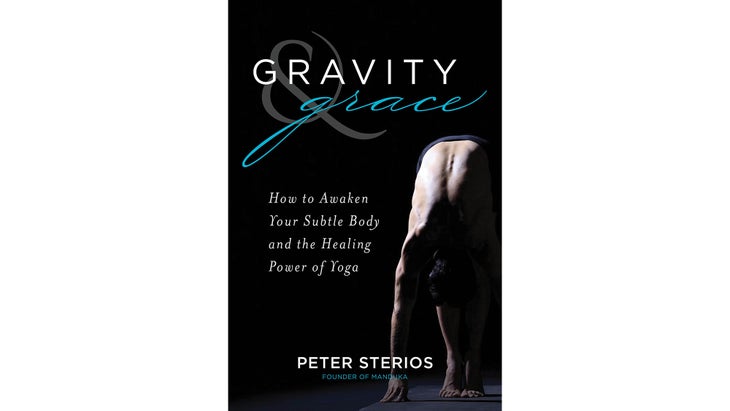 About the author
Peter Sterios is a yoga teacher, award-winning architect, and founder of Manduka. His new book, Gravity & Grace: How to Awaken Your Subtle Body and the Healing Power of Yoga, published by Sounds True, is out in October.