6 Kid-Friendly Yoga Retreats
These 6 kid-friendly yoga retreats and camps welcome yogis of all ages.
Heading out the door? Read this article on the new Outside+ app available now on iOS devices for members! Download the app.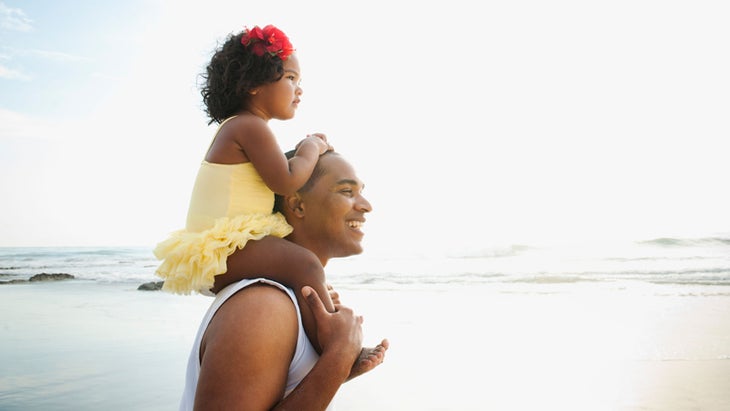 If you're planning a family vacation this year, consider these kid-friendly yoga retreats to boost your family bonding.
When it was just the two of us, my husband and I attended numerous yoga retreats. Between hatha classes, we'd relax and rest in Massachusetts, quietly bask in a glorious upstate New York autumn silence, or savor a snowy Christmas celebration, ashram-style, in Virginia. Then children blessed our lives. Not only was it tougher to travel with little ones, but most retreat centers would not have welcomed them.
In the past few years, however, parents looking for yoga-based family vacations—or for places to send the kids solo—face a widening array of options, a testament to the yoga world's belated acknowledgment that some serious aficionados have a life with children outside their practice. If you're planning a kin or kid's vacation this year, consider packing your yoga mats and heading to one of these family-friendly retreats.
Ananda Village
Nevada City, California
The Ananda Seclusion Retreat, located six miles up the mountain from Ananda's main 700-acre village, opens its doors for a weeklong "Living Wisdom Family Camp" in the summer, with adult- and child-oriented hatha yoga and meditation, parent discussions (mostly on spiritualizing family life), satsang, and fun.
The Kripalu Center for Yoga & Health
Lenox, Massachusetts
Home to numerous children and family programs, Kripalu's roster of child-oriented yoga-based events has in the past included "Coming of Age" programs for both genders, a "Circus Yoga for Kids" weekend (8- to 13-year-olds perfect balancing, partner yoga, storytelling, and clowning) and a weekend "Family Retreat."
Plus, a weekend or weeklong "Children's Program" in July, August, and over Thanksgiving and Christmas has staffers entertaining kids age 5 to 12 with yoga, dance, art, games, and swimming (in summer) while parents take their own courses nearby. Kids room with parents at night.
Satchidananda Ashram-Yogaville
Buckingham, Virginia
For children ages 8 to 12, Camp Yogaville allows kids to learn about yoga while having fun. During the week-long camp, kids will hike, swim, tell stories around the campfire, and enjoy many other stress-free camp activities. Living in rustic cabins, kids feel at home with nature while learning about yogic ideals like a vegetarian diet and non-violence.
Sivananda Ashram
Val Morin, Canada; Woodbourne, New York; Paradise Island, Bahamas; and Grass Valley, California
Sivananda founder Swami Vishnu-devananda pioneered a children's yoga camp in his Canada ashram back in 1972. Since then, hundreds of 7- to 12-year-olds have spent the month of July combining traditional summer camp fun (arts and crafts, games, swimming, singing, and storytelling) with hatha yoga, meditation, karma yoga, and environmental and multicultural programs. At the 350-acre Sivananda ashram located one hour north of Montreal, kids sleep in cabins with counselors. Sivananda ashrams in other locales also sponsor family and kids programs: The Ranch in New York's Catskill Mountains hosts an August weeklong "Family Yoga," combining yoga, humor, and play; the Bahamas retreat holds a January "Family Week"; the Northern California Sivananda Farm runs its own two-week "Kids Camp" and weekend "Family Harmony" programs.
Small Hope Bay Lodge
Andros Island, Bahamas
When Columbus, Ohio-based hatha yoga instructor Marcia Miller first vacationed in this tropical island paradise, her first thought was to bring back her family and yoga friends the following year.
Thus was born Miller's annual "Yoga & Scuba Diving/Snorkeling" spring trip for families. The week includes one and a half hours of hatha yoga each morning and afternoon, bookending optional snorkeling or diving runs to one of the world's largest and most breathtaking coral reefs.
Children of all ages (and adults) who don't want to hit the water can relax at the kid-friendly beachside lodge, which features 20 hand-built cottages.
YogaKids
Mexico and Costa Rica
Marsha and Don Wenig bring their famous YogaKids program to Maya Tulum, Mexico, for a week in January. Parents do two adult hatha yoga classes daily, and join children for a fun class of their own. Playful visualizations, drawing, drumming, swimming, and storytelling help families "connect from that place where yoga really is," as Marsha Wenig explains.
Another excursion takes families to the Costa Rican rain forest, where activities range from hatha yoga and meditation to rafting, hiking to waterfalls, and visiting an animal conservatory.