Q&A: What Kind of Ashtanga Class Is Best for Beginners?
Tim Miller gives advice for yoga beginners on what kind of Ashtanga class to choose.
Heading out the door? Read this article on the new Outside+ app available now on iOS devices for members! Download the app.
Q: Would you recommend Mysore classes or led classes for a beginner to Asthanga Yoga? What combinations would be good if you recommend doing both? I am currently taking classes at a place where they have both.
—Chun Pak
Tim Miller's reply: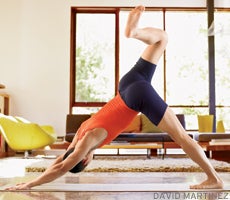 For a beginner to Ashtanga, I recommend guided classes. In the Mysore format, students can practice Ashtanga at their
own pace with more individual attention from the teacher, which provides an opportunity to move into new postures when it's appropriate. A complete novice will be lost in a Mysore format and demand the full attention of the teacher, who needs to be able to divide his/her attention between all the students in the class. Guided classes give beginners a sense of the structure of the practice.
Guided classes are great for learning how to practice and also for the energy and esprit de corps that comes from
everyone breathing and moving together. In this format the teacher is expected to provide some motivation, so if one's
enthusiasm for practice is lacking, a guided class can help.
Generally, my most serious students gravitate toward Mysore classes, where they are expected to know the proper pacing
and sequencing of the practice, and supply their own motivation. Once Suryanamaskar A and B (Sun Salutations) and the traditional sequence of standing poses have been committed to memory, then one could try a Mysore class.
Variety, as they say, is the spice of life, so mixing Mysore classes with led classes can be good to keep the practice fresh. Some people prefer being told what to do and when to do it. For these people, obviously, a guided class is good. Others prefer to work independently and figure things out on their own. For them, a Mysore class is good. But perhaps another perspective is that some independent spirits may benefit from the discipline of a guided class and some more
dependent spirits could benefit from the independence that the Mysore format provides. The most important thing, of
course, is to practice.
Tim Miller has been a student of Ashtanga Yoga for over twenty years and was the first American certified to teach by Pattabhi Jois at the Ashtanga Yoga Research Institute in Mysore, India. Tim has a thorough knowledge of this ancient system, which he imparts in a dynamic, yet compassionate and playful manner. For information about his workshops and retreats in the United States and abroad visit his Web site, www.ashtangayogacenter.com.