9 Yin Yoga Poses to Summon the Joy of Summer
This soothing and contemplative Yin Yoga practice invites us to balance the outward focus of summer's fiery energy with an inward glance during the solstice.
Heading out the door? Read this article on the new Outside+ app available now on iOS devices for members! Download the app.
I like to think of the summer solstice as the gateway to the rest of the year. It's an ideal time to honor the sun in all of its glory and acknowledge the infinite source of light within ourselves. With the warm weather comes increased physical and social activity, as the fire element is at its peak. In Traditional Chinese Medicine, this fire phase symbolizes ignition, discernment and resolve.
The soothing and contemplative practice of Yin Yoga invites us to balance this outward focus with an inward glance. In this gentle practice, we focus on the heart and large intestine meridians that run along the chest cavity as well as along the inner and outer arms. Consider this an invitation to slow down and surrender to the joy of the present moment with an exploration of heart openers, upper back and shoulder stretches.
9 Yin Yoga Poses for Summer
Meditation Seat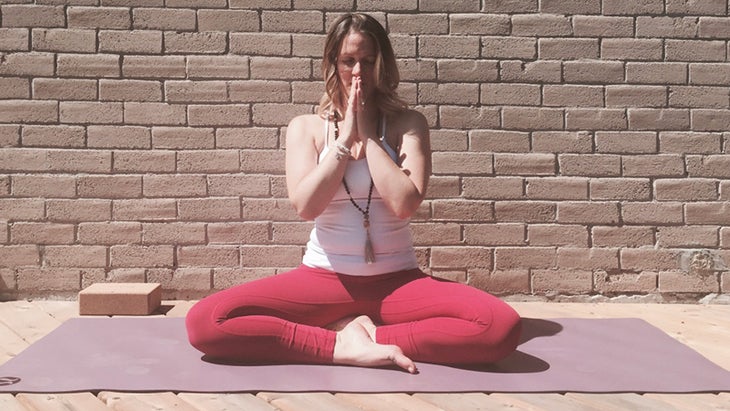 3–5 minutes
Starting in a comfortable easy seat, take 9 clearing rounds of vital breath. Close your eyes and allow yourself to become more present within each cycle.
Once you are have arrived fully and feel settled, let's begin.
See also10 Yin Yoga Poses to Embrace Spring's Spirit of Renewal
Melting Heart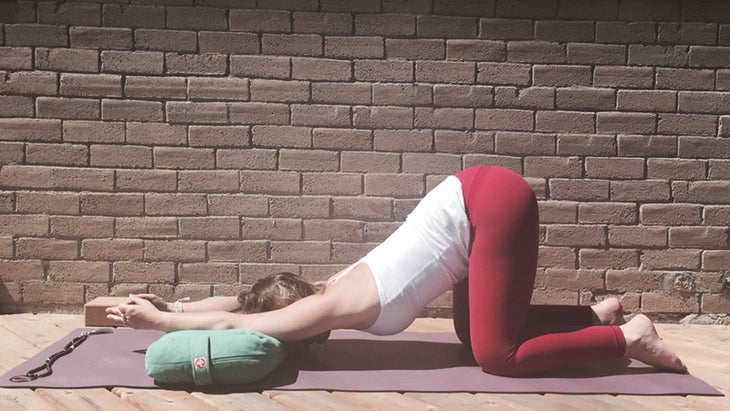 3–4 minutes
From a Tabletop position, walk your hands slightly forward of your shoulders and lower to your forearms. Allow your chest to soften between your shoulder blades, keeping your hips stacked over the knees. As you settle into the shape, relax your arms and legs.
When your are ready to come out, push into your hands and lie face down. Take 10 breaths with a neutral spine, before moving into the next pose.
See also Two Fit Moms: 8 Poses for Active + Passive Stress Relief
Seal Pose
3–4 minutes
From your belly, come onto your forearms with your elbows slightly forward of your shoulders, so that your chest is open and relaxed. Stay for about 10 breaths and when you are ready to move a little deeper, press into your hands and straighten your arms, walking them as far in or out as feels appropriate. If this becomes too intense, you can always come back to your forearms.
To come out, simply bend and draw the elbows out, stacking them over the palms and releasing your forehead down to your hands. Stay for 10 breaths before moving to the next pose.
See also Solar-Powered Yin Practice
Shoulder stretch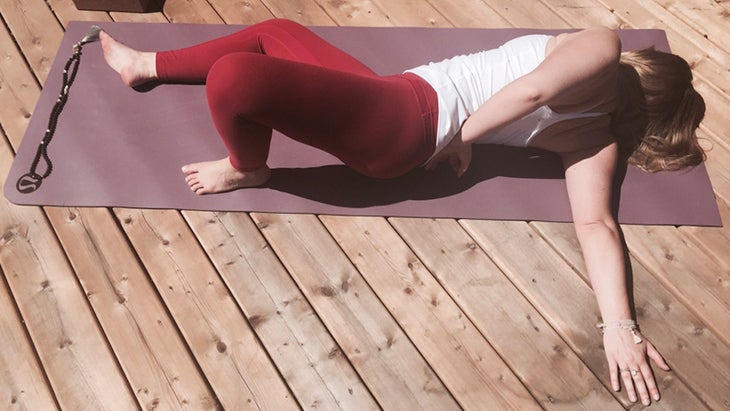 3 minutes per side
Again from your belly, extend your right arm out about 90 degrees from your body and roll toward your right hip, bending at the knees. Relax your head onto the floor. Spend some time exploring your breath, before moving any deeper. Should it feel appropriate to deepen, you can step the left foot behind you and point the left knee (top leg) up. Be kind to your body and make sure you don't compromise the quality of your breath by surpassing your edge.
To release the pose, come back to your belly then press back to Child's Pose (knees together), sweeping your arms by your sides. Rest for about 10 breaths before repeating on the left side.
See also4 Tenets of Yin Yoga
Tadpole with Twist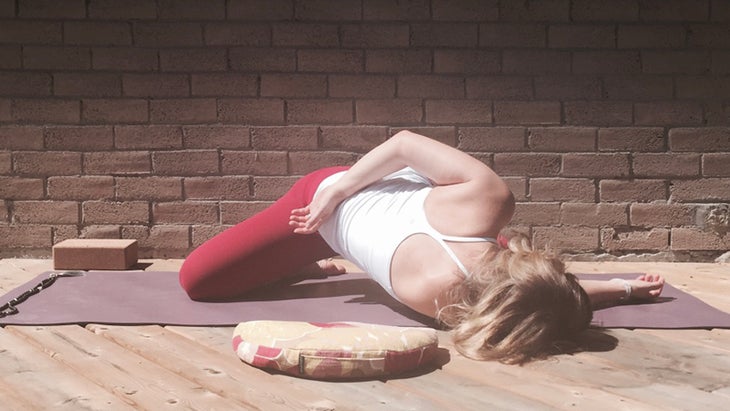 3 minutes per side
Walk your knees wide and draw your feet narrow, keeping your hips back toward your heels. Next, press into your right hand and thread your righ arm/shoulder toward your left knee. If it's available to you, reach and rest your left hand on your lower back in order to open your chest. Tune in to your breath and find stillness for 20–30 breaths.
When you're ready to come out, push into your left hand and come back to center. If it feels appropriate to widen your knees, you can adjust them before moving into the other side.
See also Slow Down with Yin Yoga
Caterpillar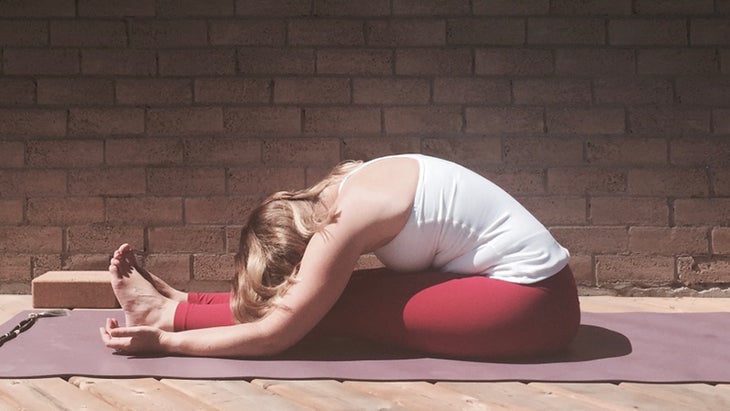 3–4 minutes
From a seated position, extend your legs out in front. Begin to walk your hands forward until you reach your first sign of tension (known as your first edge). Round your spine forward and relax your legs. You may choose to bow your head forward to invite a deep stretch through the upper back, shoulders and neck. Breathe into the back of your body, with a special focus on the front, back and sides of heart and lungs. Stay 30–40 breaths.
To come out, walk your hands in and press up to an upright seat.
See alsoSweet Surrender: 9 Yin Yoga Poses
Supported Fish or Reclined Butterfly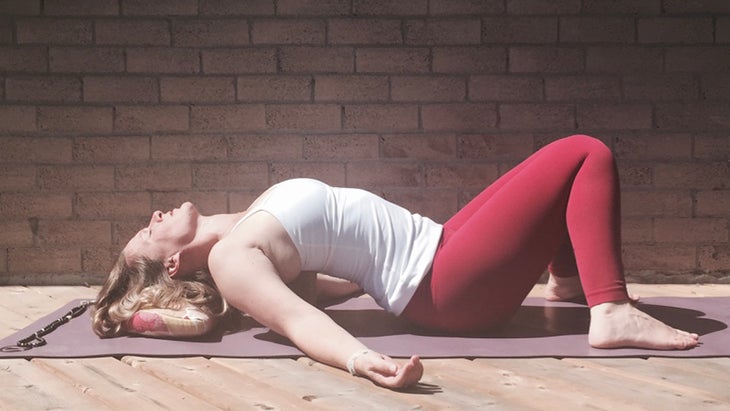 4–5 minutes
Using a block or bolster, positioned directly under the shoulders and head, lie back ensuring that your shoulders and chest are open and you feel supported. Find a comfortable position for your arms, allowing your palms to face up. Relax your legs—knees can be bent or straight, just find a shape that allows you to surrender your body for the next several minutes.
To come out, press into your elbows and release to one side, as you come off your props. Take a few breaths here before rolling onto your back.
See alsoThe Yin and Yang of the Three Tissues of the Body
Knees to Chest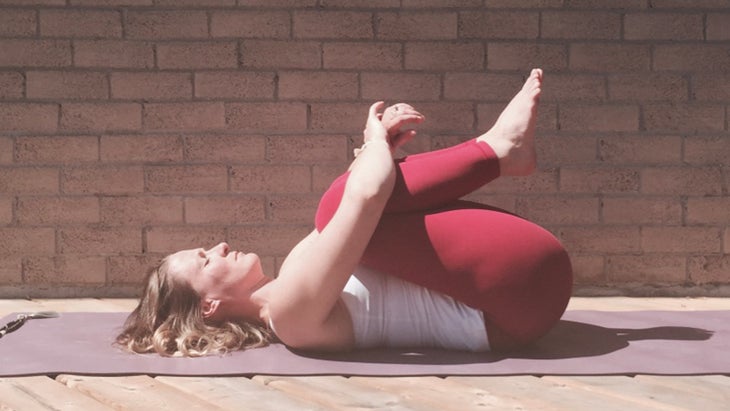 1–2 minutes
On your back, gently drawn your knees into your chest, holding onto your shins or the backs of your thighs. Do what feels good in your body, perhaps slowly rocking from side to side.
Stay as long as you need before moving to Savasana.
See alsoTaoist Philosophy 101: The Meaning of Yin and Yang
Corpse Pose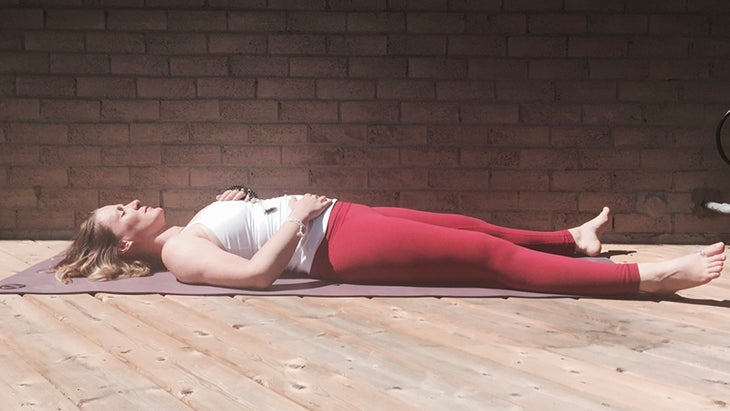 6–8 minutes
Now, lie back with no set expectation or agenda. Release your practice and any lingering sensations from the postures that have led up to this very moment. Soften your entire body and settle your mind. With one hand on your heart, one hand on your belly, steep in the vitality from your practice. Repeat often.
See alsoWhy Try Yin Yoga?
About our Expert
Dani March is a Toronto-based Registered Yoga Teacher and Master Lifestyle Coach. She is the visionary behind LivOn Purpose™ – a modern yoga teacher training that combines the yin and yang aspects of yoga with the underlying current of transformational work. Originally drawn to her own mat by the strong and graceful movements of Vinyasa Yoga, she later fell in love with the stillness and meditative aspects of Yin Yoga. As a devoted and lifelong student of yoga and meditation, Danielle dishes out inspiration, soulful strategies, tangible tactics, resources and a fresh perspective.