Ultimate Vibration: The Power of Bhakti Yoga and Kirtan
Lead with your heart and embrace the universe with bhakti yoga and kirtan chanting.
Heading out the door? Read this article on the new Outside+ app available now on iOS devices for members! Download the app.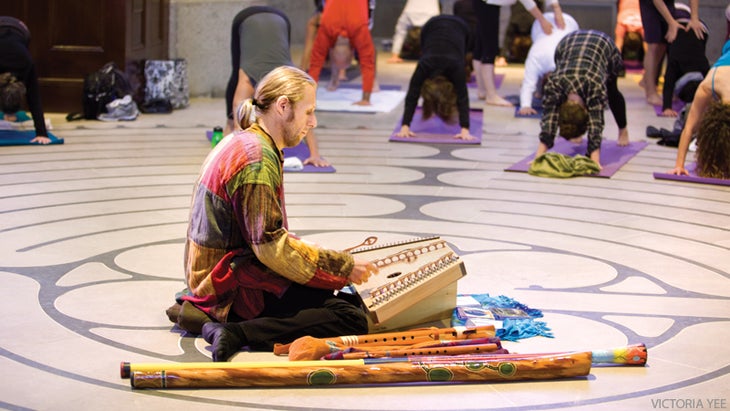 Lead with your heart and embrace the universe with bhakti yoga and kirtan chanting.
Many of us think of yoga as a set of exercises to enhance one's physical beauty and stamina, with an occasional short meditation thrown in for its calming effects. But that is only a small part of the picture. What of the heart? What of the great and sometimes stormy sea of human emotion?
Thousands of years ago, the rishis, or seers, of India gave us the systems of yoga to bring us to a state of harmony, peace, and ultimately, union with the Divine. These ancient yogis were well aware of the multiple layers—physical, mental, emotional—that make up the human animal, and they created practices to bring light to the whole being. They recognized emotions as vital and sacred and saw them, not as an obstacle, but as a great energy that could bring us to liberation. And they gave us bhakti yoga, the yoga of devotion, to channel that energy and use it as a bridge to carry us back to our source.
The essence of bhakti yoga is surrender—offering an individual Self to the great ocean of pure consciousness. Bhakti yoga brings us into a realm where the discerning qualities of the intellect are powerless next to the vast ocean of feeling. Bhakti is about a relationship with the universe that is so wide it embraces every color on the emotional spectrum. So in bhakti yoga, we lead with our hearts. We sing, we dance, we play music, write poetry, cook, paint, make love—all as part of our dialogue with the Divine.
See also Chanting 101: 6 Things To Know If You Don't "Get" Kirtan
Kirtan, the practice of chanting the names or mantras of the gods and goddesses, is perhaps the most important technique in bhakti yoga. Although the practice itself is simple, the internal process that it stimulates is vast and mysterious. Externally, we're just singing repetitive songs with simple melodies and a few Sanskrit words. We try to put our analytical minds to the side and sing from the heart. We try to channel whatever emotion we're feeling into the song.
Then the magic happens: Walls constructed long ago come crumbling down. Wounds that we never knew were there begin to heal. Long-submerged emotions come to the surface. As we sing, we immerse ourselves in an endless river of prayer that has been flowing since the birth of the first human beings. And somehow, effortlessly, we move into a meditative state that creates a safe haven for the flower of the heart to unfold.
At a kirtan camp once, a woman told me she was having trouble singing to this blue god and that four-armed goddess. She and I talked for a while about how healing kirtan practice is, how expansive and joyful it can be. And I realized that thoughts and comprehension are insignificant compared with the experience of the heart. Sometimes as I sing, I feel the presence of Radha and Krishna, or Shiva, or Hanuman, and at other times my songs take me deep into my own heart, the sea of love that is my soul. And sometimes I don't feel anything spiritual at all.
But you know what? It doesn't matter that much to me. I understand that my mind is a limited mechanism, and that the miraculous realm of the spirit can be comprehended only by the spirit within. Beliefs have some value. But for me, the heart is much more important: How can I tell the truth? How can I be a good father and a good husband? How can I keep my heart open?
See also Sounds Divine: Kirtan and Pop Crossover
The Soulful Vibrations of Bhakti Yoga and Kirtan
"He who hears music feels his solitude peopled at once," wrote the poet Robert Browning. And anyone who's ever been uplifted by a favorite tune when feeling blue knows exactly what he meant.
For thousands of years, people have used sound and vibration, including music, to relax, access deeper states of consciousness, and heal their bodies. Practices like chanting and drumming, or using Tibetan singing bowls and Chinese meditation gongs, are just a few examples. In nada yoga, the yoga of sound, the human voice and classical Indian instruments are used as a path to self-realization, opening the spiritual channels and harmonizing the physical body. "The ultimate goal of nada yoga is self-realization through connecting with the anahata naada, the unstruck inner sound, or the sound of our true Being," says Shanti Shivani, a nada yoga teacher, vocalist, and sound healer.
Whether it's chanting mantra or singing along with your favorite CD, sound and music have the power to change your mood, and maybe your health, too. Research suggests that music can have beneficial effects on health, ranging from reducing chronic pain to improving the recovery of stroke victims. "The ancient traditions all say that we are sound, we are frequency," says Shivani. "Western scientists are discovering that the ancient knowledge is correct."