10 Fresh Health and Wellness Finds
Celebrate Spring with these fresh finds!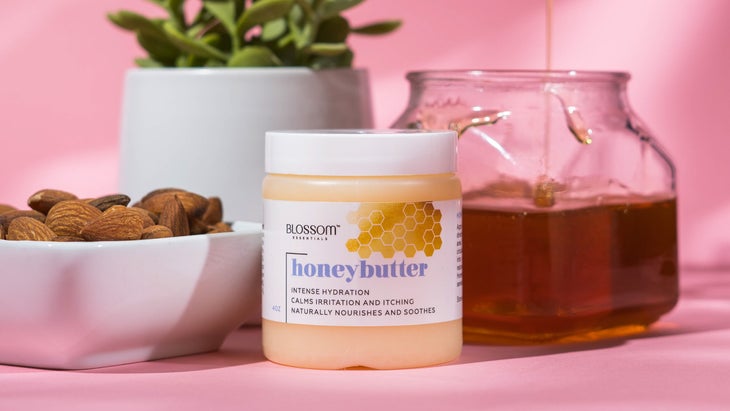 The folks at Blossom Essentials believe that you should feel good in your own skin. That is why they created the first line of natural, non-toxic hydration products directly addressing skin irritations. What you put into your body is important to you, which is why they only use nature's best when it comes to the ingredients in our products. Blossom Essentials started with their flagship product, the organic Manuka honey–based Honeybutter, which delivers intense long-lasting hydration to dry, irritated and itchy skin. Blossom products are proudly made in the USA and cruelty-free.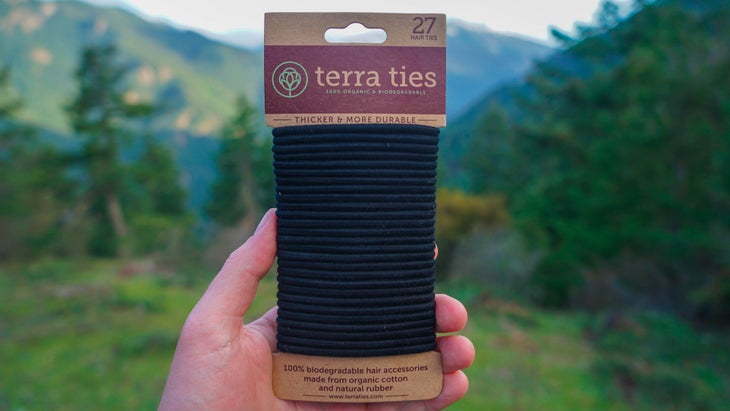 Hundreds of millions of long-haired people around the world use hair ties, and most of these are made of synthetic rubber and polyester: plastic-based materials that take thousands of years to biodegrade, or never biodegrade at all, after they're lost on the ground or thrown away at the end of their life. Terra Ties are plastic-free, 100% biodegradable hair ties. Unlike standard hair ties that are made of synthetic rubber and polyester, Terra Ties are made from natural rubber and organic cotton, making them fully biodegradable. In addition having packaging made from recycled materials, Terra Ties are softer, thicker, and more durable than standard hair ties. Great for people of all genders and all ages, Terra Ties come in packs of 27 hair ties and are sold on Amazon and Package Free Shop.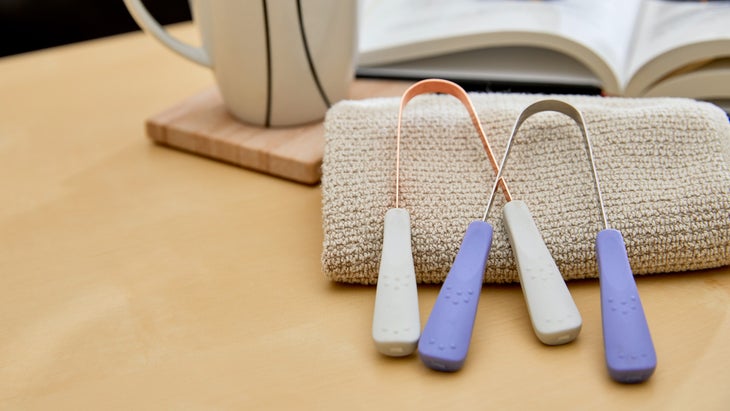 Cleaning your tongue in the morning takes just 10 seconds, but is an essential part of an effective Ayurvedic morning routine (Din acharya). More of the good (fresher breath, better taste, cleaner mouth) and less of the bad (harmful bacteria, "ama" on the tongue, plaque buildup on teeth) are just some of the clinically-proven benefits from tongue cleaning. Dr. Tung's offers two choices — copper, known for its anti-microbial qualities, or easy-to-clean stainless steel.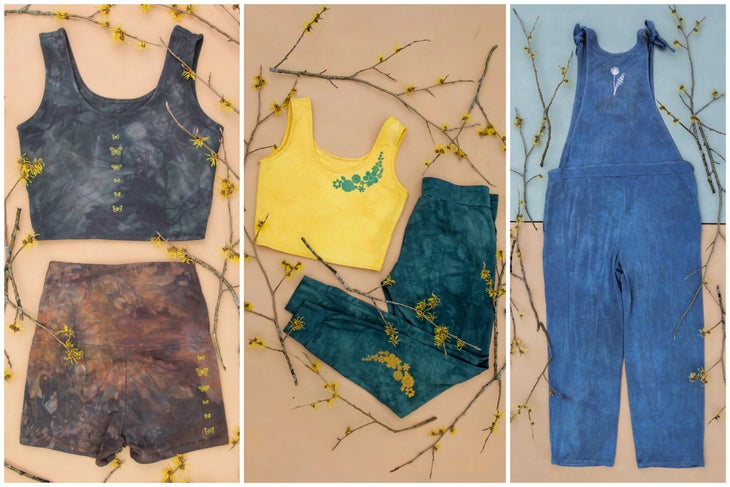 Purusha People is a collective of conscious yogis that believe plastic has no place on our bodies, especially during our yoga practice. They craft yoga clothing from forest fibers, non-toxic dyes, and water-based ink. All of their goods are produced in the U.S.A. where artisans are paid above a living wage. Mother Earth and our bodies deserve better than clothing made from fossil fuels!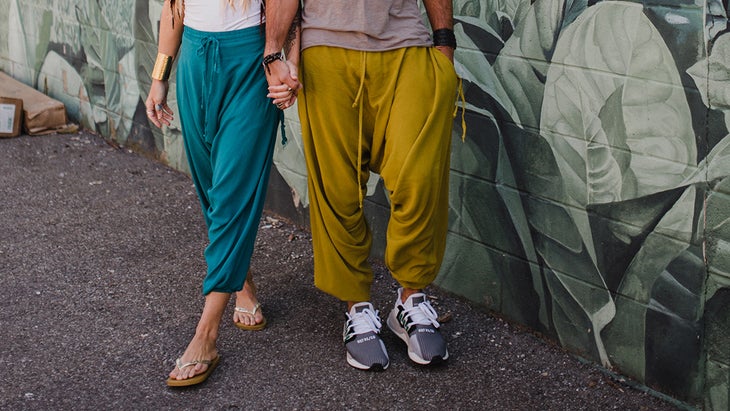 Buddha Pants® is a clothing company dedicated to creating multi-functional travel-ready apparel, focusing on comfort & encouraging an active lifestyle.
Buddha Pants® fold themselves into their own pocket, making them a perfect travel-ready addition to any wardrobe! Buddha Pants® give the illusion of a large triangular skirt but have flexible ankles that can be pulled up on the calf to create different looks. They are available in over 11 sizes for kids & adults. Checkout the eight different styles available in over 50 prints & solids.
30% off site-wide with promo code: yj2020.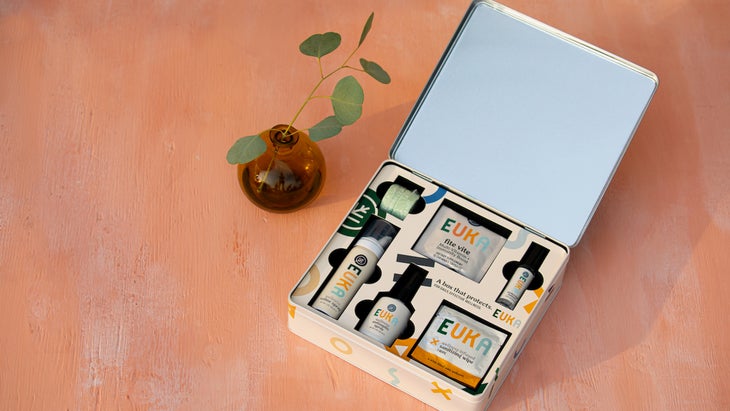 Restorative self-care meets preventative wellness with Euka's  beautifully organized system of clean, consciously crafted Wellness Bento boxes. Formulated by world-renowned doctors and backed by science, their suite of holistic wellness products are infused with a proprietary blend of extracts and essential oils that bring protection and soothing aromatherapy into perfect harmony to help protect and boost your immune system. Preventative wellness that's clean, curated, delivered!
Use code YOGA to save 20% off your first purchase!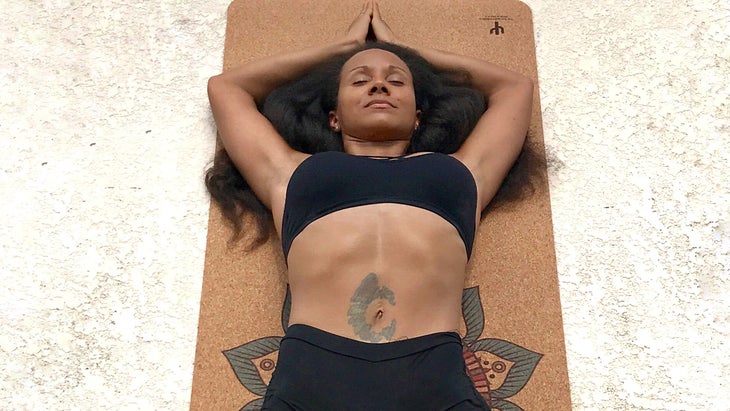 Samadhi yoga mats are unique, just like you! These fully customizable mats allow you to choose what goes on your mat (design, script, etc.) These mats are 100% natural cork yoga mats, anti-microbial, hygienic, eco-friendly, and no animals are harmed in making these mats. Yoga mats are your personal space for meditation and for your practice. They cannot be off the shelf and ordinary. Just like you have a specific mantra, you have a special bracelet, your crystals or your favorite yoga pants, you get to choose your mat too.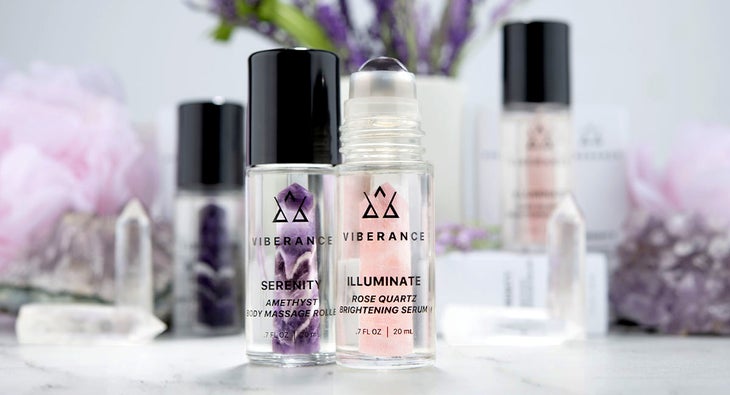 ALIGN YOUR ENERGY + LOVE YOUR SKIN. VIBERANCE crystal-infused skincare illuminates skin from within. As a small, woman-run business Viberance believes good vibes and glowing skin are self-care essentials. Their vegan formulas and pure crystals are paired with purpose, allowing anti-inflammatory + anti-bacterial properties of crystal minerals help firm, tone and regenerate skin. Experience positive energy for both mind + skin with 20% off site-wide (code MYRITUAL). Promote feelings of peace + relaxation with SERENITY AMETHYST BODY MASSAGE ROLLER. Infused with a Dream Amethyst Obelisk and soothing Magnesium + Tea Tree Oil; this aromatic vegan massage roller helps ease tension, calm skin + dissolve negative energy.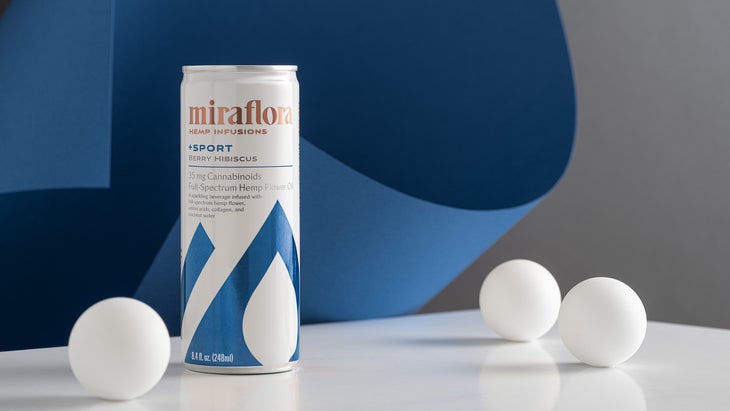 Refresh the way you relax with Miraflora Hemp Infusions sparkling beverage. Fusing the best functional ingredients with 35 mg of hemp flower oil — the most potent on the market — Hemp Infusions is the new way to unwind. Choose from three functional options to help you find balance, recover from workouts, or relax at the end of a long day. Hemp Infusions + Balance will help brighten your mood, ease stress, and maintain your focus. Choose refreshing Blood Orange or Peach Ginger, and crack open your daily can of happy. Hemp Infusions +Sport will help your muscles and joints recover faster so you can get stronger, last longer, and go farther. It also contains hydrating electrolytes, muscle-building collagen, and powerful antioxidants in a great-tasting Berry Hibiscus flavor. Hemp Infusions +Relax is infused with stress-busting full-spectrum hemp extract, ashwagandha root, L-theanine, and chamomile tea to help you find your daily dose of calm. It also contains antioxidants to boost your immunity and GABA to ease anxiety — and the Yuzu Chamomile flavor tastes great, too. All Miraflora Hemp Infusions are low-calorie, contain no added sugar, and are THC-free.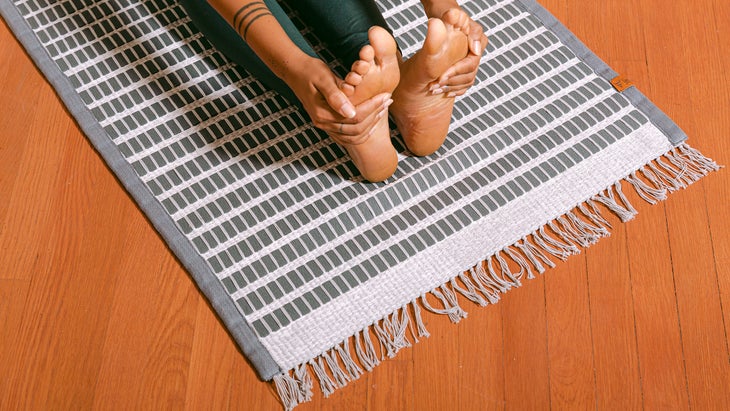 Ma is a female owned and operated handwoven goods brand based in Portland, OR. They make the one and only Ritual Rug, a handwoven yoga mat made with organic hemp and non-toxic foam. This patented, beautiful design is an artisan yoga rug that not only offers grip and cushion, but doubles as home decor. Perfect for movement and meditation of all kinds, It's the only yoga mat you'll never want to hide away. Discover The Ritual Rug, and feel inspired to practice every day!