Why the Moon Circle Is Making a Resurgence
There's more than you may think to the ancient ritual turned TikTok trend
Heading out the door? Read this article on the new Outside+ app available now on iOS devices for members! Download the app.
Chances are you've heard someone talking about a moon circle or seen an Instagram post promoting a moon circle. Perhaps you're even responsible for at least one of the 4.6 million views on TikTok of videos tagged #mooncircle. Moon circles are having a moment.
But the practice of gathering to harness the moon's vibes has existed across cultures for thousands of years. So why, exactly, are we seeing a resurgence recently?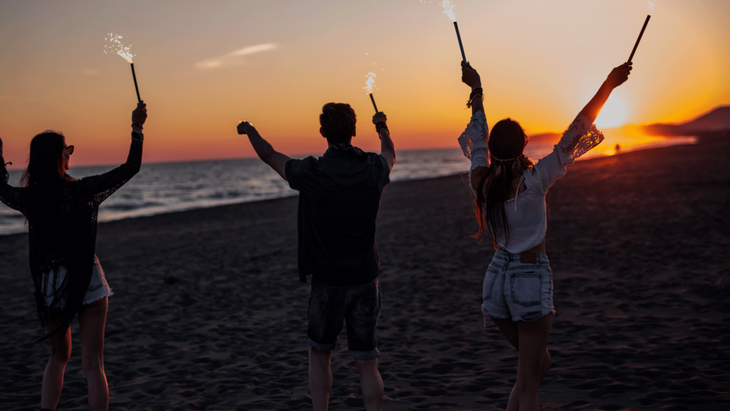 Why Are We Seeing More Moon Circles?
We don't know the exact mysticism the earliest moon circle goers attributed to the lunar phases. But we know from cave paintings that our ancestors charted the phases of the moon. And we know that they sat with one another in a circle around a fire, told stories, and looked into the vastness of the night sky. Although these ancient gatherings are believed to have helped individuals connect with divinity, celebrate femininity, and seek clarity, these effects could have had as much to do with coming together in community as revering the moon.
The value of community is well-documented. Moon circles take that a step further by providing space for the sharing of desires, successes, and struggles in a nonjudgmental space. That sense of feeling supported and less alone in our experience of being human can help us open our minds not just to the luminosity of the moon but to unexpected answers to whatever we come seeking.
So what does it say about us, as a society, that moon circles are trending on social media? After living through a global pandemic, we experienced feelings of being disconnected from ourselves and each other that prompted a greater need for connection with others and with nature. That, in part, may explain our return to a timeless ritual dedicated to gathering with others, grounding in nature, and sharing our intentions.
"Moon circles are a place to give and receive support, while providing self-care and letting go of what is no longer serving you," says Janae Bell, certified yoga instructor, meditation and moon circle teacher. "Participants find that they can offer self-care to the tender parts of themselves that want to be seen and heard." Bell finds that working on this in community, as opposed to alone, facilitates the process.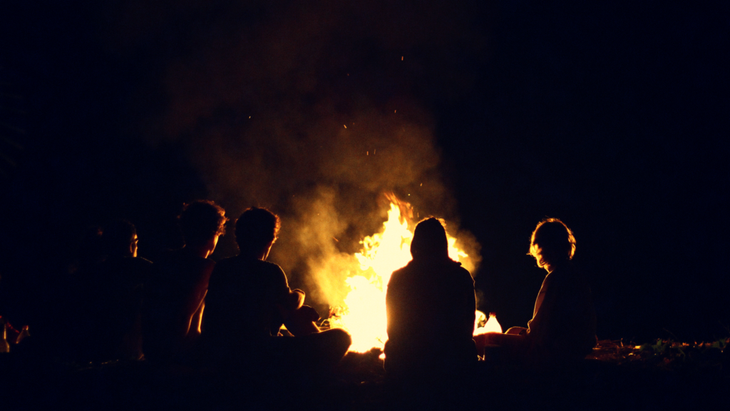 What Exactly Is a Moon Circle?
In ancient times, moon circles were held for various reasons. For example, in Indigenous cultures, women would build circles using rocks to physically mark the transition to womanhood. The ritual of building a moon circle was their way of honoring this milestone.
Contemporary moon circles look a little different. They can be 20 people journaling by candlelight indoors or four people meditating at a firepit outside. The gatherings can be structured or informal, somber or celebratory. They can even incorporate other practices and rituals, including yoga and tarot card readings, to help attendees gain a sense of self-awareness and togetherness.
"The four main parts of my moon circles are movement, meditation, journaling, and ritual," says Bell. "We incorporate a quick yoga flow to ground you and prepare for a journey into self-discovery through imagining, reflecting, and journaling prompts."
Moon circles can provide a grounding force at a time when we feel isolated, overwhelmed, even at the mercy of forces larger than ourselves. "When people get together and create intentions, the energy is naturally amplified," says Lauren DeGolia, clarity consultant and astrologer. Think of moon circles as being akin to hanging out with a group of friends who you find to be uplifting and, when needed, help keep you accountable.
A possible benefit of having people around you is being able to experience and express your feelings in a safe space and feel less alone, DeGolia says. You can reflect on your emotions silently, journal about them, and, if you feel comfortable, bring them to the larger group. "The connection between people at a moon circle is paramount in helping you feel seen and validated."
There isn't a prescribed sequence of actions for a moon circle. Instead, what unfolds depends on the phase of the moon and the person leading the circle.
When Do Moon Circles Happen?
Just as the moon's gravitational pull affects our tides and climate, so, too, does it influence our thoughts and feelings. Moon circles traditionally take place when lunar energy is at its most intense, namely during new moons and full moons.
New moons feel like a clean slate. The darkness of the new moon, which blends into the night and is hidden from sight, encourages deep reflection, a commitment to making change, and setting intentions around what we want to happen. It is often referred to as a time to plant seeds for what you want to emerge with time. It has been regarded for millennia as a chance for new beginnings.
In contrast, the full moon casts light—literally as well as metaphorically—on where you need to focus. It illuminates and reveals those things in your life that might otherwise go unexamined. For example, during a full moon, you might spend time journaling about reasons you're grateful.
Moon circles that draw on full moon energy help us connect with what we desire for our future, says DeGolia. The full moon brings to light places of progress as well as areas where you might need to be more consistent to achieve your goals. For example, simply wishing for more money is futile without taking concrete steps to change your financial situation.
The phases of the moon can bring to surface powerful emotions and provide an occasion to check in with our emotions. They can allow us to work through fears and gain clarity on what we want our future to look like. Gathering in the presence of others can help us process these emotions in what has long been considered a sacred space.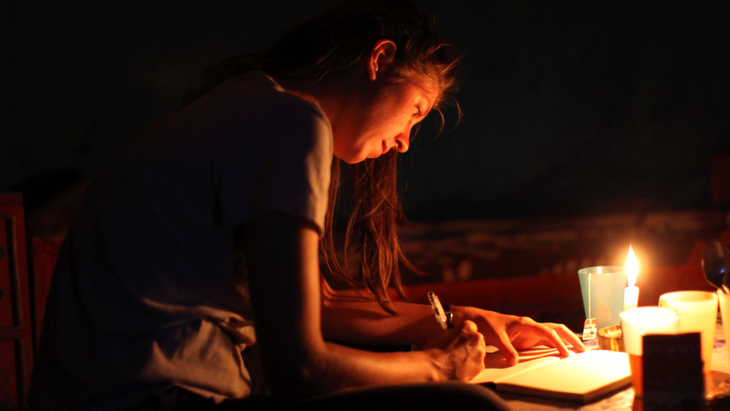 What You Can Expect from a Moon Circle
KJ Atlas, a consulting astrologer in Los Angeles, sets aside 90 minutes for leading moon circles on each new moon. She begins with a lesson on the influence of the new moon in the current zodiac sign and shares tips for setting intentions around that theme.
"In April, for example, an action-oriented Aries new moon might encourage you to set goals that require strength and courage," says Atlas. For example, this might relate to an area of your life in which you feel stuck. It could be that you're unhappy with work and are contemplating a career change. But before quitting your job or diving headlong into a grad school application, you might want to reflect on your other options, including how you show up to your current situation.
Next, she transitions into a related meditation and offers insights on participants' birth charts. To facilitate reflection, she provides journal prompts for setting intentions and then opens the space for sharing.
"A moon circle is an intentional gathering," says Atlas. "When you put your goals out into the world, there's beauty," she says, explaining that the community aspect of moon circles allows us to support others' goal setting and feel a sense of accountability about our own
Despite what many popular memes suggest, the goals you set at the new moon won't necessarily manifest in the two weeks leading up to the next full moon. "It's better to set goals that will come together at the full moon six months later when it's in the same sign as the new moon," she says.
But there are effects immediately after a moon circle. "It can be a way to connect with others," says Atlas. "Besides making new friends, participants can expect to feel a deeper sense of self-love, clarity, and awareness after each event."
DeGolia encourages bringing a sense of curiosity to a moon circle. That, in turn, enhances your awareness and creates a stronger connection to yourself, your intuition, and your needs as well as to those around you. There's strength in the experience of feeling seen, heard, and understood. And your presence inspires others to have a similar experience.