The Best Yoga Retreats to Book
Pack your bags! These mindful, magical destinations around the world promise to deepen your practice—while providing a much-needed dose of adventure.
Heading out the door? Read this article on the new Outside+ app available now on iOS devices for members! Download the app.
After years of more staying at home more than anyone would like, travel has finally resumed—including for yoga retreats.
Yoga retreats are a way to unplug from the outside world, dive deeper into your practice, and gain in-depth instruction from world-class teachers. Spending a few days practicing yoga in a gorgeous place? We can think of nothing better.
Whether you're looking for a yoga retreat close to home or one on the other side of the world, we've got you covered. These stunning yoga destinations span almost every continent. Between oceanside California centers and Indian ashrams, every yogi will find their dream destination on this list.
Read on to discover our favorite yoga destinations around the world—and learn about their 2022 retreat offerings.
Section divider
North America
Helena, Montana
Teacher and Yoga Journal cofounder Judith Hanson Lasater has been hosting yoga retreats at this spacious ranch since 1975. "It's like summer camp for yogis," she says. "Jaw-dropping scenery in the foothills of the Rocky Mountains, magnificent food, fresh spring water, twice-daily yoga classes, and a week steeped in the silence of nature." To pay respect to the sacred Native American land the retreat rests on, founder India Supera created the Feathered Pipe Foundation to help preserve ceremonial traditions of the Cree people. Feathered Pipe continues to foster humanitarian efforts that give life to new nonprofits while maintaining missions such as the Veterans Yoga Project and the Tibetan Children's Education Foundation.
Visit: From late spring to early fall, you can enjoy a variety of health and wellness retreats at Feathered Pipe Ranch, including a weeklong Mindful Unplug Experience. See the complete retreat schedule here.
Upcoming retreats: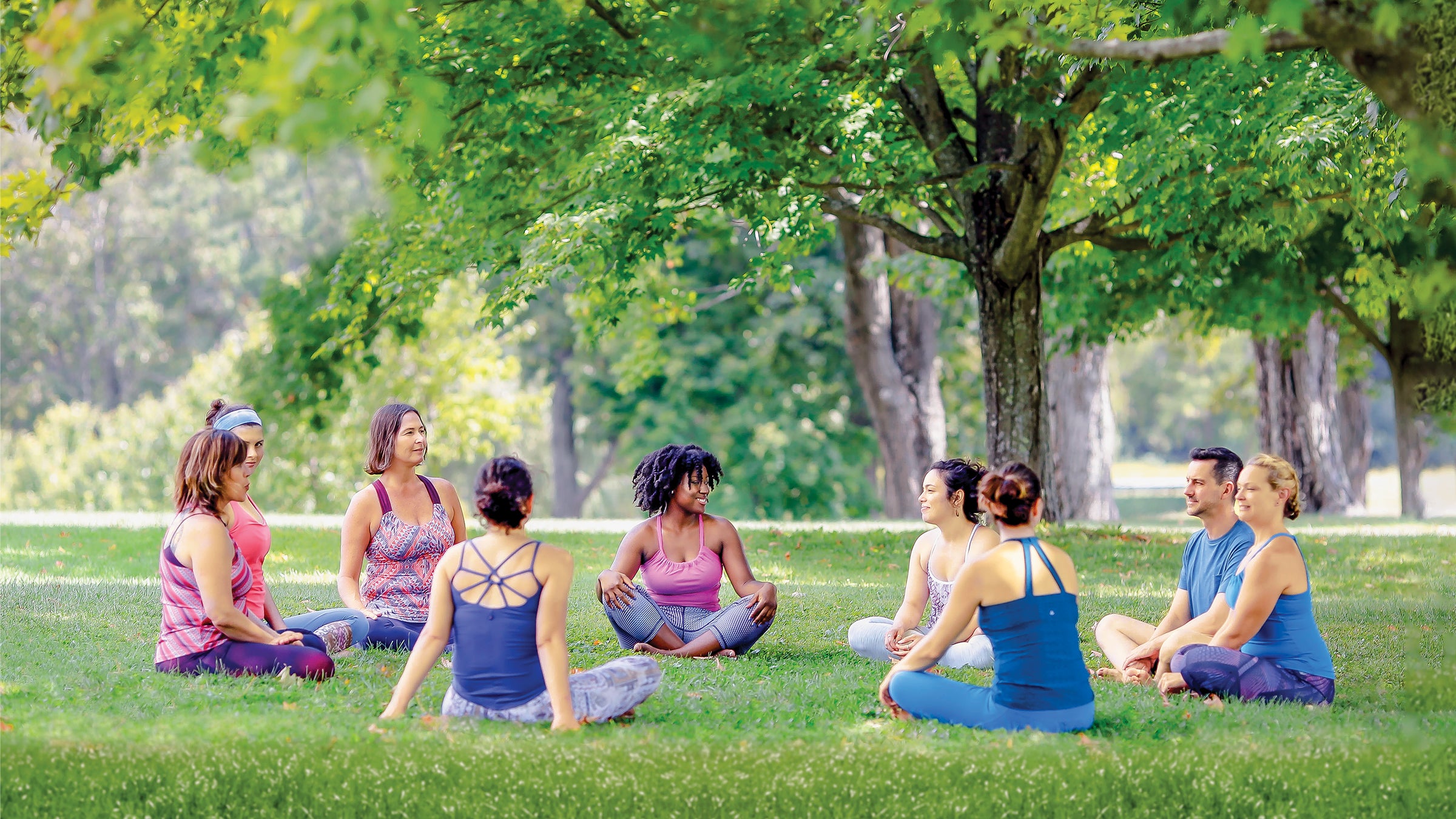 Stockbridge, Massachusetts
With an international network of 2,000 instructors teaching more than 700 programs to 30,000 guests a year, education is front and center at this verdant campus in the Berkshires. For the past decade, Kripalu has led the way in groundbreaking research on yoga and trauma in collaboration with experts from Harvard Medical School and Brigham and Women's Hospital.
Visit: You can opt to book a day pass or stay for an overnight, self-guided retreat.
Big Sur, California
This cliff-side retreat opened in 1962 with a series of workshops on yoga and personal growth. Key counter-cultural figures such as Joan Baez and Joseph Campbell were among its early guests and lecturers. Today, renowned wellness leaders and yoga teachers like Andrew Weil, Dean Ornish, and Janet Stone share expertise on trending topics, including the energetics of consciousness and meditation as medicine.
Visit: You can book a self-guided stay at the Esalen Institute or opt to attend a variety of courses or workshops.
Upcoming yoga, meditation, & mindfulness workshops: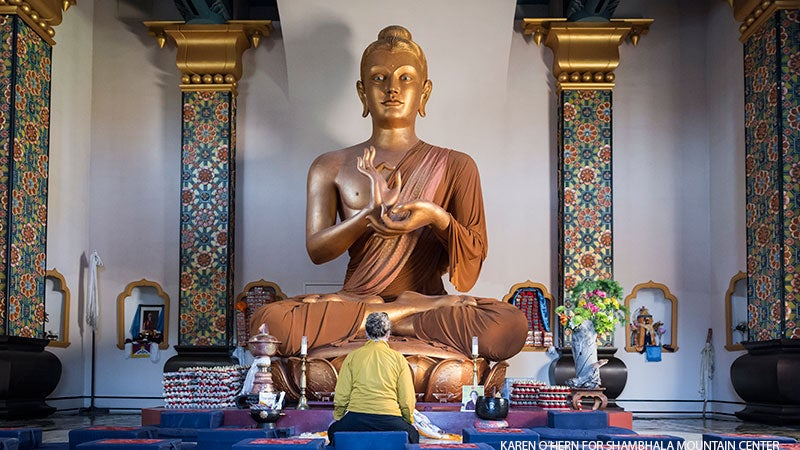 Boulder, Colorado
Boulder's vibrant mindfulness community has been growing since the 1970s when Tibetan meditation master Chögyam Trungpa Rinpoche—the 11th incarnation of the Trungpa Tulku—established Naropa University, a Buddhist liberal arts college, and Drala Mountain Center (formerly known as Shambhala Mountain Center) in a valley above town. While Rinpoche's legacy has been rocked by scandal, Naropa and Drala remain pillars of Buddhist values and mindful practices.
Visit: You can visit Drala Mountain Center for the day or book a self-guided retreat.
Upcoming retreats: 
Bonus: The Hanuman Festival, taking place July 14–17, 2022, attracts top yoga educators and teachers such as Sreedevi Bringi, Seane Corn, Tiffany Cruikshank, and many others.
Los Angeles
Paramahansa Yogananda, one of the first Indian spiritual teachers to make his home in the West, called Los Angeles "the Benares of America" (Benares is another name for the Indian city of Varanasi) when he arrived in the 1920s. After setting up the Self-Realization Fellowship's international headquarters atop Mount Washington, he opened a clifftop compound in Encinitas and a waterfall and shrine-studded campus on Sunset Boulevard, where a portion of the ashes of Mahatma Gandhi are laid to rest. Today, the Lake Shrine—with its waterfront meditation garden and gold lotus–topped temple where resident monks hold services and give lectures—remains an oasis for contemplation.
Visit: You can reserve a time to visit Lake Shrine or submit a request to book a private retreat.
Ojai, California
A bustling hub of ashrams, yoga centers, and spiritual retreats— and dubbed Shangri-La by locals (a nod to the surrounding valley's cameo as the fictional utopia in the classic film Lost Horizon)—Ojai's surrounding Topatopa and Sulphur mountains are what attracted Indian philosopher J. Krishnamurti in the 1920s. Today, his teachings continue via programs at the Krishnamurti Educational Center, which offers retreats, residential programs, and more.
Visit: The Krishnamurti Educational Center is open to the public. Check out the calendar to view upcoming events and learning opportunities.
Various locations
Through the Chopra Center, experts in hypnotherapy, integrative oncology, and pranic healing (a form of no-touch energy healing) combine holistic practices and Western medicine for a unique healing and wellness experience. Choose from a twice-monthly Health Retreat in Carefree, Arizona, where itineraries feature daily yoga and meditation, Ayurvedic meals, and spa treatments. Or, dive deeper into your practice with an immersive retreat at one of the Chopra Center's experiences across North America
Upcoming retreats: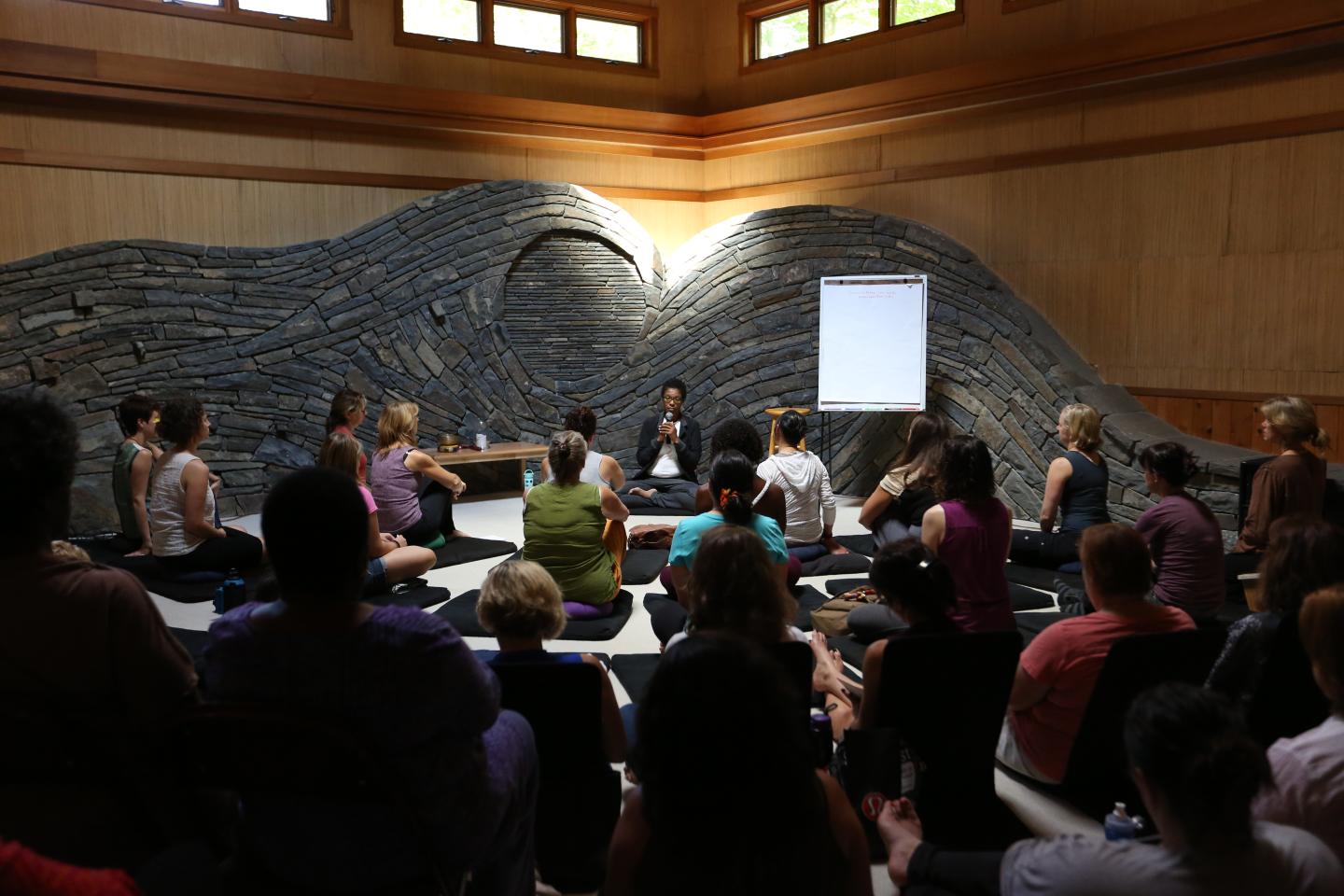 Rhinebeck, New York
While New York City has long been known as a hub for yoga and meditation, 90 miles north in the lush Hudson Valley lies a true respite from the hustle of the city—the Omega Institute. The sprawling, 250-acre campus was founded in 1977 as a hub for learning, spiritual exploration, and community. The campus also includes the Omega Center for Sustainable Living—a home to explore and learn about eco-friendly building practices—and the Women's Leadership Center.
Visit: From May to October, you can sign up for Omega's self-guided Rest & Rejuvenation retreats, where you can enjoy all the amenities of the campus in your own time (no workshop attendance required).
Upcoming retreats & workshops: 
Garrison, New York
Located on the grounds of a former Capuchin monastery, the Garrison Institute hosts multiple in-person retreats throughout the year. This center aims to address social and environmental concerns through a combination of reflection and action. Its specific focus on social initiatives will help you contextualize your practice in the larger world.
Upcoming retreats: Pause + Press Play, June 24–26, 2022. This retreat for women of color, hosted by Crystal McCreary, a Yoga Journal contributor, in partnership with Marla Teyolia, focuses on self-care and personal rejuvenation.
Section divider
Europe
St. Anton, Austria
This event, held in the birthplace of modern skiing, offers a heavy dose of outdoor wellness. Intimacy is part of the draw: Fewer than 300 attendees and teachers from around the world gather to fill their souls with music and movement.
Upcoming event: September 1–4, 2022
Cadiz, Spain
The Om Dome (an igloo-shaped yoga hall) at this Andalusian retreat might be the most magnificent place to practice in all of Europe, says yoga teacher Tiffany Cruikshank. The geometric studio was designed to resemble a Nepalese temple topped with a golden stupa. Wholesome farm-to-table organic meals are another reason Cruikshank enjoys leading retreats here. Regular teacher trainings by Vidya Jacqueline Heisel, founder of vinyasa-focused Frog Lotus Yoga, and Carol Murphy, founder of Green Lotus Yoga, are other highlights
Visit: You can opt to book a stay without attending a retreat at the center's hotel. In addition to regular retreats, this center also offers horseback riding and teacher training. Yoga retreats are offered on an almost-weekly basis throughout the year and are hosted by a variety of teachers.
Upcoming retreats: 
Various locations
Reclaim Your Self Yoga Retreats hosts numerous retreats throughout the year across Europe. With a focus on environmental sustainability and community care, the company offsets all guest travel emissions, supports small businesses and fosters connections with the outside world on every retreat.
Visit: You can book one of their upcoming retreats across Europe. Additionally, this summer, Adam Husler, a Yoga Journal contributor, will host a slow-living retreat called Norfolk Yoga Weekend (June 3–6, 2022) and Woodland Summer Yoga Weekend in Bath, England (July 8–11, 2022).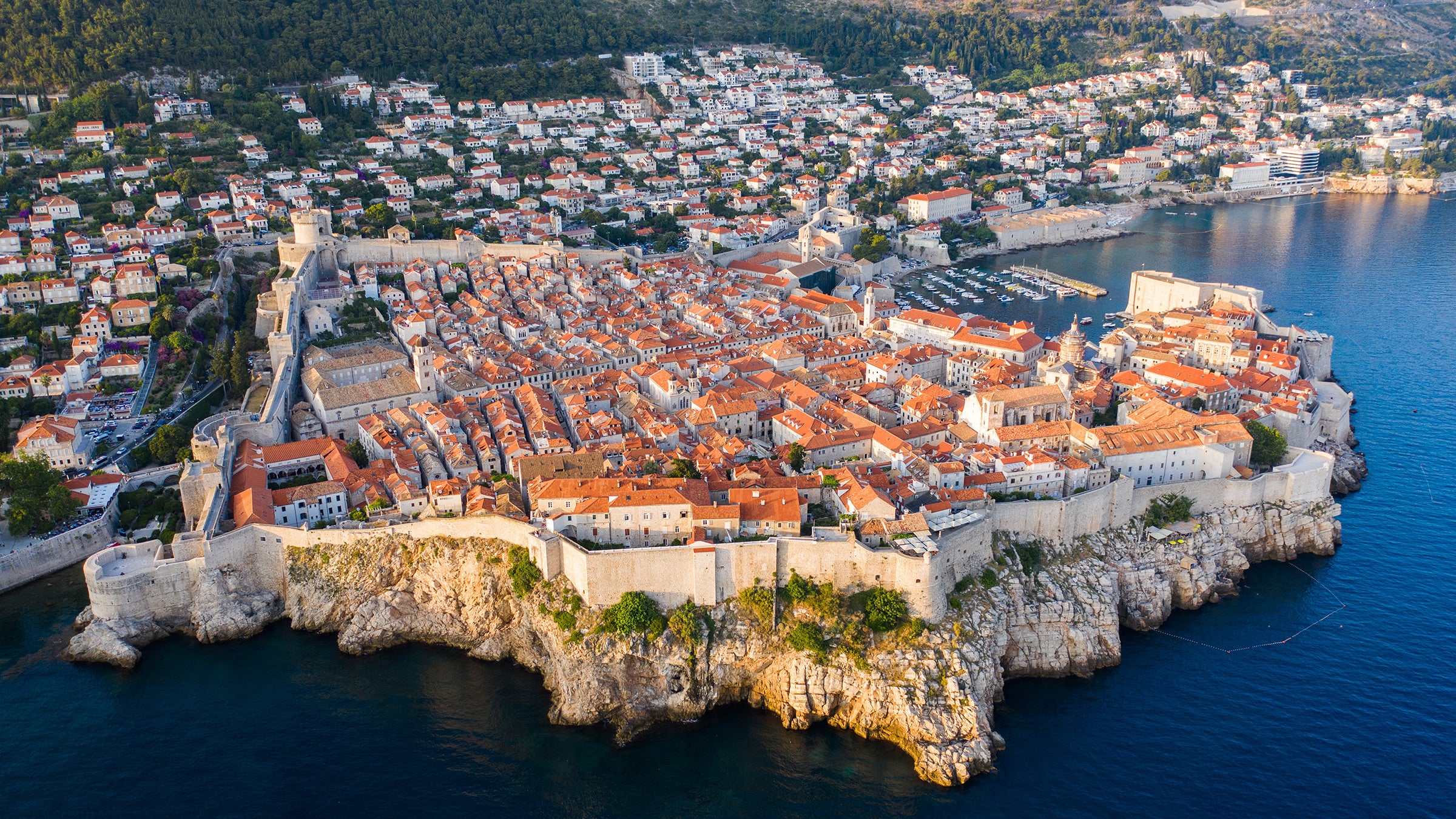 Various locations
Combining adventure-centric travel with a focus on wellness, Blissed Yoga Retreats fuses calming yoga retreats with community-based travel experiences.
Visit: In May, Travis Eliot, a Yoga Journal contributor, is hosting two week-long retreats with Laura Eckstrom in Dubrovnik, Croatia (May 1–7; May 13–19, 2022). Located on the shores of the Adriatic Sea, this historic coastal city is the perfect place for a temporary escape.
Section divider
Africa
Stanford, South Africa
Located at the Southern Tip of the African continent, this serene retreat center is a sanctuary that combines nature and sustainability with spirituality. Intended as a place to reconnect with yourself and with the natural world, Bodhi Khaya offers everything you need for a peaceful and remote retreat—including hiking trails, swimming ponds, meditation and yoga classes, and even a labyrinth.
Visit: Choose any weekend to book a personal retreat at Bodhi Khaya, which includes accommodations, three vegetarian meals per day, meditation, yoga, and the use of facilities. Additionally, each visitor will be given an indigenous tree to plant as part of their reforestation initiative. Or you can select one of the retreat center's facilitated retreats.
Centre Ville Tagahzout, Morocco 
Over the past two decades, a booming surf-and-yoga scene has sprung up in this sleepy fishing village five hours south of Casablanca. Take holiday with Surf Maroc (one of the area's first surf-yoga retreat companies) for daily "creative vinyasa, powerful pranayama, laughter yoga, restorative, yin, yoga nidra, and meditation." Between yoga sessions, surf instructors provide hands-on coaching whether you're a first-timer or a seasoned rider. For a taste of the locale, the property's neighboring rooftop yoga studio offers public classes and a chance to mingle with the local yoga community.
Visit: Book a stay at one of Surf Maroc's three villas or opt to attend one of their yoga surf retreats, which are hosted on a regular basis.
Section divider
Central + South America
Cusco, Peru
Traditionally, travelers here head straight to historic sanctuary Machu Picchu—but culturally immersive retreats nestled in the heart of the Sacred Valley offer a new draw of their own. Willka T'ika, an eco-friendly retreat center, incorporates Andean traditions and Q'ero healers. Portions of retreat proceeds support childhood education in remote villages. Organic gardening, sustainable living, and acts of generosity are all woven into the fabric of Willka T'ika.
Visit: You can book a stay at the center's boutique hotel or choose from one of its many upcoming group retreats, which are hosted by a variety of studios and teachers.
San Marcos La Laguna, Guatemala 
Travelers looking to escape the growing yogi crowds in Mexico have set their sights on the emerging yoga scene in Guatemala, where, in the Mayan village of San Marcos la Laguna, The Yoga Forest sets the stage for responsible tourism, funding community projects such as shoreline restoration via reed planting and midwife education.
Visit: Drop in for a class or embark on a personal or group retreat to study Jnana, Ashtanga, Bhakti, and Karma Yoga with their pros.
Upcoming group retreats:
Nosara, Costa Rica
Universally considered a yoga mecca, Nosara is home to 32 retreats with serious yoga cred. Both Don Stapleton, longtime director of Kripalu, and Stephan Rechtschaffen, co-founder of the Omega Institute, set up yoga and wellness retreat centers here in the 1990s. At Rechtschaffen's Blue Spirit, you can experience a learning vacation that includes workshops on unlocking your purpose and Rechtschaffer-led lectures on finding the path to longevity. Located in a blue zone (where a large percentage of the population lives longer than average), the vivacity of Nosara is intimately intertwined with its people and practices.
Visit: Blue Spirit frequently hosts yoga retreats, as well as teacher trainings. A variety of studios and teachers from around the world host retreats at this coastal sanctuary. Typically, at least one retreat is offered every week. See the complete retreat schedule here.
Section divider
Caribbean
Havana, Cuba
Cuba's dynamism reminds us that yoga is really about community. Eduardo de Jesus Pimentel Vázquez—the godfather of Cuban yoga—has trained more than 12,000 yoga practitioners through the Cuban Yoga Association, which he founded in 1990. He often drops in to teach a class during one of Mhai Yoga's week-long retreats. Gorgeous views surround this Caribbean retreat center, including a direct view of the ocean from the rooftop. You're just a few steps away from the beach at this slice of paradise.
Visit: You can book one of the retreats offered by a variety of studios and teachers throughout the year.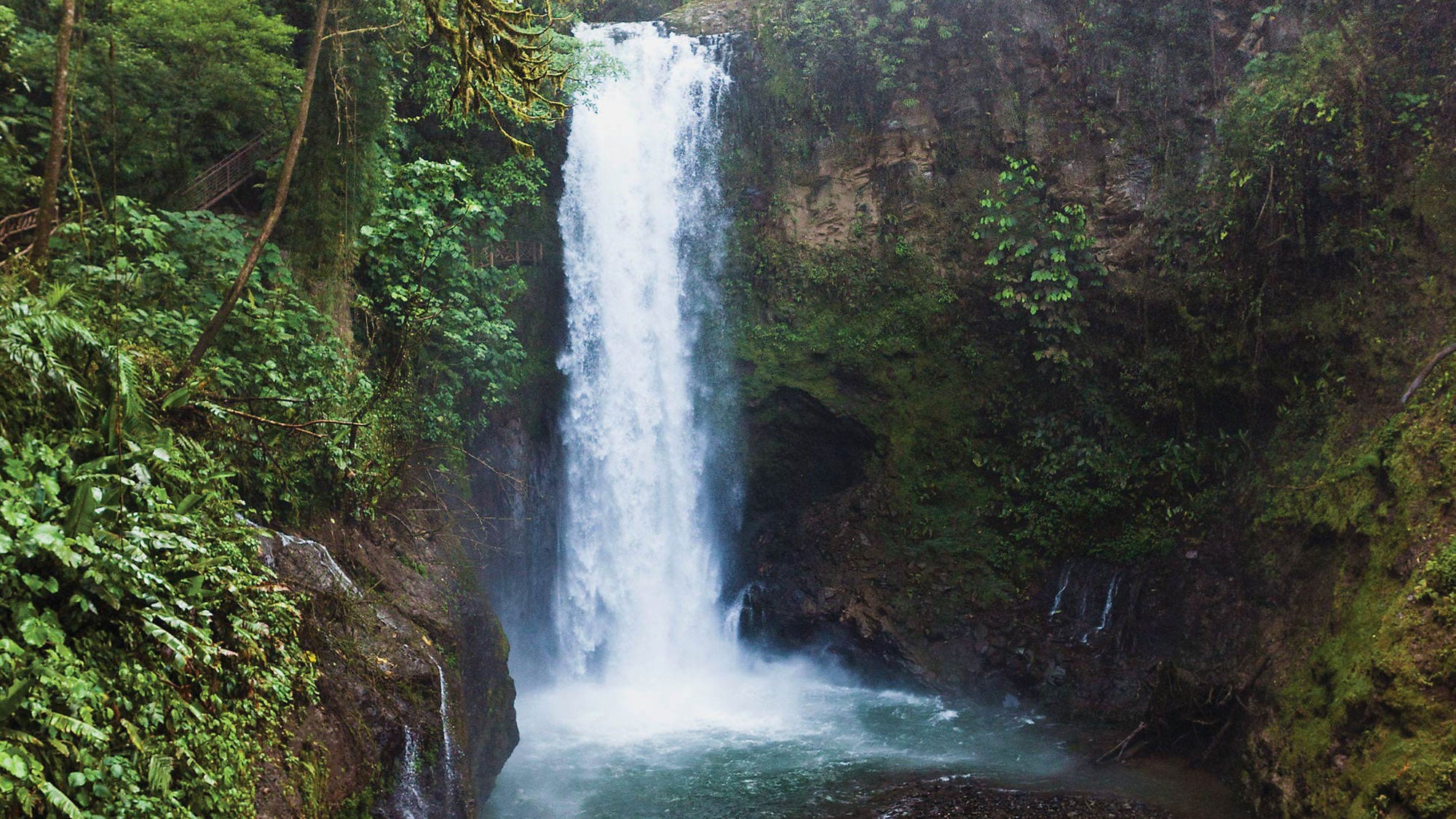 Soufriere, Dominica
Since opening their rainforest retreat center in 2005, yoga teacher Glenda Raphael and her husband, Sam, have been pioneers of sustainable tourism, stocking up on goods from island farmers, local fishermen, and artisans. Yoga teacher Chrissy Carter has held numerous retreats here. Don't miss Victoria Falls, Champagne Beach, and the Boiling Lake, the name given to one of the world's few lakes that actually boils, says Carter.
Visit: Book a stay in one of the center's gorgeous rooms or register for one of their wellness-oriented retreats.
Upcoming yoga retreats:
Section divider
Asia
Ubud, Bali, Indonesia
There's a reason Bali is famous for its yoga retreats. In the jungles of Ubud, musician Michael Franti invites guest performers to enliven the asana practices at his Soulshine Bali Hotel & Yoga Retreat Oasis. Of course, the island's biggest party happens during BaliSpirit Festival, a week-long celebration that draws big names like Shiva Rea and Tymi Howard, plus local Indonesian presenters such as Aikikdo, Made Janur, and musician Krisna Floop.
Visit: You can opt to stay at the Soulshine Bali's hotel or book one of the Soulrocker Yoga Retreats.
Upcoming retreats:
Dhulikhel, Kavre, Nepal
If replenishment is what you're after, then Dwarika's Resort—tucked into the hillside just 30 miles from the Tibetan border—should top your short list. After a consultation with an Ayurvedic health care provider, you will be prescribed soothing appointments on your custom itinerary: time in the respiratory-cleansing salt house, a visit with the retreat's resident naturopath, a walk through the meditation maze, sessions in sound- and color-therapy chambers, and stargazing with an astrology master. Yoga classes offer the ultimate view—distant snow-capped mountains of the Himalayan range.
Visit: You can choose to book a stay at this resort or select one of its multi-night packages, including a five- or seven-night Yoga Package.
Paro, Bhutan
Enjoy daily yoga and acupuncture sessions at this all-inclusive retreat center in Paro, Bhutan—a historic valley town surrounded by sacred Buddhist sites. Each room has views of the Eutok Samdrupcholing goenpa monastery, where resident monks welcome guests for morning meditation. Bhutan is known for its medicinal herbs, and guests are encouraged to join spa therapists on foraging excursions in nearby hillsides.
Visit: You can book your own stay at this center or select one of the four-night "Glimpse of Bhutan" or eight-night "Essence of Bhutan" packages.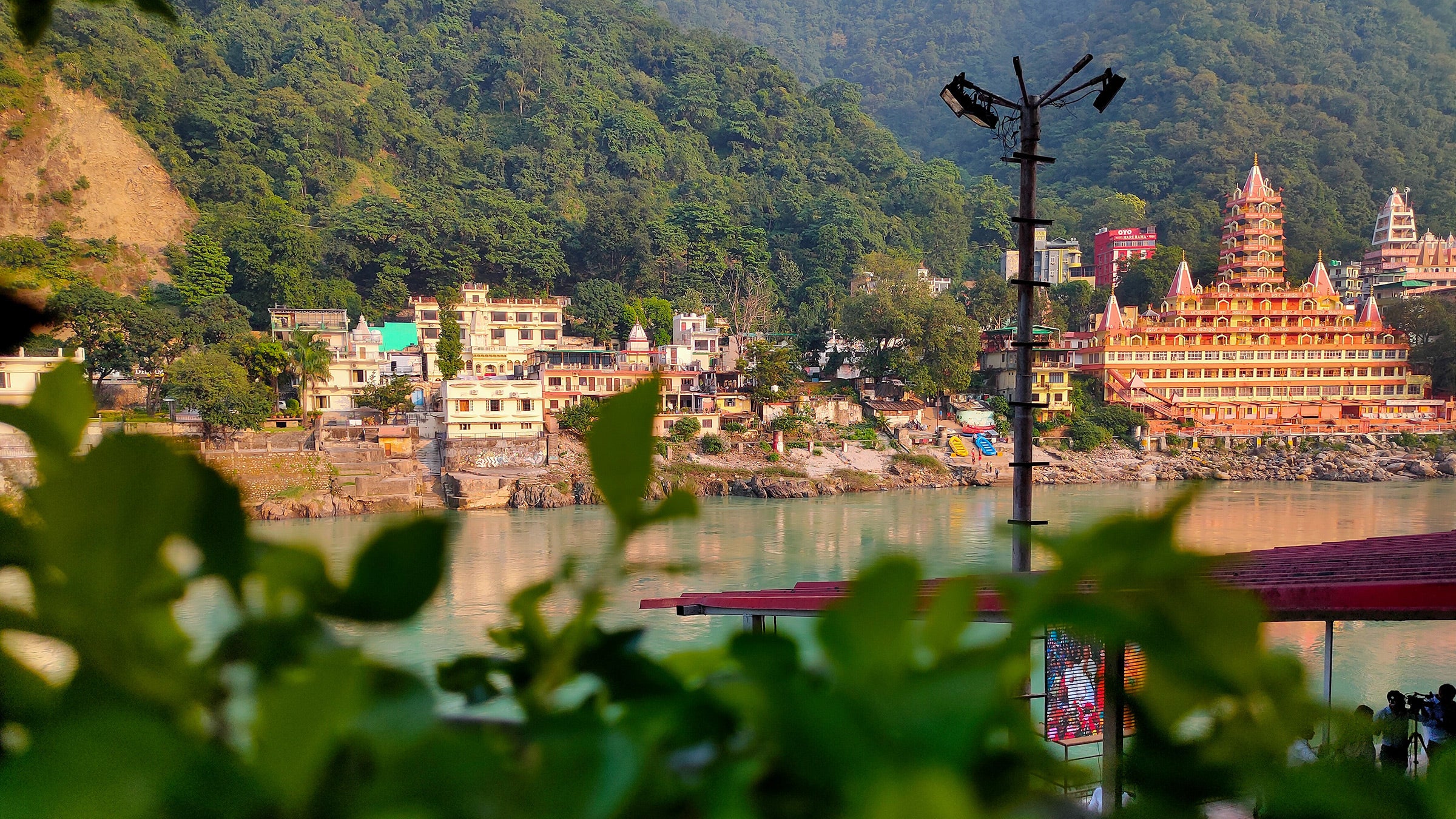 Rishikesh, India
Rishikesht, nestled along the sacred Ganges River in northern India, is a preferred jumping-off point for many teachers and travelers making the pilgrim-age to the birthplace of yoga. Hindus believe that a saint came to the river to offer penance and was forgiven by the god Vishnu. Phool Chatti Ashram, a remote center in the Himalayan foothills, offers a seven-day yoga and meditation retreat for beginner- and intermediate-level yogis. You'll engage in nature walks, various yoga practices, meditation sessions and traditional ceremonies over the course of the program.
Visit: The center offers Ayurvedic treatment sessions and Indian cooking classes, in addition to its seven-day retreat program (multiple dates throughout 2022).
Rishikesh, India
This luxurious resort is famous for its Ayurvedic treatments. Located on a hill overlooking the city of Rishikesh, Ananda offers a variety of yoga and meditation retreats. The resort's Yogic Detox Retreat is offered as a seven-, 14- or 21-day program. You'll participate in Ayurvedic therapy sessions, individualized yoga sessions and a variety of wellness-oriented consultations. The resort's other yoga-focused program, the Yoga Retreat, is also available as a five-, seven- or 14-day program.
Visit: You can opt to book a hotel stay at this luxurious resort or participate in a specific wellness program.
Sri Lanka
Sri Lanka has no shortage of stylish beachside yoga retreats, but world-class therapists and teachers—such as Parisian Alexandre Onfroy and Californian Rob Hess—make the trek inland to immerse themselves in local culture at Ulpotha. Located in a working rice village, a committee of locals take part in all decision-making, and guest fees fund a free area clinic. Eleven simple mud huts are sprinkled across 22 acres of dense forests, and monks still live in remote temples in the mountains above. There's a dedicated yoga shala, but classes also take place beneath the branches of an ancient banyan tree.
Visit: You can opt to book a stay at this village or participate in one of their retreats.
Upcoming retreats: 
Koh Samui, Thailand
Teachers Rodney Yee, Colleen Saidman Yee, Richard Freeman, and Mary Taylor are regular hosts at this retreat founded by John Stewart, a former monk who lived in the Himalayas for 18 years, and his wife, Karina, a doctor of Traditional Chinese Medicine, who built the seaside sanctuary around a jungle-shrouded cave that was once a spiritual retreat for Buddhist monks. Guests can book à la carte therapies and classes such as detoxification, Chi Nei Tsang, and Hatha Yoga, or multi-day packages meant to remedy modern ailments such as technology addiction.
Vist: You can choose to book one of the center's multi-day wellness programs or opt to book a stay without participating in a specific program.
Siem Reap, Cambodia
Teacher Puravi Joshi calls Cambodia one of the most peaceful places to practice. Immerse yourself in the history and culture of Siem Reap at the Hariharalaya Yoga & Meditation Retreat, named after the Vedic capital of Cambodia. Temples dating to 800 CE surround the two-acre campus. A team of international yoga and meditation instructors lead six-day retreats with Integral Yoga, silent meditation, Dharma talks, and nourishing vegan cuisine.
Visit: You can opt to book a two-, four-, six- or eight-week all-inclusive retreat.
Section divider
Australia + New Zealand
Tallebudgera Valley, Queensland, Australia
It's not uncommon to see wallabies and 'roos hopping across the 500-acre grounds set high up in the ancient gum trees of the Tallebudgera Valley. Mornings focus on yin-inspired movements such as qi gong and restorative yoga, while afternoons are devoted to yang-type activities such as boxing and hiking. This wellness destination center hosts retreats on a regular basis, giving you the ideal opportunity to disconnect from the world.
Visit: You can opt to book a two-, three-, four-, five- or seven-night retreat package, or a three-night yoga retreat (2022 dates available).
Glenorchy, New Zealand
Six- and eight-day retreats, many led by yogi and founder Damian Chaparro, focus on rejuvenating mind and body against some of New Zealand's most breathtaking landscapes. Think sunrise yoga, kayaking excursions, and strenuous hikes on the trails of New Zealand's Southern Alps and along the shores of sapphire-blue Lake Wakatipu. Days end with restorative yoga and nourishing, paleo-friendly cuisine.
Visit: You can opt to book a six- or eight-day retreat.
Upcoming retreats:
Byron Bay, New South Wales, Australia 
The quintessential beach town, Byron Bay overflows with juice bars, organic cafés, and boutique yoga studios. Byron Yoga Centre, founded in 1988 by John Ogilvie, is one of Australia's longest-running yoga schools. Ogilvie's signature style of Purna Yoga focuses on integrating physical postures and philosophy
Visit: You can opt to book a seven-, five- or three-day retreat at the Byron Bay Wellness Centre. Retreats are offered on a weekly basis. Speciality retreats are also offered.
Upcoming speciality retreats:
---
About our authors
Jen Murphy travels the globe reporting on adventure travel, wellness, food, and conservation. She writes the Wall Street Journal's What's Your Workout column and is the author of The Yoga (Man)ual. Additional reporting by Kyle Houseworth, Ellen O'Brien, and Erin Skarda.
This story was originally published in 2019 and has been updated with new information.