30 Yoga + Adventure Retreats Calling Your Name
Climb, paddle, or surf your way to bliss on a retreat marrying yoga + outdoor sports.
Heading out the door? Read this article on the new Outside+ app available now on iOS devices for members! Download the app.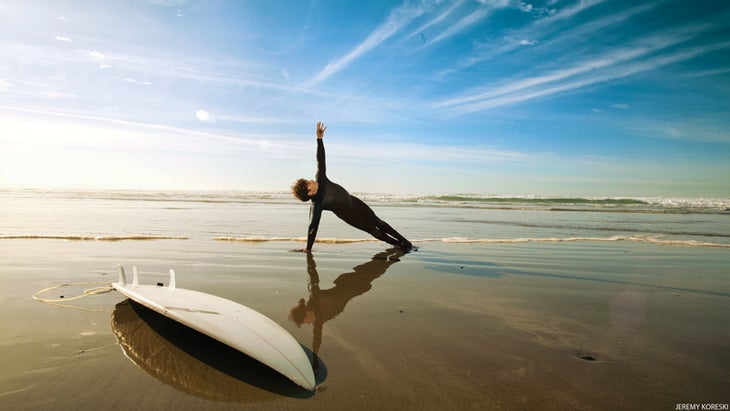 The dusty rock formations that dot Joshua Tree National Park stand out against the cool, crisp blue of the California desert sky. Kate Scherer was looking forward to seeing the view from the top of one of those rocks. A few minutes into the climb, she was surprised to see the peak already just a few feet away, and that's when the first-time climber got stuck on the rock face. "I started to panic," says the creative director of a marketing firm and vinyasa yoga practitioner from Santa Monica. "My body was shaking. I felt like if I moved, I'd fall."
Harnesses and rope connected Scherer, who was on a yoga and rock-climbing retreat, to her fellow climbers and the group's instructor. Her companions encouraged her to keep going, to trust that if she stood up on the tiny outcropping of rock that her shoes were gripping and reached up, she would find something to grab. She took a deep breath, extended her legs until she was on her tiptoes, and reached the peak. At the top, she took in the view with the group, and reveled in the climb. "It was like I laid down my fears and left them there," says Scherer. "I felt alive, empowered, and overall just lighter."
If you've ever been on a yoga retreat, you know that the experience of practicing yoga in a beautiful place, with the support of like-minded people and plenty of time for rest and relaxation, can refresh your outlook and create the conditions for breakthroughs in your practice and in your whole life. Vacations that combine the elements of a yoga retreat with outdoor activities like rock climbing, surfing, and hiking are ideal when you want to up the exhilaration factor. Think summer camp for grown-ups, but with yoga to inspire you, help your body adjust to an unaccustomed activity, and heighten your awareness of every moment.
"Watch any little kid running around outside. They are so full of life and vibrancy," says Eoin Finn, a vinyasa- and surf-retreat leader in Vancouver. "Yoga takes care of so many of the needs of the body, mind, and soul. Many people find that when they combine yoga with adventure and sport retreats, they begin to experience a rapture in being alive."
Most yoga adventure retreats accommodate all skill levels, for both the yoga classes and the activity at hand. Before you book your trip, contact the organizer to describe your experience level, and make sure the itinerary will offer the kind of asana and activity you're looking for. And be prepared for what you experience in your yoga practice to overflow into the rest of your vacation, and beyond.
"After yoga practice, you feel more agile, stronger, yet looser, which makes your activities so much more graceful. It's a balance that creates both focus and ease, the best mindful space from which to learn and grow," says Finn. "We call it 'retreating,' but it's really embracing all of our activities with a new sense of passion."
Hiking and Backpacking
Banff National Park
Alberta, Canada
Spend a week in the heart of the Canadian Rockies on a trip that includes daily Anusara Yoga classes, five to seven miles of backpacking per day, and a luxurious last night at a lakeside chalet.
For more information, visit ecoyoga.ca.
Oak Creek Canyon
Sedona, Arizona
Take meditative hikes through the awe-inspiring canyon and red-rock country of Sedona. Yoga sessions at dawn and dusk let you connect with the energy of a unique landscape.
For more information, visit yogalife.net.
Yosemite National Park
Northern California
Hike in to a pristine camp in the wilderness and experience practicing yoga in the backcountry. Each of the trips offered here focuses on a different theme or style of yoga.
For more information visit, backtoearth.com.
Explore hiking trails and hone your backcountry skills along with your yoga and meditation practice while surrounded by the rocky bluffs, cliffs, and waterfalls of Yosemite.
For more information, visit balancedrockfoundation.com
Continental Divide
Aspen, Colorado
Enjoy daily yoga classes and hikes along the breathtaking trails of the Continental Divide, and finish each day with massage and fine dining at the Aspen Sky Hotel.
For more information, visit globalfitnessadventures.com.
Mt. Rainier National Park
Western Washington
Explore the old-growth forests and glacier-fed rivers of Mt. Rainier National Park with a professional guide. Practice yoga, with views of the state's highest mountain.
For more information, visit kafadventures.com.
Rock Climbing
McDowell Mountains
Scottsdale, Arizona
Camp for the weekend in the Sonoran Desert, learn the essentials of rock climbing, and practice yoga on a supportive retreat. For women only.
For more information, visit climbingschool.com
Pacific Northwest
Take your rock-climbing skills to the next level with individualized instruction during a weekend workshop on camping, climbing, and yoga.
For more information, visit seektruenorth.com
Shawangunk Mountains
New Paltz, New York
Practice yoga on a cliff top, with views of the Shawangunk Mountains, before taking a guided climb on beginner or intermediate terrain.
For more information, visit colleenlilayoga.com.
Kripalu Center
Berkshires, Western Massachusetts
YogaSlackers lead this playful rock-climbing and acrobatic yoga retreat at the Kripalu Center, which includes climbing and yoga, plus optional activities like slacklining, hooping, and hiking.
For more information, visit kripalu.org
Devil's Lake State Park
Baraboo, Wisconsin
Camp near the sheer quartzite bluffs of Devil's Lake State Park in southern Wisconsin. Explore the complementary practices of rock climbing and yoga, with guidance from a professional instructor.
For more information, visit poweradventures.com.
Paddle Sports
American River
Northern California
Start your day with an invigorating morning practice with yoga teacher Pete Guinosso, followed by a day spent rafting the rapids of the American River. In the evenings, join kirtan musician Dave Stringer for chants by the campfire.
For more information, visit yogaislife.net.
Algonquin Provincial Park
Ontario, Canada
Travel by canoe through the pristine waters and deep, quiet forests of Algonquin Provincial Park. Practice yoga each day at sunrise and sunset.
You can also learn sea kayaking skills on a scenic inland lake in Ontario and practice yoga on this retreat for women at the Northern Edge eco-retreat center.
For more information, visit northernedgealgonquin.com.
Mississippi River
Northwestern Illinois
Take a seven-mile kayak trip down the Mississippi, followed by a yoga class, a picnic lunch, and a leisurely bike ride back to your starting point.
For more information, visit feverriveroutfitters.com.
Lake Michigan
Eastern Wisconsin
Learn sea kayaking in a weekend and explore the rocky bluffs and pine forests of Lake Michigan's rugged shoreline, with daily yoga and meditation at your campsite.
For more information, visit nwpassage.com.
The Berkshire Hills
Western Massachusetts
Led by world-class kayaker Johnny Snyder, this weekend trip lets you hone your kayaking skills on the calm lakes of the Berkshire Hills. Practice yoga and qigong back on dry land.
For more information, visit kripalu.org.
Hells Canyon National Recreation Area
Oregon
Raft down the Snake River through Hells Canyon, the deepest gorge in North America, with daily yoga to keep you calm in the white-water rapids.
For more information, visit windingwatersrafting.com.
Green and Yampa Rivers
Utah
Raft through deep canyons on these river and yoga excursions, which include postrapids massage. For women only.
For more information, visit bikeraft.com.
Surfing
Montauk, New York
Outdoor vinyasa yoga classes and surfing or standup paddleboard instruction.
For more information, visit liquidyogaandsurf.com
West Maui Mountains
Maui, Hawaii
Enjoy daily surf and paddleboard lessons, yoga sessions, and accommodations at an oceanfront resort with views of the West Maui Mountains. For women only.
For more information, visit swellwomen.com.
Clayoquot Sound
British Columbia, Canada
Yoga teacher Eoin Finn leads flow yoga and surfing lessons on an ecology and surfing adventure that lets you explore a stunning landscape of beaches, tide pools, and rain forests.
For more information, visit blissology.com.
La Jolla Shores Beach
La Jolla, California
Learn standup paddleboard surfing on this women's retreat from Surf Diva and stay balanced with daily yoga sessions at an oceanfront resort on La Jolla Shores Beach.
For more information, surfdiva.com.
Mexico's Pacific Coast
Pacific Coast, Mexico
Stay at a secluded beach house on Mexico's Pacific Coast, and enjoy five days of surfing and paddleboarding instruction as well as vinyasa and restorative yoga classes.
For more information, visit threejewelsretreats.com.
Running and Biking
Wolfe Island
Ontario, Canada
Enjoy group runs and practice yoga in a yurt at the Shanti Yoga Retreat, which has serene views of the expansive St. Lawrence River.
For more information, visit yogaforrunners.com.
Arapahoe National Forest
Northern Colorado
Learn advanced trail-running techniques, injury prevention, and proper fueling and hydration at this women's running camp. Runs range from 4 to 12 miles. Daily yoga helps you tune in to your body rhythms and breath and savor the meditative quality of running in nature.
For more information, visit runwildretreats.com.
Aspotogan Peninsula
Nova Scotia, Canada
Bike the quiet coastal roads of the Aspotogan Peninsula, stopping to view whales, seals, and sea birds along this remote stretch of Atlantic coastline. Rest and practice yoga in rural inns and cottages along the way.
For more information, visit freewheeling.ca.
Sierra Nevada Mountains
Northern California
Join the Ananda spiritual community for yoga and meditation in the morning, and then ride the gorgeous climbs and breathtaking descents of the surrounding Sierra Foothills.
For more information, visit expandinglight.org.
Provencal Countryside
Provence, France
Ride 20 to 30 miles every day through the scenic Provencal countryside, with yoga at the beginning and end of each day to soothe your tired limbs.
For more information, visit duvine.com.
Horseback Riding
Home Ranch
Clark, Colorado
Join cowgirl Tammy Pate and equestrian yogi Janice Baxter to explore the connections between yoga and horseback riding at the Home Ranch in northern Colorado.
For more information, visit homeranch.com.
Cowgirl Yoga Camp
Wilsall, Montana
Learn horseback riding, practice yoga, and enjoy fresh air and ranch living at the Cowgirl Yoga Camp.
For more information, visit bigskyyogaretreats.com.