9 India Yoga Retreats That Will Change Your Life
Considering a pilgrimage to the birthplace of yoga? These 9 awesome ashrams and retreats in India are ideal spots to deepen your practice.
Heading out the door? Read this article on the new Outside+ app available now on iOS devices for members! Download the app.
There's nothing quite like a journey to India to deepen your practice and help you get closer to the heart of yoga. Yet when it comes to planning a trip to yoga's motherland, there's a good chance you will feel overwhelmed. After all, India is big—it's the seventh largest country in the world and home to about 1.3 billion people.
To help you figure out exactly where to go to see and learn the most about the birthplace of yoga, here are 9 awesome ashrams and retreats to help kick-start your planning.
See also 3 Powerful Lessons Learned from a Deep Dive into India's Yoga
9 India Yoga Retreats That Will Change Your Life
1. Yoga Magic Retreat, Anjuna, Goa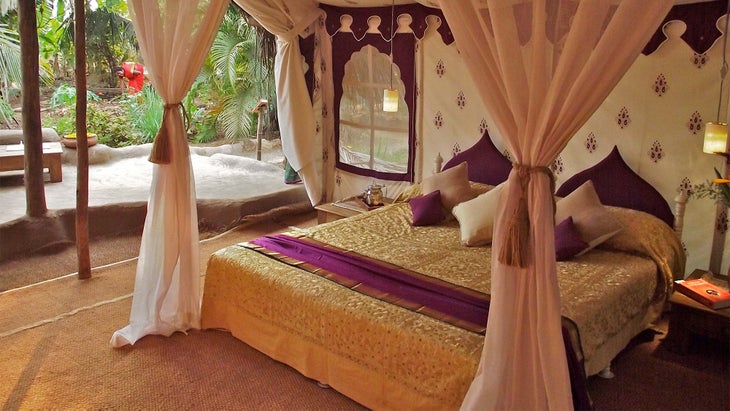 When to go: Year-round
Why: While other Goa retreats may be flashier, you'd be hard-pressed to find a more peaceful beach hideaway than Yoga Magic. Deviating from the chill hard-play hard, psychedelic vibe that permeates Anjuna Beach, this eco-villa delivers an experience that's rooted in nature and tranquility. Daily yoga classes, held in a rammed-earth shala overlooking coconut groves and rice paddy fields, run the gamut from hatha to Yin. Book a Marma massage with healer Vishnu—his Ayurvedic rubdowns are known to be among the best in the region.
Cost: From $85 per night, yogamagic.net
See also Why Make a Yoga Pilgrimage to India?
2. A Spiritual Journey Through India: Sights, Yoga, Culture & Ceremony, various towns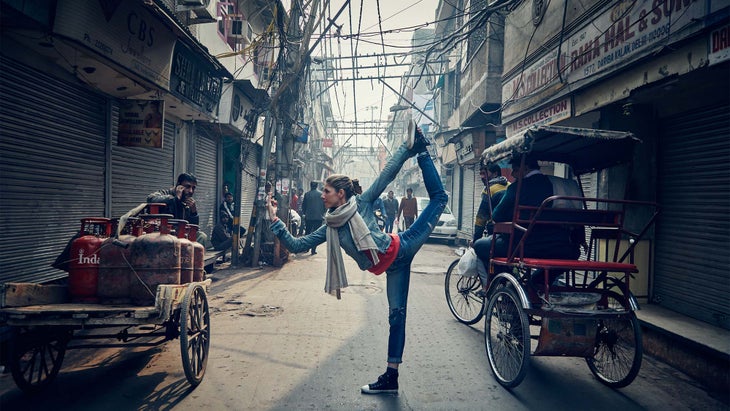 When to go: October 15-24, 2018
Why: While plenty of vinyasa, reiki, and other restorative practices are on deck for this trip, guests will also be introduced to the cultural and natural beauty of the motherland. The yoga-curious will fall in love with everything the practice stands for as they experience a colorful Ganga Aarti ceremony in the pilgrimage city of Varanasi; visit Sarnath, where a newly enlightened Buddha delivered his first sermon; and take rickshaw rambles through Delhi and Jaipur. Basically, invite your whole squad.
Cost: From $3,895, internationalyoga.com
See also 15 Beach Yoga Retreats in Paradise
3. One Reality Yoga & Ayurveda Retreat, Kochi, Kerala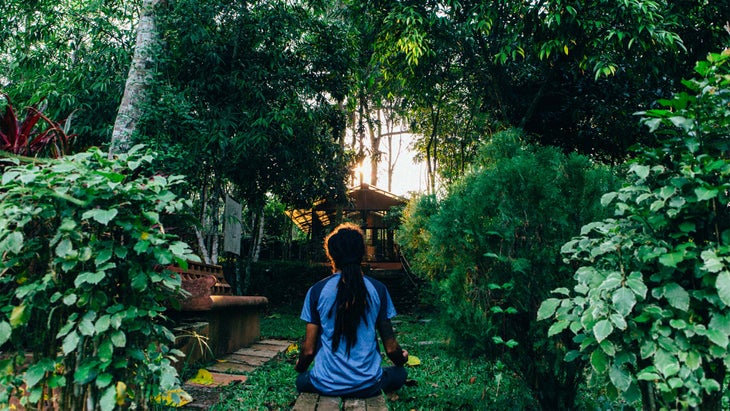 When to go: Year-round, though it's closed for the month of May
Why: The teachers at this picturesque retreat center aren't primarily interested in helping you perfect your backbends or land Handstands. Instead, the team—comprised of an Ayurvedic doctor, a spiritual leader, and a hatha master—works to help you see the importance of a holistic, yogic lifestyle. Most of the food served during this six-day retreat is grown on the property or comes from the surrounding village. Rooms are modest but comfy, and surrounded by lush grounds filled with all kinds of birds, butterflies, and flowers. And with free bike rentals, cooking classes, Ayurvedic consultations and massages, and twice-daily yoga sessions, this retreat is a steal.
Cost: From $320 based on triple occupancy, hinterlandvillage.com
See also A Yogi's Travel Guide to India
4. The Elements of Flow Training & Retreat, Goa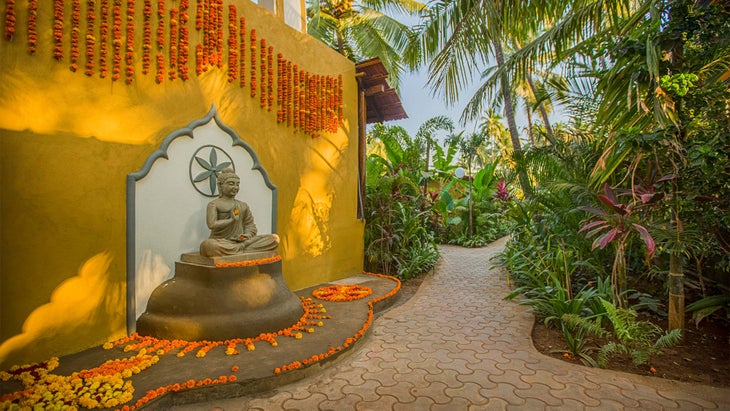 When to go: November 14-December 2, 2018
Why: Here's an opportunity to train like a yoga teacher, even if you're not interested in getting your certification. L.A.'s Joan Hyman—who's studied with master teachers like K. Pattabhi Jois and Maty Ezraty—leads this 200-hour training and intensive retreat that's ideal for yogis who want to take their practice to the next level. Days start with lengthy sessions themed around a certain set of poses (backbends, inversions, standing), while afternoon classes get more technical with topics like hands-on alignment, sequencing, and philosophy. If you're not on the teacher track, you can use the time to chill on the adjacent Morjim Beach, book a yoga nidra workshop hosted by the resort, or explore the area. "I have traveled extensively through India for the past decade, and I'm drawn to Goa for the free-spirited nature that adds to this magical place!" says Hyman.
Cost: From $2,195 (for retreat portion only, which runs from November 14-21), joanhyman.com
See also Yoga's Transformation: A Q&A with Maty Ezraty
5. Sun, Sand, and Savasana Retreat, Mandrem, Goa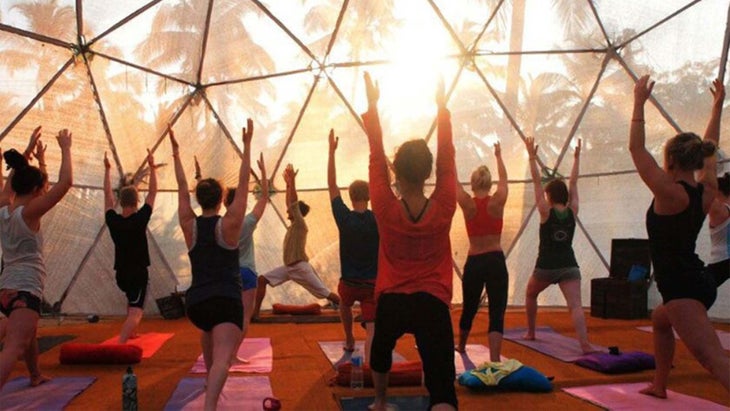 When to go: December 17-22, 2018
Why: The socially conscious travel group Karuna Yoga Journeys formed in 2016 to help individuals pursue their own personal growth while tapping into the culture of small villages and lesser-known communities around the world. Their Goa trip takes place at The Mandala, a dreamscape kitted out by artists from around the world who created the muraled house, colorful tent dwellings, and thatched huts. The lineup of silent beach walks, meditative meals, and playful vinyasas is intermixed with exploring temples, meeting the locals, and community projects.
Cost: From $1,007, karunayogajourneys.com
See also 13 Yoga Retreats You Can Actually Afford in 2018
6. Inspired India, various towns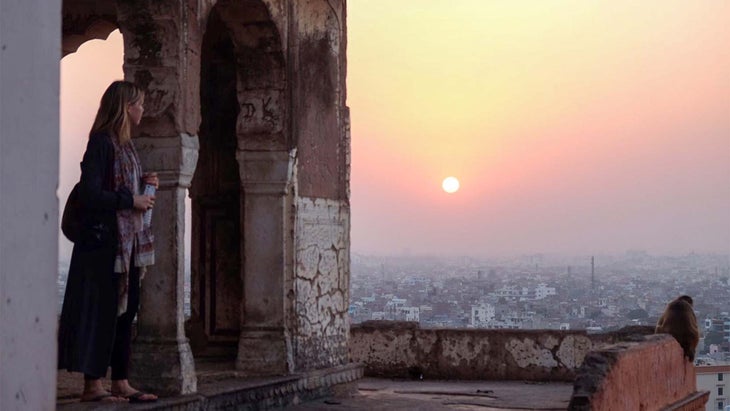 When to go: September 20-30, 2018
Why: India is a wonderful mash-up of sight and sounds, ancient traditions, architectural gems, lush greenery, and colorful lore. Vancouver-based Victoria Leader encourages you to apply an observant, yogi lens to all of that during this retreat, which is designed to help you tap into your most creative self. You'll wake up to sunrise yoga with a master, cook with a family in Rajasthan, look for tigers in the Ranthambore Jungle, and get a primer on the country's lauded weaving and block printing techniques in Jaipur.
Cost: From $1,303, victorialeader.com
See also I Moved to Bali to Start a Yoga Business—Here's How I Pulled it Off
7. Inner Renewal Retreat, Tiruvannamalai, Tamil Nadu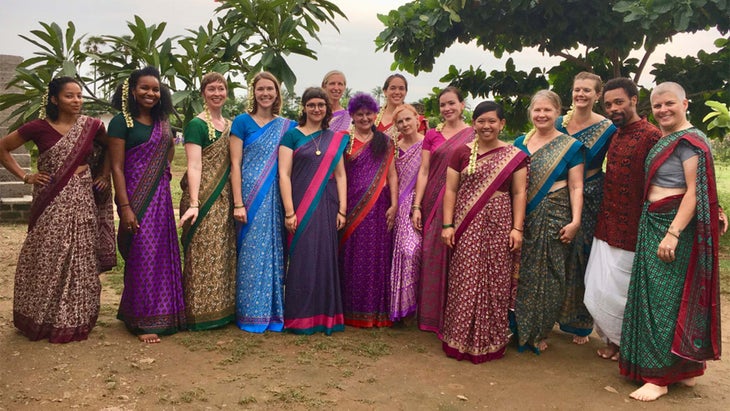 When to go: February 10-23, 2019
Why: If you're on the verge of a spiritual breakthrough, this retreat may just push you over the edge (in a good way). Seattle-based Tiger Lily Studio leads this soul-searching escape in Tamil Nadu, near the holy Mount Arunachala. Workshops include exploratory pursuits such as tapping into your power animal, identifying thought patterns that keep you stuck, and learning techniques to loosen any grip you may have on sorrow and grief. Between yoga and chanting sessions, you'll help make meals, work on the farm, help with temple upkeep, and take away lasting tools for self-care.
Cost: From $2,295, tigerlilyyoga.com
See also 13 Major Yoga Mantras to Memorize
8. YogaFit 2018 India Intensive Retreat, Rishikesh + Agra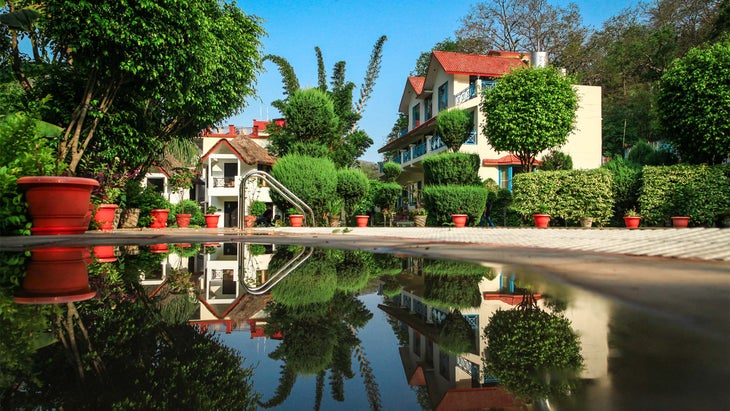 When to go: November 16-28
Why: The Beatles may have put Rishikesh on the pop culture radar, but the region carries its own weight as the birthplace of yoga. On your itinerary: The Taj Mahal (in-country travel is included in the fee), Parmarth Niketan and Maharishi Mahesh Yogi's Ashram (yep, the Beatles' transcendental spot), as well as modern eco-retreat Sattva, located on a pilgrimage route toward the Himalayas.
Cost: From $3,495, yogafit.com
See also 11 Can't-Miss Yoga Festivals This Summer
9. Kunga Journeys India Retreat, Fort Kochi, Kerala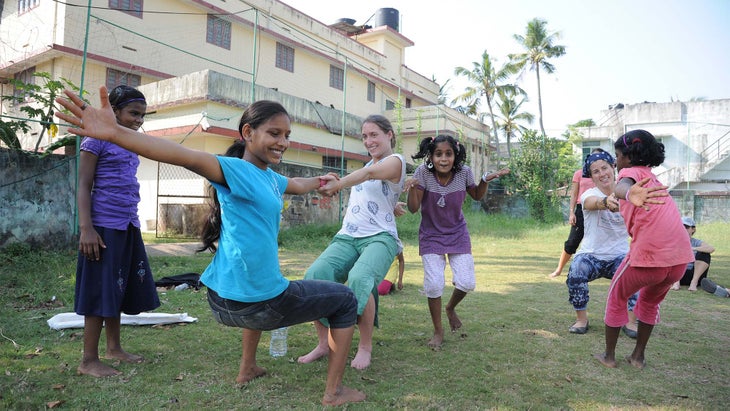 When to go: December 28, 2018-January 5, 2019
Why: On this retreat, you'll join teachers and students from North Carolina's Wilmington Yoga Center to volunteer at the Homes of Hope orphanage in Kerala. Throughout the year, the Wilmington Yoga Center donates 5 percent of proceeds from their service-oriented Kunga Yoga classes to organizations like this orphanage in India, as well as to other causes. In addition to twice-daily yoga classes (vinyasa and restorative) and a daily meditation session, you'll venture to the beach-meets-jungle Kochi area to paint and repair the orphanage's school, teach English, and spend quality time with the students.
Cost: From $2,075, wilmingtonyogacenter.com
See also 7 Tips to Prepare You for Your Next Yoga Service Trip