Heading out the door? Read this article on the new Outside+ app available now on iOS devices for members! Download the app.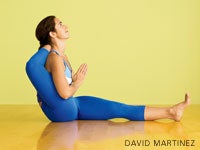 Judging by her current success, you'd never guess that Seane Corn hid in the back of the room during her yoga teacher training. "I was so terrified that I managed to get through the entire thing without teaching," she says. Still, Corn is grateful that her teachers spurred her on, especially since she's found her spiritual calling as a karma yogi working for the charity YouthAIDS. "I'm here to teach yoga as an active service," she says. "As long as I'm in this body, I'm committed to being active in the world, spiritually and physically."
You skipped college and moved to New York when you were 17. Why?
I didn't get into college. In high school I was more interested in my social life and athletics than my grades. I was the only girl on an all-male track team and I thought I'd get an athletic scholarship. When college didn't work out, I moved to the city to get my education in a different way.
You ended up waiting tables at Life Café, whose owners, Sharon Gannon and David Life, opened Jivamukti Yoga Center. What impact did that have on you?
It was an absolute date with destiny the day I walked into that café. I'd been experimenting with drugs, like a lot of people out on their own for the first time. Sharon and David made me take my life more seriously. I stopped eating meat, stopped partying, and eventually started doing yoga.
When did you decide to teach?
It was Bryan Kest who encouraged me to teach. I said, "Absolutely not, that would be insane." I loved yoga so much, but I didn't have a skill for conveying information. I didn't think I could do it justice.
But you made it happen anyway.
I called my parents—I hadn't taken money from them since I'd left home—and told them that I really wanted to do a teacher training. It was six hundred dollars. They said, "It's your birthday, let us give that to you." To this day my parents say it was the best six hundred dollars they ever spent—the one check they never regretted signing.
What prompted you to work with YouthAIDS?
When I started working for them I learned that the child prostitutes in third-world nations work three or four girls in a room. They charge a dollar for sex with a condom, two dollars without. Hearing this ripped my heart out. I thought, "Why don't I create a platform so people in the yoga community can get involved?" One child dies of AIDS every minute. Fifty percent of all new cases are young people. It's something we can't forget.
You've also taught yoga to sexually abused teenagers through the Children of the Night charity.
In every class I would insist on doing Handstands. The kids would say, "I can't do it!" I would stand up against the wall, and they would fling themselves up and with all my might I would grab and hold them against me. There's nothing like watching a 14-year-old become 14 again, screaming and jumping up and down and saying, "I can't believe I did it! Let's do it again!"
What do you look forward to when you wake up every morning?
To teaching and sharing love. And loving up my cats and my partner! If I can spend a day completely indulging, I'd choose to spend hours with my animals and my boyfriend.
Janelle Brown is a freelance journalist living in Los Angeles. Her work has appeared in the New York Times, Self, and Salon.