A Photographic Time Capsule of Our Moment in Yoga
Michael O'Neill spent 10 years photographing the masters and gurus of our time for his new book On Yoga. Here, he shares his experience and work with YJ.
Heading out the door? Read this article on the new Outside+ app available now on iOS devices for members! Download the app.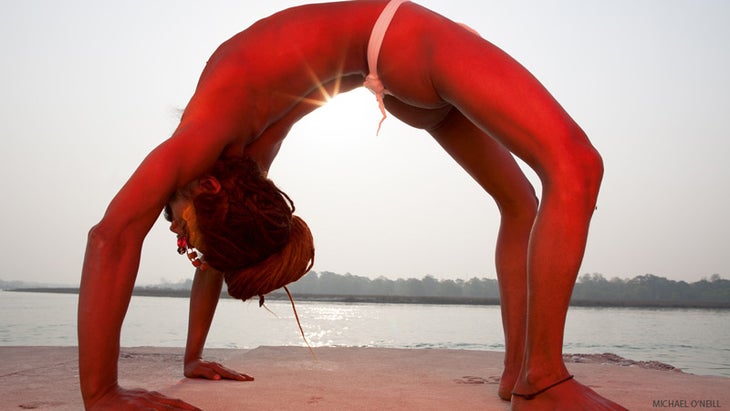 Photographer Michael O'Neill spent 10 years shooting the masters and gurus of our time and is now sharing the rich experience both in his stunning new book On Yoga: The Architecture of Peace and here on YJ.
A prominent New York-based photographer with five decades of experience and a portfolio studded with shots for the New York Times Sunday Magazine, Fortune, Time, Life, and Vanity Fair, Michael O'Neill had done portraits of everyone from J Lo to Richard Nixon when the idea to do a series of yogis occurred to him. "Sometime in August of 2005 I had finished a class, I came out onto the streets of Manhattan with a yoga mat under my arm and I bumped into my director of photography from Vanity Fair, who I hadn't seen in a year," says O'Neill, who is devoted to Kundalini Yoga. "We started talking about yoga, and I said I would love to do this portfolio on the masters and gurus of yoga and Susan [White] looked up at me and went, 'Absolutely—and do a book.'"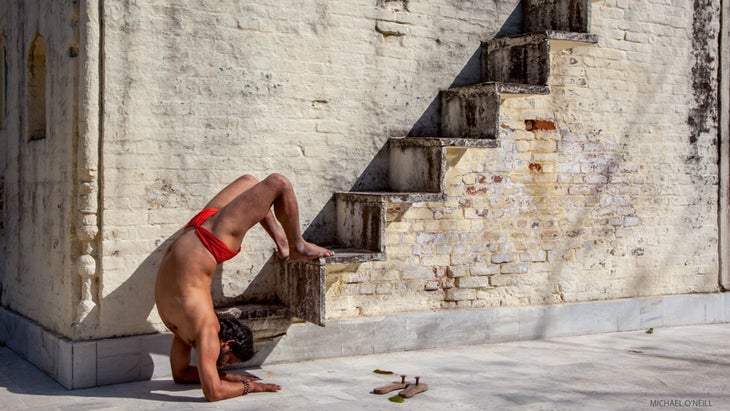 A photographer's bhakti
You may remember his iconic images of Shiva Rea, John Friend, Dharma Mittra, Christy Turlington, and more that ran in his 22-page Vanity Fair piece in June 2007, just as yoga was truly coming of age in America. For O'Neill, that was only the preview. "There was a point when somebody at the magazine looked at me and said, 'No more money, Michael.' But poor little me couldn't stop shooting," he says.
O'Neill devoted the next decade to his labor of love, traveling frequently to India (on his own dime), spending time with yoga masters and gurus in both the East and the West—TKV Desikachar, BKS Iyengar, Yogi Bhajan, and everyone in between. "I did it as a bhakti, as my devotion to yoga," he says. "I never said I like this better than that. There was no judgement. Yoga is yoga. It's a path to consciousness. It's a path of spirit. It's a way of life."
See also A Tribute to BKS Iyengar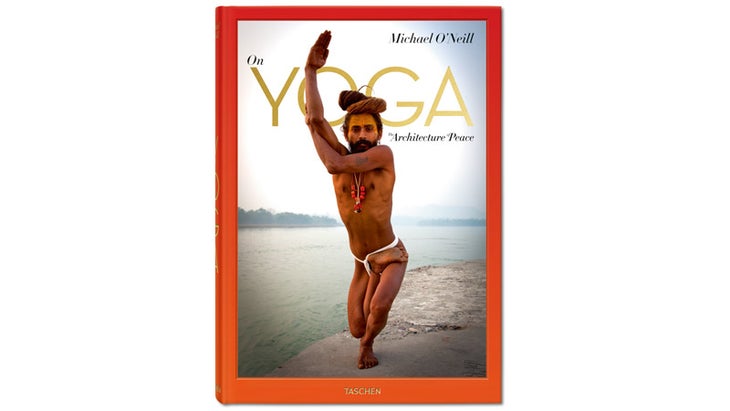 A book a decade in the making
The result of his decade-long immersion, On Yoga: The Architecture of Peace (TASCHEN, October 2015), is a study as much in anthropology and sociology as in beauty of form and spirit. "What I've tried to do with my work in general—not just the yoga—is to tell a story that's more than just a specific image," he says.
The book is a time capsule of practically the entirety of our moment in yoga, featuring striking images of everyone from Krishnamacharya to the Indian Sadhu community to Sting. But O'Neill says the work is always the same. "A portrait is always an agreement," he says. "An agreement is established in one form or another on whatever wavelength to work together and share the process and the same goal of making a great picture." Yogis, he says, make his job easier.
10 Images from On Yoga by Michael O'Neill
White Tantric, Summer Solstice Sadhana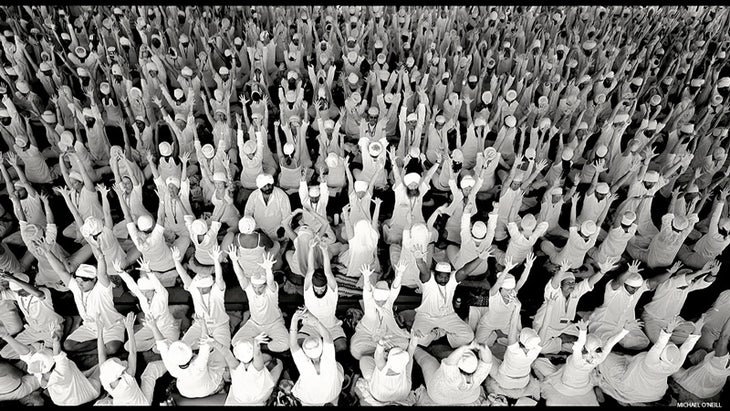 Sangre de Cristo Mountains, New Mexico
June 23, 2009
See also One Man's Kundalini Yoga Journey to a State of Grace
45 Minutes, Salamba Urdhva Dhanurasana (Supported Upward Bow)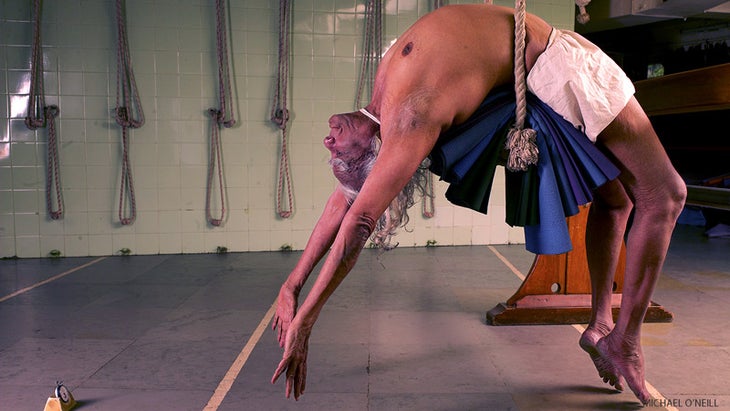 B.K.S. Iyengar
Pune, India, March 8, 2006
See also The Legacy of BKS Iyengar
Urdhva Dhanurasana (Upward Bow Pose)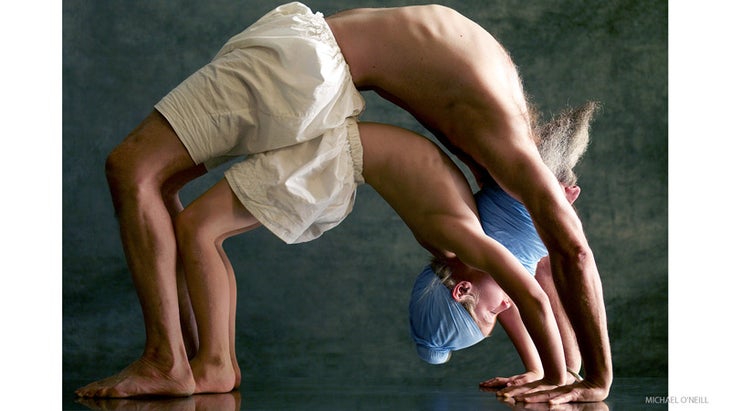 Guru Prem Singh Khalsa and his son Siri Guru Dev Khalsa
New York City, December 8, 2007
Learn more about Kundalini Yoga
Natarajasana (Lord of the Dance or Dancing Shiva Pose)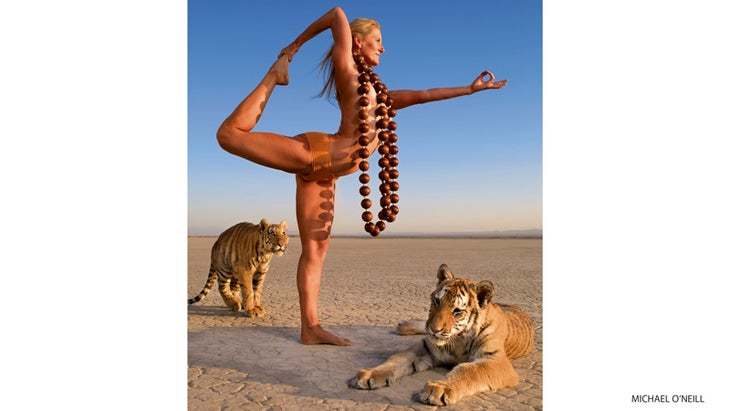 Shiva Rea
El Mirage Lake, California, October 25, 2006
See also content from Shiva Rea
Bhagirathasana (Pose of the Sage Bhagiratha)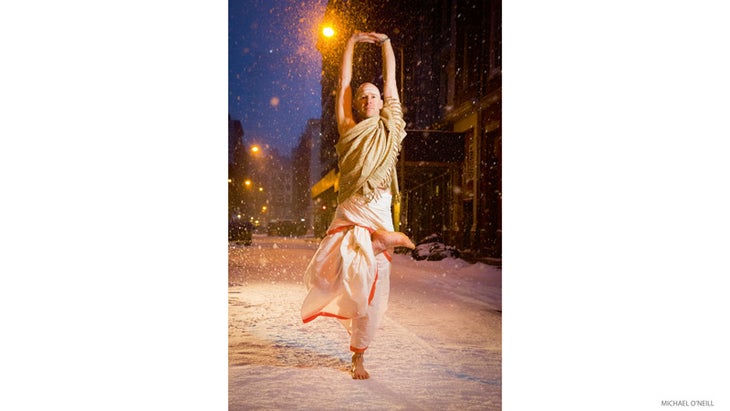 Eddie Stern
Crosby Street, New York City, January 21, 2014
Learn more about Ashtanga Yoga
Jivamukti Yoga by the Manhattan Bridge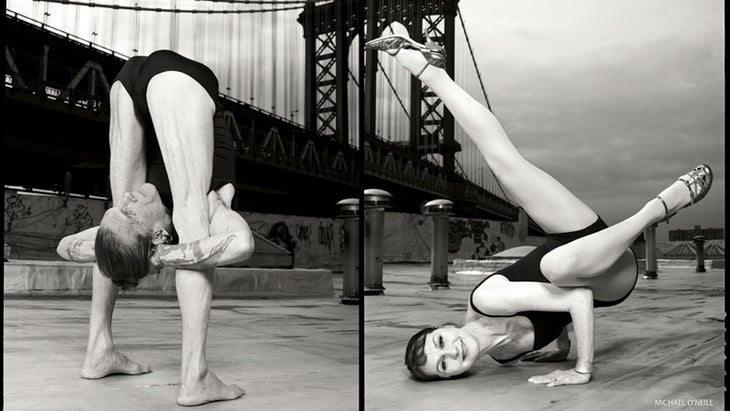 David Life and Sharon Gannon
Brooklyn, New York, May 19, 2006
Learn more about Jivamukti Yoga
Private altar to T. Krishnamacharya, with son T.K.V. and grandson Kausthub Desikachar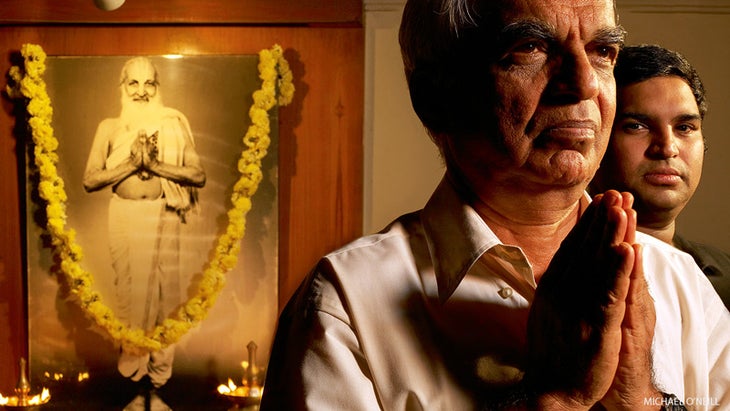 Chennai, India, March 11, 2006
See also The YJ Interview: TKV Desikachar
Eka Pada Adho Mukha Svanasana (One-Legged Downward-Facing Dog Pose)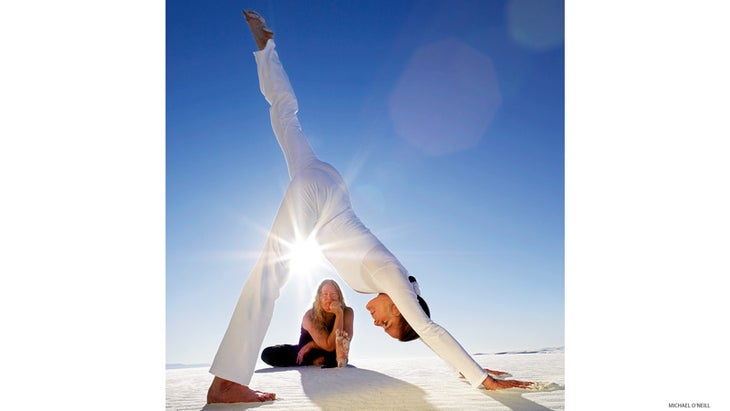 Ali MacGraw and Erich Schiffman
White Sands National Monument, Alamogordo, New Mexico, November 13, 2006
See also Talking Shop with Erich Schiffman
Niralama Sirsasana (Hands-Free Headstand)
Dharma Mittra
13th and Hudson, New York City, November 3, 2006
Explore content from Dharma Mittra
Gurmukh Kaur Khasa at her most holy of places, the Golden Temple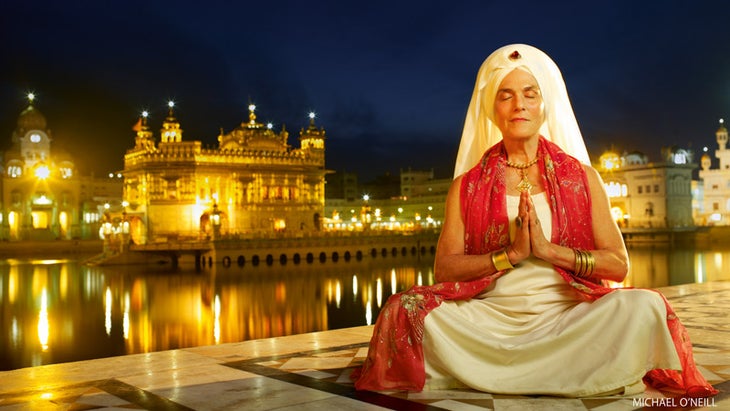 Amritsar, India, February 23, 2006
See also L.A. (Yoga) Story: Kundalini Star Gurmukh Kaur Khalsa
ABOUT THE BOOK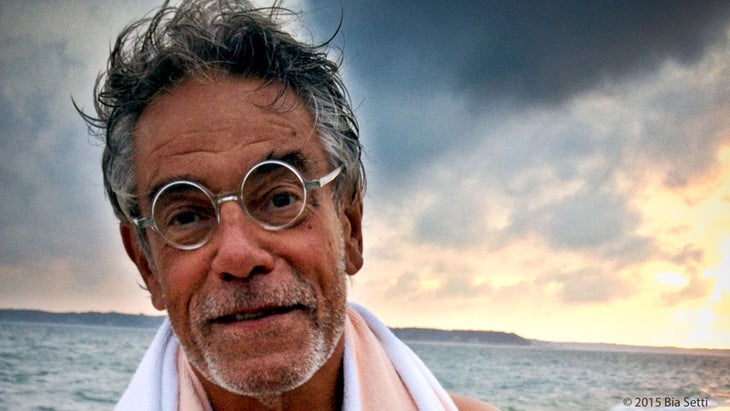 Photographer Michael O'Neill. Sag Harbor, New York, August 11, 2012
Images excerpted from On Yoga: The Architecture of Peace by Michael O'Neill. Copyright © 2015. Published by TASCHEN October 2015.