7 Destination Ashrams for an Authentic Yoga Experience
Learn the customs of visiting ashrams, which offer affordable and rewarding retreats; plus seven great destinations to choose from.
Heading out the door? Read this article on the new Outside+ app available now on iOS devices for members! Download the app.
When you're ready to re-commit to your practice in a big way, visiting an ashram is more accessible than ever. These spiritual sanctuaries and centers of serious study have worked over the last several years to make the experience more inclusive for all by including personalized retreats, rolling admittance dates, and addressing past controversies. The seven ashrams listed below are near big cities or major airports, making travel easy, too.
Ashram Rules
If you're considering an ashram stay, it's worth noting that ashrams tend to have a distinctive rhythm and protocol. For one thing, while some have stricter rules than others, most still have mandatory daily schedules, often requiring you to rise before dawn. If you are fairly new to yoga, a day consisting of four compulsory yoga and meditation sessions could be overwhelming. Also, visitors are often asked to practice Karma Yoga (selfless service) by contributing to the upkeep of the facility—in the form of kitchen duties, gardening, cleaning, and other chores. In short, you should be comfortable with communal living to fully enjoy and benefit from the ashram experience.
See also Yours, Mine and Ours
Know Before You Go…
Most ashrams serve only vegetarian or vegan food; alcohol, caffeine, and tobacco are not permitted. Don't try sneaking in a bottle of Chianti—you'll be asked to leave if the contraband is discovered. Guests typically stay in dormitories with shared bathrooms.
The ashrams listed below are all in North America, and each has its own merits. To find the right one for you, be sure to visit each center's website and study its daily schedule before you go.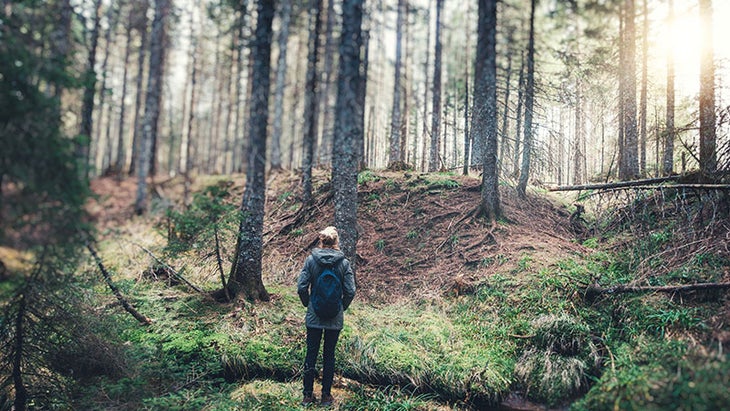 1. Mount Madonna Center in Watsonville, California
The Mount Madonna Center is located on 355 acres of meadows and redwood forests in the Santa Cruz Mountains, with views of Monterey Bay. (The nearest airport is in San Jose.) It is inspired by the teachings of Baba Hari Dass, who died in 2018, and sponsored by the Hanuman Fellowship, a community "designed to nurture the creative arts and the health sciences within a context of personal and spiritual growth." The primary goal here is to attain peace. Community life is guided by the spiritual discipline of Ashtanga Yoga and Karma Yoga. The center hosts both personal and group retreats; weekend programs with visiting teachers are offered throughout the year. When not in yoga class, guests can hike, swim, relax in a hot tub, and play tennis, volleyball, and basketball. The on-site Kaya Kalpa Wellness Center provides massage, Ayurvedic treatments, facials, and acupuncture.
The Lowdown
The center hosts nearly a hundred workshops, seminars, and intensives each year, attracting top teachers such as Judith Lasater, Sally Kempton, and Amelia Barili.
See also The Power of Self-Inquiry for Uncovering the Real You
2. Shoshoni Yoga Retreat in Rollinsville, Colorado
A residential ashram and spiritual retreat center, Shoshoni is 35 minutes west of Boulder, near Denver. If you're looking for high-country vistas, pure spring water, and fresh alpine air, this is the place for you. The lodge and cabins are surrounded by wildflowers in spring and summer. In colder months, you'll more than likely spot deer and elk. Shoshoni's founder is Sri Shambhavananda Yogi, a meditation master.
Daily classes include Hatha Yoga, pranayama, meditation, and chanting. Weekend retreats include three meals daily, accommodations, two yoga classes, and two meditation sessions. Participation in the daily schedule is not mandatory, and guests can attend as many or as few classes as they like. Health therapies offered include massage, facials, and Ayurvedic treatments such as shirodhara, in which warm oil is continually poured onto the middle of the forehead to quiet the mind and soothe the senses.
The Lowdown
Hiking trails pass right outside your front door and traverse forests of pine, aspen, and wildflowers.
See also Practice Svadhyaya (Self-Study) On the Mat
3. Ananda Ashram in Monroe, New York
Although Ananda Ashram was founded in 1964 by Shri Brahmananda Sarasvati, teachers specializing in different styles of yoga have been holding retreats here since its inception. The ashram is on 85 acres of woods, orchards, and meadows in the foothills of the Catskill Mountains, just over an hour from New York City.
Guests can take part in daily meditation programs and ongoing classes in Hatha Yoga, Sanskrit, and classical Indian dance, as well as weekend workshops, retreats, and cultural performances. A typical day includes three meals, three hours of yoga, and three meditation sessions. The facilities include accommodations for guests and residents, a vegetarian kitchen, classrooms, meditation rooms, a program hall, a book and gift shop, a natural healing center, a swimming pool, and a publication center. Three guest houses provide simple dormitories (six people per room) and semiprivate rooms (two people per room), for a total of 45 guests. All bathrooms are shared. Camping is available in season.
The Lowdown
The ashram is closely linked with Jivamukti Yoga Center, which hosts events and retreats there.
See also The Yoga Sutra: Your Guide to Living Every Moment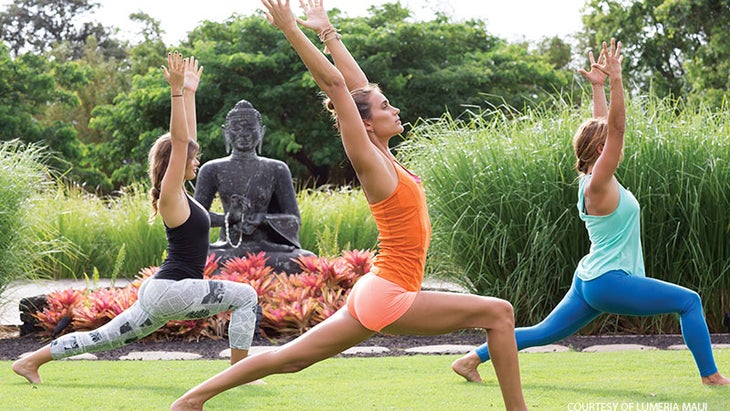 4. Barsana Dham in Austin, Texas
This hindu temple and retreat center is on 200 acres of land 30 minutes southwest of downtown Austin. It is the main U.S. center devoted to the teachings of Jagadguru Kripalu Parishat and was established in 1990.
A tour of the grounds reveals vegetable and flower gardens, more than 25 resident peacocks, and walking trails. The food is vegetarian, and meals are balanced between American and traditional Indian fare. Participants have the option of dining outdoors, weather permitting, at picnic tables.
At various times throughout the year, Barsana Dham offers special weekend family retreats, mini intensives, and seva (service) weekends. In the past, these retreats and special programs have included Hindi and yoga classes and summer dance camp. Guests who are not attending a workshop are expected to attend twice-daily satsang.
The Lowdown
This is the perfect opportunity to experience ashram living with 250-plus other yoga enthusiasts.
Read more on Travel, Retreats, and Festivals
5. Satchidananda Ashram in Buckingham, Virginia
In 1979, Swami Satchidananda, the guru who opened the Woodstock festival by calling music "the celestial sound that controls the whole universe," acquired 600 acres in Buckingham. He financed the purchase by selling a piece of land in Falls Village, Connecticut, that singer-songwriter Carole King, one of his disciples, had given him. Eventually, the ashram acquired more land, and today Satchidananda Ashram, also known as Yogaville, has almost 1,000 acres of woodlands. Satchidananda hae not gone unscathed when it comes to allegations of abuse of power, but Yogaville, near Charlottesville, has carried on.
A typical day begins at 5 a.m. with morning meditation, followed by 90 minutes of Integral Yoga, then breakfast. There is an opportunity to walk or relax before the next meditation session, followed by lunch. Dinner is followed by an evening program or satsang on Saturdays.
The system of Integral Yoga was created by Satchidananda. It integrates the various branches of yoga (Hatha, Raja, Bhakti, Jnana, Karma, and Japa) to "bring about a complete and harmonious development of the individual."
Satchidananda, who died in August 2002, believed that "truth is one, paths are many." He sponsored many interfaith symposiums, retreats, and worship services around the world. The Light of Truth Universal Shrine (LOTUS), dedicated to all faiths and to world peace, was opened in 1986 on the Yogaville grounds. Built in the shape of a lotus flower—the ancient symbol for the spiritual blossoming of the soul—the shrine is a sanctuary for silent meditation, contemplation, and prayer.
The Lowdown
In keeping with Satchidananda's philosophy, many interdisciplinary programs are offered here each year.
See also The Path of Devotion: Bhakti Yoga
6. The Salt Spring Centre of Yoga in Salt Spring Island, British Columbia
On 70 acres off Canada's western coast, the Salt Spring Centre was established in 1981 by the Dharmasara Satsang Society, a group guided by the common practice of classical Ashtanga Yoga as taught by Baba Hari Dass. The center, located between Vancouver and Victoria, holds yoga workshops and classes in the creative and healing arts, and offers Ayurvedic treatments, massage, and reflexology.
It's also home to a small residential community and the Salt Spring Centre School. Although the majority of members and center residents were students of Dass, no commitment to a spiritual tradition or teacher is required to participate in any of the activities. Accommodations are available to those who are registered for a workshop or weekend getaway. The public may attend daily yoga classes or book a health treatment at the Healing Arts Studio without being an overnight guest.
The Lowdown
Unlike at most other ashrams, participation in the daily schedule is not mandatory, and a spa that offers massage and reflexology is located on-site.
More Information
See also How Bodywork Can Transform Your Practice
7. Sivananda Ashram Yoga Farm in Grass Valley, California
Nestled on 80 acres in California's Sierra Nevada Foothills, the Yoga Farm is closest to Sacramento and San Francisco. Swami Vishnudevananda opened the farm in 1971 as a retreat for burnt-out city dwellers so they could relax and recharge from their stressful lives. The Yoga Farm doubles as a sanctuary for wildlife, protecting many different types of birds, mammals, frogs, special status wildlife species, and hundreds of different species of plants. The Yoga Farm is part of the International Sivananda Yoga Vedanta Center system, created in 1959.
Swami Vishnudevananda studied under Swami Sivananda for more than 10 years before he was sent to the United States to spread the teachings of yoga and Vedanta. In America, after founding the International Sivananda Yoga Vedanta Centers, Swami Vishnudevananda's approach to the yogic lifestyle began to spread, and over 45,000 people have since been trained by him and the Sivananda organization. While Vishnudevananda himself died in 1993 and has also been accused of abuse, the Sivananda system continues on, promoting proper exercise, proper breathing, proper relaxation, proper diet, positive thinking, and meditation. A stay at the Yoga Farm includes courses and experiences in all of these topics, alongside time to garden and explore the rolling hills around the property.
The Lowdown
Attend a Yoga Vacation any time of year. The program includes a daily schedule of classical yoga, and twice-daily guided meditation, satsang, and vegetarian meals, plus one hour of Karma Yoga.
More Information
https://sivanandayogafarm.org/
See also Learn About Sivananda Yoga and Then Try This Classical Sequence
—Additional reporting by Kyle Houseworth