Suffering Is Optional: Mindful Pain Management
Be curious about your pain and you'll find that though it may not be optional, the pain of your reaction is.
Heading out the door? Read this article on the new Outside+ app available now on iOS devices for members! Download the app.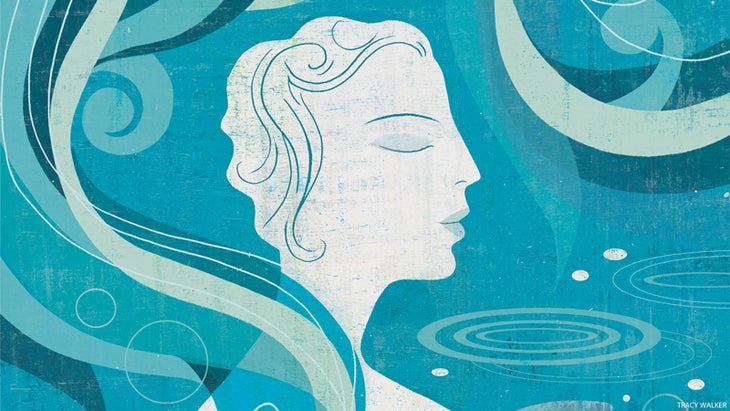 Be curious about your pain and you'll find that though it may not be optional, the pain of your reaction is.
Aging, sickness, and moments of pain are intrinsic to the life of all of our bodies. Bodily pain comes in many guises—some of it is chronic, some temporary, some unavoidable. Our first response is to resist it. We have numerous strategies to ward pain off, to avoid it, or to camouflage it with distraction. Aversion, terror, and agitation interweave themselves with the experiences in our bodies and we are easily lost in dread and despair. Our bodies may even be seen as enemies, sabotaging our well-being and happiness. When we are enmeshed in this knot of fear and resistance, there is little space for healing or compassionate attention to occur.
And yet we can learn to touch discomfort and pain with an attention that is loving, accepting, and spacious. We can learn to befriend our bodies, even in the moments when they are most distressed and uncomfortable. We can discover that it is possible to release aversion and fear. With caring and curious attention, we can see that there is a difference between the sensations occurring in our bodies and the thoughts and emotions that react to those sensations. Instead of running from pain, we can bring a curious and caring attention into the heart of pain. In doing so, we discover that our well-being and inner balance are no longer sabotaged. Surrendering our resistance, we find that pain is no longer intimidating or unbearable.
No one would suggest that learning to work skillfully with pain is an easy task, however, or that meditation is a way to fix pain or make it go away. Sometimes we are overwhelmed and we can learn to accept this too. In moments when the intensity of pain seems unbearable it is fine to take our attention away from it and connect with a simpler focus of attention such as breathing or listening for a time. When our hearts and minds have calmed and feel more spacious, it is the right moment to return our attention to the areas of pain in the body.
There are also times when it is often possible to dissolve the layers of tension and fear that gather around pain and to embrace it with greater spaciousness and ease. We may even find a deep inner balance and serenity in the midst of pain. These are moments of great possibility and strength. Working with pain, learning to accept and embrace it, is a moment-to-moment practice in which we release helplessness, despair, and fear. This is in itself healing and teaches us the way to find peace and freedom within the changing events of our bodies.
Also seeMeditation for Body Aches and Pains
Stop the Storytelling, Stay with the Sensation
When pain or distress arises in our bodies, our conditioned reaction is to pin it down and solidify it with concepts. We say "my knee," "my back," "my illness," and the floodgates of apprehension are opened. We predict a dire future for ourselves, fear the intensification of the pain, and at times dissolve into helplessness and despair. Our concepts serve both to make the pain more rigid and to undermine our capacity to respond to it skillfully. We are caught in the tension of wanting to divorce ourselves from a distressed body while the intensity of pain keeps drawing us back into our body.
Meditation offers a very different way of responding to pain in our bodies. Instead of employing strategies to avoid it, we learn to investigate what is actually being experienced within our bodies calmly and curiously. We can bring a compassionate, accepting attention directly to the core of pain. This is the first step towards healing and releasing the agitation and dread that often intensify pain.
Turning our attention directly toward the distress or pain, we discover that the pain we had previously perceived as a solid mass of discomfort is in truth very different. Sensations are changing from moment to moment. And there are different textures within those sensations—tightness, heat, pressure, burning, stinging, aching… As we ask, "What is this?" the label "pain" becomes increasingly meaningless.
Within all pain and distress we discover there are two levels of experience. One is the simple actuality of the sensation, feeling, or pain, and the other is our story of fear that surrounds it. Letting go of the story, we are increasingly able to connect with the simple truth of the pain. We discover that it may be possible to find calm and peace even in the midst of distress.
Pinpoint the Fear Factor
Pain in our body, particularly chronic and acute pain, has an inevitable emotional impact that can be equally debilitating. Blame, fear, self-condemnation, despair, anxiety, and terror can arise in the wake of physical illness and root themselves in our bodies, further hindering our capacity to heal and find ease. Our emotional reactions of fear and resistance often lodge themselves in our bodies alongside the pain, to the point where they are almost indistinguishable. Learning to notice the distinction between pain and our reaction to it, we begin to see that although the pain in our bodies may not be optional, some of the pain of our reactions is optional.
The natural desire to avoid pain is translated in our minds and hearts into turbulence and anxiety, and our sense of inner balance is swept away in the avalanche of those feelings. Even when we are fortunate in that our body recovers, without mindfulness the emotions associated with illness or pain linger much longer in our bodies and minds. We may begin to live in a fearful way, treating every unpleasant sensation as a messenger of doom, assuming it signals a return of the pain or illness. The damage we do to ourselves in ignoring the impact of our emotional reactions compounds our tendency to feel anxious and afraid.
There is a great art in learning to be present with pain, just as it is, in the moment when it arises. But with mindfulness, we can learn to make peace with pain. We can learn to be present one moment at a time and so liberate ourselves from the dread of what the next moment may bring. We can learn the kindness of acceptance rather than the harshness of denial.
Also see16 Poses to Ease Back Pain
Extracted from Heart of Wisdom, Mind of Calm by Christina Feldman.