Heading out the door? Read this article on the new Outside+ app available now on iOS devices for members! Download the app.
Read Aadil's reply:
Dear S.,
Indeed, teaching without integrity is not teaching at all. It makes the teacher feel like a hypocrite, and the student cannot absorb yogic knowledge because the teacher is not living it.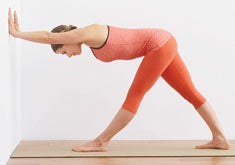 All of us understand that life is not always smooth. Teaching when everything is going smoothly is a joy for teacher and student. Yet rough times are the learning experiences that enable us to grow. We invite difficulties to truly know who we are and what we are capable of. Thus, during challenging periods, it is our duty to be humble. When appropriate, let your students know that you are going through a challenge, and that your yoga is helping you through it. Balance inward humility with outward honesty. Students will understand. We forsake integrity only when we pretend.
And thank you for your honesty in asking this question. I believe the topic to be important enough that I have dedicated an entire chapter to it in my forthcoming book, Fire of Love: Teaching the Essence of Yoga, an exploration of the science and art of Purna Yoga.
Recognized as one of the world's top yoga teachers, Aadil Palkhivala began studying yoga at the age of seven with B.K.S. Iyengar and was introduced to Sri Aurobindo's yoga three years later. He received the Advanced Yoga Teacher's Certificate at the age of 22 and is the founder-director of internationally-renowned Yoga Centers™ in Bellevue, Washington. Aadil is also a federally certified naturopath, a certified <a href="/health/ayurveda">Ayurvedic health science practitioner, a clinical hypnotherapist, a certified shiatsu and Swedish bodywork therapist, a lawyer, and an internationally sponsored public speaker on the mind-body-energy connection.