Heading out the door? Read this article on the new Outside+ app available now on iOS devices for members! Download the app.
Read Aadil Palkhivala's reply: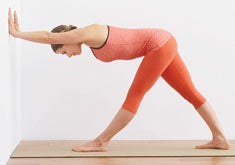 Dear Lisa Mae,
There is no doubt in my mind that stealing is stealing, whether what's taken is money or music. Timeless truths must be obeyed, and we all know they feel correct when we look into our hearts. Of course it is stealing to copy CDs that are copyrighted, or to share music files when there is an understanding from the seller that the files are for personal use only. There is no need to be stumped.
Asteya cannot be compromised unless it is for the greater good of humanity, which trivial money-pinching actions certainly are not. If you know you are willfully taking that which does not belong to you, the action is asteya (stealing), and it hardly matters what form it takes.
Recognized as one of the world's top yoga teachers, Aadil Palkhivala began studying yoga at the age of seven with B.K.S. Iyengar and was introduced to Sri Aurobindo's yoga three years later. He received the Advanced Yoga Teacher's Certificate at the age of 22 and is the founder-director of internationally-renowned Yoga Centers™ in Bellevue, Washington. Aadil is the director of the College of Purna Yoga, a 1,700 hour Washington-state licensed and certified teacher training program. He is also a federally certified naturopath, a certified <a href="/health/ayurveda">Ayurvedic health science practitioner, a clinical hypnotherapist, a certified shiatsu and Swedish bodywork therapist, a lawyer, and an internationally sponsored public speaker on the mind-body-energy connection.