Race Car Legend Danica Patrick Has a New Podcast Out this Week
The 20-year yoga student chatted with us about Gloria Steinem, pranayama, and finally perfecting her Scorpion Pose.
Heading out the door? Read this article on the new Outside+ app available now on iOS devices for members! Download the app.
At 5'2", Danica Patrick is a force to be reckoned with. The only woman to have led laps in both the Daytona 500 and the Indianapolis 500, Patrick is no stranger to facing down her fears. The 37-year-old author and longtime yoga practitioner retired from race car driving last year, and today she's channeling her take-no-prisoners attitude into an inspirational podcast, aptly titled Pretty Intense, in which she interviews famed guests such as Neil deGrasse Tyson and Alex Rodriguez about tough topics like what it takes to win, spirituality, and what makes us human. We caught up with her to talk about her new career goals, her yoga practice, and what she dreams about at night.
Yoga Journal: Why a podcast?
Danica Patrick: I just spend a lot of my time listening to inspirational podcasts and watching these types of videos, and I thought that it would be really fun to go deep with people and find out more about the parts of their lives that were difficult or transitioned into something good and find out how they did it. When I watch something or listen to someone speak, I want some action points. What did it take to get where they are? What techniques did they use? How are you going grow—not just as an idea but how are you going to do it. So now I talk to people to find out how they did it.
YJ: What guests are you most excited about so far?
DP: I loved the conversation with Neil deGrasse Tyson. We talked about religion a lot because he's an astrophysicist. What a cool and smart guy. I feel like it's going to be cool for people to hear about the universe and the fabric of our reality—what makes us humans and what makes us unique. Oh, and Gloria Steinem. She was refreshingly simple and really fun to talk to.
YJ: Who's your dream guest?
DP: Oprah.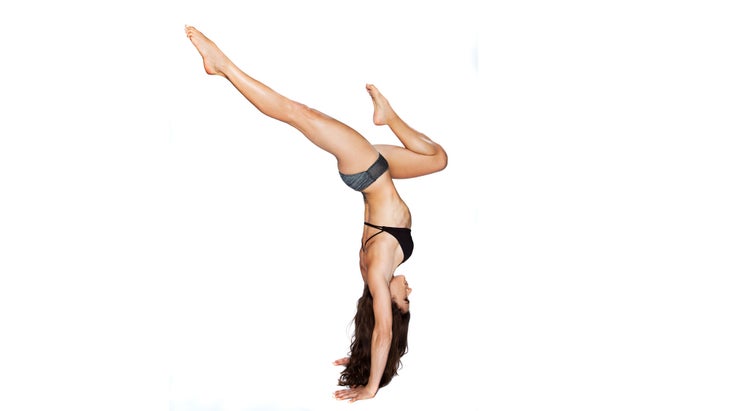 YJ: What keeps bringing you back to your yoga mat?
DP: I've realized how important the mental aspect of the practice is—being able to connect with the breath, turn your thoughts off, and return to something repetitive and simple. It's so powerful for overall emotion and mental wellness to be focused in that way. It's been really good for me to focus on the small stuff, because I have a very driven, type-A, goal-oriented side of me that wants to accomplish difficult poses and touch my feet to my head—which I finally did a couple months ago in Scorpion!—I've had dreams about my feet touching my head. I don't know if that makes me weird, but I've definitely had those dreams.
YJ: Home practice or yoga studio?
DP: Mine's a home practice. I think it's easier to progress at home because you can take time to focus and work on whatever you want. In a class, you have to go with the flow. I'm trying to get more consistent with meditation as well. It took until a couple years ago for me to breath through each movement—in through Up Dog and exhale through Down Dog—the simplicity of breathing through was not easy for me. Doing pranayama work and getting deeper into mediation has been super powerful and ultimately the most important part of my home practice. Without meditation and pranayama, you may as well do any other fitness routine. There are ways to burn calories, but yoga really focuses on the mind, body, and breathing.
YJ: How did yoga influence your racing career?
DP: Breathing for sure was a big deal for me in racing. I've always understood the power of a deep breath for slowing things down. I'd take slow breaths in through my mouth and out through my nose to reset the adrenaline, focus, and slow down. I've always believed that if you can bend, you don't break. That mantra was always helpful for me when accidents would happen. My body was going to places in ways it shouldn't, but I was able to get out of the sport without any major injuries. I always felt because of my flexibility, I bent and didn't break.