First Look: The Danner Mountain 600
This storied boot company is partnering with Vibram to forge a new path
Danner has been making high-quality and durable boots since 1932, bringing nearly a century of bootmaking know-how to the latest technologies and innovations. That means the new generation of footwear is the best yet. For the Mountain 600, Danner partnered with Vibram—the company responsible for the grippiest rubber soles on the market—to create a sturdy, comfortable boot that can easily take on any day hike in any conditions. From a damp meander among the evergreens in the Pacific Northwest to a chilly trek above treeline in the Rockies, the Mountain 600 is the boot you want.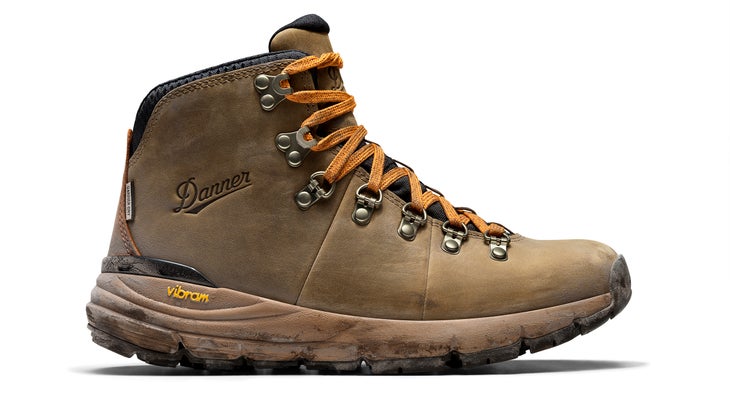 The Mountain 600 is where performance meets heritage, and the boot offers up the best of both worlds: the classic Danner style and quality, and the sticky grip of the Vibram Fuga Outsole. It's the go-anywhere boot that's as much at home on post-practice hikes as at brunch with friends. Here are a few reasons you'll want to live in these boots.
Durability
When Charles Danner made that first boot back in 1932, he wanted long-lasting durability. Today, the smooth, full-grain leather uppers continue to deliver on that mission. Not only is the leather strong and abrasion resistant, but it's paired with a waterproof Danner Dry lining to keep moisture out while still allowing your feet to breathe. The result: your feet stay warm, comfortable, and dry in all conditions.
Grip
The best kind of hiking boots provide stability and grip so you can enjoy the scenery worry-free. You shouldn't have to constantly ask yourself, Can I descend this gravelly slope or cross this wet rock without falling? With these boots, you can feel confident. The Vibram Fuga Outsole is made with Megagrip rubber you can trust, and as the name implies, it provides unbeatable grip in all kinds of terrain—wet or dry.
Comfort
If you've got plans for a ten-mile day hike to an alpine lake, or just a short jaunt on a trail, you need footwear that's comfortable. The Vibram SPE Midsole packs exactly the right amount of support and cushion to wear on daylong adventures: it's made of a weight-conscious compound engineered to retain its shape. SPE doesn't break down as easily as other materials on the market, so it extends Danner's trademark durability to the midsole, too.
---
For nearly a century, Danner has crafted footwear with purpose and integrity to equip those who choose the unlikely path, those who cut fresh trails, those who pioneer. Whether you want to hike, work, or simply walk around town, Danner boots are meant to take you somewhere. Lace a pair up and Go There.