Does CorePower Yoga Have a Corporate Problem?
The New York Times says CorePower Yoga preys on students to feed its profit machine.
Heading out the door? Read this article on the new Outside+ app available now on iOS devices for members! Download the app.
On Friday The New York Times published an article painting the CorePower Yoga chain as a corporate machine that preys on students to boost profits. According to The Times, the Denver, Colorado–based yoga company is currently facing a federal lawsuit (it's fourth to date) from teachers who argue CorePower pays them less than minimum wage because of off-the-clock mandated work such as designing yoga sequences and music playlists.
"The CorePower method has been to take practices common at indie and community studios and turn them into profit engines. It has harnessed the spiritual traditions of yoga similarly," wrote The Times. The article also alleges that sources say they felt misled about the purpose, cost, or length of CorePower teacher training—or felt pressured to mislead others.
See also Master Teacher Maty Ezraty on the State of Yoga Right Now
Here's how the community is responding on social:
@yoga_girl says: "If you pay thousands of dollars for a teacher training, you should get paid working as a teacher."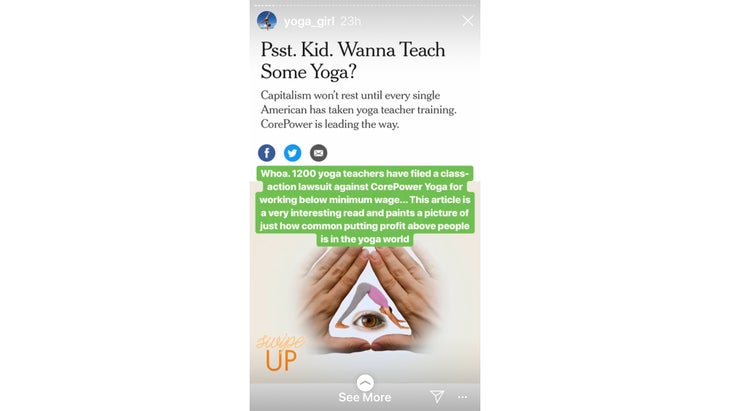 "Whoa. 1200 yoga teachers have filed a class-action lawsuit against CorePower Yoga for working below minimum wage…This article is a very interesting read and paints a picture of just how common putting profit above people is in the yoga world." —Rachel Brathen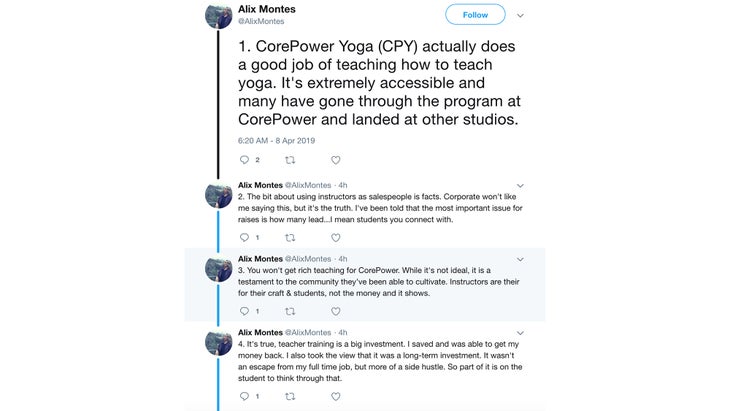 @AlixMontes says: "As someone who [went] through CorePower Yoga's teacher training, I have tons of thoughts on this. 1. CorePower Yoga (CPY) actually does a good job of teaching how to teach yoga. It's extremely accessible and many have gone through the program at CorePower and landed at other studios. 2. The bit about using instructors as salespeople is facts. Corporate won't like me saying this, but it's the truth. I've been told that the most important issue for raises is how many lead…I mean students you connect with. 3. You won't get rich teaching for CorePower. While it's not ideal, it is a testament to the community they've been able to cultivate. Instructors are [there] for their craft & students, not the money and it shows. 4. It's true, teacher training is a big investment. I saved and was able to get my money back. I also took the view that it was a long-term investment. It wasn't an escape from my full time job, but more of a side hustle. So part of it is on the student to think through that. 5. The challenges described in the article are the nature of running a business off of something that isn't a product. Yoga is about people. Their connection with themselves and with others. There's a way to place value on providing space and proper instruction. (con't) I think there's a way to acknowledge that cost without overselling people a dream. People go to yoga to escape stress, putting pressure on people to spend money takes away from that. That said CorePower has tons of potential to carve a unique lane in boutique fitness & they've done an amazing job bringing people into yoga. However, I think there's a lot of room for growth on several fronts: customer experience, diversity, and marketing. A dream challenge"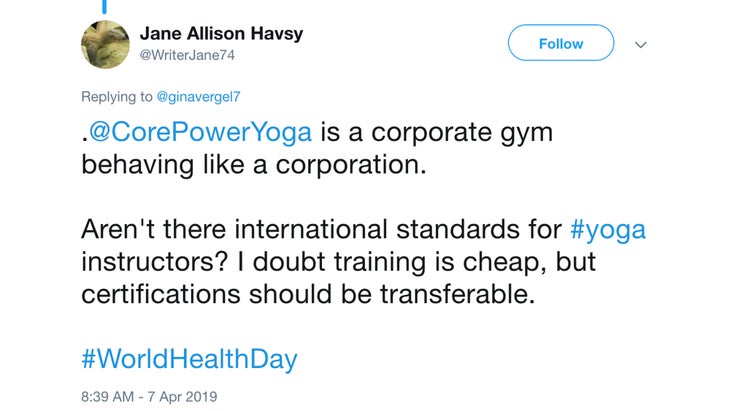 @WriterJane74 says:
"@CorePowerYoga is a corporate gym behaving like a corporation.
Aren't there international standards for #yoga instructors? I doubt training is cheap, but certifications should be transferable.
#WorldHealthDay" – Jane Allison Havsy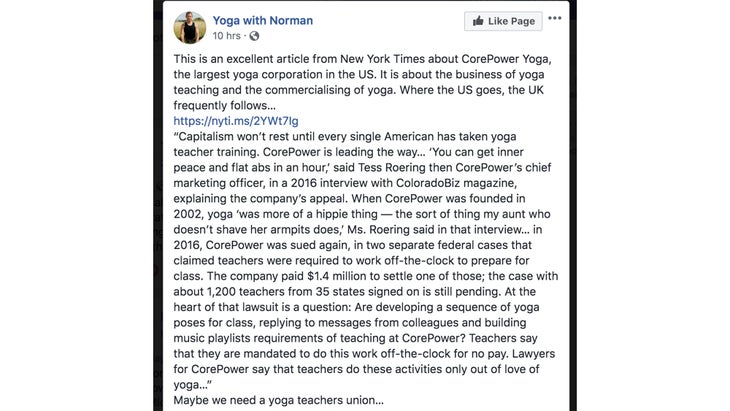 Yoga with Norman says: "This is an excellent article from New York Times about CorePower Yoga, the largest yoga corporation in the US. It is about the business of yoga teaching and the [commercializing] of yoga. Where the US goes, the UK frequently follows…." After providing a quote from the New York Times' article itself, he writes, "Maybe we need a yoga teachers union…."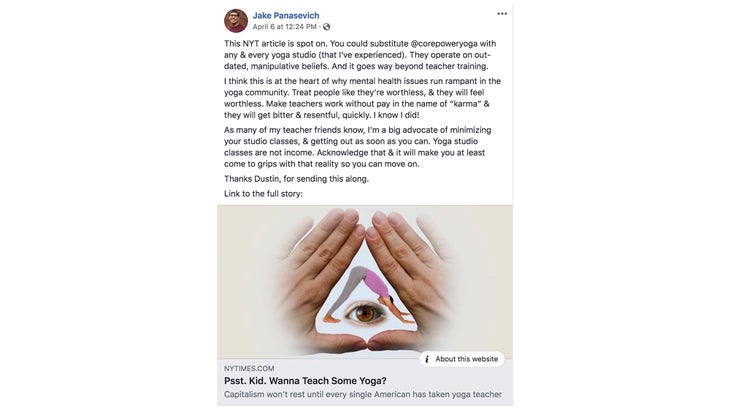 Jake Panasevich says: "This NYT article is spot on. You could substitute @corepoweryoga with any & every yoga studio (that I've experienced). They operate on outdated, manipulative beliefs. And it goes way beyond teacher training.
I think this is at the heart of why mental health issues run rampant in the yoga community. Treat people like they're worthless, & they will feel worthless. Make teachers work without pay in the name of 'karma' & they will get bitter & resentful, quickly. I know I did!
As many of my teacher friends know, I'm a big advocate of minimizing your studio classes, & getting out as soon as you can. Yoga studio classes are not income. Acknowledge that & it will make you at least come to grips with that reality so you can move on."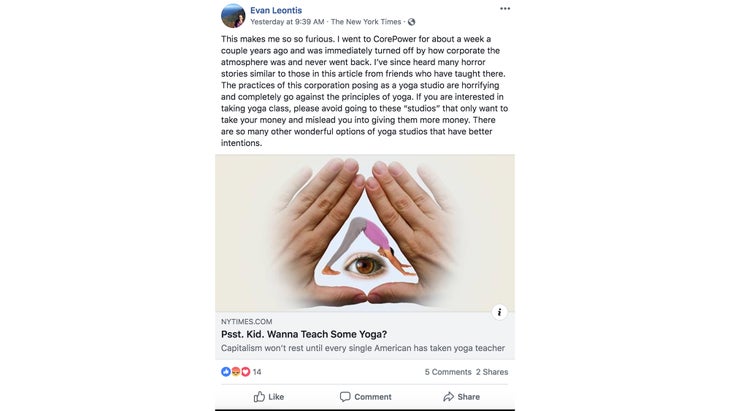 Evan Leontis says: "This makes me so so furious. I went to CorePower for about a week a couple years ago and was immediately turned off by how corporate the atmosphere was and never went back. I've since heard many horror stories similar to those in this article from friends who have taught there. The practices of this corporation posing as a yoga studio are horrifying and completely go against the principles of yoga. If you are interested in taking yoga [classes], please avoid going to these "studios" that only want to take your money and mislead you into giving them more money. There are so many other wonderful options of yoga studios that have better intentions."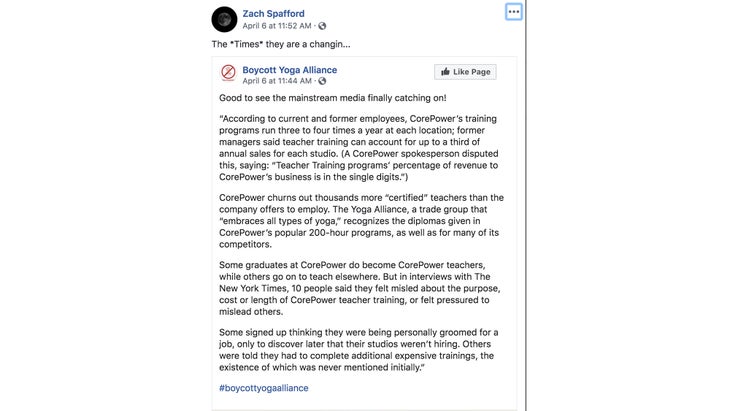 Boycott Yoga Alliance says: "Good to see the mainstream media finally catching on!" What follows is a quote from the New York Times' article.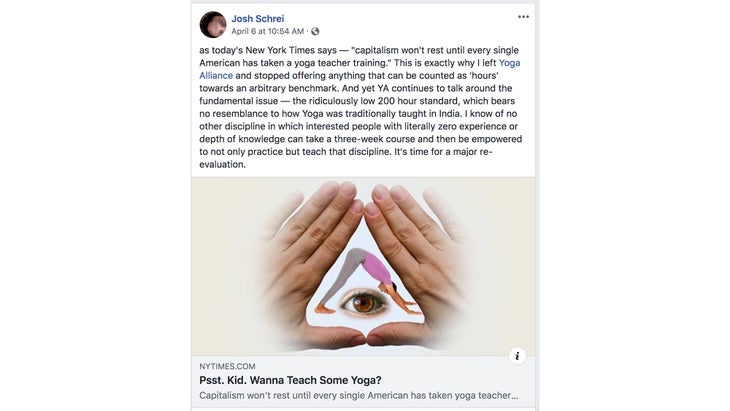 Josh Schrei says: "As today's New York Times says – 'capitalism won't rest until every single American has taken a yoga teacher training.' This is exactly why I left Yoga Alliance and stopped offering anything that can be counted as 'hours' towards an arbitrary benchmark. And yet YA continues to talk around the fundamental issue – the ridiculously low 200 hour standard, which bears no resemblance to how Yoga was traditionally taught in India. I know of no other discipline in which interested people with literally zero experience or depth of knowledge can take a three-week course and then be empowered to not only practice but teach that discipline. It's time for a major re-evaluation."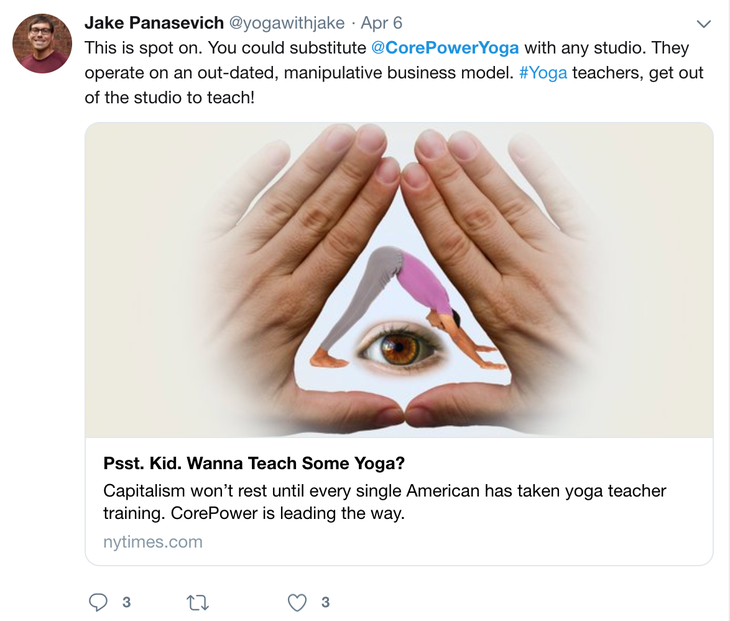 Jake Panasevich says: This is spot on. You could substitute @CorePowerYoga with any studio. They operate on an out-dated, manipulative business model. #Yoga teachers, get out of the studio to teach!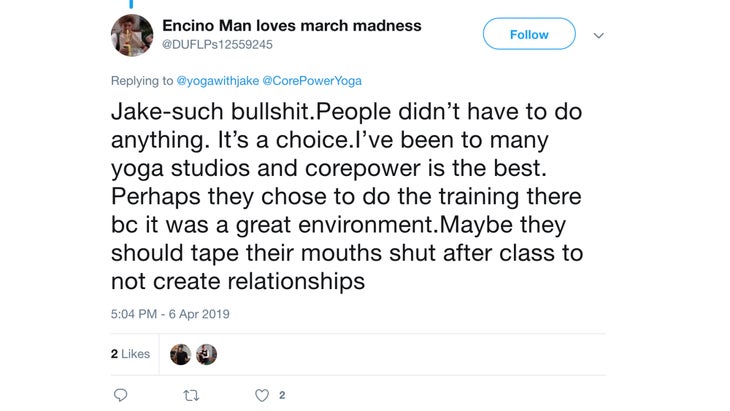 @DUFLPs12559245 responds to Jake Panasevich with: "Jake – such bullshit. People didn't have to do anything. It's a choice. I've been to many yoga studios and corepower is the best. Perhaps they chose to do the training there bc it was a great environment. Maybe they should tape their mouths shut after class to not create relationships"