Costa Rica Takes Sustainable Travel to the Next Level
How a regenerative vacation helps you and the country.
Photo: Courtesy of Costa Rica Tourism Board
As a conscious human in the world, you likely know that ecotourism—tourism intended to support conservation efforts in natural environments—has been steadily on the rise in the last decade or so. But you may not know that in the past couple of years, many eco-conscious travelers have recognized that minimizing their carbon footprint is not enough. These travelers have upped the ante and taken "green tourism" to the next level with an entirely new category: regenerative travel. Rather than focusing on doing less harm around the world, regenerative travelers also aim to repair the harm that has already been done, choosing hotels and tour operators that are working to leave the surrounding area even better than it was when they arrived. If this idea speaks to you, there is no better place to experience regenerative travel yourself than Costa Rica.
As a world leader in the quest for environmental sustainability, Costa Rica is already well-known for its lush rainforests and wildlife, beautiful beaches, and "pura vida" surf-positive lifestyle. But it's also created an invaluable tool that makes it much easier for sustainability-minded travelers to plan a regenerative-tourism trip: the Certification for Sustainable Tourism program (CST). Similar to a "seal of approval" for sustainability, the program provides guidelines for tourism companies to have a positive impact on Costa Rican society—and awards them with a CST certification once they meet expectations. Although the CST program was established back in 1997, it's really taken off in recent years, with more than 400 companies—including hotels, restaurants, tour operators, and more—earning the certification as of 2019. (The program is even recognized by the United Nations World Tourism Organization as the model for sustainable tourism practices in Latin America.)
To help you book the regenerative Costa Rican trip of your dreams, we gathered up some our favorite CST-certified hotels and tour operators around the country. Some are on the beach, some are in the jungle, some are on the pricier side, and others more budget-friendly, but they all have one thing in common: They promise to help you improve your own well-being—and Costa Rica's—in 2021. Here's everything you need to know:
Accommodations That Contribute to the Local Good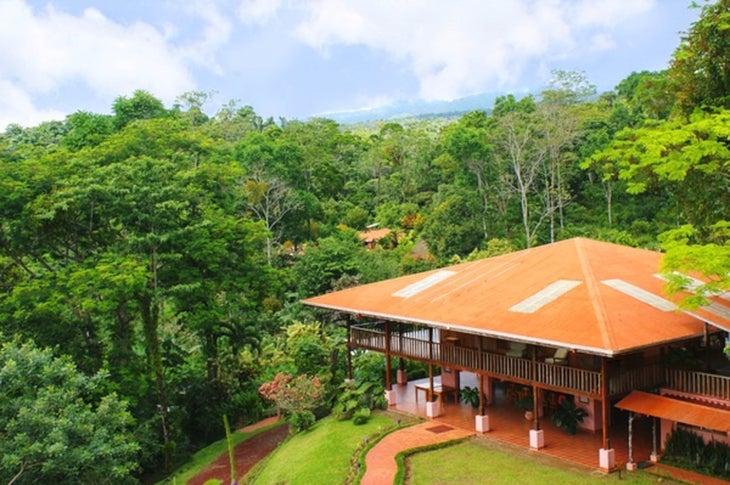 As a self-described "recreational paradise and living classroom," Finca Luna Nueva completely embodies the idea of regenerative travel. Located in San Ramon, about a 10-minute drive from Arenal Volcano National Park in the central part of the country, the boutique ecolodge offers guests the chance to both participate in and learn about sustainability, with miles upon miles of hiking trails, herbal gardens, and a farm-to-table regenerative agriculture experience on their biodynamic farm. Completely immersed in the rainforest, the lodge even has a bamboo yoga pavilion perched high in the trees, so you can practice yoga to the tune of tropical birds to start your regenerative day right.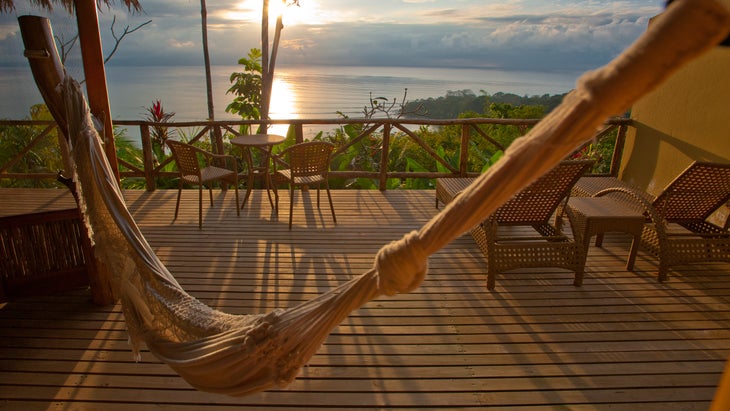 The Osa Peninsula, in the southwestern part of Costa Rica, is one of the most wild, biodiverse regions in the whole country—and Lapa Ríos Lodge is smack dab in the middle of it all. Nestled in the canopy of a 1,000-acre private rainforest reserve, the lodge protects the surrounding area through nature conservation and community development. As a guest, you can witness their regenerative work through multiple tours, including a local medicine tour to learn about traditional medicinal plants, and a "Twigs, Pigs, and Garbage" tour that highlights their sustainability practices. You can even plant your own tree to contribute to the Lapa Ríos reforestation program and learn about its role in the ecosystem!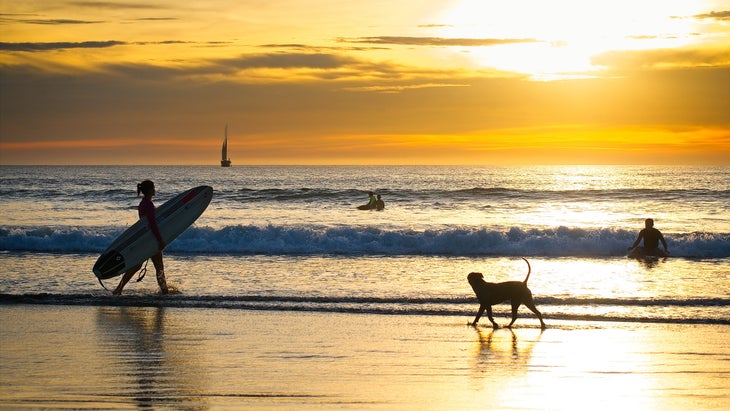 No trip to Costa Rica is complete without a stay in Guanacaste, a province in the northwestern part of the country known for its endless sunny beaches, calm waves, and generally dry weather. Cala Luna captures the spirit of the region, but also adds lots of positive rainforest energy to the mix, with an unexpected mix of wildlife (think howler monkeys, iguanas, birds, and raccoons). Located in Tamarindo, one of the more developed beach towns in the region, the hotel is part of a 74-acre farm, Finca La Senda, where the owners have practiced regenerative agriculture since they moved from Belgium in 1997. Expect plenty of lazing by the sea, tasty organic meals, and soothing yoga classes (included with your stay) every day.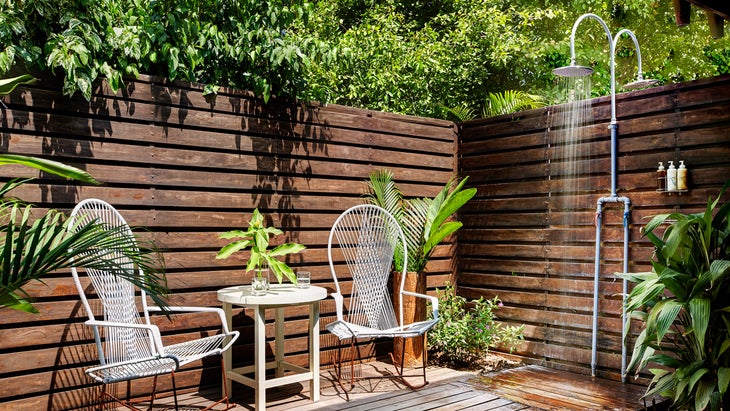 As one of the most well-known Costa Rican surf towns in the country, Nosara is packed with boutique hotels that offer those trademark low-key, feel-good "pura vida" vibes. But none screams "barefoot luxury with a cause" more than Harmony Hotel. While it certainly delivers on the luxury beat, with private thatched-roof villas, secluded garden paths, and an award-winning spa (the Harmony Healing Centre), guests can also feel good about where their money is going. The hotel's non-profit organization, The Harmony Fund, supports the production of a series of videos that teaches people about regenerative agriculture—and the on-site restaurant uses fresh ingredients from local providers who share their passion for all things regenerative and sustainable.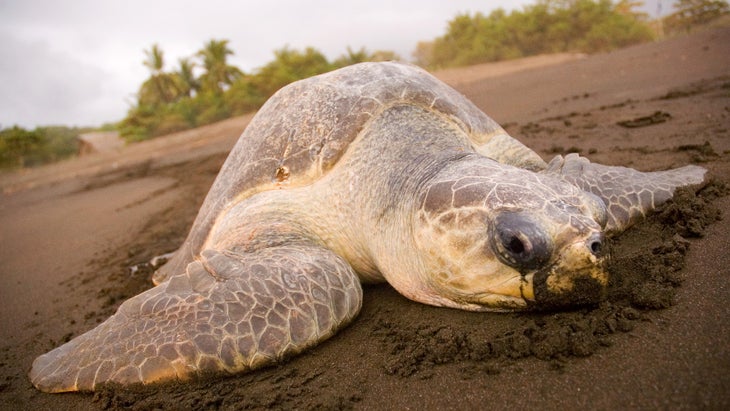 For a slightly more affordable (but no less sustainable and serene) Nosara option, Olas Verdes has you covered. Bordered by the Ostional-Nosara Wildlife Refuge, the hotel is just steps from the beach but also has a real rainforest feel, with daily classes on the open-air yoga deck at the base of a giant pochote tree. On the regenerative beat, Olas Verdes and the community around it have worked hard to restore the surrounding wildlife refuge after it was cut down for farming purposes. To support community development, the hotel has also adopted a local public school, and guests can help students with their Pack for a Purpose program, in which they bring needed school supplies.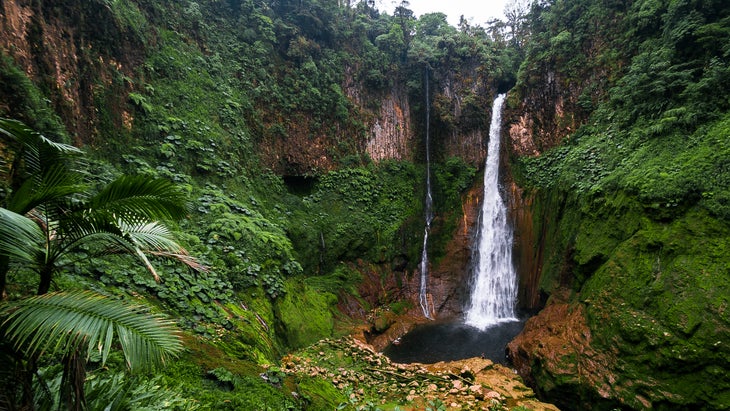 Did you even go to Costa Rica if you didn't stay in a cloud forest? If that's your question, El Silencio is your answer. The lodge and spa is located high up in the trees on a private 500-acre tropical cloud forest reserve in Bajos Del Toro, a tiny rural town in the middle of the country, two hours north of San José by car. The hotel has lots of initiatives built to protect and preserve the surrounding cloud forest, like their complimentary "plant a tree" program, enabling guests to plant a tree in the carbon-offsetting forests, which in turn helps bring back the quetzal birds to the region. El Silencio also has an on-site organic garden and trout pond where you can choose your own ingredients for dinner. (Bonus: This is also the only Relais & Chateaux lodge in Central America, so you know you won't be disappointed.)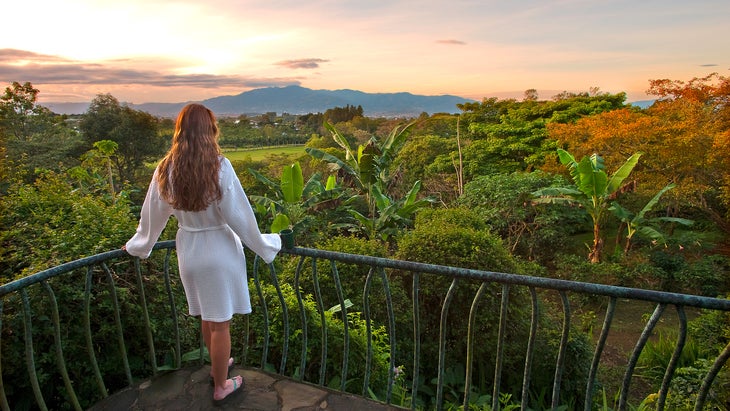 Costa Rica is known for its incredible coffee, so why not stay on a coffee farm to drink it straight from the source? Finca Rosa Blanca, a coffee farm and inn located in the Central Valley's Heredia mountains just outside of San José, will definitely satisfy that urge—and help you learn more about regenerative agriculture to boot. As one of the original eco hotels in Costa Rica, they have been practicing regenerative tourism for more than 30 years, planting more than 5,000+ native trees and more than two dozen acres of coffee fields. The hotel also hires a 100% local staff to directly benefit the surrounding community.
Experiences That Enrich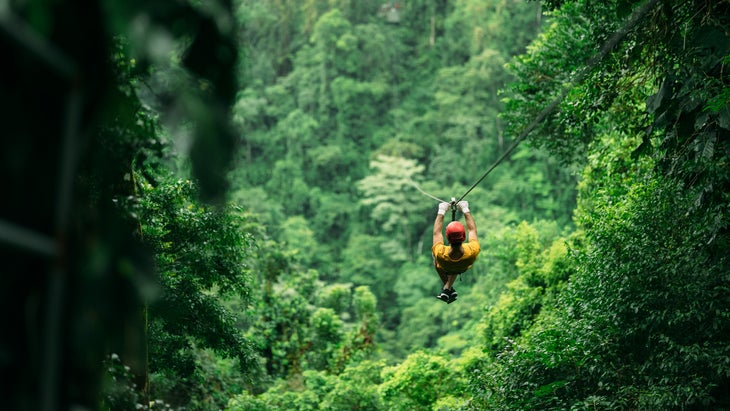 Birdwatching to hiking and trekking to wellness tours, think of anything you want to do in Costa Rica, and ARA Tours will help you execute your vision—with the country's well-being in mind. They offer personalized tours all over Costa Rica, from birdwatching to hiking and trekking to wellness tours, and since they have earned the coveted CST certification, you can rest easy knowing that their business leaves a positive impact on Costa Rican society. ARA Tours even received a Carbon Neutrality Plus Award from the Climate Change Bureau in June 2020, meaning they comply with all of the environmental regulations established by the Carbon Neutral Country Programme 2.0.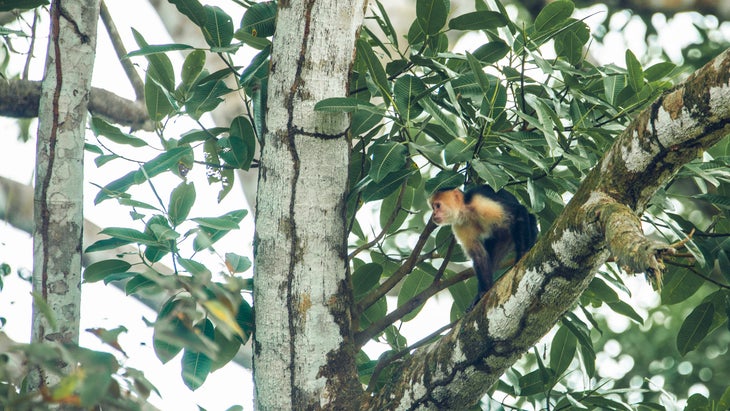 Like ARA Tours, Horizontes Nature Tours offers personalized packages and tours throughout the country—all you have to do is tell them what you want to do. The company has been around for 35 years and also offers curated options if you don't want to craft your own, from an "off-the-beaten-path" tour that takes you rafting through the South Caribbean to a nature tour through Corcovado, one of the most biodiverse places in the world. Horizontes Nature Tours has been awarded with the CST 16 years in a row—so you know they're doing it right.