Find Your Back Country Bliss with Back to Earth
A yoga-and-backpacking trek in California's High Sierra yields inspiration for asana practice—and a rejuvenating experience to find your back country bliss.
Heading out the door? Read this article on the new Outside+ app available now on iOS devices for members! Download the app.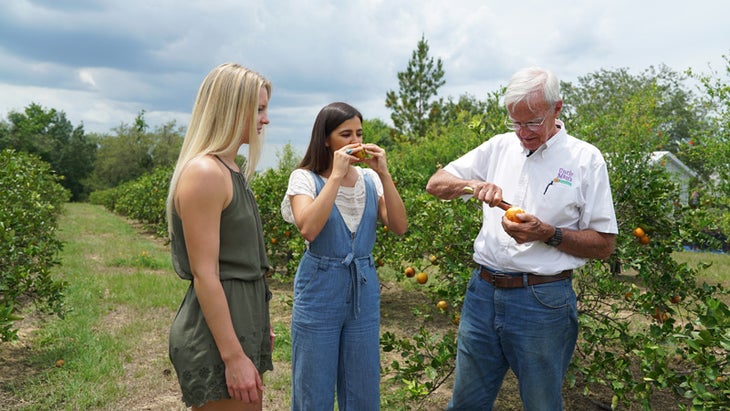 A yoga-and-backpacking trek in California's High Sierra yields inspiration for asana practice—and a rejuvenating experience to find your back country bliss.
Awakening in a beautiful forest of 200-year-old Jeffrey pines, I hear the whisper of a solo bansuri flute harmonizing with the deep, healing tones of a Tibetan singing bowl. The sound lures me out of my sleeping bag and into morning yoga class. Breathing in the fresh mountain air, I silently make my way to the yoga "studio": a small clearing of soft, pine needle–covered duff, encircled by towering pines. I lay my sticky mat down amid the granite rocks and breathtaking mountain vistas of one of nature's finest temples, Yosemite National Park.
In the stillness of this sanctuary, I hear my mind's chatter clearly and without judgment. As I move through morning asana practice, my sore calves begin to unwind from yesterday's six-mile hike to this camp, which will be our backcountry home for the weekend. I stand in Vrksasana (Tree Pose), trunk-to-trunk with a grandmother pine, her diameter bigger than my wingspan. So massive and steady, she exudes unwavering core strength and balance. Breathing in the sweet butterscotch scent of her sap, I root more firmly into the soft ground beneath my feet. My mental chatter floats away in the brisk morning air of the High Sierra.
Such are the sensory pleasures and metaphysical possibilities afforded by this yoga backpacking journey with Back to Earth, a Berkeley, California, company. The three-day, three-night trip combines a quad-busting, heart-pumping outdoor adventure that challenged the weekend-warrior in me, with a generous helping of to ground my monkey mind and soothe my soul.
Starting from Tioga Road, which crosses the park's high country (and the ridge of the Sierra Nevada mountains), we had hiked out on Porcupine Creek Trail toward Yosemite Falls. After a full day of trekking though lush woodlands and fern groves, we paused to sit atop Turtle Rock, on the north rim of Yosemite Valley. There we took in a spectacular view of Half Dome and the dramatic 3,000-foot-deep glacial valley yawning before us, as the setting sun cast an ethereal pinkish orange glow onto the surrounding mountains. It's not for nothing that John Muir called this landscape "the range of light."
Inspired by the view, I stood on a flat slab of granite and stretched into Natarajasana (Lord of the Dance Pose). Reaching out across the valley, I felt I could almost touch Half Dome as I coaxed my body to echo the curve of that massive rock. Never before have I felt so at one with nature's majesty.
Make Nature Your Yoga Studio
When we arrived back in camp, the yoga studio was already set up among the trees. We lined up around a candlelit altar of pine cones, aromatic pine needles, and a sculpture of stacked granite stones. Our yoga teacher, Diego del Sol, led us through a soulful vinyasa routine to soothe our tired bodies and welcome us to our forest home. Later that evening, I practiced Garudasana (Eagle Pose) and glanced up to see a massive bird soaring overhead. What a change, I thought, from the cracked ceiling and fluorescent lights of my local yoga studio. All the phone calls I forgot to return and the unpaid bills piled on my desk seemed but a distant illusion as I surrendered to the quietude of the mountains and lay blissfully in Savasana (Corpse Pose) under the boundless sky.
After class, I wandered over to the fire circle, already ablaze, where dinner was being served. Eric Fenster, cofounder of Back to Earth and our trip leader, had whipped up an all-organic gourmet dinner of miso soup with tofu, kale, and enoki mushrooms, plus citrus quinoa with veggies—all on one camping stove. As I sipped my soup and compared blisters with my new friends, I reveled in the luxury of being catered to so completely in the backcountry. After dinner, Fenster showed us how to start a primitive fire with a hand drill, as our ancestors did millennia ago. And, as on all good wilderness trips, we enjoyed the ritual roasting of marshmallows (vegan, in this case) and making s'mores over the open fire.
The moonlit sky and campfire flames brought out the carefree kid in all of us, and we spent the rest of the evening sipping tea, laughing, and singing songs to the accompaniment of Fenster's guitar. As the fire and conversation died down, I zipped myself into my sleeping bag and happily drifted off to sleep beneath the innumerable stars.
Return The Focus To The Earth
"The earth has so much to teach us," Fenster says. "Bringing in the practice of yoga lets us deepen the experience of being in nature, to bring awareness and listening to our time with the trees and the mountains. We can then listen to our innermost selves and take in the teachings that are all around us."
On a trip like ours, he added, yoga extends far beyond the mat. "We walk through all of our experiences on these journeys," he says, "with a yogic awareness of our breath, nature around us, how we are stepping on the earth, what we are feeding ourselves, how we are affecting our community, and how deeply we are listening to ourselves and to the voice of the Earth."
Many of the trek's subtler touches—time alone on the trail, inspirational quotes before meals, Fenster's meditative flute serenade during Savasana encouraged an inward journey, even as I began to fancy myself as a newly minted mountaineer. Although my reptilian self at times begged to remain swaddled in my mummy bag and at one point longed for a hot bath (I got three more miles instead), I did become surprisingly savvy in outdoor survival skills—primitive fire making, digging my own latrine, and even bear proofing the campsite. At the same time, the mere fact of being in the wilderness for more than an afternoon influenced my practice in unexpected ways: Fending off the chill mountain air with layers of fleece and a wool cap while doing the postures reminded me to stoke my inner fire; dealing with sudden gusts of wind during balancing poses taught me to root myself more thoroughly and find a deeper poise than I'd previously been able to attain. More broadly, I found myself drawing strength and prana from the granite on which I stood. Practicing yoga alongside ancient mountains cultivated greater stillness—both mental and physical—within me, allowing me to enter my asana and meditation practices much more profoundly.
Despite my heavy pack, tired feet, and dirty skin, I emerged from the backcountry feeling far more open and alive than I had felt while hiking in just two days earlier. I headed back to the Bay Area with a nourished body, peaceful mind, and a newly invigorated appetite for living. I noticed as I hiked out that my steps were lighter yet more sure, more attuned to the hush of the forest. I smiled, feeling grounded, empowered, and grateful that I had taken this weekend to get away—or rather, to get back to myself, and to the Earth.
For more information on Back to Earth trips, go to www.backtoearth.org.
About our author
Debra Rubin is a holistic health educator, bodyworker, and dancer in Berkeley, California.