Heading out the door? Read this article on the new Outside+ app available now on iOS devices for members! Download the app.
Before heading down into the Paris Metro, I remove my hearing aids. The difference is immediate: Instantly, the traffic and conversations blur and recede. With hearing aids, my world is bright and sharp, bursting with amplified sound; without them, it's muted and whispering. Most of the time, I prefer the quieter world, where my other senses bring in light, texture, and smell to give me what my ears alone cannot.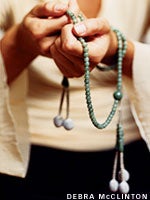 I pause at the top of the concrete stairwell leading from the street to the Metro. The iron handrail feels hot where the sun rests on it. A breeze brushes my hair, and a savory aroma drifts past from a nearby café. It's my last afternoon in this enchanting city, and I want to remember everything. This trip, a high school graduation present to my partner's daughter, has been both a celebration of her accomplishment and an affirmation of our family. So I linger at the top of the stairs—taking it all in—before heading down to the trains.
The tunnels of the Metro bring relief from the city's summer heat, but they assault my senses in other ways. Trains arrive and depart in roaring waves. Fluorescent lights glare against white-tiled walls, only to be swallowed by winding miles of concrete and darkness. The place smells of perspiration, axle grease, and old urine. As I approach the turnstiles, I hear the thunk-thunk of passengers moving through—and something else: a few notes of music floating above the hum of the moving crowd. As I pass through the turnstile and walk toward my train, long, soulful tones rise and fall, and I recognize the voice of a violin.
I had always felt that love would never find me—or that if it did, it wouldn't stay. But now, the beautiful sound of the violin reminds me of the import of this trip and of my partner's nine years of devotion. I realize I've measured out my love too carefully, protected my heart with a wall of stones. Now, pried loose by the music, those stones are falling away. The walk toward the platform becomes a pilgrimage, each step burdened with old fear and leavened by new hope.
Finally, I reach the music's source: a middle-aged man sitting on a folding camp stool, with an open violin case at his feet. Despite his large belly, he sits erect. His thinning gray hair is pulled into a scraggly ponytail, and his dark flannel trousers are frayed. The sweat stains darkening his shirt belie the effortlessness with which he seems to play. The music builds until it clears away the last stones of my resistance. I realize now that, in whatever brief time I am given, I am here to love.
Tears stream down my cheeks as I search the musician's pale, round face, hoping to meet his gaze, wanting to thank him in some way. But when I find his eyes, they are half-closed and empty—the wandering white oceans of the blind.
Many months later, I still find comfort in the fact that in this uncertain world, truth and beauty are at work. I know, because they spoke that day in Paris to a woman hard of hearing, through the hands of a man without sight.
Catherine Johnson has contributed to several anthologies, including Face to Face: Women Writers on Faith, Mysticism, and Awakening.