Try This Candle Ritual The Next Time You Want to Decrease Your Stress Levels
Light a candle and set an intention the next time there is a full Moon.
Heading out the door? Read this article on the new Outside+ app available now on iOS devices for members! Download the app.
There's a good reason why mindfulness practices in both the East and the West often call upon the power of a simple lit candle to guide their meditation. The act of striking a match and lighting a candle gives us an opportunity to drop our shoulders, soften our chests, and breathe in a little bit deeper.
Candles are one of the most essential tools in rituals and ceremonies around the world because they are versatile, relatively easy to obtain, and demonstrate a symbol for transformation and tapas. Candles are also a point of intersection, where our daily mindfulness practices interact with our desire to illuminate and enliven various aspects of our lives.
Every full Moon I light candles with my community members to honor all beings on Earth. We send in prayers, wishes, intentions, and petitions, and then we work with the transformative power of flame and wax to breathe life into those dreams and desires.
One of the most common requests I receive during this ceremony is assistance and support in helping my community members experience less stress and find more blessings. Here is a simple candle ritual that you can do at home to accomplish exactly that.
A Full Moon Candle Ritual to Decrease Stress
Time: 10 minutes
Materials:
Candle – your candle can be a taper candle, a pillar candle, a fancy scented candle or even a birthday candle! You can use any kind of candle that you want but it should be a new candle that has not been used before.
Matches to light the candle
Small bowl of salt
Journal
Process:
Set up a simple altar or table top so that the candle is in the center of the space, the bowl of salt is directly in front of the candle, and the matches to light the candle are nearby.
Take a moment to cultivate calmness within with a few breaths.
As your breathing slows, become aware of where in your body you hold stress. Make a note of this in your journal.
Breathe into the specific area(s) of your body where you hold your stress and ask this part of your body if there is anything it would like you to know. Listen.
Write down the three biggest current stressors in your life – just go with whatever three occur to you first, knowing that there is no right or wrong way for this particular ritual

Holding these three stressors in your mind and in your body, light the candle.

Allow yourself a few moments watching the candle burn, then as you are ready call out the first area of stress – name it out loud. As you do so, see, sense, touch, know, hear, and feel the candle flame taking it up and melting it away just as it melts wax.

Repeat this process for the other two stressors you named.

Once all three areas of stress have been taken up and burned away from the candle flame, allow yourself to take a deep breath in, noting how you feel in mind and in body.

On your out breath, release any final tension that is ready to depart.

Allow the candle to safely burn down completely and once it has done so, take any remaining wax and bury it at the foot of a healthy tree, returning it to the earth.

Your final ritual act is to take the bowl of salt and use it with water to wash your hands, effectively purifying and sealing the stress-free space that you have created.
A beautiful way to extend this work and take it even farther is to keep it in mind the next time you hit your yoga mat for a full practice or a few gentle stretches. Before you begin to warm up your body take a moment to intentionally dedicate the merits of this particular practice to others in the world who are laboring under incredible amounts of stress. Bless them and yourself, with the intention that their burdens be just a little lighter. This is one of the wonderful things about working with candles in spiritual and mindful practices — they are reminders that we too can each be a source of light and illumination.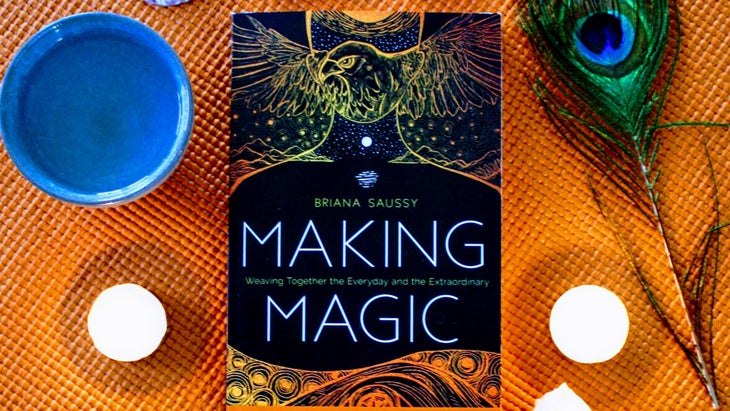 About our author
Briana Saussy is a professional Sacred Artist and world-renowned scholar of mythology, magic, and folklore. She holds a Masters degree in Eastern and Western classics—and has spent over ten thousand hours studying ancient cultures, traditions, stories, and languages, including Greek and Sanskrit.