5 Ways to Modify Your Teaching When Class is Crowded
Here's how to ensure your students have the space they need for their practice.
Heading out the door? Read this article on the new Outside+ app available now on iOS devices for members! Download the app.
Every memory I have of taking power yoga and vinyasa flow classes in the early 2000s includes rooms filled with a hundred or more people whose mats were so close together, you could barely see the floor. The room would get so steamy that the air seemed to hang like a canopy above the mats.
I was always flustered by the proximity and number of bodies. I just wanted some space to move and breathe. I didn't want to be showered with sweat by the person on the mat next to me each time they flung their arm out to the sides as they came to standing. And I definitely didn't want to be inhaling the same hot air as the person on the mat to my right.
It never occurred to me to think about what it was like for the teacher who had to lead a packed studio. Since I've become a teacher, though, I've led enough "mat-to-mat" classes over the years to know what it's like to try to command the sardines, and I think my experience having been one of them helps.
How to teach a packed class
There are several things you can do when your classroom is close to being full that will make it feel more spacious for everyone. Although I haven't taught a full class since before Covid, I know a lot of studios are back in the swing of things with more sensitivity to the space around students than in the past.
1. Part the seas
Let's be real: Not everyone is up for moving their mat just before class begins to make space for a few more bodies. Especially those who came extra early to get "their spot." I like to designate an imaginary line down the middle and request that everyone on each side slide away from the center. This tactic encourages the entire class to participate in making room and opens up a few spots in the middle so the latecomers aren't forced to be at the front of the studio. Some students will move a lot and others a little. It evens out.
2. Won't you be my neighbor?
Before you officially start class, ask everyone to introduce themselves to the person to their left and right. I find it helps to suggest a prompt, something they can ask each other, such as "What is your favorite part of [this season]?"
This is sangha, or community, and is its own form of yoga. It might make students a little more mindful of their shared space when they're not bumping into strangers. And a little less likely to be offended if their neighbor bumps into them. Also, this new community may make the shared sweat pool less offputting.
Be willing to allow for the few extra minutes of class it may take for students to chat. Consider suggesting that any students who wish to opt out can remain seated.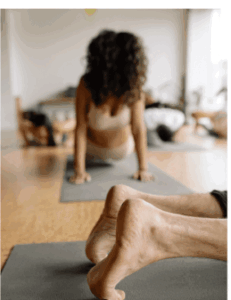 3. Change directions
Even if a studio doesn't have a designated area or stage where the teacher stands, students tend to unconsciously leave space for teachers at the front of the room. You can squeeze a few extra mats in this gap at the front of the room by placing them perpendicular to the rest of the class. It can help to pick students you know well or ask for volunteers to practice here (see 1. Part the Seas).
4. Cue differently
You may notice that your regular cues don't fly quite as smoothly in a class where students are close together. For example, many vinyasa teachers cue to lift your leg in Adho Mukha Svanasana (Downward-Facing Dog), but that could risk a kick to the face of the person behind you in a mat-to-mat class.
Another practoce that you will quickly learn doesn't work in a packed class is taking your arms out to the sides, and in vinyasa classes, we do this a lot. Consider cueing to lift the arms up with the hands already in prayer, which will keep everyone's body parts closer to home. Or suggest students stagger their placement on their mats in relation to their neighbors.
Consider the real estate you are working with as well as the personalities of the students. If it is a room where people are used to practicing on top of one another, they may be able to mindfully modify such movements on their own. But if your students are accustomed to having tons of room around them, you'll need to intentionally, vocally, and repeatedly cue students to keep their movements contained within the mat.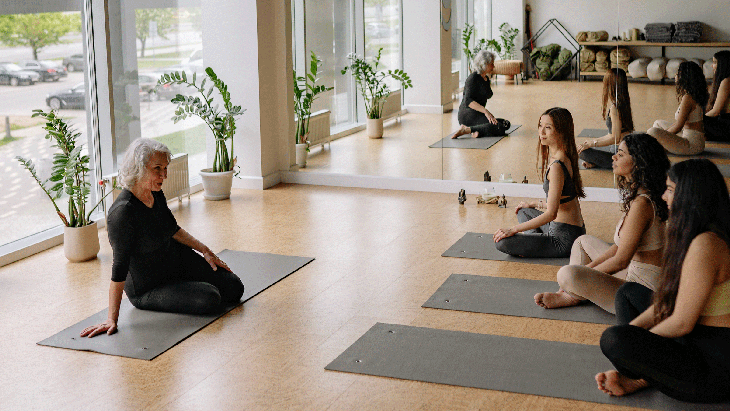 5. Address the elephant in the room
Make the experience a teachable moment by talking about the benefits of being in community. While there will be some students who would prefer to be home alone (my hand is raised), the reality is that the practice of yoga is not just for individual gain but collective growth. Yoga helps us remember that we are not the lowercase "s" in self, the ego, or the individual, but rather the uppercase "Self,"  the part of us that is connected to everything and everyone.
By weaving those reminders into your teaching, you may find that students soften and actually appreciate the experience of being close to so many other humans.
About our contributor
Sarah Ezrin is an author, yoga educator, Instagram influencer, and mama based in the San Francisco Bay Area. Her willingness to be unabashedly honest and vulnerable along with her innate wisdom make her writing, yoga classes, and social media sources of healing and inner peace for many. Sarah is changing the world, teaching self-love one person at a time. She is also the author of The Yoga of Parenting. You can follow her on Instagram at @sarahezrinyoga and TikTok at @sarahezrin.