A Sanskrit Glossary For Anyone Who Practices Yoga
Looking to expand your knowledge about this ancient language and take your yoga practice to a deeper level? This is the place to begin.
Heading out the door? Read this article on the new Outside+ app available now on iOS devices for members! Download the app.
It has been said that learning a new language is like a spiritual journey in which we discover another culture. Studying the ancient Indian language of Sanskrit does that and more—it can help reveal a greater understanding of the yoga poses and the larger practice of yoga that extends beyond the physical postures. 
Whether you've just started taking yoga classes or have been studying yoga for years, there's plenty to discover about this mystical language. Here, we've broken down 40 common Sanskrit words and their meanings.
Learn more: Should Yoga Teachers Use Sanskrit?
Ahimsa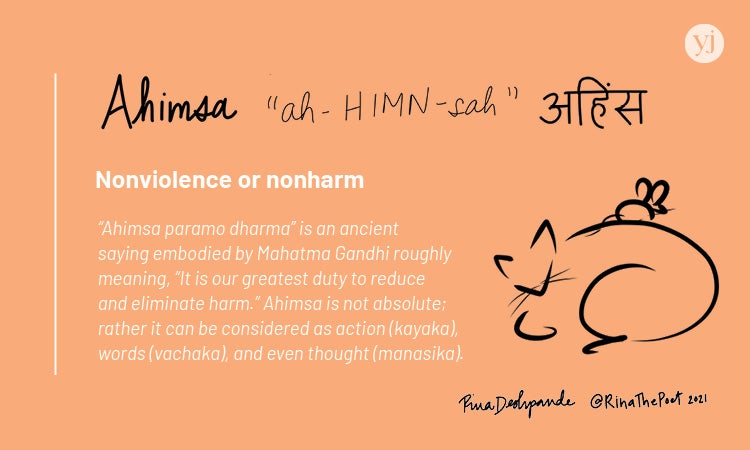 (nonharming)
 See also Does Ahimsa Mean I Can't Eat Meat?
Ananda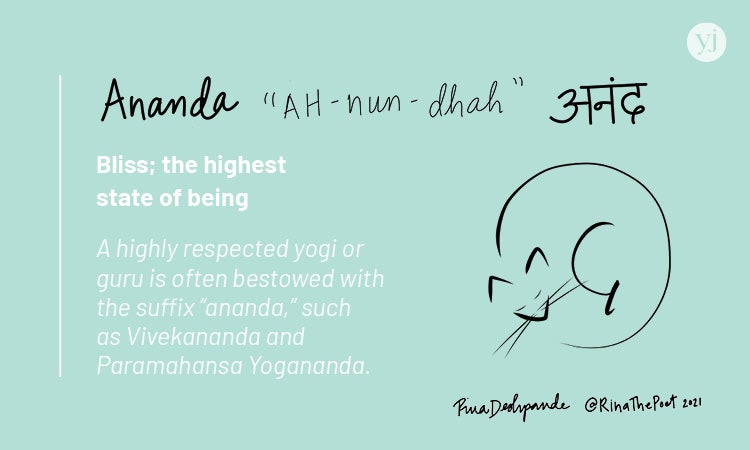 (bliss)
See also Leah Cullis's 14 Joyful Poses
Asana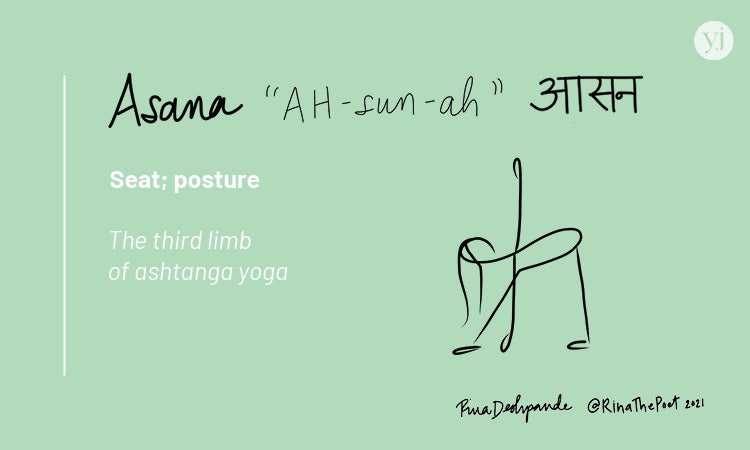 (seat)
Explore Yoga Journal's comprehensive pose library
Ashtanga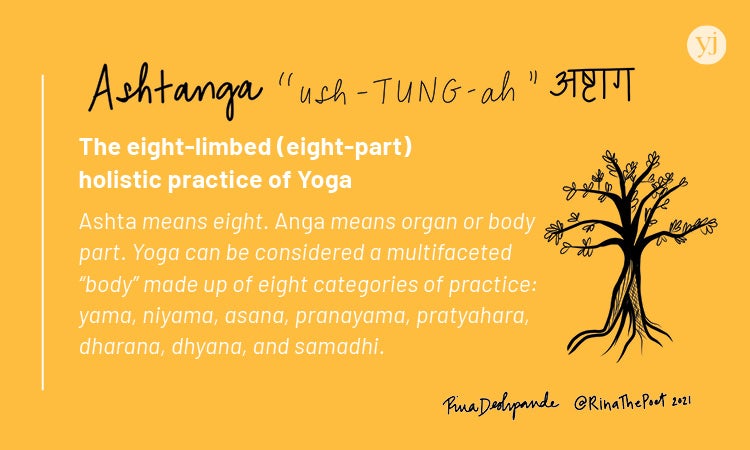 (eight-limbed union)
See also Get to Know the 8 Limbs of Yoga
Avidya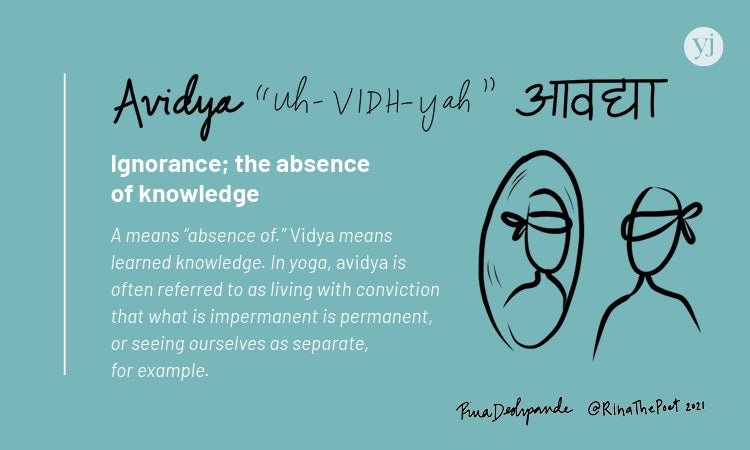 (ignorance)
See also Awaken to Your Potential for Change: The 5 Kleshas
Ayurveda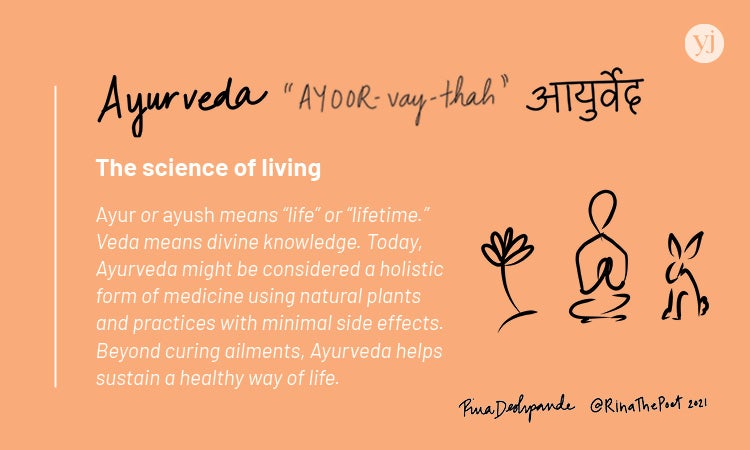 (life science)
Explore The ancient wisdom of Ayurveda
Bhakti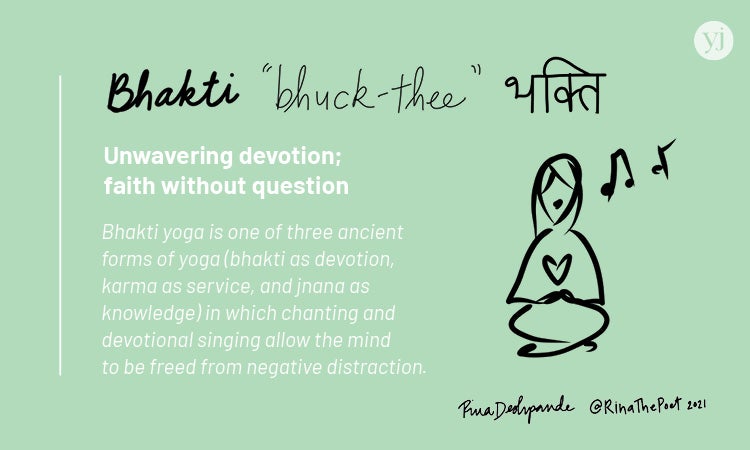 (love + devotion)
See also What Is Bhakti Yoga? Why You Should Try the Yoga of Devotion
Brahma Nadi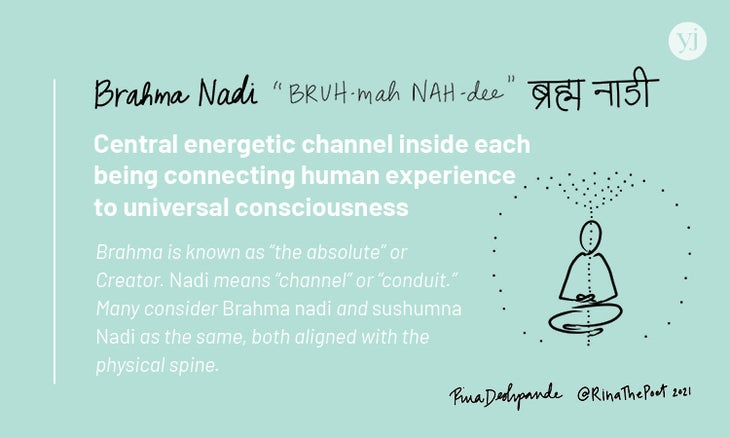 (divine channel)
More How to Be Happy at Every Age
Citta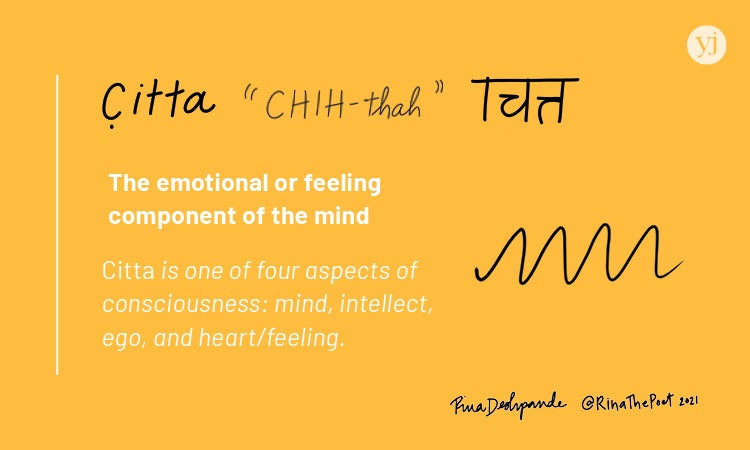 (mind)
Learn more A Beginner's Guide to Meditation
Devanagari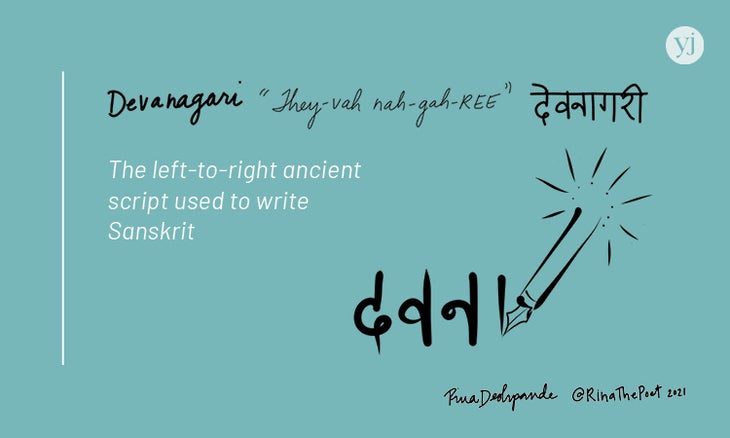 (divine writing)
See also 11 Journaling Prompts to Transform Your Writing Practice
Dhyana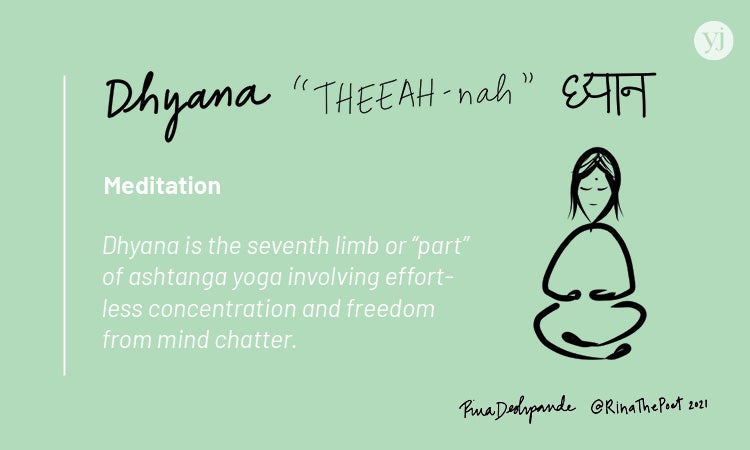 (meditation)
See also The Art of Being: Exploring the Seventh Limb of Yoga
Drishti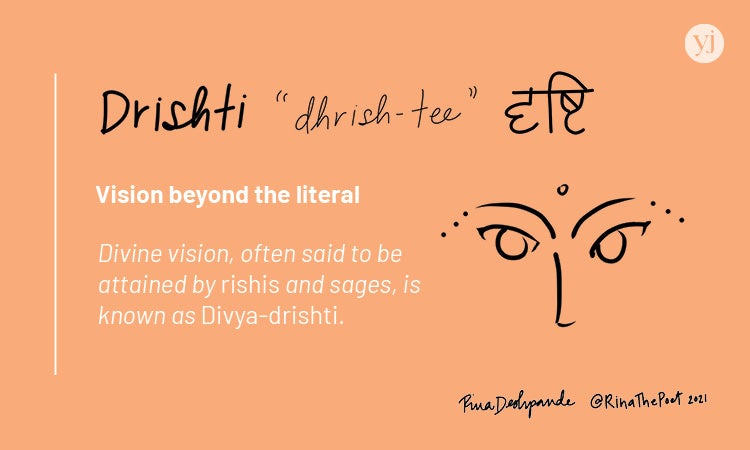 (view/sight)
Learn more See More Clearly By Practicing Drishti
Guru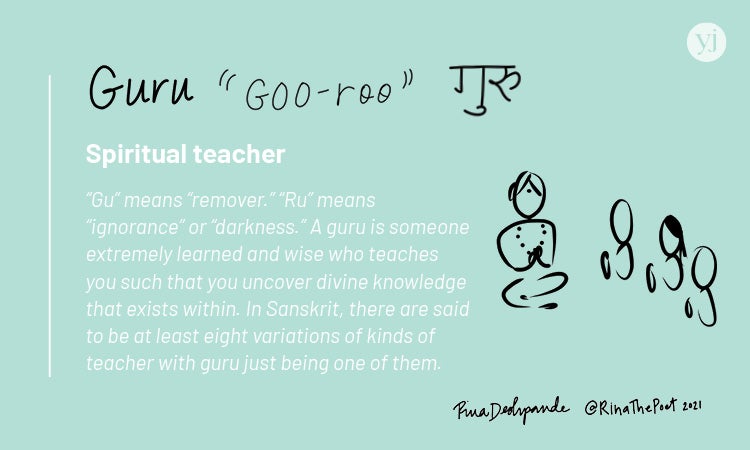 (a spiritual teacher)
See also My Guru, My Self
Ida-nadi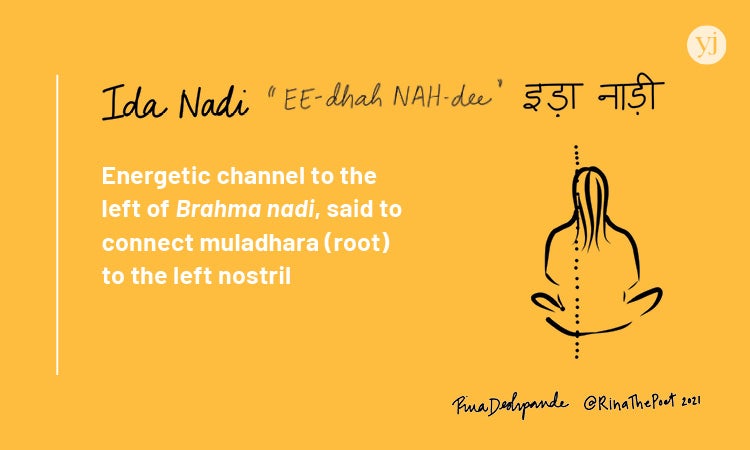 (pale conduit)
Lear more Discover the Ida and Pingala Nadis
Japa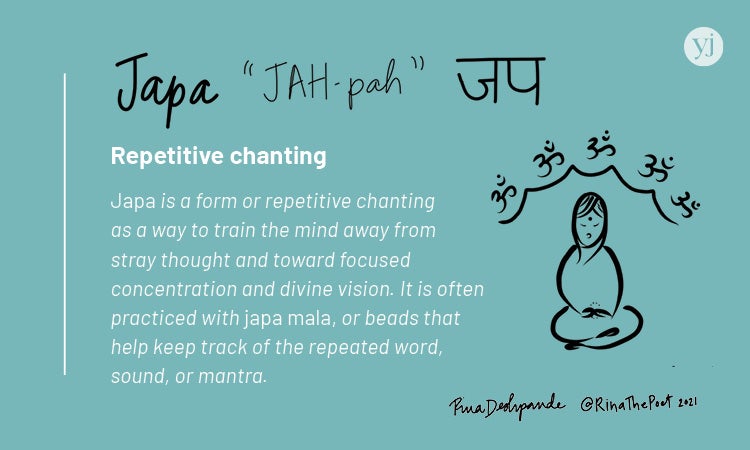 (muttering)
Read more Intro to Chanting, Japa, and Mantra
Jnana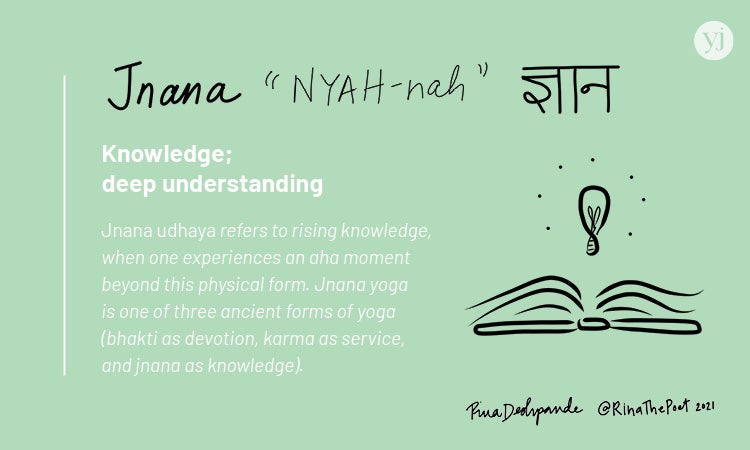 (knowledge)
See also Intro to Jnana Yoga: Playing the Mind-Body Edge
Kosha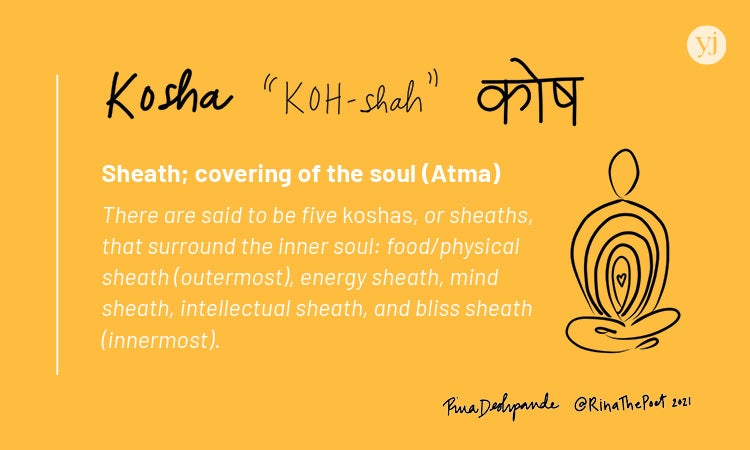 (casing)
See also Getting to Know You: The 5 Koshas
Kundalini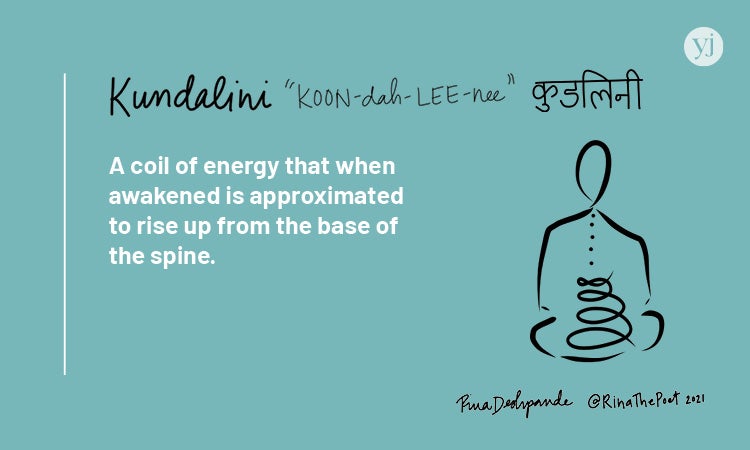 (coiled power)
See also A Beginner's Guide to Kundalini Yoga
Mantra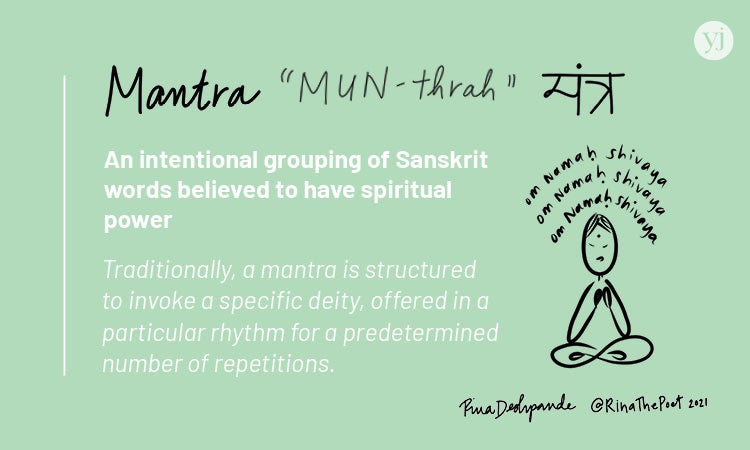 (mind instrument)
See also Top Yoga Teachers Share Their Go-To Mantras
Mandala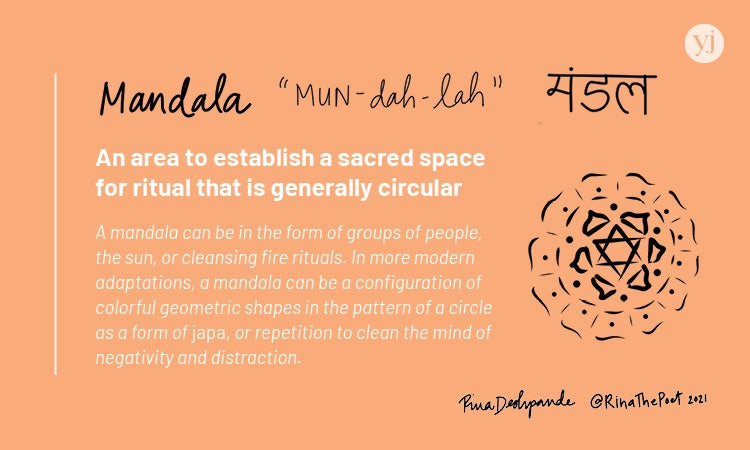 (circle)
See also Vastu 101: How to Make Your Home a Healing Sanctuary
Mudra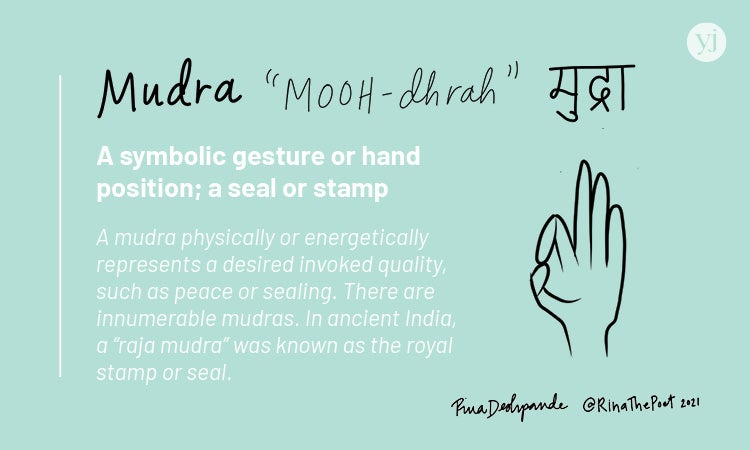 (seal)
See also A Mudra-Based Meditation for Processing Stress
Namaste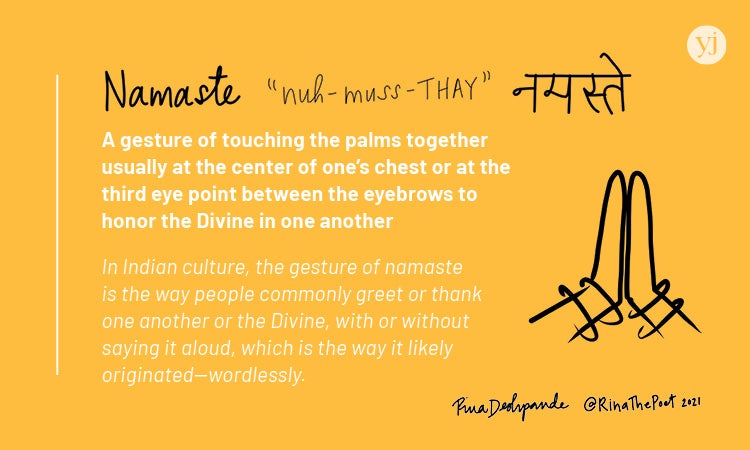 (I bow to you.)
Learn more The Meaning of "Namaste"
Nirodhah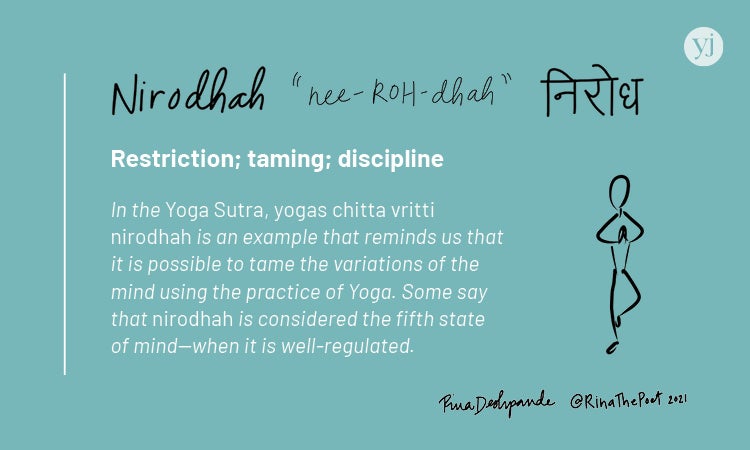 (restriction)
Learn more Yoga Sutra
Niyama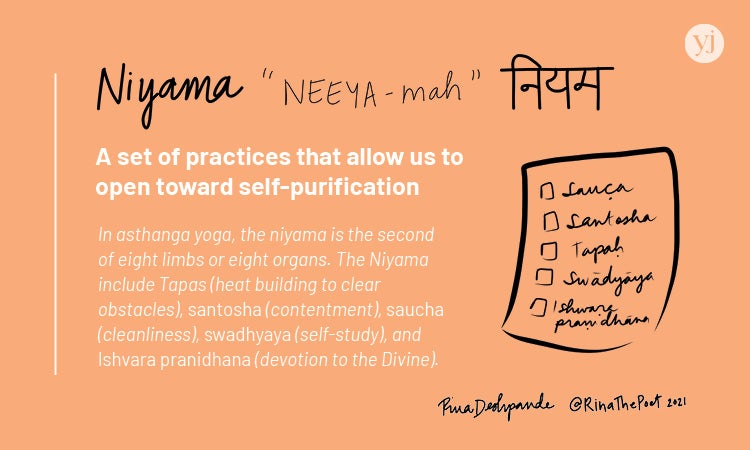 (observance)
See also 5 Ways to Put the Niyama Into Practice Right Now
Om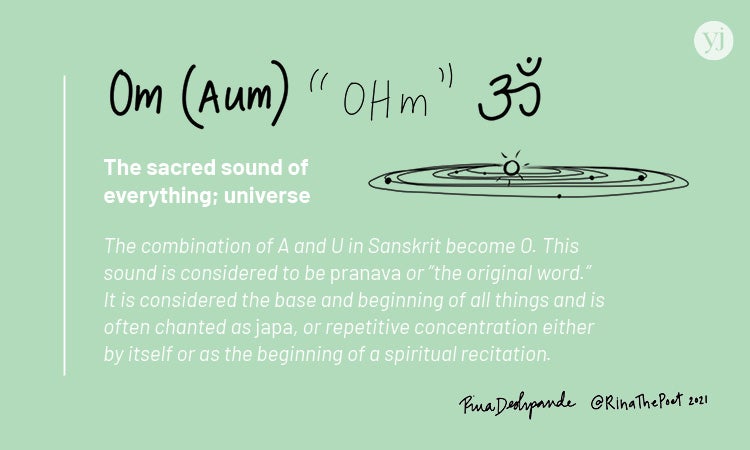 (universal sound)
Learn more Mastering the Om: A Guide for Beginners
Pingala Nadi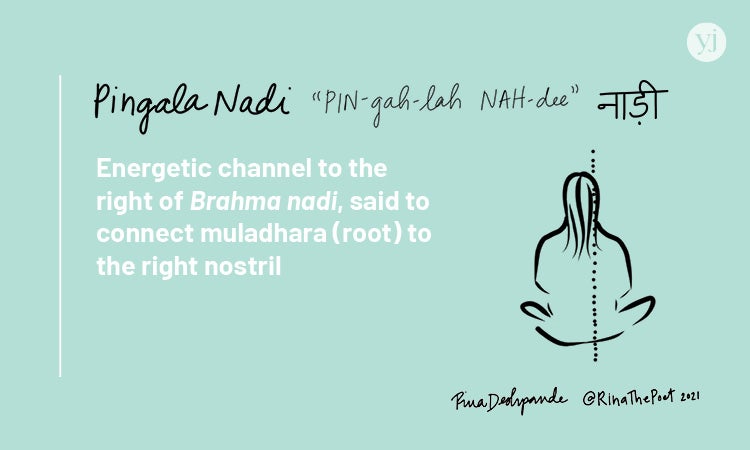 (conduit)
More How to Use the 7 Chakras in Your Yoga Practice
Prajna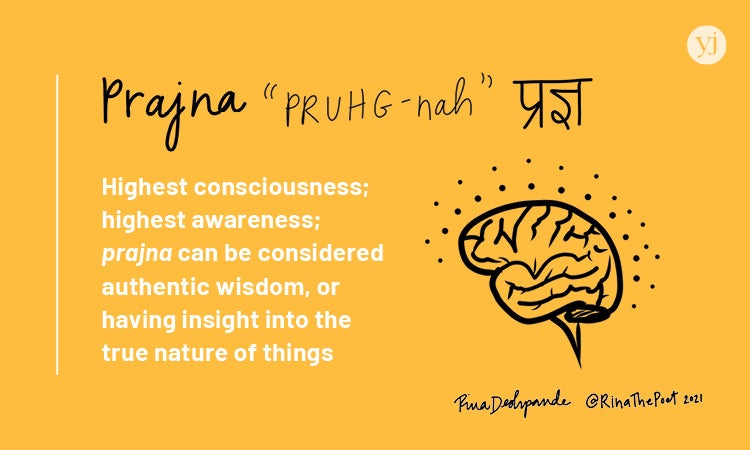 (wisdom)
Watch Meditation: How to Find Peace Amid Chaos
Prana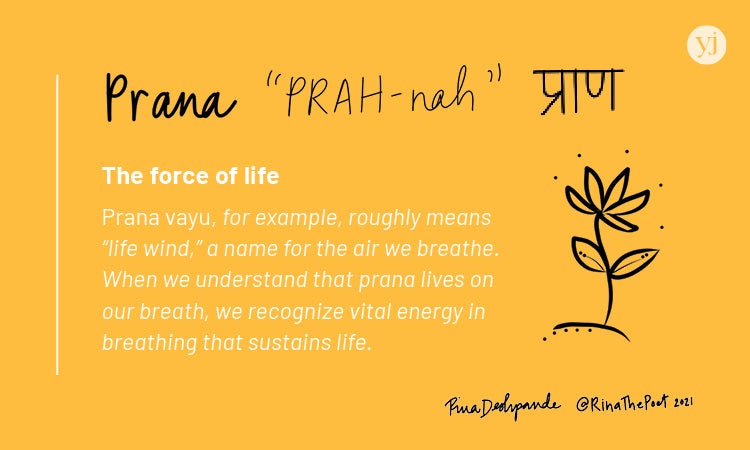 (life force)
Practice 6 Poses to Open Your Energy Channels & Boost Prana Flow
Pranayama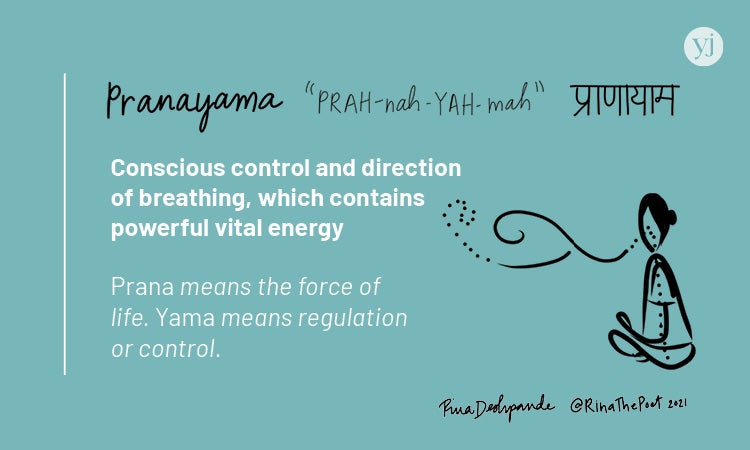 (life force or breath extension)
See also A Beginner's Guide to Pranayama
Pratyahara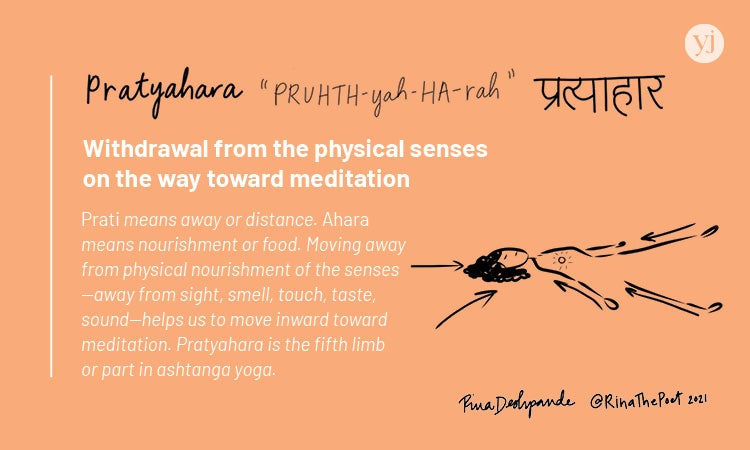 (withdrawal)
Read more Ancient Wisdom, Modern Practice: The Draw of the Senses
Try HolyShirts Eight Limbs of Yoga Poster
Samadhi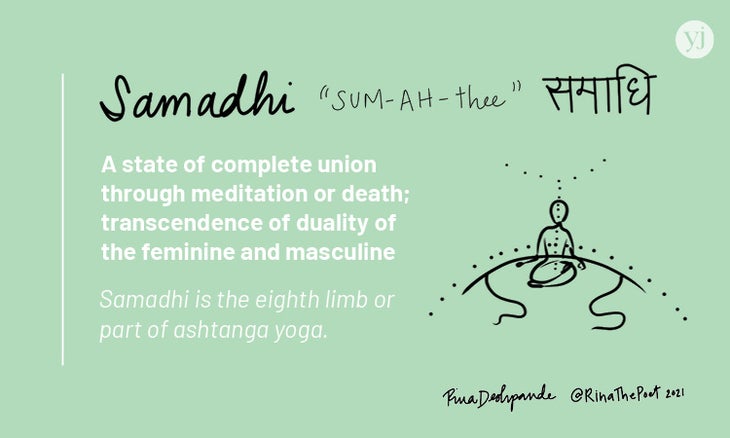 (union)
See also Stoke Your Spirit: 5 Ways to Move Toward Samadhi
Samskara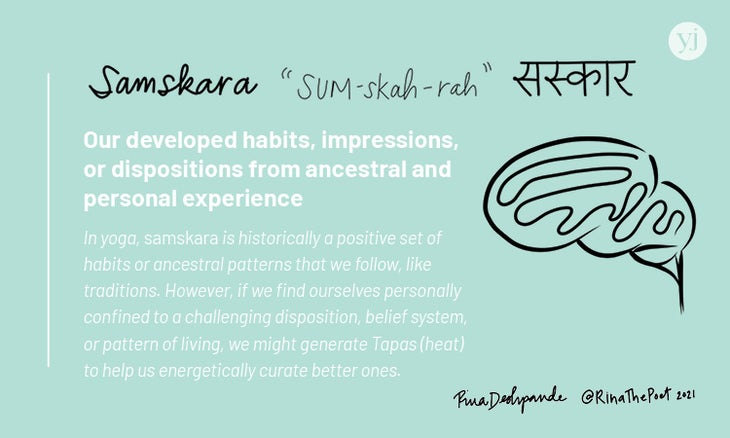 (activator)
Practice Find Your Willpower With This Samskara-Busting Sequence
Satya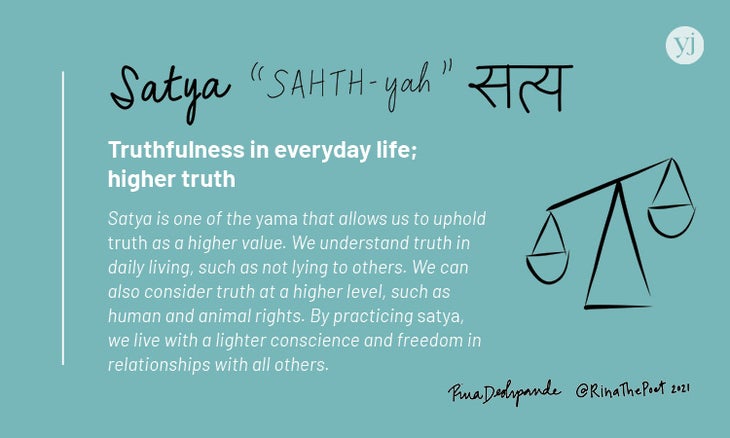 (truthfulness)
See also Embody Satya (Truthfulness) on the Mat
Shakti
(power)
See also Find the Light in Meditation: How to Align With Shakti
Sutra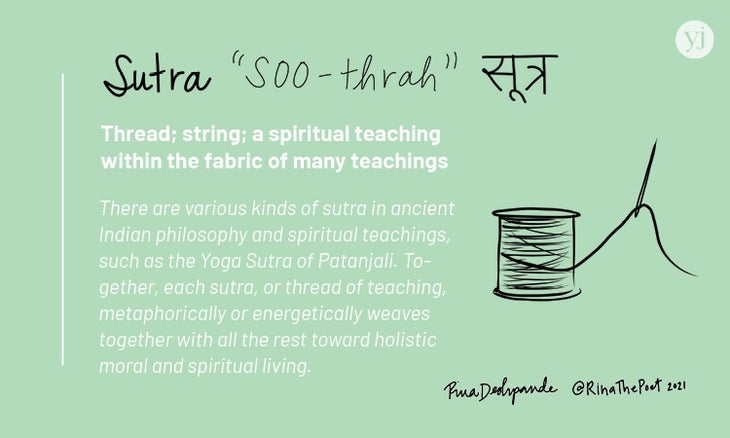 (thread)
Learn more Embrace the Yoga Sutras in a Totally New Way With These Visual Meditation Practices
Swadhyaya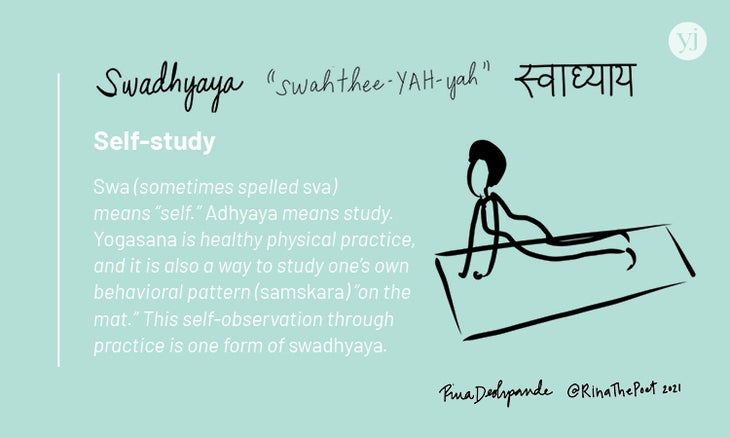 (self-study)
See also Practice Swadhyaya on the Mat
Tapas
(glow/heat)
Learn How to Use Tapas to Make Your Practice More Sustainable
Viveka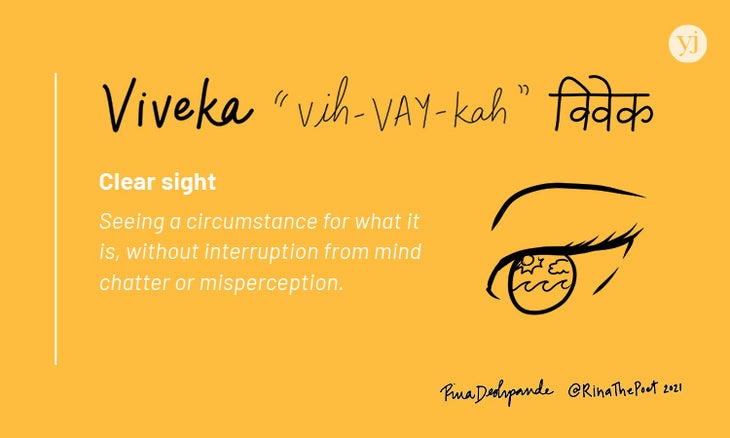 (sight)
See also 7 Ways to Incorporate Yoga Philosophy into a Physical Flow
Yama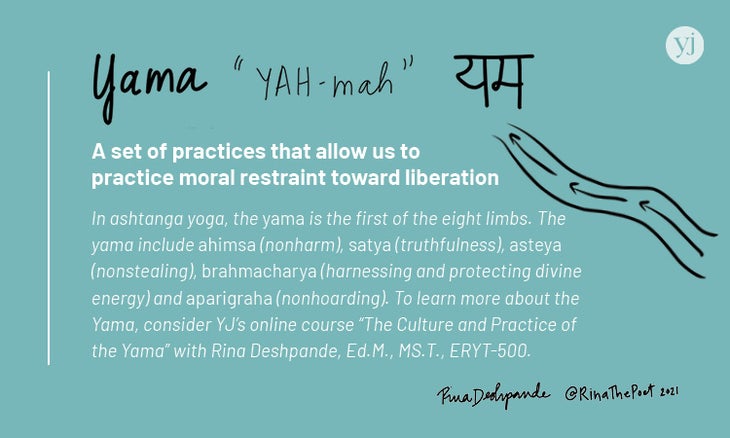 (restraint)
Yantra
(machine, contraption) 
See also How to Use Yantras to Bring the Power of the Gods and Goddesses Into Your Daily Life
Yoga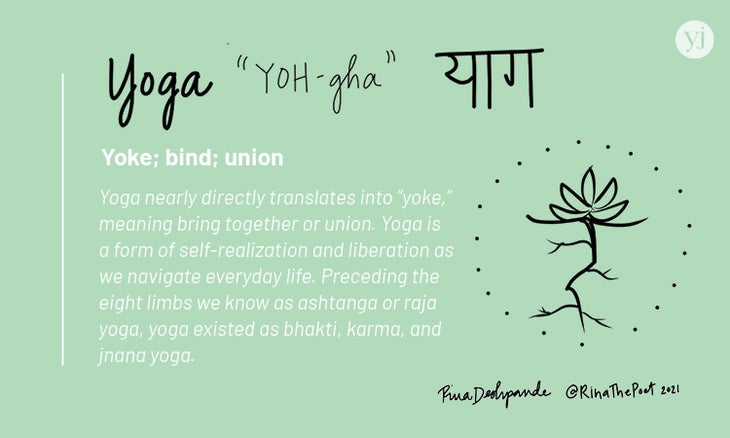 (union)
See also Yoga for Beginners – The Ultimate Guide
Rina Deshpande is a teacher, writer, and researcher of yoga and mindfulness practices. Having grown up with Indian yoga philosophy, she rediscovered its profound value as a New York City public school teacher. For more than 15 years, she has practiced and shared the benefits of yoga across the globe. After studying yoga and mindfulness as self-regulation at the Harvard Graduate School of Education, she designs curriculum for science research and K–12 education. She is the author of Jars of Space, a book of handwritten and illustrated yogic poetry. Learn more at @rinathepoet or rinadeshpande.com.
Eager to learn more? Sign up for Sanskrit 101: A Beginner's Guide.
Please note that we independently source all of the products that we feature on yogajournal.com. If you buy from the links on our site, we may receive an affiliate commission, which in turn supports our work.