Lymphedema Relief Through Yoga
Yogic breathing and gentle poses help keep the body's lymph fluid circulating.
Heading out the door? Read this article on the new Outside+ app available now on iOS devices for members! Download the app.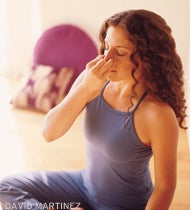 When Kim Golding of Fremont, California, developed swelling in her arm several months after her mastectomy, she wasn't completely surprised. Her doctor had warned her that the surgery would increase the likelihood of lymphedema—a sometimes-painful accumulation of fluid in the soft tissues. But what did surprise her was the remedy: In addition to a massage technique known as manual lymph drainage, Golding's therapist recommended yoga.

The lymphatic system is the body's network of vessels and nodes that circulates lymph—a transparent fluid rich in white blood cells that forms an important part of the body's immune system and helps remove toxins. The system pumps fluid through the body several times a minute, with assistance from the muscles. "When the lymphatic system operates at its optimum, it's like a free-flowing river, running with no rocks or diversions," says Jane Verdurmen Peart, yoga instructor at Stanford Cancer Supportive Care Program, part of the Stanford University Medical Center in Palo Alto, California.
But when lymph nodes are removed or damaged—as a result of surgery, trauma, or infection—the flow is disrupted and excess fluid builds up. This stagnant fluid not only causes tissues to swell but also reduces the amount of oxygen available to the lymphatic system, interfering with wound healing and increasing the risk of infection. If not treated properly, lymphedema can result in permanent disability. Most often the swelling occurs in the arms or legs, but occasionally it is found in other parts of the body.
Letting Lymph Flow
By fostering relaxation, a yoga practice can reduce the incidence of lymphedema. "Since the lymphatic system is challenged whenever the body or mind is stressed," says Peart, "achieving a deeper state of relaxation has a positive impact on the system." In addition, she says, practicing yoga keeps the fluid pumping through the body, rather than accumulating.
Lisa Gilbourne, a seven-year cancer survivor and studio codirector of Bikram Yoga College of India in Jacksonville, Florida, learned the benefits of yoga firsthand. After being diagnosed with cancer at age 27 and receiving treatment, she returned to a retail job that kept her on her feet all day. She soon developed lymphedema in her legs, which worsened to an infection and unbearable pain. Switching to a desk job didn't help the problem, but yoga brought almost instant relief. "Lymphedema is not something you can cure, you have to manage it," Gilbourne says. "Doing yoga every day helps undo the effects of sitting and standing for long periods of time."
If you're considering starting a yoga practice either to prevent lymphedema or to treat it, it's a good idea to work with a certified lymphedema therapist. (If you've already been diagnosed with the condition, always wear a bandage or a compression garment during any form of exercise.) And be sure to take it slow, advises Michelle Robinson, founder and yoga director of MindBodyZone in Fremont, California. "Simple poses like forward folding, lateral movements, and gentle breathing will help to stimulate the lymph flow."
If your leg muscles begin to ache, elevate your feet or legs immediately, says Robinson. "The most important thing is to listen to your body and not to overstimulate or tire the muscles," she cautions. "Overdoing it can cause a buildup of fluid, which is exactly what you're trying to avoid."
For more information, visit www.lymphnet.org.