Balancing the Brain: Easing Stress and Postpartum Depression through Yoga
Heading out the door? Read this article on the new Outside+ app available now on iOS devices for members! Download the app.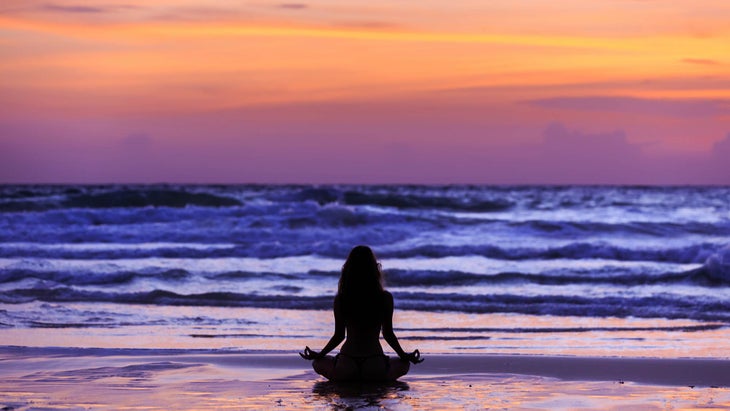 I slip into the sunlit studio just in time, out of breath and frazzled from this morning's challenges: the breakfast that my daughter threw all over the dog, the futile attempt to do the dishes while she wanted my attention, and the last-minute emergency clothing change that almost made me late for my Mommy and Me yoga class. I relax into Sukhasana (Easy Pose), close my eyes, and begin to center myself, breathing and chanting the Adi mantra that precedes our Kundalini class: "Ong namo guru dev namo," "I bow to the creative wisdom within myself."
Not only does this class give me permission to relax from the challenges of motherhood, it also provides me with an important social network of other new mothers. But it turns out that there's a bigger reason why I feel so rejuvenated after a session of Kundalini yoga, and it has to do with its powerful effect on brain chemistry.
Gurmukh Khalsa, a teacher at Golden Bridge Yoga in Los Angeles, describes Kundalini as "the science of the breath." According to Khalsa, it is breathing, along with the repetition of sounds and visualization, that helps balance our hormones, purging the negative chemicals that can cause some women to experience postpartum depression. After giving birth, a woman's body makes a complicated physiological switch from pregnancy to nursing, and yoga can help a woman keep a healthy relationship with her body. Aside from eating well and sleeping when the baby sleeps, yoga is one of the best ways a new mommy can stay healthy and happy, Khalsa says.
Breaking the Cycle of Depression
Jen, a student of Khalsa's, describes her experience by explaining, "I had a history of depression, so I knew that I could have some challenges after giving birth. But I was so excited about having a baby that I didn't stop to think carefully about how my life was going to change. After my daughter was born I became overwhelmed. I was exhausted from insomnia and I felt like a failure. I cried a lot, but I couldn't talk with friends about it. I went to see my doctor, who told me that I should write, exercise, and network with other women. When I went back to yoga, I left with such a high that I felt great all day. Now I feel like I've broken the cycle of depression."
Susan Ricker, another Kundalini teacher, first used hypnotherapy and breathing to help her Lamaze students relax, but she really began to understand the power of these practices when she became a psychotherapist. "Many women believe that motherhood should be the happiest time of their lives, but privately they are exhausted and miserable after giving birth. Because they are ashamed of their feelings, they don't give themselves permission to deal with the fears they have. Through fear, we get stuck in a cycle of negative reinforcement, but the visualization, meditation, and breathing of Kundalini yoga create a powerful biofeedback mechanism that can physically alter our body chemistry. By regulating our breathing pattern, we can balance the brain, linking the rational, left hemisphere with the more sensory right hemisphere." According to Susan, within a minute and a half we can wire the brain to respond as though we're on vacation.
Anatomy of Chemistry Change
How does all of this work? In our brain, the hypothalamus takes in information from our cells and our senses, and it generates chemical messengers. According to Candace Pert, author of The Molecules of Emotion, our cells have receptors to recognize these messengers, which are sent in the form of hormones and peptides. Our bodies respond with changes in physiology, mood and emotion, and energy level. The flow of information via messengers is not unidirectional but reverberates as self-regulating loops of information and energy.
As exhausted, stressed-out new mothers, we tax our sympathetic nervous system, which is responsible for the "fight or flight" mechanism and the release of stress hormones. By slowing and regulating our breathing, we can change the balance of hormonal messengers in our system, switching the emphasis to the parasympathetic nervous system, the system responsible for relaxation and digestion. Changing the patterns and rhythms of our sound and breath through yoga can also manipulate the messages that affect the immune system, which helps keep us free from the ravages of stress. With so many positive elements, it's easy to see how Kundalini practice can be a powerful tool for new mothers.
Postpartum Toolkit
Here are three simple Kundalini exercises that you can do to help fight stress and postpartum depression. Before doing these exercises, tune in to your own inner teacher by chanting the Adi Mantra, "Ong Na-mo, Guru Dev Na-mo." As you move through the exercises, breathe through the nose, keep your eyes closed and underneath your eyelids, roll your eyes up to your third eye point, or the space between your eyebrows.
1.Sit in Sukhasana (Easy Pose), eyes closed and arms extended straight out in front, crossed at the wrists. In a continuous motion, inhale, raising your arms to your third eye while flexing your spine and neck forward, then exhale forcefully, lowering your arms to your navel and curving your spine the other direction. On the inhale, visualize your "happy place", breathing in everything you need for support. On the exhale release feelings of who we "should" be as mothers through the third chakra, or navel center. This exercise can be effective in as little as 30 seconds. Rhythmic spinal flexes massage the adrenal glands and facilitate change in the brainwaves to a trancelike state, promoting healing.

2.In a standing position, extend your arms out to the side. Inhale and raise the arms overhead, palms facing inward but not touching. Exhale and lower the arms until palms are parallel to the floor and facing down. Repeat for three minutes. This movement lets your body find its own equilibrium and helps balance the brain hemispheres.

3.Sit in Easy Pose with a straight spine and eyes closed, wrists resting on your knees and hands facing upward. Gently press your thumbs and the index fingers together, followed by the thumb and third finger, ring finger, and pinky in succession. Repeat the mantra for change, Sa ta na ma: the cycle of the infinite, creation, destruction, and renewal. The sound currents from chanting help cells vibrate, creating a link to the hypothalamus gland.
By the completion of our Mommy and Me class I am savoring a little taste of serenity, and I can see this peacefulness reflected in my daughter, who sits on my lap as we sing the closing song. I smile and remember something that Susan Ricker had told me. "Women nurture everyone, but when we can nurture ourselves, everyone—our family, our children—everyone benefits". I take a deep breath and join the other mothers in chanting a closing "Sat Nam" — similar to namaste and means "truth is my identity."
Joy Rohde is a writer and a mother living in Los Angeles. She is currently working on her new book, The New Mommy Natural Weight-Loss Plan. Joy and her 20-month-old daughter currently practice Mommy and Me Kundalini Yoga with Gurmukh Khalsa at Golden Bridge in Los Angeles.
Model in racer back tank from Lululemon Athletica and mobility pant from Be Present