11 Under-the-Radar Yoga Retreats You'll Want to Book Now
We scanned the yoga globe and scoped out 11 off-the-beaten-mat gems to spark your wanderlust. From Cuba to Costa Rica, Iceland to India, the choices are as infinite as yoga itself.
Heading out the door? Read this article on the new Outside+ app available now on iOS devices for members! Download the app.
Our vacation-wanted ad: Have mat, will travel. Skip pedestrian sightseeing tours, questionable food, and creaky joints. Bring on sacred sights, built-in yoga friends, real nourishment, and communion with our mat twice a day. Oh, and move the needle of our life, por favor.
There are at least 108 reasons to embark on a yoga retreat. Instead of fleeting fun, take a deep dive where landscape and heart intersect. Cross your desert, row your boat, and chase your star—bookending the day in Downward Dog. Forget scrambling for a hotel gym or trying to translate "organic, gluten-free, vegetarian, and Ayurvedic" in another language. For yogis, getting away doesn't get better than a yoga retreat.
But where to start? We scanned the yoga globe and scoped out 11 off-the-beaten-mat gems to spark your wanderlust. From Cuba to Costa Rica, Iceland to India, bathe in the forest, soak in the spring, sing with a villager, dance in the jungle, bow to the world's wonders, or simply sit in silence. The choices are as infinite as yoga itself.
Yin & Yang Spring Balancing Retreat on Whidbey Island, Washington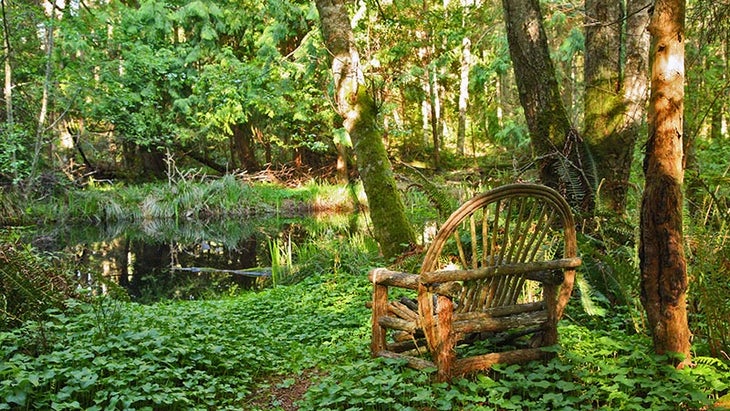 March 31–April 2, 2017
This is a quintessential Pacific Northwest hideaway: eat organic food, practice yoga and meditation, bathe in an old-growth forest, fall asleep to the hoot of the great horned owl. Repeat. Perhaps read, write, nap, or let winter's chill melt away in the sauna. Seattle teacher Jennifer Isaacson leads students on a quiet spring reset in the luxuriant calm of the Yoga Lodge on Whidbey Island. "We used to look to the skies for directions," Isaacson says. "Now people are looking down and relying on an outside source that could run out of batteries. Look around at what is tangibly happening now, this is yoga." Retreatants start the day in silence, walking mossy trails in the towering evergreen forest. Isaacson leads a two-hour vinyasa and yin combination practice in the morning and evening. That's four hours of mat time, three Ayurvedic meals, and, if you're lucky, two pairs of eyes gazing back at you from a resident deer. The focus of this weekend is shedding the heaviness of winter and transitioning to the fluidity of spring—signaled by a chorus of frogs in the Lodge's ponds.
Learn more jenniferisaacson.com
Fire and Ice Yoga Adventure, Iceland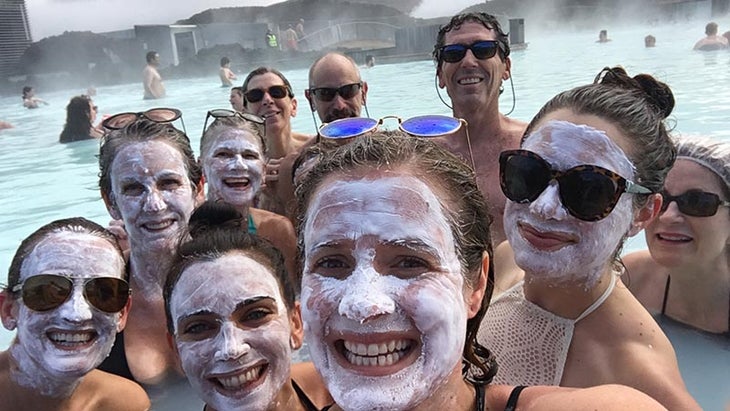 April 15–22, 2017 and April 22–29, 2017
Iceland is filled with rumbling volcanoes, steaming springs, plunging falls, and gushing geysers. The far northerly island is supercharged. "Iceland has an intense energy because of the geothermal activity," says Jenay Martin of Lotus Feed Expeditions. "You're driving through the valley and there's all these puffs of steam coming up. There's a mysticism to the place." This April, Lotus Feed Expeditionsleads two yoga tours into the surreal beauty of this sparsely populated republic. Slather on silica mud at the Blue Lagoon, a milky, medicinal hot spring tinted the color of summer sky. You'll also ride Icelandic horses, walk golden beaches, scale a glacier and eat food cooked by geothermal energy. (You can boil eggs in geothermal vats in hot springs everywhere!) Lest you think Iceland is only its natural splendors, hit the cobblestone streets of the storybook picturesque capital Reykjavik for a locavore food tour. (Icelandic pancakes or fermented shark anyone?) Along the way, Martin insists you'll meet the friendliest people on the planet and drink the cleanest water you've ever had, which runs straight from the tap. San Francisco yoga teacher Danae Robinett, who leads one of the Nordic excursions, promises pranayama in the squeaky clean air, plus solar and lunar yoga practices to celebrate the stark elemental contrasts.
Learn more thelotusfeed.com
La Bella Vita Yoga Retreat in Umbria, Italy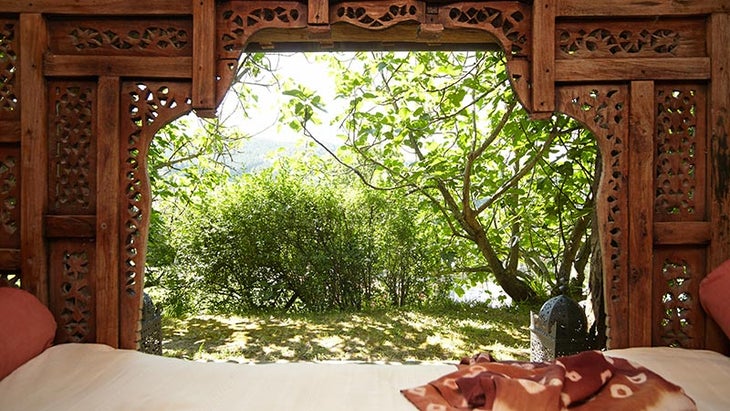 May 6–13, 2017
Step back into old-world Europe in the green heart of Italy where beauty is a way of life. East Hampton, New York, studio owner Jessica Bellofatto hosts this "beautiful life" retreat at the Locanda del Gallo, a 12th century Italian villa turned boutique hotel in the Umbrian countryside. Owners Paola Moro and Irish Breuer treat guests like family at their country inn, elegantly outfitted with furnishings from their distant journey, and a notable absence of televisions. From the glass-walled studio overlooking terraced lawns and sprawling valleys, Bellofatto will teach a vinyasa flow class with pranayama and meditation each morning while co-teacher Roey Ficaro leads restorative yoga at sundown. In between, swim in the saltwater pool, sink into the underground Moorish-style spa, bike through enchanted woodlands, try a hand-looming class, or take a day trip to neighboring Assisi, Cortona, or Florence. Meals are made from scratch, with olive oil from on-site groves, herbs and vegetables from the organic garden and homemade bread and pasta from the Mediterranean kitchen. Sign up for the Locanda's pasta-making class and shape your own slab of dough into orecchiette for the evening meal. It's Italy, after all, where the utterance of buon appetito rings out like a foodie prayer.
Learn more jbyoga.com
Yoga, Salsa and the Creative Pulse of Havana, Cuba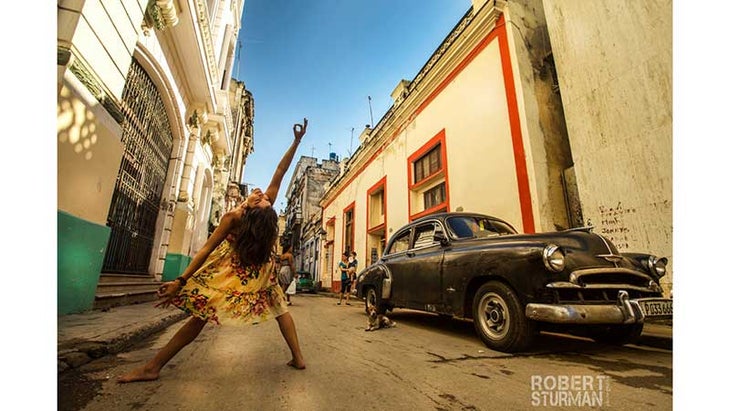 June 6–11, June 13–17, December 5–10, 2017
Despite their lack of freedoms and riches, the Cuban people have a palpable life force that epitomizes yoga. "You feel the energy in this tiny place filled with happy and loving and soulful people who don't have a device in hand at all times," says Christina Thomas of Yoga Adventures Worldwide. This is more yoga adventure than retreat, designed to connect with the people of this fabled island open again to American tourism after more than five decades. You'll eat black beans and plantains at newly privatized restaurants run by the people—rather than the Communist government—and stay with Cuban families who rent rooms in their own homes or "casa particulars." There are visits to working artists, lessons in Cuban salsa, lunch at an organic plantation, and a dip in the Caribbean. The humanitarian heart of the trip: Yogis bring donations from home—everything from nail clippers to paint brushes, goods that are nearly impossible for Cubans to come by—and gift them to struggling artists, at-risk seniors, and children with disabilities. Start the day with a two-hour yoga practice and end with a yin class in the late afternoon. Hello, night owls—a typical evening is dinner in Old Havana at 9 p.m. or live music at a factory-turned-art house. Viva Cuba!
Learn more yogaadventuresworldwide.com
Integral Yoga Silent Retreat at Yogaville, Virginia
June 9–11, 2017 or June 9–18, 2017
Indian gurus don't typically emphasize yoga as exercise but a vehicle for realizing your true nature. The late Swami Satchidananda was no exception—the bearded guru known for opening the Woodstock festival and bringing Integral Yoga to the West—said asana, pranayama, and meditation aren't enough. To know the Self within, we must watch the mind relentlessly. His Satchidananda Ashram in rural Virginia, nicknamed Yogaville, offers the perfect environment to do this—silence. "A silent retreat is excellent to go within and step back from the distractions in the world," says Yogaville's Bill Geoghegan. "The opportunity to spend that much time in silence is revelatory." Visitors can try the three-day silent retreat or stay for the ten-day immersion on the spiritual hermitage's 750 acres of pristine countryside. Yogaville teachers will guide you through pranayama, asana, meditation, yoga philosophy, Sanskrit chanting, and karma yoga—a form of selfless service in which retreatants help out with landscaping or other ashram projects. Afterall, Satchidananda wanted to create a "little heaven on earth, a village filled with people who follow the yogic principles." If you're not ready for silence, consider Yoga of Devotion with kirtan master Krishna Das or Yoga and Kayaking on the James River.
Learn more yogaville.org
Harvest, Breath and Bounty at Lotus Feed Farm, Sonoma County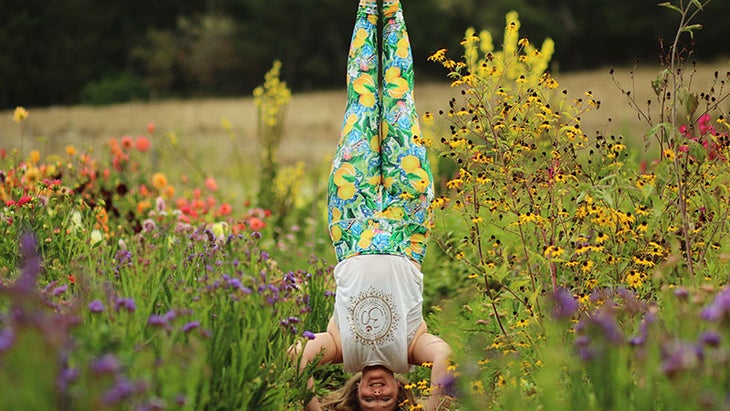 June 23–25, 2017 and August 11–13, 2017
Vinyasa under a passion fruit-draped canopy, feast on ghee and garlic-crisped artichokes, and sleep in a teepee slung between medicinal gardens and virgin forest. The Lotus Feed Farm is a bohemian heaven of yoga and food in Northern California's coastal wine country—the kind of place with superfood smoothie bowls topped with flowers. Jenay Martin created the eco-luxe laboratory on her family's 108-acre farm. She and her wife garden and cook for yogis wanting a rustic but comfy connection with nature. Sleep in a yurt with a claw foot tub or "glamp" in a bell tent with a double bed. Feast on organic platters of just-plucked vegetables festooned into mandalas, goat cheese-stuffed squash blossoms, Meyer lemon pizza, and rose-geranium plum crumble.Lotus Feed hosts different teachers almost every week during growing season — and it's hard to pick just one. Consider two gems this summer through Yogascapes. Ashley Neese leads an intimate Summer Solstice Yoga and Breathwork in June. Fill up with fresh coastal air, while using breath as a tool to move energy and open your heart. In August, Berkeley teacher Abby Tucker offers the sumptuous Sonoma Harvest Retreat, exploring the life cycle of food from seed to stove to stomach. Yogis will put their hands in the dirt and transform crops into artful platters of nourishment served on the farm's 80-foot communal table.
Learn more thelotusfeed.com and yogascapes.com/yogaretreats
Yoga and Serenity on the Island of Ithaca, Greece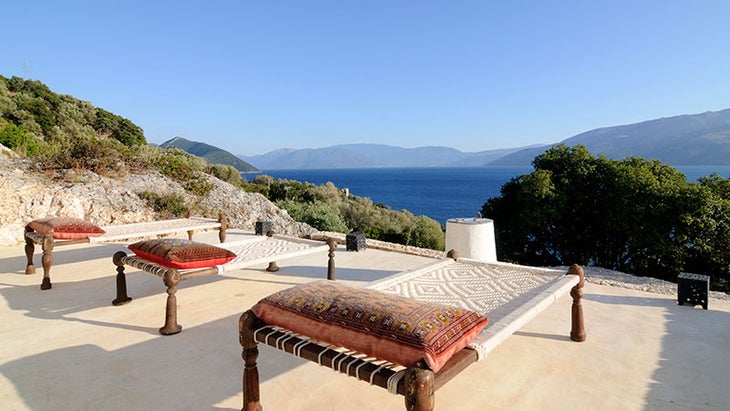 July 29–August 5, 2017 and August 5–12, 2017
Bow to the azure waters of this mythical island with little more than passing sailboats and grazing goats to distract you. Home to legendary hero Odysseus, some say this sleepy isle hasn't changed much since Homer's epic poem. Ithaca is, perhaps, the perfect place for yoga. There are only a few thousand permanent residents on the wild, jagged patch of land, and the elegant Itha108 Yoga Retreat & Creative Resort has no traffic to speak of. Seattle teacher Jodi Boone is leading two back-to-back retreats for sunbathing, stargazing yogis who want to step back in time. Start the day with meditation and an active Hatha practice from the wooden yoga platform, and wind down with yin and restorative from an indoor shala. In between, dive into the silvery waters of the Ionian Sea, get a Thai yoga massage, or cozy up in an Indian daybed on the veranda. The lodge is carved into a rocky hillside with a crisp white minimalism, every object handpicked with a globetrotter's flair—Indian artifacts dotted around the stone fireplace, for instance. Indulge in mushroom polenta tarts and cinnamon-butter griddled peaches, all seasonal, organic fare straight from the island (or the one next door).
Learn more jodiboone.com
Journey to the Heart Yoga Retreat, Ireland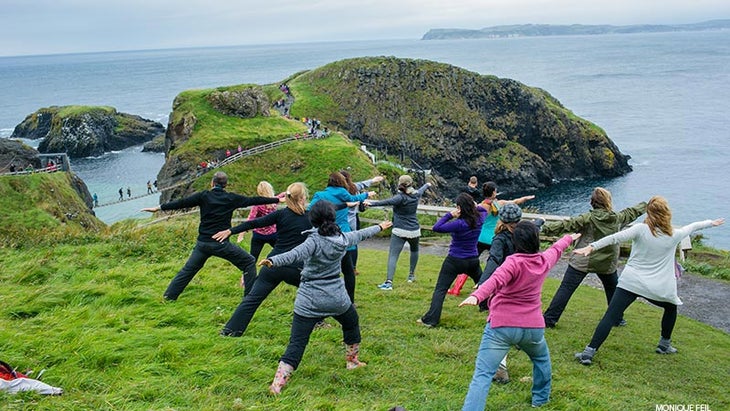 September 18–24, 2017
Stretch and salute your way through medieval cathedrals, enigmatic stone circles, ancient fortresses and sapphire blue forest lakes. Irish-born yoga teacher and Feng Shui master Amanda Collins leads a spirited journey through her homeland for the autumn equinox. Step into your warrior self amid mysteriously situated boulders at Robinstown Stone Circle. Heal old wounds at burial mounds in Ireland's ancient capital, the Hill of Tara—a place of ritual since the Stone Age. "Ireland demands, commands and invites you to leave old sabotaging beliefs and patterns behind once and for all," says Collins. "I've seen it in the journeys. People are transformed." You may find yourself calling to Celtic Goddesses one moment and toasting a Guinness with perpetually friendly locals the next. There will be plenty of Irish song and story as you explore the relatively sunny southeastern corner of the country. Collins will lead sunrise yoga, pranayama, and meditation each morning from the comfy Seafield Golf & Spa Hotel. And there will be more sun salutes from clover-dotted fields and crumbling castles along the way.
Learn more amandacollins.com
Karma Yoga, Kids and Trekking in the Himalayas, Nepal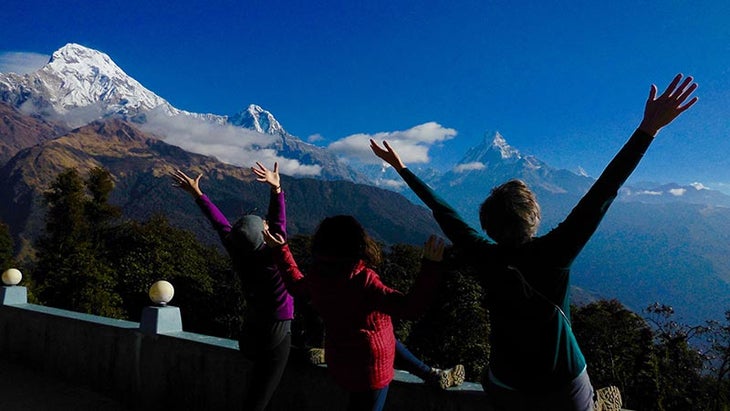 November 7–18, 2017
With ancient monasteries, friendly villagers, and teahouse treks on the roof of the world, Nepal is a soulmate for spiritual adventurers. Molly Cofman says this land of juxtaposition invites yoga every moment of the day. "The country as a land-locked and tumultuously governed state is poor and repressed, yet the smile, generosity, and humility of a Nepali person will melt and open your heart," says Cofman, an acupuncturist and yoga teacher who leads retreats around the world. The first half of the journey is a deep dive into Nepali culture with visits to holy shrines and a traditional Buddhist puja. At the Indreni Home for poor and orphaned children, travelers can assist in Cofman's yoga workshops or grab a shovel to help the nonprofit rebuild from the 2015 earthquakes. Then trek along snowy peaks, cloud forests, mountain streams, and stands of crimson rhododendron on the well-traveled Ghorepani Poon Hill trail. There's steaming curries and warm beds at traditional Nepalese teahouses along the five-day route. Awake to Tibetan monks chanting at dawn followed by asana, pranayama, and meditation. Cofman also leads a restorative practice at sunset, the smell of butter lamps in the air as the sun sets over the dreamy crests of the Himalayas.
Learn more inspirationheals.com
Eco-Yoga and Mindfulness in the Jungle, Costa Rica
December 3–9, 2017
It seems impossibly tailor-made for yogis: a Zen-inspired, solar-powered eco-lodge at the intersection of two rivers, just yards from the Pacific Ocean, and surrounded by unspoiled Costa Rican jungle. Not to mention, The Sanctuary at Two Rivers serves organic, Ayurvedic, vegetarian meals sourced from local family farms and whipped up into art. Actress Perrey Reeves built the open-air yoga pagoda and treehouse lofts so visitors could bathe in nature with beauty and comfort. San Diego teachers Lena Schmidt and Melissa Eisler weave the practice of ahimsa, or non-harming, into their weeklong retreat, prompting students to notice their reactions to the teeming flora and fauna. "You hear the famous howler monkeys as your alarm clock to wake up and go to yoga," Schmidt says. "You see flowers that you're like 'is that color even natural?' You have warm water and amazing food but you're basically living outside for a week." Schmidt and Eisler lead a mix of vinyasa, hatha, restorative and workshop-style practices twice a day, plus guided meditation. In between wild spinach coconut soup and carrot-quinoa latkes, swim in river-fed waterfalls, bird watch from a hammock, and dance ecstatically under the night's sky.
Learn more yoginilena.com
Ganga Yatra and Retreat into Mother India, Rishikesh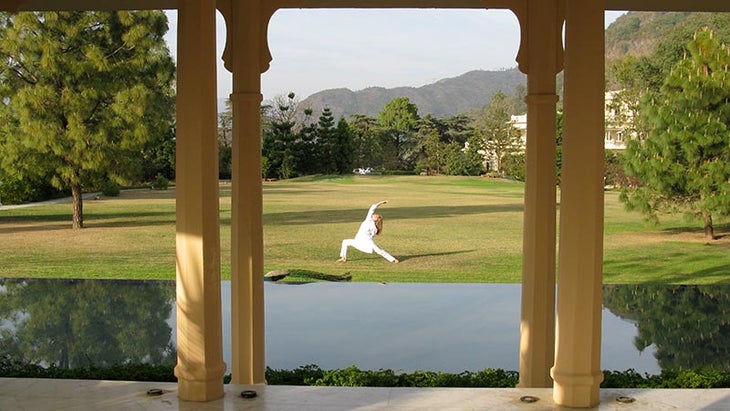 February 26–March 16, 2018 or March 9–16, 2018
Of all the places to travel there is only one birthplace of Yoga. Mother India is the ultimate pilgrimage, or yatra, to dip in the sacred waters from which yoga springs. Yoga teacher, Ayurvedic practitoner and Vedic healer Laura Plumb will lead a dazzling, soulful journey along India's holy Ganges that promises to leave you dumbstruck with love. Her two-week immersion begins at an Ayurvedic eco-village deep in the forest, where loving hands will slather you with herb-infused oil and revered physicians called vaidyas unpack India's ancient system of holistic medicine. Rejuvenated, pay homage at the ashrams of Anandamayi Ma, the "joy-permeated" saint, and Maharishi Mahesh Yogi, a peace-loving guru who hosted The Beetles for a prolific period of songwriting. You'll visit holy caves, a children's home, and the blossoming biodiversity farm Navdanya that's regenerated barren soil into an oasis of seed conservation (with nine kinds of mango alone!). The celebratory heart of the trip is the International Yoga Festival in Rishikesh where sages, master teachers and yogis gather for a love-in–style yoga extravaganza. (Laura Plumb will be teaching among them.) You'll stay at the Parmarth Niketan Ashram, getting a private meeting with its beloved spiritual leader. Yogis continuing on or joining for the second week will retreat upriver to the foothills of the Himalayas for twice-daily yoga, Ganga ritual, blessing and bath, and visits from masters of yogic science. Plumb's retreat is destined to guide you into the secret temple of your silent Self.
Learn more lauraplumb.com