Heading out the door? Read this article on the new Outside+ app available now on iOS devices for members! Download the app.
When soy happy founder Johanna McCloy, an actress best known as Ensign Calloway on the TV series Star Trek: The Next Generation, visited Dodger Stadium in April 2000, she found no veggie dogs at the stadium's food stands. McCloy contacted the Dodgers' food concession manager to suggest adding vegetarian choices, and the stadium soon added a veggie sub to the menu. But at that time, no Major League ballpark offered veggie dogs, so McCloy began contacting other venues with the same idea. Two months later, Chicago's Comiskey Park (now U.S. Cellular Field) became the first venue to offer a veggie dog; today, meatless versions of the baseball classic are available at 10 other ballparks—including Dodger Stadium.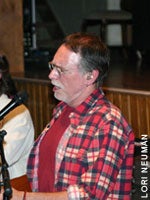 McCloy connects manufacturers with potential outlets, but she's as much an educator as a broker (she receives no commission), showing food managers data on increasing demand for nonmeat selections, even among customers who are not vegetarians. "I'd just like to see an inclusive environment for all in the food world," she says. Besides, she tells managers, "You don't have to sell junk food to thrive as a business."
McCloy helped pass the California Assembly's Healthy School Lunch Resolution. And she's on the advisory board of Consumers for Healthy Options in Children's Education, which raises awareness among parents, students, and administrators about healthy alternatives to traditional fare. For more information, including a list of veggie-dog-vending ballparks, visit www.soyhappy.org.