Homemade Sea Salts
Give the gift of beautiful, nourished skin with homemade sea salts.
Heading out the door? Read this article on the new Outside+ app available now on iOS devices for members! Download the app.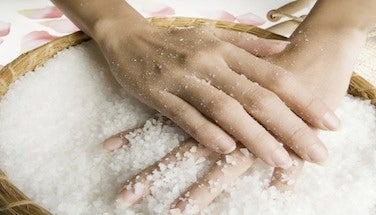 Learn how to make homemade sea salt body scrubs – perfect for home use or gifting to friends.
Often at this time of year, I drive an hour north to one of my favorite places. In a little town called Forestville lies the California School for Herbal Studies, a bastion of knowledge and with one of the most beautiful gardens you'll ever have the pleasure to stroll through. I head up to take a class with my dear friend Trinity Ava, a gifted herbalist and teacher (and yogini), who often has a class in holiday gift making.
The day is a wondrous delight of the senses, filled with the aroma of essential oils and hands on goodness. You learn so much about the skin, about plants, and how we can be so bamboozled about what the beauty industry is pushing for us to buy. What's better than a homemade gift that makes someone feel wonderful (and is really inexpensive, to boot)? I asked Trinity to share an simple recipe that would be great for yogis to make this holiday season. She suggested her Nourishing & Invigorating Body Scrub, which I have made myself and it is pure heaven.
Why use a body scrub? Daily oiling of the body helps to support beautiful skin, and gives it great nourishment. It feeds our body from the outside in, increases circulation, reduces the signs of aging and helps our body to be more "lubricated." Trinity likes to use the image of oiling the tin man—the more you add oil, the better your joints, muscles, and tendons respond to staying flexible. Nourishing scrubs also assist to tonifying the nervous system (helping to calm you down and focus the mind/body) and the gentle exfoliating feels so good!
Nourishing and Invigorating Body Scrub
What You'll Need:
Any size clean glass jar, preferably glass
Fine sea salt
Organic almond oil or sunflower seed oil
Essential oils of grapefruit, rose geranium, and rosemary (Tri-Doshic blend)—this blend of oils will generally be good for all constitutions.
Directions:
1.
Fill jar halfway with sea salt
2.
Slowly fill jar with your oil; it takes a little time for the salt to absorb the oil. Poke and stir the oil into the salt with a wooden spoon or chopstick. Once the oil is nicely absorbed into the salt, add a little more salt, and a little more oil (small amounts at a time) until your jar is full. You want a small layer of oil floating above the salt.
3.
Add total of 12 drops essential oil per ounce of scrub.
4.
Wipe down the jar, label it with a happy name such as, "I Am Radiant Scrub" and VOILA!
Use daily or as desired to nourish your skin. Use gentle flowing strokes towards the heart as you scrub. Be careful getting in and out of your bathing environment as it will get a little slippery with the oil.
Optional nourishing oils: Sesame, Gotu Kola infused oil, St. John's Wort infused oil, Calendula infused oil. (If using infused oils; you can use 10% infused oil added to your primary oil).
Optional Essential Oil Favorites: You should like how this smells! Find the aromas that make your heart and mind sing. Some of Trinity's favorites are: Vetiver, Red Mandarin, Ginger or Roman Chamomile, Ylang Ylang, and Grapefruit. Use caution with skin irritating oils such as Peppermint, Clove, Cinnamon and Thyme.
Stephanie Bernstein is a yoga teacher and the Founder and CEO of To-Go Ware.