How Teen Yogi Jaysea Devoe Is Designing Her Dream Life
Teen yoga teacher-turned-entrepreneur Jaysea Devoe offers insight into how her family's free-flowing lifestyle and follow-your-passion ethic have allowed her to achieve so much by age 14.
Heading out the door? Read this article on the new Outside+ app available now on iOS devices for members! Download the app.
Teen yoga teacher-turned-entrepreneur Jaysea Devoe offers insight into how her family's free-flowing lifestyle and follow-your-passion ethic have allowed her to achieve so much by age 14.
When she's not teaching teen yoga, posting to her popular Instagram handle, or in a design meeting for SeaVibes, her newly launched clothing brand, you can find 14-year-old Jaysea DeVoe out by or on the ocean, the source of inspiration for her free-flowing lifestyle and entrepreneurial pursuits.
The Creative Family Behind the Yoga Success
"I live by the bluff in Encinitas, California. All of my memories since I was little are tied to the sea," says DeVoe, whose family has also summered for years on a houseboat together, sailing the islands of Santa Barbara to Cabo San Lucas. "Traveling and seeing different cultures—it's really fun. No matter where I am, on the sea, I feel at home."
An atypical upbringing helped to foster a follow-your-passion ethic. DeVoe's father, Rick, managed punk rock band, Blink 182, and professional surfers for much of his career, while her stay-at-home mom, a trained school teacher, modeled for women's clothing brand, Roxy. DeVoe and her two brothers attended various public and private schools early on, but ultimately, homeschooling programs afforded them the freedom to pursue other interests. For example, DeVoe's twin brother, Fisher, is a photographer and competitive surfer.
See also 4 Brands Offering Trendy Yoga Clothes for Kids + Teens
Becoming "The Youngest Yoga Teacher"
Today, as a student of Classical Academy, "All of my courses and quizzes are online," says the middle-school student. Daily, after knocking out her class workload, DeVoe does yoga, a practice she began at age eight. "I'd tried a kids' class back then and loved it," she says. "I'd tried other sports before like soccer and basketball, but none clicked for me. Yoga felt like the right thing."
By age 12, DeVoe's yoga teacher and mentor encouraged her to try a teacher training program to deepen her practice. "I did it with a couple of friends," she says. "Everyone became like family. It was one of the best decisions I've ever made."
Weeks after completing the 200-hour Vinyasa/Hatha-style curriculum, DeVoe decided to teach. "It's such a great thing to be able to express myself through teaching and helping others," she says. During her one-hour teen classes downtown at Studio Encinitas, she aims to set a calm, welcoming vibe for all. "I incorporate the ocean a lot, using little cues that relate back to the sea, to help people relax," says the young yogi. With a dad in the music industry, "Music is a big part of our lives. I love to incorporate it into my classes," says DeVoe, whose playlists regularly include Jack Johnson, Ben Howard, and Timmy Curren.
To document and promote her yoga lifestyle, DeVoe started an Instagram account. Her scenic, artfully styled asana images are photographed by her brother. After being featured in a 2014 Reuters article as the country's youngest yoga teacher, DeVoe quickly gained hundreds and eventually thousands (13.5K now) of social media followers, many of whom are aspiring teen yogis.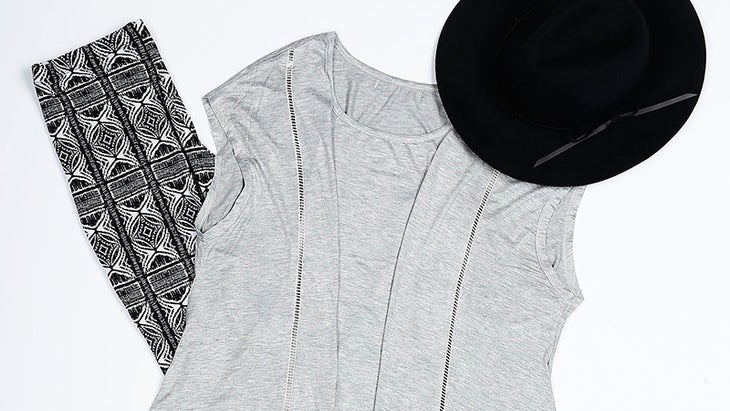 The Birth of a Brand
With a steady fan base, sponsorship and brand ambassadorship offers soon followed, including yoga wear brand, Teeki and footwear company, Sanuk. "Companies sent me products and wanted to partner. I try to keep my Instagram free of advertisement. Once in a while, I'll do it, but only if I love a product," says DeVoe.
To build on her youn- yogi stardom, with support from her family and friends, DeVoe recently launched her own multi-platform brand, SeaVibes, which includes an active lifestyle clothing line, an Encinitas-based retail shop, and e-commerce store, seavibesyoga.com. "We offer basic outfits for yoga, but with unique twists," she says. "You don't have to change to look stylish and cute. You can stretch and exercise in our clothing, and then get up and go on with your day."
See also 3 Must-Follow Instagram Feeds for Teen Yogis
Making jewelry is another of DeVoe's passions. "I watched a video online about it and started making my own bracelet and anklet wraps using hemp, crystals, and beads," she says. "I have a full workshop with hammer and drills at home now. Initially, I gave the pieces out to friends, but now sell them at my SeaVibes store." Up the road, DeVoe plans to study at the Gemological Institute of America. Advanced 500- and 1000-hour yoga trainings are also on her to-do list. For now though, she says she's going to take things where they take her. "I always want to stay by the ocean, but would like to move to Hawaii for a little bit," she says.
With a sea of athleisure brands flooding today's market, DeVoe is betting that her brand's message sets it apart. "I hope to inspire young women and girls worldwide to do yoga, be active, and enjoy life," she says. "A lot of people haven't found their passion yet, but every moment and lesson learned is meant for a reason. My mantra is to be yourself and that's when everything else will follow."
See also Beat Butterflies: 9-Step Pre-Date Practice for Teens
Jaysea DeVoe's Quick Flow Playlist
https://open.spotify.com/playlist/user:yogajournal:playlist:3Dx97MmnmzfB289cGsMPiM