How the Garmin Fenix 6 Can Improve Your Yoga Practice—And Rest Days
Better understand how your body reacts and adapts to stress.
Heading out the door? Read this article on the new Outside+ app available now on iOS devices for members! Download the app.
We all know what calmness feels like: That sense of peace and relaxation that often comes after a yoga class or quiet meditation. But there hasn't been a clear way to quantify exactly how much calmer an hour of asana or mindful quiet can help you feel—until you try the Garmin Fenix 6 Pro.
A supercomputer on your wrist, the watch can tell you exactly how much more calm you are after your yoga practice by giving you a stress level score, respiration rate, and heart rate data—valuable information that can improve your quality of life.
The watch also tracks other health data to help you feel your best. It measures daily resting heart rate so you can gain understanding of what's normal. Using this number as a baseline, it sends abnormal heart rate alerts, and tracks your stress levels. If these measurements suggest that you're feeling overwhelmed, the watch sends you relaxation reminders and a breathing timer to help you come back down to baseline. The Garmin Fenix 6 Pro also has a sleep score and insights feature which tells you exactly how rested, replenished, and recharged you are (or aren't) when you wake up from a nap, sleep, or a deep meditative state.
Your heart rate variability, stress level, sleep quality, and activity data are all gathered into a feature called the Body Battery. Like a gas gauge on a car, your battery level tells you how much reserve energy is in your tank, from 0 to 100. The more energy you have, the better you'll likely feel.
Further, if you have plans to go to somewhere at a higher altitude than where you live, the built-in pulse oximeter senses how well your body is absorbing oxygen and how acclimatized you are to the elevation.
See also: 4 Products That Use Infrared Technology to Help You Heal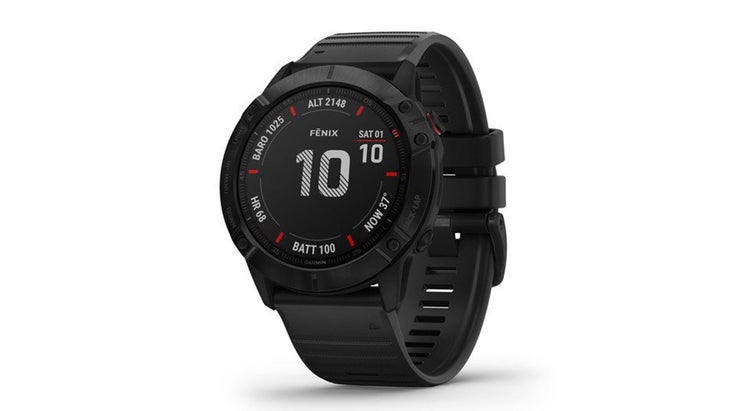 Using the Garmin Fenix 6 to get the most out of your practice
You know how practicing yoga can make you feel 10 years younger? The fun fitness age feature built into the Garmin Fenix 6 Pro can actually substantiates your claims. Based on how well your body responds to exercise—and yoga is a trackable activity like running, swimming, and golf—it gives you an idea of how your fitness compares with a person of the same sex, using information like age, body mass index (BMI), resting heart rate data, and vigorous activity history.
The activity trackers can also help you understand your practice on an entirely different level. While you practice, your watch is silently taking note of your heart rate zones so you can see how hard your body is working over the course of your practice. You may start in zone 1 at 50-60 percent of your maximum heart rate, spend 5 minutes in zone 3 at 70-80 percent of your maximum heart rate while holding a peak posture, and then come all the way back down to zone 1 again while you lie in Savasana. 
You can even follow along to animated workouts directly on the watch face. With over 40 available workouts, including yoga and Pilates, you can get over 40 classes with the touch of a button.
And whether you have a home practice or commute to the studio, the Garmin Fenix 6 Pro can store over 2,000 songs and sync with bluetooth-compatible headphones so you can listen to music as you flow, no phone required.
Take it outside
If you prefer walking meditations to seated ones, the Garmin Fenix 6 Pro can help make them safer. You can download maps to your watch which guides you as you stroll, plus it offers breadcrumb tracking so if you happen to get off-trail for any reason, you can follow your footsteps to get you back on track.
This watch can even save your life. As long as you have cell service, if the device senses an accident such as a fall, it will automatically send a message to your emergency contacts through the Garmin Connect app on your phone to get you the help you need.
In a nutshell, the Garmin Fenix 6 Pro is one of the most powerful smartwatches on the market. Think of any sport or activity and this watch can help you perform at your best. Whether you prefer slower, more restorative yoga classes or you're a triathlete that enjoys supplementing your training with vinyasa flows, this watch can help you rest, train, and recover to the max.