The Golden Age of Dr. Gail
Psychologist, author, and yoga therapist Gail Parker's yoga journey is a study in embracing every stage of your life with grace.
Heading out the door? Read this article on the new Outside+ app available now on iOS devices for members! Download the app.
In the spring of 2017, the weather was just warming in Rhinebeck, New York. I had come to holistic retreat center the Omega Institute with a colleague to present at the Yoga Service Council (YSC) Conference. We were a pair of unknown academics in a firmament of yoga stars. At the speaker-orientation session that first evening, the setting sun filtered into an airy room full of name-checkable notables in the world of yoga: researcher Sat Bir Khalsa, PhD; clinical psychologist Melody Moore, PhD; cofounder of the Yoga Service Council Leslie Booker; spiritual activist Teo Drake; and yoga and Buddhism teacher Jacoby Ballard.
And then a woman floated into the room and made everyone else fade into the background. Everything about her seemed to be made of light: She was wrapped in soft layers the colors of clouds, her clothes coordinated with her clipped silver curls. Her skin seemed to glow from within. I don't remember her speaking, but she carried an air of authority. And all I could think was: Who is she? And: I want to be like that.
"She" is Gail Parker, PhD, a clinical psychotherapist, certified yoga therapist, meditation coach, and yoga teacher. In yoga circles, she's respectfully known as "Dr. Gail." The regard is well earned: In her decades-long career, she's held faculty positions at medical schools and was a regular psychology expert on The Oprah Winfrey Show. She has given countless talks, classes, and workshops. And I'm far from the only one wowed by her—she seems to have a captivating effect on everyone she meets.
A sequence from Dr. Gail Parker: 5 Mantras of Affirmation
As a longtime student of yoga, Parker understands the concept of ashrama—that each person passes through a series of life phases: student, householder, retiree, renunciate. In Hindu culture, one embraces each stage, lives it to the fullest, and moves on to the next with grace. At the time of the YSC conference, Parker had closed her psychotherapy practice and stepped fully into her role as teacher and mentor, combining her psychology skills and yoga experience to teach others the art and science of yoga therapy.
Little did she know that her star was about to take another leap. Her book, Restorative Yoga for Ethnic and Race-Based Stress and Trauma, was published in 2020, at a moment when the world was in desperate need of some wisdom on the subject. Earlier that year, she took on a new leadership role as president of the Black Yoga Teachers Alliance board of directors.
Today, at 75, Parker is in the ideal space to share life lessons accumulated through study and experience. In these challenging times, people are hungry to hear from someone smart and sensible and kind—Parker, in a nutshell.
More from Dr. Gail Parker: How Restorative Yoga Can Help Heal Racial Wounding
Brahmacharya: The Student
Parker's yoga journey began at a most incongruous place: the Detroit Institute of Arts. "I don't know how I stumbled across [my first] yoga class," she says. It was in 1968—one year after the Detroit riots rocked the country to its core. Parker was 22, fresh out of college, newly married, and working as a social-welfare case worker in a city still cooling down from the social strife and smoldering race relations of "the long hot summer."
"There were no yoga studios in those days," she says. Yoga mats, yoga pants, yoga podcasts, playlists, and YouTube channels? No such things. Parker and some 20 other students came in T-shirts and jeans to learn hatha yoga poses.
"We were taught by a man named Mr. Black," she says. "He wore a black suit and tie to teach class." She shows me a fading black-and-white photo of her teacher. With neatly trimmed hair and a crisp white shirt, he looks more like a bank manager than a yogi.
Years later, she discovered he was a direct disciple of Paramahansa Yogananda. "I was introduced to the practice of yoga by a master," she says.
Parker attended Mr. Black's classes faithfully. When he added a weekly meditation, she went to that, too. He shared copies of the Autobiography of a Yogi with the group, to help deepen their studies of yoga philosophy. "I tried to read it, but it went over my head," she admits. "I was too young."
What drew her back each week, she says, was the sense of peace and well-being she got from the practice. When class ended, she went back to her life as a young wife and busy welfare worker, helping single moms, people struggling to find work, and others stuck in a system she realized was not designed to help them get out of poverty.
What no one knew—what she could barely admit to herself—was that at the end of her work day, she went home to a physically abusive husband. Like most people in her situation, she covered it up and made excuses. She didn't speak of it to anyone.
And then one day, in the middle of one of her husband's tirades, Parker says she heard a clear voice in her ears: You know he has a problem. But so do you, because you're putting up with it. Something inside her shifted. She never said a word, but for some reason, he didn't hit her that day, and he never touched her again. But her intention was set: She was leaving. That phase of her life was over.
"In that instant, I went from feeling like a victim to realizing that I had agency," she says. "I had stepped into my power." She believes that the sense of peace she felt in her yoga class woke her up to the fact that her home life was anything but peaceful.
Grihastha: The Householder
That same voice that told Parker to leave also had clear advice for what she should do next: "You need to get a divorce, you need to go back to school, and you need to get on with your life," she says it told her.
"I couldn't just walk away," she says. That's nearly impossible, and sometimes dangerous, for people in abusive relationships. "I had to strategically plan my departure." She applied to graduate school and was accepted. At a time when divorces were hard to get, she found a lawyer who would take her case. She rented a studio apartment. "In the end, I walked away from everything," she says.
By 1976, she had earned a doctorate in psychology, and she eventually set up her own private counseling practice where she could help people who needed guidance on relationship issues, existential crises, or personal growth challenges. Along the way, she found new love with a handsome doctor.
Yoga will take you deep enough into yourself that you will recognize that you are more than the external things you are attached to.
She continued to do yoga as a personal home practice until the '90s, when yoga studios began cropping up. "When I discovered studios, boy, did I have fun," she says. She learned Ashtanga Yoga, then Anusara Yoga "before anybody really even knew what it was" (and well before its founder was embroiled in scandal).
These days, she eloquently speaks of the deep connections among therapy, yoga, science, and spirituality, but in her early professional life, she kept those things separate.
"I wasn't teaching my clients asana, because they weren't coming to me for that," she says. "But if they were doing high-chest breathing, I knew how to teach them to deepen the breath. I used what I understood about yoga to help people become self-aware."
She was in her 50s when she finally sought out formal yoga teacher training—to learn more about the practice rather than to teach it. There, she learned about restorative yoga, which drew her professional life and her yoga life even closer together. "It will, at some point, take you deep enough into yourself that you will begin to recognize and realize that you are so much more than all the external things that you've become attached to," she says.
Many of Parker's clients were dealing with the particular stresses of being in marginalized communities. While public health experts have recently come to acknowledge the impact of racism on Black and Indigenous people's mental and physical health, Parker understood it early on, because she saw it every day in her clients. She had experienced it herself. Case in point: After attending an elite Virginia boarding school for Black girls, she was tapped to integrate the college she attended. "I was the first Black person to live in the dormitories, the only Black woman on campus," she says. Today, she rarely mentions the name of the university because her experience of isolation was so painful: "It was a miserable four years."
Restorative yoga became a tool to help heal racial and emotional wounds—hers and those of her clients. She shared her knowledge with students in yoga therapy programs, with colleagues at the Symposium on Yoga Therapy and Research (SYTAR), with teachers at the Black Yoga Teachers Alliance (BYTA) Conference, and anywhere else she could.
BYTA cofounders Jana Long and Maya Breuer recruited Parker to help develop the curriculum for Yoga as a Peace Practice , a program designed to help people recover from trauma and the impact of violence in their communities. "Activism is hard work," Parker says. "You can't do it without restorative practices that keep you healthy." She sees her role now not as a frontline fighter, but as a caretaker of those who are.
Vanaprastha: The Sage
In 2015, Parker was starting to think about closing her psychotherapy practice when a sewer flood pushed her out of her office. That was the nudge she needed to close that door, but these days, she's as busy as ever.
Aside from presiding over BYTA's board, she's enjoying the success of her book and is planning a companion how-to guide for transforming race-based stress and trauma with yoga. She continues to be a coach and a guide for other yoga teachers as well.
"She's a great mentor," says Pamela Stokes Eggleston, founder of Yoga2Sleep. When Eggleston became co-executive director of the Yoga Service Council, Parker helped guide her through it with "very sage advice and counsel," she says.
Sannyasa: The Seeker of Enlightenment
These days, Parker and her husband divide their time between Michigan and California, the latter of which is warmer and where she can be closer to her son, now an immigration attorney. She's in the enviable position of being in vibrant good health, securely loved, widely respected, and having nothing to prove. From this vantage, she's selective about what projects she takes on. She makes time for contemplative practice and to reflect on the circumstances and serendipities that brought her to this stage in life.
Ageism is real—and infuriating—for Parker, but she takes a wide-angle view of the gifts that come with healthy longevity. "I realized that I'm also a role model for what aging can actually look like, feel, and be—and I don't just mean physically," she says. "I mean what it is to accept, embrace, and cherish one's maturity."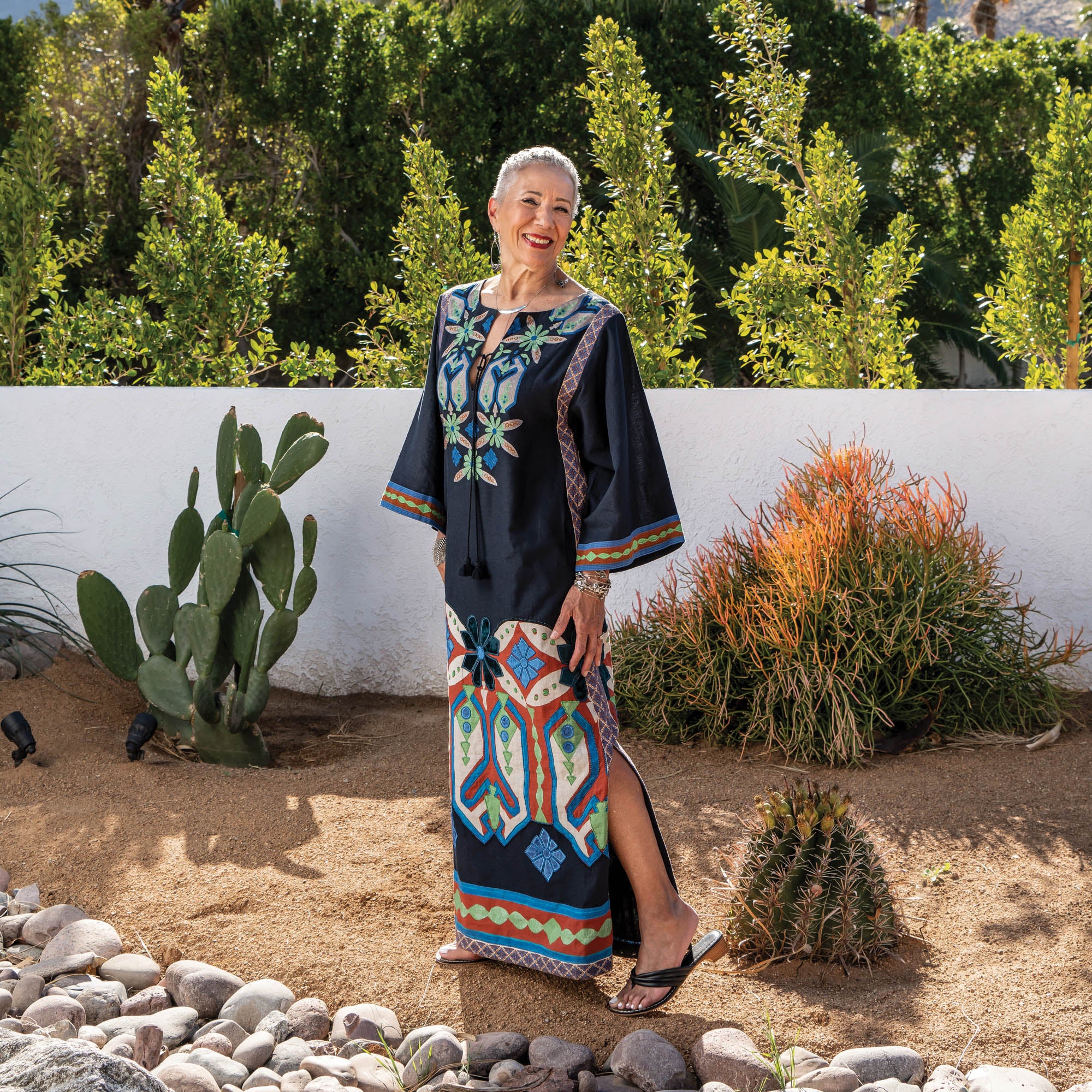 Like everything in yoga, it involves finding balance. That means accepting that Chaturanga may no longer be a regular part of her practice (too hard on the shoulders), while also knowing that she can still enjoy a playful, active practice.
"I'm 75 years old. It's a big number," she says. "The older I get, the more of myself I become. That's the beauty of being my age: You continue to step into being more and more of who you are."
Restoration & Revival
Gail Parker understands the healing power of rest and relaxation. "Just because you're not doing anything doesn't mean nothing is happening," she says.
"Trust your body to know how to function properly and bring itself back into balance. As long as the nervous system is relaxed, the body can be a self-healing organism," she says.
---
Tamara Y. Jeffries, RYT-200, is senior editor at Yoga Journal. Find her on Instagram.
Nolwen Cifuentes is a photographer and director born and raised in Southern California, now living and working in Los Angeles. Nolwen is an honoree of The 30: New and Emerging Photographers to Watch.