In Times of Tragedy, Your Practice Is Your Greatest Tool
Contributing editor Jennifer Davis-Flynn reflects on the recent shootings in her hometown of Boulder, Colorado—and how she's using yoga and breathwork to help her through.
Heading out the door? Read this article on the new Outside+ app available now on iOS devices for members! Download the app.
On Monday afternoon, I received a text from my friend Rebecca in Oakland, California. "You OK?" it read. "Shooter in Boulder."
I was safely holed up in my living room in downtown Boulder, Colorado, snuggling with my fluffy dog, Maple—a cozy fire burning in the fireplace on an uncharacteristically chilly, overcast day. Suddenly, the texts started pouring in: "Where are you?" "You good?" "You at home?"
I quickly checked the news and saw the shocking images of SWAT teams and armored vehicles encircling a local grocery store. I started frantically texting my friends, especially those in South Boulder, who live just a few blocks from the Table Mesa King Soopers, where there were reports of an active shooter with an automatic rifle.
It was surreal.
After a mass shooting in a small town or suburb, you'll often hear a witness on TV utter the refrain: "This just doesn't happen here." The sudden, violent murder of innocent people is always unfathomable. But, it feels different when it's close to home. I was completely unprepared for just how disorienting and scary it would be—and how much it hurts.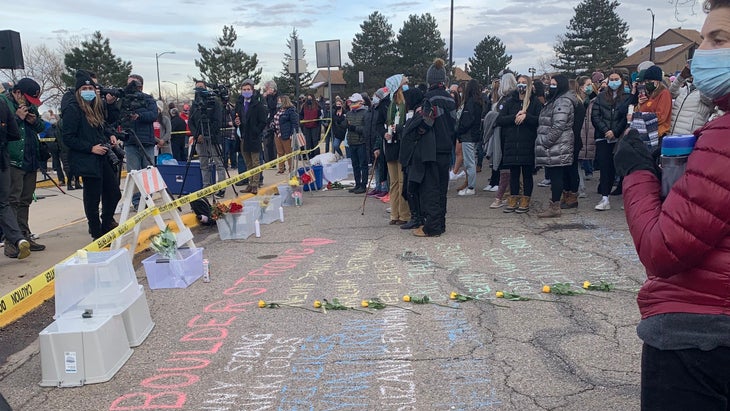 When nowhere feels safe
Mass shootings using automatic rifles are indiscriminate in America. They happen in big cities, small towns, schools, movie theaters, spas, night clubs, college campuses, and now grocery stores. Just this past Sunday, I had written a long Instagram post reflecting on the heartbreaking shootings in Atlanta on March 16. One day later, heart racing, I'm faced with a mass shooting at a grocery store 10 minutes from my house.
Boulder is a small city located at the base of the foothills of the Rocky Mountains with a population of just over 100,000 (30,000 of which are students at the University of Colorado). Known affectionately as the "People's Republic of Boulder," it's a liberal, crunchy town that's both spiritual and athletic, overflowing with yoga teachers, somatic bodyworkers, therapists, triathletes, and ultrarunners. It's also home to Outside, the publisher of Yoga Journal, SKI, Backpacker, Women's Running, and many other titles. People move here for the active, outdoorsy lifestyle and idyllic small mountain town vibes. It's a place where you know your neighbors (or at least your neighbor's dog), your barista, and your grocery store cashier.
It's also incredibly safe. Before Monday, Boulder County (an area that includes Boulder as well as several smaller cities with a total population of 326,000) averaged about four murders a year. One of the most common crimes is bike theft. Locals, myself included, often joke about not leaving the safety of the "Boulder Bubble." On Monday, that bubble burst. 
It's been a traumatizing year, in which we have experienced a worldwide pandemic that has claimed the lives of more than 545,000 Americans (and counting), an economic recession with massive unemployment, a summer of civil unrest and protests over racial injustice, and a frighteningly hostile and contentious election season that culminated in an armed insurrection at our nation's capital. With news of these recent mass shootings, is it surprising that we might be feeling a little "on edge"?
Regulating your nervous system during crisis
Collectively, our nervous systems are being asked to handle extreme stress and agitation on a daily basis, while many of us are simultaneously disconnected from our daily support systems, forgoing casual human touch, and hiding our faces beneath masks, which makes reading emotions and moods difficult. Instead, we're spending our time gazing at faces virtually on Zoom—while also carefully inspecting the flaws of our own. None of this is natural. We are social creatures wired for touch and community.  
Recently, popular radio host Krista Tippett had clinical psychologist Christine Runyan on her show On Being to discuss how our nervous systems have been operating over this past year. Runyan explains our "fight-flight" autonomic nervous system as such: "Threat is always detected by the nervous system… Its job is to keep us safe and to keep us alive, and so it's really sensitive. And when it detects threat, it activates a series of responses, and this cascade of neurotransmitters and hormones go off inside of our body to prepare us—to prepare us to fight, or flight, if we estimate the threat to be bigger than we can manage."
In short, our sympathetic nervous systems (fight, flight, or freeze) have been activated nonstop (and often unconsciously) since the beginning of the pandemic—and much longer than that, for those of us living in dangerous, unstable conditions. 
The constant overstimulation, Runyan says, has far-reaching effects on both ourselves and those around us.  "Not everybody manifests in the exact same way…but you can certainly find plenty of people who are responding to that activation in a way that meets aggression, rigidity in thinking, getting very myopic in perspective, and not having much cognitive flexibility to share anybody else's perspective or ideas. And so you have a massive loss of empathy."
Help is available—and it's free to everyone
Luckily, we have a tool to help us regulate—one that is available to anyone at any time. It's called breathing. 
"There's various techniques you can do with the breath," says Runyan. "But if you're gonna do one thing, a long exhale, because that's part of our sympathetic nervous system, that dorsal part of our sympathetic nervous system that activates our calming—so, a long exhale." 
See also A classic, calming and balancing breath pattern, Nadi Shodhana (alternate nostril breathing)
Personally, over the past four days, I have cycled from feeling numb to shaky to agitated to full-on sobbing. I feel completely drained, as many of us do. I live alone. My long-term relationship with a beloved partner ended without warning after the new year—a sudden, traumatic loss that I'm still mourning. I've since lost a family member to COVID-19. I have a one-year-old nephew in China, whom I've never met. I haven't seen my 75-year-old parents in over a year. I'm a singer, but I haven't been able to perform in front of an audience since last summer. I want to hug my friends. I want to fearlessly go to the movies and out to dinner. The grief is overwhelming.
In order to regulate my emotions and soothe my mind and body, I'm reminded to return to my practice. Before bed, I've been practicing Viparita Karani (Legs-Up-the-Wall pose), as I've noticed my legs, and especially my quads, are especially tense right now. My intuition tells me that's because my sympathetic nervous system is so activated, that adrenalin is flooding my legs as a flight response. To enhance this pose and find even greater relaxation, my yoga teacher Patricia Gipple  recommends elevating the hips on a bolster or pillow so they're above the heart and placing the hands interlaced behind the head to stimulate a soothing response from the vagus nerve, which is responsible for the parasympathetic nervous system. I also use a strap around my quads to support them in a stable position against the wall. I instantly feel pulsing in my legs, a sign of release. It is not enjoyable, but it is therapeutic. Simultaneously, I practice long deep breathing, and repeat this mantra: "I am" on the inhale, "safe" on the exhale. 
It's also helpful to remember that I'm not alone. There are millions who feel the way I do right now. We are survivors. It's just that surviving all these little and big losses really hurts.
See also 6 Poses to Calm Your Nervous System & Find a Sense of Safety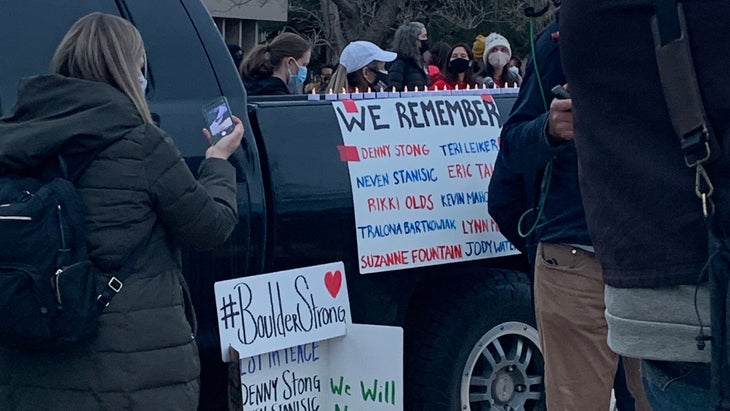 #BoulderStrong
I didn't personally know any of the 10 victims in Monday's tragedy—Tralona Bartkowiak, Suzanne Fountain, Teri Leiker, Kevin Mahoney, Lynn Murray, Rikki Olds, Neven Stanisic, Denny Stong, and Jody Waters—though I have friends who did. It's almost an all-too-common refrain: The feelings you have when this happens in your town are so different from seeing the 24-hour news coverage of mass shootings unfold on TV. The death is tangible, right here on your doorstep, and that devastating loss of life radiates out exponentially touching thousands more lives. If you haven't experienced such a tragedy so close to home, I hope you never do.
I've always loved this line by writer Haruki Murakami, from his novel Kafka on the Shore.
And once the storm is over, you won't remember how you made it through, how you managed to survive. You won't even be sure, whether the storm is really over. But one thing is certain. When you come out of the storm, you won't be the same person who walked in. That's what this storm's all about.
Pain brings growth, or else what's the point? That's what I try to remember as I muddle through the days, searching for sparks of happiness where I can find them: in a rosy sunset peeking out from behind the Flatirons, sighting the first crocuses of spring, an unexpected phone call from a dear friend, or a joke shared with a stranger on the street.
I practice grounding myself in the present moment, where I am safe and loved. I can't always get there, but I'm doing my best.
I love you, Boulder.