A Guide to Planning Your Dream Yoga Vacation
With so many great options, where does one even start planning a yoga vacation? Right here. We'll guide you step by step to finding your perfect yoga vacation, from ashrams and retreats to relaxing resorts.
Heading out the door? Read this article on the new Outside+ app available now on iOS devices for members! Download the app.
With so many great options, where does one even start planning a yoga vacation? Right here. We'll guide you step by step to finding your perfect yoga vacation, from ashrams and retreats to relaxing resorts.
So, you've had enough of the overrun beaches, the tiresome tourist traps, the frazzled feeling that comes from fitting too much "fun" into your precious little time off. What you really want this year, you've decided, is not recreation, but re-creation—extending the peace, serenity, and sense of well-being you feel after yoga class. What better way to do this than by taking a yoga vacation?
You ask around for some leads, get on the Web and visit a few sites, make some calls, and soon you're inundated with a stack of brochures promising unique, life-transforming yoga adventures, each one more tantalizing than the last.
But then what? Even if this is not your first yoga vacation, choosing among the vast number of offerings can be a challenge. How do you select the experience that's right for you?
With a bit of common sense and the right resources, it's not as hard as it might seem. Ask yourself the right questions, and you'll soon determine the type of yoga vacation that best suits your needs.
See also 6 Steps to Planning the Ultimate Yoga Retreat
1. Where do you want to go?
You'll want to start by looking for ways to narrow down the field of options. For instance, if you've already found a teacher and yoga technique you like, you're in good shape. Even if your teacher doesn't offer yoga vacations, she should be able to recommend retreats with other teachers of the same style.
If you don't have a teacher or technique that you are committed to—or if you simply want to try out other styles—your range of choices is much broader. So start with location. In the United States, you'll find yoga retreats, from the serene mountains of Colorado to the woodlands of New Hampshire, from the lavish beaches of Hawaii to the mystical silence of the red rocks of Sedona, Arizona. Choose the destination, and then check out what's available in that area.
If you have a taste for more far-reaching adventures, set your sights on India, Bali, Nepal, Peru, or New Zealand—or on vacation staples like the Caribbean Islands, Costa Rica, and Europe. In Switzerland, retreats offer a yoga vacation including hiking among the snow-clad peaks of the Alps and swimming in serene mountain lakes. If the Greek archipelago is more your style, you could travel to Molivos, a village on the island of Lesbos in the Aegean Sea.
See also 10 Destinations for Your Yoga Travel Bucket List
2. How much do you want to plan yourself?
If you do decide to travel to distant shores, take special care to weigh your travel options. Some overseas yoga vacations are turnkey packages that include everything from airline tickets to local accommodations, language instruction, and prearranged sightseeing trips. Others, however, leave you completely on your own. If you choose to go to a remote place like Molivos in Greece, for example, you will need to arrange your own transportation, your own accommodations in one of the village's hotels, guesthouses, or apartments, and your own meals. This is no big deal for a seasoned traveler. But if your idea of adventure travel is a package tour to the Bahamas, think twice before setting out for a place like Molivos.
The advantages of prearranged packages—convenience and comfort—can be especially useful when traveling to developing countries. Having someone else worry about the sanitary conditions of your living space and the safety of the food allows you to relax into the serenity and pleasure of your daily yoga practice. But less structured packages afford benefits, too—namely, lower costs and greater exposure to the local customs and culture. Although prearranged packages can be very reasonably priced, you can sometimes save up to half the cost by making your own arrangements instead.
See also 11 Under-the-Radar Yoga Retreats You'll Want to Book Now
3. How can you add a little adventure?
Whether your destination is near or far from home, think about adding a bit of adventure to your itinerary. In the United States, yoga instructors offer backpacking trips in the White Mountains, where you can enjoy the deep silence of the surrounding forests while practicing yoga. In Canada, try a canoe trip where you can explore the wilderness waterways, camp in nature, and practice yoga in the beautiful outdoors.
Alternatively, you might seek out a special theme vacation, such as a yoga retreat for women, which offers yoginis a safe and supportive environment for exploring deeper levels of the Self. You can also find vacations that focus on mind/body renewal through yoga combined with alternative therapies.
See also Great Escapes: Choosing Your Perfect Yoga Retreat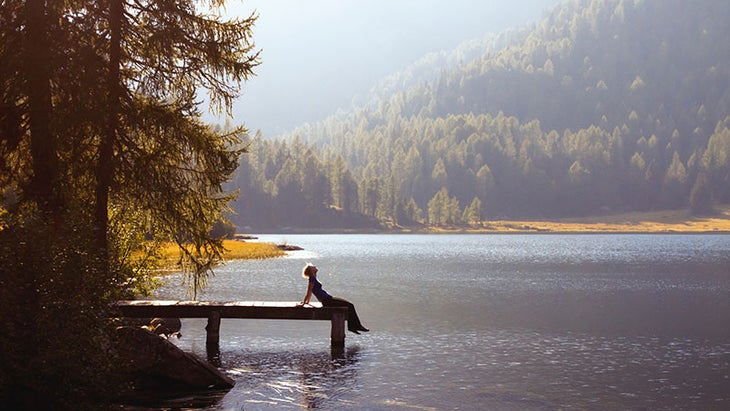 4. Do you want a retreat—or a resort?
In addition to the geographical possibilities, consider this: How much yoga do you want to do on your yoga vacation? Options range from casual classes held at resort hotels in attractive tourist destinations to intensive, month-long retreats in remote spiritual communities with a rigorous daily schedule of yoga, meditation, and other spiritual practices.
At one end of the spectrum, you'll find deluxe and yoga-intensive vacations in places like Hawaii. After a morning yoga session, you can enjoy an organic, vegan breakfast and spend the rest of the day hiking, exploring the island, or indulging in whatever other vacation pleasures you discover.
Lying at the middle of the spectrum, large retreat centers offer an eclectic assortment of courses in personal and spiritual development. The more demanding daily schedule at retreat centers typically features yoga classes one to three hours twice a day. You then spend the rest of the day in instructional activities or meditation, and you'll usually have one to three hours off for other recreational activities like music, dance, hiking, swimming, biking, and so on. The courses in these centers often attract a large number of participants, a great plus if you are socially minded, but not so hot if you prefer smaller groups.
See also 13 Yoga-Friendly Resorts for Your Next Vacation
5. Are you looking for a deep spiritual experience?
At the intensive end of the spectrum of yoga vacations are the half-dozen ashrams, or spiritual communities, around the country that open their doors to visitors. Whereas retreat centers offer courses taught by teachers from many different traditions, ashrams most often focus on the teachings of one spiritual master. One such retreat offers programs based on the yoga and Vedanta teachings of Sivananda. During the retreat, you spend your day in meditation, asana, chanting, readings, and discussion.
6. Will you be bringing your family?
Whether you go for a resort-style yoga vacation or decide to embark on a retreat is, of course, a matter of personal preference. If you want the flexibility to schedule your day exactly the way you want—or if you're new to yoga and don't want to commit to a more involved retreat—choose the resort-style vacation. This kind is also a best bet if you're combining a yoga adventure with a family vacation, as few retreat facilities offer child care or options for a nonparticipating spouse. In many places, you simply take a one-hour class in the morning and are free to vacation with your family the rest of the day.
If, on the other hand, you're looking for a deeper yoga experience, then the retreat centers and ashrams have the advantage. You'll experience life in a spiritual community, and hopefully awaken to new dimensions of meaning and purpose. You will meet like-minded people, make new friends, and explore enriching spiritual disciplines and teachings. For many people, the journey to a sanctuary where everyone is focused on the pursuit of personal and spiritual growth can be a transforming experience.
See also A Guide to Navigating True Transformation
7. Do you want a set schedule—or do you prefer flexibility?
At the same time, you want to make sure you'll be comfortable with the more structured daily routine typical of retreat centers. Look over the daily schedule in advance, and see if it suits you. If you have very little previous experience with yoga, a retreat that offers two daily three-hour yoga sessions may be more than you bargained for. In some cases, particularly at ashrams, participation in the daily schedule is mandatory. Even when it isn't, you don't want to put yourself in a situation where you feel torn between following the center's daily routine and fulfilling your own vacation goals. In addition, you may be asked to help out with chores (doing dishes, helping with yard maintenance, etc.), so be sure you're comfortable with this before you sign up.
8. Are you OK with sharing a room?
Accommodations and meals add another dimension to the planning. Most retreat centers serve a vegetarian or vegan-only menu that may exclude caffeine-containing beverages—a welcome bonus for some, a challenge for others. Ashrams typically offer dormitory accommodations (four to seven per room), with shared bathroom facilities. If you prefer a single or double room with a private bathroom—and these are available—be sure to book well in advance. But if you don't mind a little communal living, the low cost of retreat-type vacations makes them a persuasive option next to the much higher prices you'll pay for a resort-style yoga vacation.
Whichever option you choose, any yoga vacation can be a deeply transforming experience that helps you develop a new sense of yourself and what's important in your life. Peace, strength, serenity, renewed vigor, and better health are just some of the souvenirs that you'll bring home. Yoga retreats enable you to meet fellow travelers on the spiritual path, learn new techniques for creating greater inner balance, and above all, have fun and explore both the outer and the inner wonders of life.
See also First-Timer's Guide to Yoga Retreats