Public Displays of Yoga
Neal Pollack considers whether the occasional urge to do yoga in public is for him or for show—or a little bit of both.
Heading out the door? Read this article on the new Outside+ app available now on iOS devices for members! Download the app.
A few weeks ago, I found myself in the airport at the end of a quick business trip. My back felt stiff, my quads felt tight, and my mind felt restless. Yoga was required.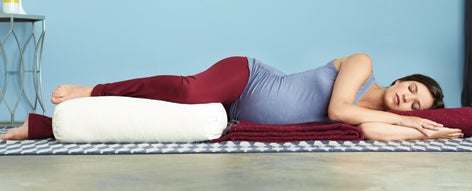 I started looking around the terminal for a safe spot, like a mama cat trying to choose where to deliver her litter. Airport aisles are always bad, because you don't want to get in anyone's way. I couldn't pin down my usual first choice, a check-in desk with empty space behind. LAX and the Austin-Bergstrom airport are full of those. This one wasn't.
Finally, I settled on the far-right boarding lane of a gate that appeared to be dormant for the moment. It was acceptably out of the range of human traffic, and far from the sun's glare. I brought my bags over, removed my shoes, took my wallet and phone out of my pocket, and removed my belt and sunglasses, as though I were about to perform a TSA inspection on myself. Then I kneeled down, folded back, and very gently dropped into full Supta Virasana.
As my great teacher Richard Freeman once memorably said in class, this pose, otherwise known as Reclining Hero, is excellent if you ever find yourself in a very small bed. Or, I might add, in an airport. It compresses the tissues in your lower back, moving them out of their usual comfort (or discomfort) zone, and it gives your thighs a serious stretch. It's one of my favorites. Also, in full expression, it never fails to impress observers.
Apparently, it also makes you look like you've passed out, because an airport employee came over to me and said, "Sir, are you OK, or are you just getting your yoga on?"
"Just getting my yoga on," I replied.
Soon after, I gently raised myself up. I was ready for my flight.
A couple of weeks later, I was at Austin's new racetrack, covering the first Grand Prix held in North America since 2007. On opening day, I thought it would be a great idea to pose in a Headstand in the pullout lane by the paddock. It was a celebration! A party! Many people took my picture.
When I posted it later on Facebook, my wife said, "Dude, what's wrong with you?"
"What do you mean?" I asked.
"Why do you feel compelled to do yoga in public like that?"
"I don't know. It's fun?"
"I don't care that you do yoga," she said. "But it should be private."
Part of my wife's criticism can be chalked up to the fact that she's a shy and circumspect person who feels ashamed if she even sneezes in public. My tendency toward exhibitionism has never exactly been her style. But she definitely had a point. It's not like I'd been doing a calf stretch against a wall. I was showing off. It's a tendency in yoga-land.
My Facebook feed is full of pictures of people drawing themselves up into Dancer's Pose at the beach or on a mountaintop, or doing a Handstand in some kind of public square or park. In general, I look at these photos with a jaundiced eye. I understand that yoga has a way of making people feel free about their bodies and excited about the amazing new tricks that they've learned in their practice. On the other hand, unless you're 21 or younger and still naively full of natural exuberance about life's infinite possibilities, you should know better.
Yoga isn't a show, and, unless you're participating in one of those annoying Bikram competitions, it's not a performative art. At core, it's a quiet discipline, best practiced alone or in small groups, that helps you quiet your restless mind and move through the world with a calm attitude and healthy body. When you do what my teacher Patty calls a "party pose" in public, you're feeding the very narcissism that yoga's supposed to help you tamp down. When the ego does the talking, the poses do the walking. The asana rooster strut can lead you nowhere good.
I kept that in mind the next day at the track when, in a fallow moment at the hospitality suite, I folded back into Supta Virasana again, and looked pretty good doing it, too. The high school kids who were, possibly against state law, passing around glasses of wine and champagne came over to admire my form and take my picture. That's when I knew I had to stop. My life isn't a body cult. I would have been better off sitting in a corner and quietly breathing. No one ever wants to photograph a guy doing that.
The poses could wait until I got home.