The Way I Vote
Erica Rodefer Winters shares the way her yoga practice influences her vote, and choices, every day.
Heading out the door? Read this article on the new Outside+ app available now on iOS devices for members! Download the app.
As citizens of a democracy, we're taught that voting is not only our privilege, but our duty. If we don't participate in the process, we just have to accept what others choose for us—the leaders, the policies, the taxes. This year as I've followed the campaigns and considered what choices I would like to make in the voting booth, I've also thought a lot about what it means to vote with the principles of yoga in mind.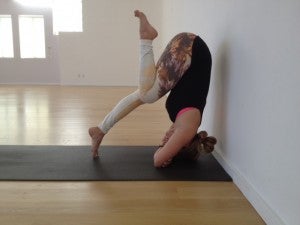 For the record, I am in no way saying my views should be shared by others who practice yoga—after all, we're all different and have had different experiences both on and off the yoga mat. The following are a few of the ways my yoga practice has colored my views on voting.
Think of the whole, not just the individual. Yoga teaches us that we are all interconnected and that what one of us does impacts others in one way or another. So when it comes to voting, I believe it's important to take a step back and see the bigger picture and how the choices we make affect our neighbors (both down the street and across the oceans), our children and grandchildren, and our future as a whole.
Practice compassion. It's OK to disagree. But I've found it to be incredibly helpful to at least try to put myself in the shoes of those I disagree with so I can better understand their views.
Find a balance between contentment and engagement. My life's goal is to figure out a way to be content with my life as it is—to be thankful for my blessings and stop striving for more. But politics are all about making things better. I get pretty conflicted during elections. I want to be an engaged participant, but I also want to be happy. The best balance I've been able to find is by participating with the intention of making things better for others—because my life is pretty darn good already.
Vote every day. Most of all, I'm trying to remember that while elections are important, we make choices that affect ourselves and others every single day. We vote through our actions, our words, how we spend your money, and how we live our lives.