This Competitive Climber Finds Balance in Yoga
A world-class climber finds inner balance through Kundalini asanas, mantras, and meditation.
Heading out the door? Read this article on the new Outside+ app available now on iOS devices for members! Download the app.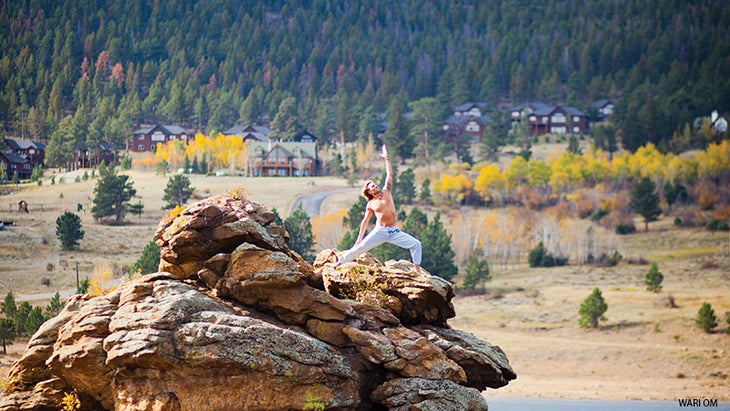 On her ascents of some of the world's most difficult rock climbs, professional climber Martina Cufar often closes her eyes and simply imagines her muscles relaxing. She likens the experience to her yoga practice. "When I think I can't hold on to a hold anymore, I breathe and imagine the wind blowing away the fatigue," she says. "It suddenly gets effortless. When you don't think about the outcome, energy comes from the sky."
One of Europe's top competitive climbers, 34-year-old Cufar, who lives in France, is also a dedicated Kundalini yogi whose daily practice supports and inspires her as an athlete. She grew up close to the sky, beneath Slovenia's highest mountain, the snow-capped three-headed peak Triglav (9,396 feet). Her adventure-loving father introduced her to skiing and mountain climbing. At 11, Cufar discovered rock climbing and started pursuing it exclusively. "I just wanted to climb," she says. She did just that, going on to win more than 30 major international competitions, including a world championship, and becoming one of fewer than 20 women to climb some of the world's most difficult routes.
When she discovered yoga in her late 20s, she struggled at first with the new practice, finding it difficult to hold still in unfamiliar poses. "I am a bit hyperactive," she says, "and after some minutes in the same position, you start to suffer."
But she embraced the challenge as a journey of self-knowledge, and she found in yoga not just another sport to master, but also a way of life. She practices Kundalini Yoga—including asanas, mantras, and meditations—every day, whether at home or in the mountains. "Yoga is the best way to begin a day," she says. "It's getting in touch with my body and soul, finding inspiration, and finding peace when there are some problems."
As an athlete, Cufar has integrated yoga with her pursuit of climbing, often practicing balancing postures before or after a climb and incorporating yogic breathing with her climbing movements. "The mind follows the breath, and the key to controlling your mind is controlling your breath," she says. "So when you are in difficulty or on the scary section of your climb, breathing fully and deeply will help you stay calm."
She says her yoga practice serves to balance the muscles in her shoulders, increase her flexibility, and help her avoid injury. But the connection goes deeper as well. "There are these special moments when everything feels easy, when the moves are fluid and solutions come without thinking, when we are almost effortlessly dancing up the wall," she says of climbing a difficult route.
"This is going with the flow, following your intuition. This is yoga."