3 Tips for Yoga Style Stress-Free Travel
Want to kick back on your next vacation? These yoga tips can help.
Heading out the door? Read this article on the new Outside+ app available now on iOS devices for members! Download the app.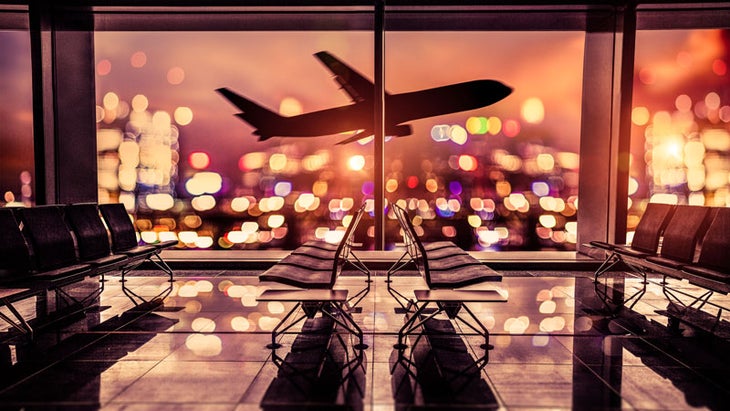 Want to kick back on your next vacation? To stay relaxed during travel, follow these three self-care travel tips.
While waiting for a train in Italy last year, I noticed a tiny elderly woman on the platform, leaning wearily on an umbrella. As the train pulled up, I tried to help her mount the steps. Mistaking my intent as a move to board in front of her, she began to hit me—quite vigorously—with her umbrella. I was humiliated, then wounded that my gesture had been so misinterpreted. I settled into my seat, practicing Pranayama and concentrating on letting go of the tension that had gathered at the base of my neck. With each exhalation I began to appreciate the Monty Python aspects of the event. By the time I disembarked, I was able to face what was ahead of me.
The realities of travel can sometimes dampen the spirits of even the most seasoned explorer. Under these circumstances, a little yoga can make a big difference.
See also 10 Perfect Poses for Yogis on the Go
1. Be Flexible
There's more to being supple than holding Bridge Pose. If you truly want to enjoy your travel, then you need to release expectations and be open to whatever each day brings. When a sunny week by the seashore turns into a five-day monsoon, remember your underlying intention, whether it was to relax, spend time with your family, or explore a new culture. Incorporate asanas when you can. Try a simple inversion to get your blood moving after a flight, Tree Pose on the beach with your kids, or Cat and Cow stretches before bed.
See also Must Have Moves for Road Warriors
2. Breathe Deep
If your best attempts to decipher a foreign bus schedule leave you stranded on the sidewalk while the bus disappears around a bend, close your eyes and take a long belly breath through your nose to the count of three. Release slowly to the count of five. Repeat three times, then open your eyes. When you do, the world will look like a friendlier place.
See also 7 Reasons Every Yoga Should Try Traveling Alone
3. Pack Well
Bring a recording of soothing music or a guided meditation to help you drift off in unfamiliar surrounding. The vibrational frequencies produced by sound waves can influence mood, and some low-frequency ranges can generate a sense of well-being and lower your heart rate, according to Jonathan Goldman, the author of Healing Sounds.
See also A Travel-Balancing Yoga Sequence from Yoga for Bad People