Why Isn't Yoga Covered By Health Insurance?
The short answer is, it's complicated.
Heading out the door? Read this article on the new Outside+ app available now on iOS devices for members! Download the app.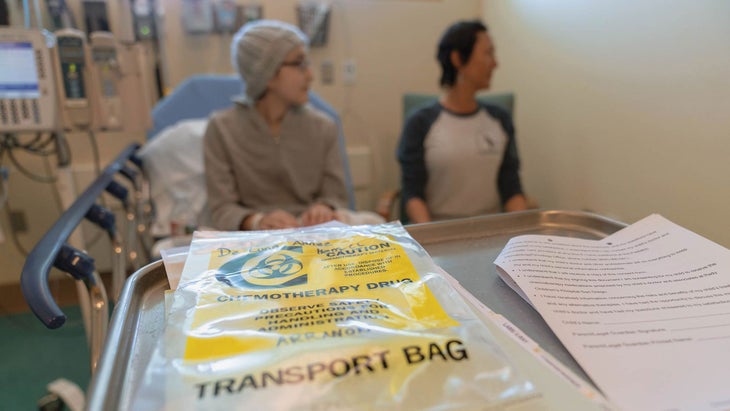 We spoke with John Kepner, executive director of the International Association of Yoga Therapists (IAYT), and Courtney Butler-Robinson, stress management specialist and yoga therapist for the Dean Ornish Reversal Clinic at Saline Heart Group in Benton, Arkansas, to find out why yoga therapy is largely uncovered by health insurance companies. Dean Ornish, MD, made headlines in 2010 for convincing insurance companies that yoga and meditation, when combined with proper diet and exercise, could reverse heart disease. To date, yoga therapy is covered only under the Ornish Reversal Program for heart disease, but some affiliated clinics, such as Saline Heart Group, are beginning to offer cancer care.
Yoga Journal: With all of its proven benefits, why is it so hard to get yoga covered by insurance?
John Kepner: That's the big question. IAYT is a self-regulated organization—it's all voluntary. We have standards and an accrediting body, continued education, certification, and an enforceable code of ethics, but we don't yet have a certification exam. All professional health fields have some kind of exam. IAYT has just launched that effort, and I expect it will take another two years to complete. Those are necessary but not sufficient pillars when you're talking about insurance. In most cases, but not all, insurance coverage extends to licenced health care fields.
Courtney Butler-Robinson: We are a wellness center and offer different programing. We recently extended into cancer care. The Ornish Reversal Program is the only program I know of where the whole thing, including yoga therapy, is covered by Medicare. Oftentimes, people who have cancer or have been given chemo will end up with heart problems, and in that case, we can often bill under that.
JK: One of my personal goals is yoga therapy insurance coverage for people recovering from cancer care. Their bodies have been wrecked by chemo. They need something to bring body and mind back to well-being. There's a lot of research showing yoga can help with that. IAYT is connected with the Society for Integrative Oncology, which is seriously exploring yoga now.
See also Why More Western Doctors Are Now Prescribing Yoga Therapy
YJ: How do you see this goal coming to fruition? Will insurance-covered yoga therapy be siloed by illness or ailment, beginning with cancer and heart disease?
JK: I just don't know. We are feeling our way. As mentioned, the Society for Integrative Oncology has two committees looking to yoga. For now, they are working independently of us, although we communicate with them. We are also developing a way to have insurance cover yoga therapies by health condition. My personal thought is that cancer is a good disease to start with. There is a lot of research and general sympathy. Heart disease is already addressed by the Ornish program.
CBR: I think Ornish will get prostate cancer covered in the next five
years. We just need to prove to insurance that this therapy will save them money.
JK: There are plenty of creative possibilities for financing yoga therapy in a health care setting beyond insurance. I wrote about it in 2005, but it's still relative today. Anyone interested can look to my paper, "Financial Support for Yoga Therapy: A Montage of Possibilities," published in the International Journal of Yoga Therapy.