Could These High-Tech Yoga Mats Replace Your Studio?
The makers of three new high-tech yoga mats claim their inventions simulate the adjustments of a live teacher.
Heading out the door? Read this article on the new Outside+ app available now on iOS devices for members! Download the app.
The makers of a crop of high-tech yoga mats about to hit the marketplace claim their inventions simulate the adjustments of a real, live yoga teacher. But could bells and whistles like built-in pressure sensors and apps that track your progress measure up to the skills of a highly trained human?
"The reality is a lot of people still can't afford to take regular classes at a studio," says Santa Monica, California, yoga teacher Amy Lombardo, who is the lead consultant for SmartMat, a portable, computerized mat that is calibrated specifically to each user to give real-time feedback to correct balance and alignment. "SmartMat aims to give people the benefit of customized feedback specific to their practice even if they can't make it to the studio."
Skeptics, however, believe SmartMat and other futuristic mats like TERA and Glow Mat could actually do more harm than good. "A skilled teacher can teach and identify when rotation and load values are incorrect and even harmful based on students' unique needs," says Leeann Carey, a yoga teacher in Redondo Beach, California. "A programmed yoga mat can't."
Here's a look at the pros and cons of 3 high-tech mats slated to debut in 2015-2016:
The Mat: SmartMat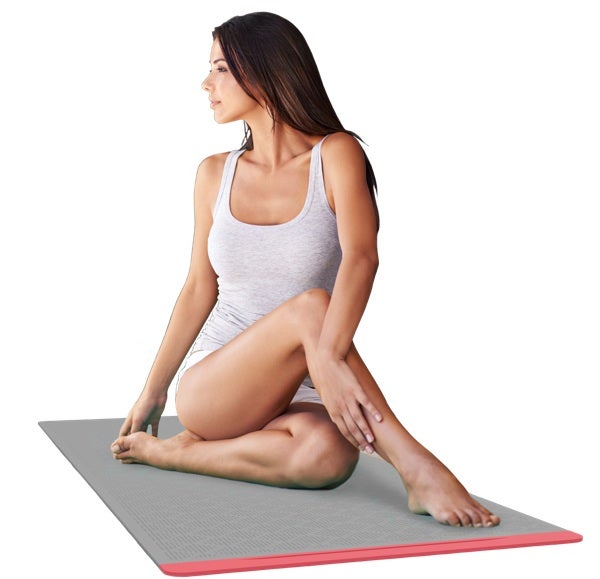 Pros
"While there will never be a replacement for human intuition and instruction, what SmartMat offers can be considered a complement," says SmartMat CEO Neyma Jahan, noting that "a human will never be able to read the micro points of balance and equilibrium required to achieve a 'perfect pose,' based on the specific measurements of the practitioner's body."
Cons
As Jahan admits, "A computerized brain will never be able to accurately read the thousands of elements a trained yoga teacher can decipher just by looking at the student for a moment."
Where to Buy
Available for pre-order at a discounted $247 on Indiegogo or $447 retail in 2015.
The Mat: Glow Mat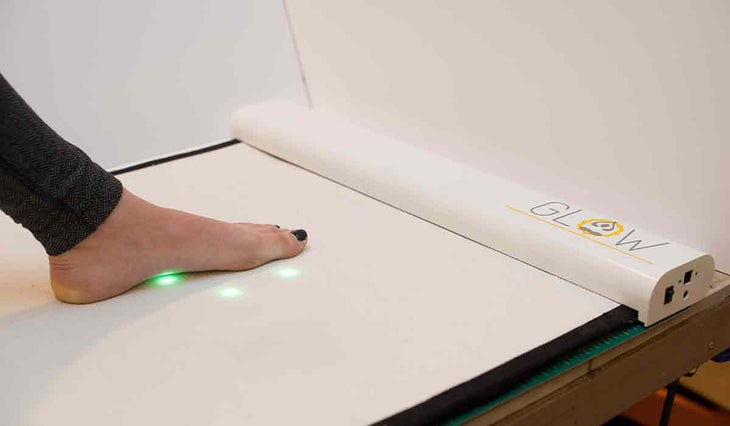 Pros
The glow feature makes it easy to tell when you need to adjust your alignment and how to do it without verbal cues from a live yoga teacher. "Pressure sensors measure your weight distribution while LED lights communicate your performance through basic light patterns," says co-creator Molly Duffy, one of 17 mechanical engineering students who developed the Glow mat as part of a class project at Massachusetts Institute of Technology in 2009. "When the lights are red, there is too much pressure, and when the lights are green, the pose is being properly executed."
Cons
"Our mat will help you fine-tune your form every step of the way," Duffy says. "This is especially helpful for beginners who are too intimidated to go into a class." We suspect that more advanced yogis might not find the technology quite as challenging.
When to buy
Early next year
The Mat: TERA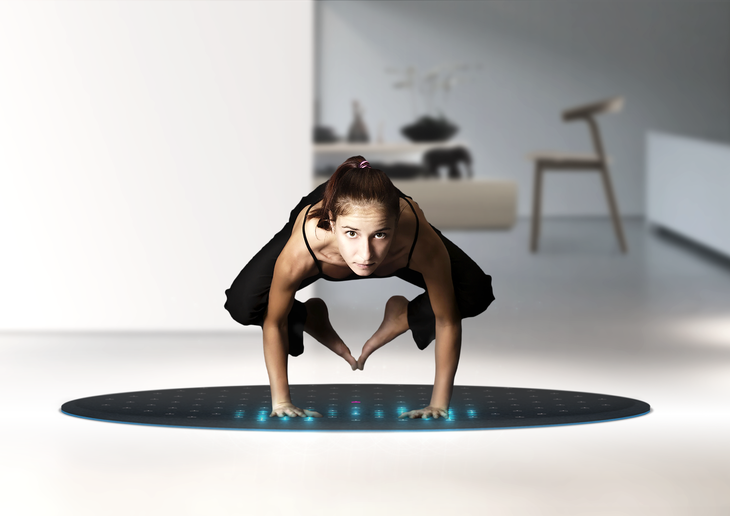 Pros
This round yoga mat is cleverly disguised as a rug that can be plugged in to activate the fitness feature whenever you want to practice. LED lights and built-in sensors guide you through poses, then record your progress to analyze with the accompanying app. "TERA integrates your practice in an organic way into your natural environment," says Nicole Wagenstetter, Communications Manager for Lunar Europe, the company that created TERA. "You don't need to roll up your mat after practice or put your mat away, because TERA is supposed to be part of your everyday life in your home."
Cons
"We have used very pure materials by a premium textile manufacturer, so TERA will be about the same price range you would pay for a designer carpet," Wagenstetter says. Considering that designer rugs can cost thousands of dollars, TERA's price tag may make it unattainable for the average person.
When to Buy
Available TBA in 2016
—Dana Meltzer Zepeda