3 Ways to Modify Cow Face Pose
Modify Gomukhasana if needed 
to find safe alignment in your body.
Heading out the door? Read this article on the new Outside+ app available now on iOS devices for members! Download the app.
Modify Gomukhasana if needed to find safe alignment in your body.
PREVIOUS STEP IN YOGAPEDIA Master Cow Face Pose in 6 Steps
NEXT STEP IN YOGAPEDIA3 Prep Poses for Full Lord of the Fishes Pose
SEE ALL ENTRIES INYOGAPEDIA
If your shoulders 
are tight …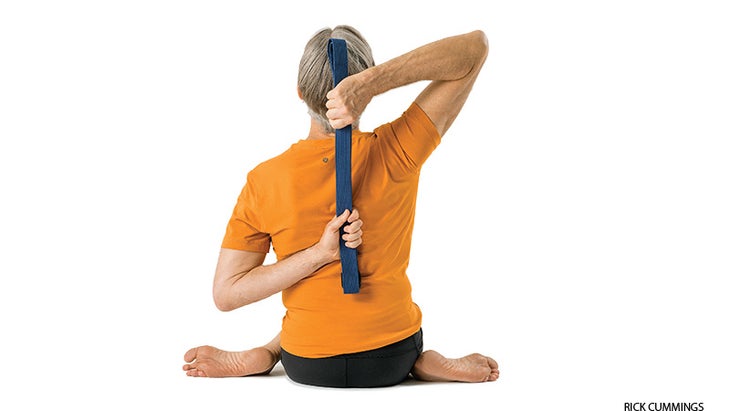 Try using a strap to connect your hands behind your back. Hold the strap in your right hand as you reach up, dropping the strap end down your back. Rotate your left shoulder forward and reach up your back with your left hand to grasp the strap; now, roll the top of the left shoulder back. Your feet can be touching or slightly wider than your hips. Just as in the full form, pull your hands in opposite directions. Sit tall and straight through the torso, neck, and head as you breathe smoothly.
See also How Richard Freeman Inspires Others to Take Up Ashtanga Yoga
If you experience knee pain sitting back on your heels …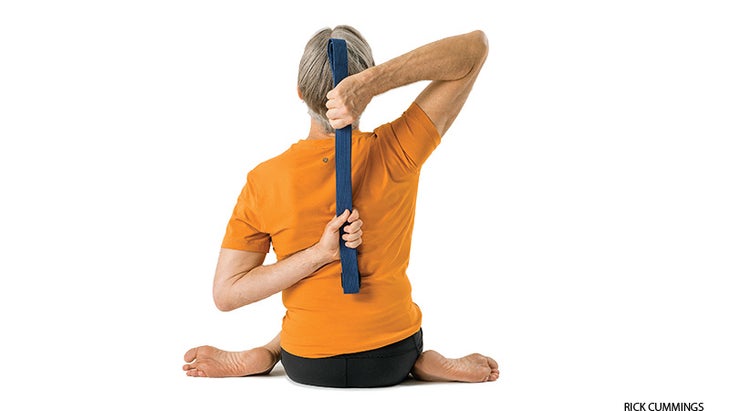 Try placing a block beneath your sitting bones. The block should be high enough to eliminate any discomfort in your knees. Keep lower legs and feet separated and angled out to the sides. Connect to the sense of support and strength your legs and pelvis provide to your core. Focus on sensations in your pelvic floor and belly so that you're inspired to breathe deeply, tapping into the uplifting quality of inhaling and the grounding effect of exhaling.
See also Master Extended Hand-to-Big-Toe Pose
If your ankles are uncomfortable …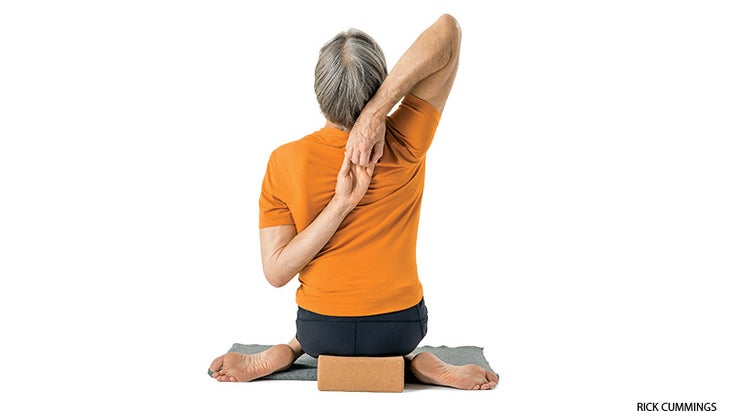 Try placing a blanket beneath your lower legs. Arrange the blanket with the fold just at your ankles, so that your feet hang off the blanket and rest comfortably on the floor. For this variation, be sure your lower legs are either touching (as in the full form) or, if sitting on a block, slightly wider than the block.
See alsoMaster Chair Pose in 4 Steps
Opposites in action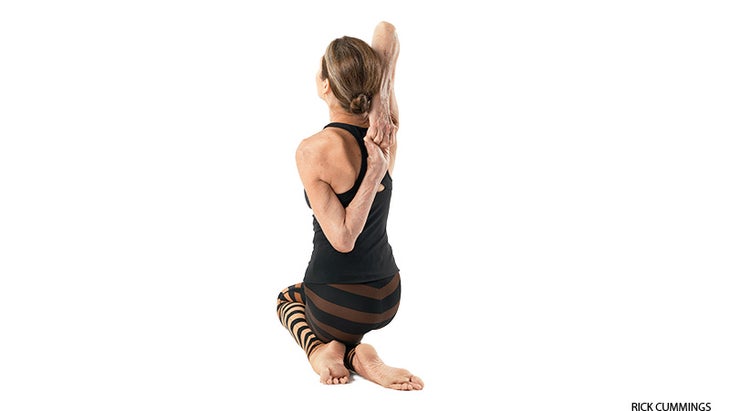 Yoga is a continuous dialogue between complementary patterns of form, movement, and awareness strung together on the thread of the breath. Inhaling deeply and smoothly, we feel a rising, spreading pattern in the core of the body, which stimulates the senses. On the exhale, there's a contracting, downward pattern that creates stability and grounding. Inhaling and exhaling are two phases of the same wave. Movements become balanced around the central channel when we keep the best internal qualities of the inhalation (an open heart) as we exhale, and the best internal qualities of the exhalation (rooting into earth) as we inhale. This kind of deep, contemplative breathing makes asanas unfold into radiant awareness.
See also A Meditation to Tap Into a Sense of Unchanging Well-Being
About our pros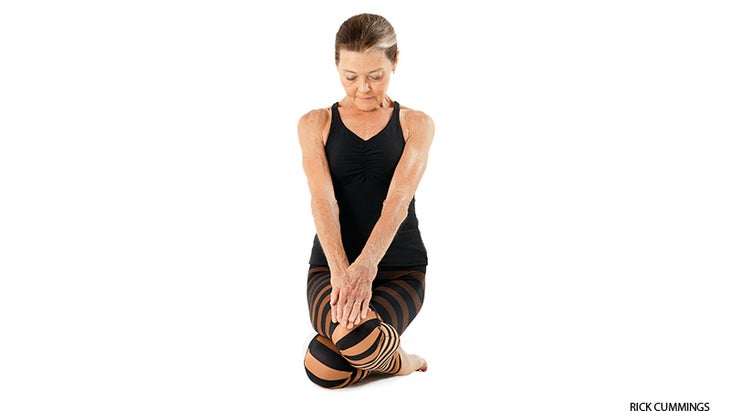 Richard Freeman has been a student of yoga since 1968 and studied in India among a number of traditional lineages, which he synthesizes in the Ashtanga Vinyasa system. Mary Taylor began studying yoga in 1978 and, inspired by her primary teacher, K. Pattabhi Jois, became absorbed by the practice and its transformative impact on the body and mind. Freeman and Taylor teach together throughout the world and have co-authored a new book, The Art of Vinyasa, which will be released by Shambhala Publications in December. To learn more, go to richardfreemanyoga.com.