Inspiration Flipbook: 21 Yoga Photos To Get You On Your Mat
Photographer Robert Sturman shares 21 moving images and quotes from yogis around the world.
Heading out the door? Read this article on the new Outside+ app available now on iOS devices for members! Download the app.
We tapped the wisdom and eye of photographer Robert Sturman to capture what truly inspires yogis to kick off YJ's 21-Day Yoga Challenge—the new online program to rejuvenate your practice. Taking over Yoga Journal's Instagram handle for 21 days, Sturman shared some of the compelling stories of the people he has met through his work. Here, a flipbook of yogis that we hope will motivate you to try something new or get back on the mat.
Seth Kaufman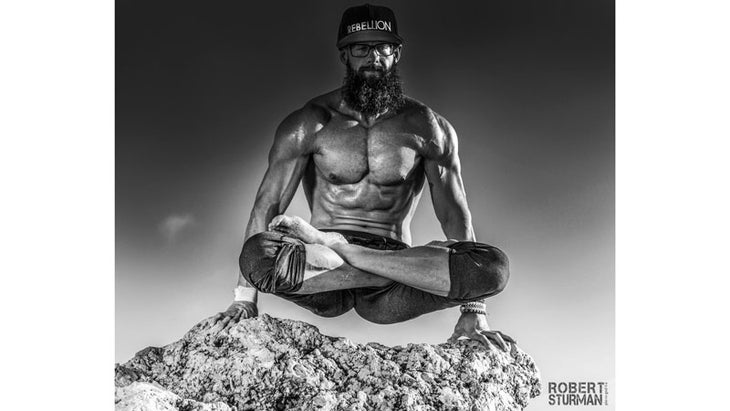 To kick things off, I am featuring Seth Kaufman, a devoted Yogi from New Jersey, who I recently worked with in Miami's South Beach. "The first time I stepped on a yoga mat, it was like reuniting with a long lost friend, who I desperately missed, yet had no idea I knew," Kaufman says. "What I love most about my practice is regardless of my hectic lifestyle it always keeps me authentic and true to my core being, reminding me that everything I'm searching for, and all the answers I ever need are already inside of me."
See also 5 Yogis Share How Practicing Near Water Inspires Them
Claudia Van Der Tier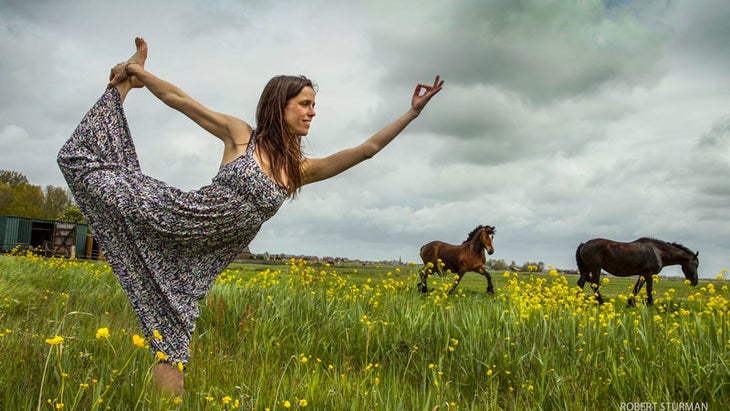 Claudia van der Tier is an incredibly kind yogi, who I met up with earlier this year, just outside of Amsterdam in the Zaandam, Netherlands countryside. "'The only constant in life is change,'" van der Tier says. "Prana vinyasa flow gives me the tools to sail with the winds of change. It keeps me grounded when my system is overloading, it helps me to return to my natural state of flow when I feel stuck, it ignites my fire when I get indecisive and fills my heart when my cup is empty. It makes my spirit shine."
See also Shiva Rea's Sahaja Prana Flow
Tao Porchon Lynch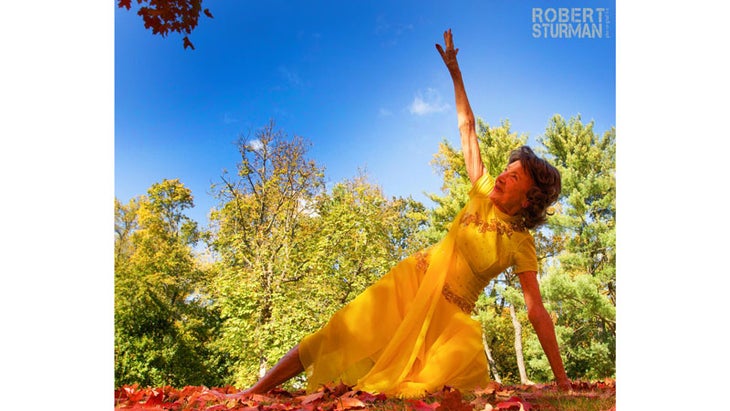 Tao Porchon Lynch is my favorite model in the world. I have been working with this woman every spring and autumn since she was only 93. She just turned 97, and I'm convinced she has been growing younger and brighter each time we meet. "When I wake up in the morning I say 'This is going to be the best day of my life,'" Lynch says. "With every breath I take, I open up the path to the music of the soul as I tune into my heartbeat. I stay motivated by helping my students know there is nothing they cannot do if they practice pure yoga asanas. As I tune into the encyclopedia of nature and awaken the same energy that sparks the very essence of life, it reveals the oneness behind all things on this planet."
See also The World's Oldest Yoga Teacher: Her Secrets to a Long, Active, Happy Life
Victor Lloo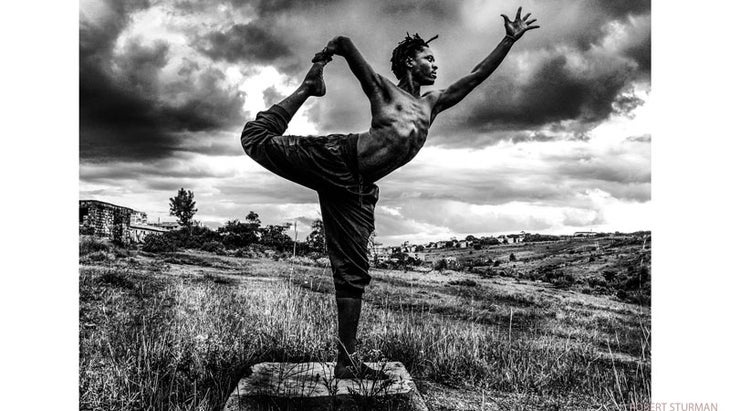 Victor Lloo is a a musician, poet, photographer, yoga teacher, and screenwriter I met in Nairobi, Kenya, when I was the resident artist for The Africa Yoga Project. "I love yoga because it balances me from the inside out," Lloo says. "I am a creative brain and sometimes I feel overwhelmed by my decisions and life in general. I am also meditative and just a yoga freak in general. My yoga community is big and awesome in Kenya, so every time we come together to do it, we connect and create love, happiness and friendship."
See also Q&A with Paige Elenson: Yoga Teacher + Founder of the Africa Yoga Project
Trace Keasler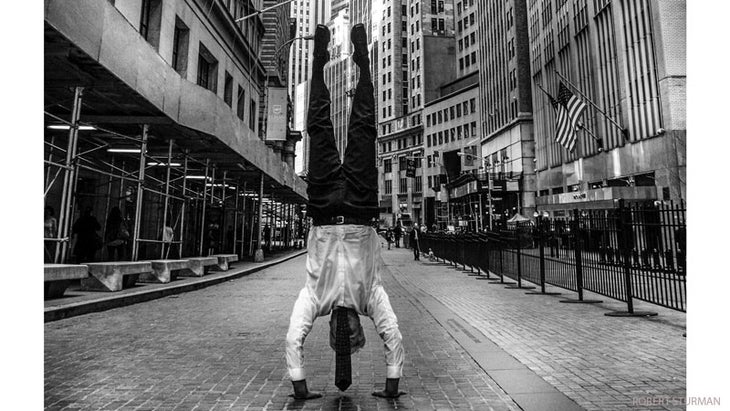 I met Trace Keasler on Wall Street, and he blew my mind. He has since become an icon in my work—a living example of integrating yoga where yoga needs integration. "I always said I would never go upside down," Keasler says. "But I saw someone do a Handstand in the middle of the room and I instantly said, 'I'm going to do that.' Unlike the rest of my life, there was no doubt, hesitation or what-ifs. Learning Handstand at 49 has been a huge lesson that carries out through all of my life. Especially overcoming fear, doubt and excuses. There's no shortcuts or finagling your way into handstand. Like anything worth having it takes perseverance, determination and desire. But the greatest thing it's taught me is I'll always be a kid and I don't care if society tries to tell me I'm too old, too fat, too tall, too whatever…"
See also 3 Prep Poses for Handstand (Adho Mukha Vrksasana)
Erik Milosevich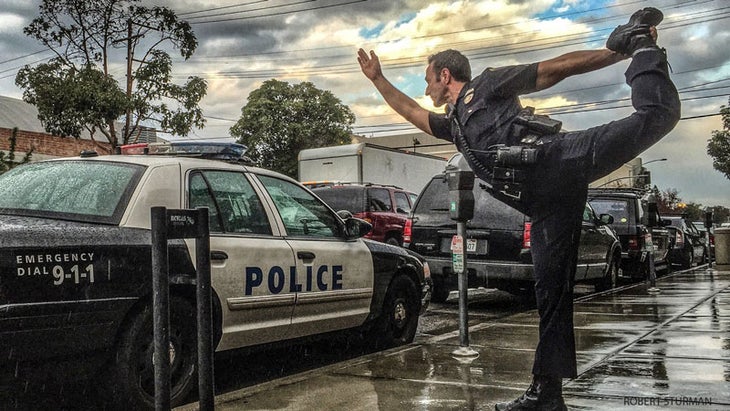 Erik Milosevich is a yogi, a policeman, a father, a humanitarian, and a dear friend whom I practice yoga with regularly. He takes his yoga off the mat and embodies his identity as an "Officer of the Peace." The news often bombards us with negativity surrounding police officers. While it is necessary to hold human beings accountable for unacceptable behavior, it is just as necessary to cherish, celebrate and praise human beings who live lives of excellence, always pointing towards what is possible. "In the toughest moments all we have to do is breathe," Milosevich says. "Inhale, hold. Exhale, hold. And repeat."
See also Yoga for First Responders: 5 Strategies for Stress + Trauma
Kristin Miscall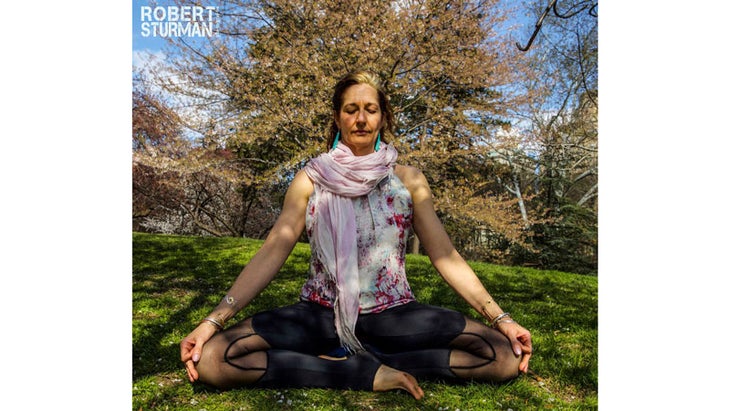 During a recent shoot in New York's Central Park, Kristin Miscall spoke about graceful acceptance of the inevitable and natural process of growing up (aka aging). As a photographer, I feel it is my responsibility not to feed the beast of unrealistic advertisement youth, something that only adds to the suffering of humanity. However, upon request, I do sometimes soften the lines, subtly. This is something I would never just do, because I would not want someone to think that they are not perfect just as they are. But the more we can accept our age and show it, the healthier we will become. And if any subculture is going to pioneer this revolution, I'd say the yogis are in the perfect position to do it.
"Please don't touch my lines," Miscall says. "They reveal the architecture of my life. Those deep creases between my brows tell stories of dreams and thoughts, of heartbreak and ecstasy. The ones that frame my nose and lips contain the echoes of thousands of smiles born of loving and living, and marveling at hundreds of sunsets and my silly dogs romping. If you brush those away, you erase the very evidence of 45 years lived fully amidst the broad tapestry of the perfectly messy human sojourn. Please don't touch my lines. Let my lines touch you."
See also Aging Gracefully
Noelle Beaugureau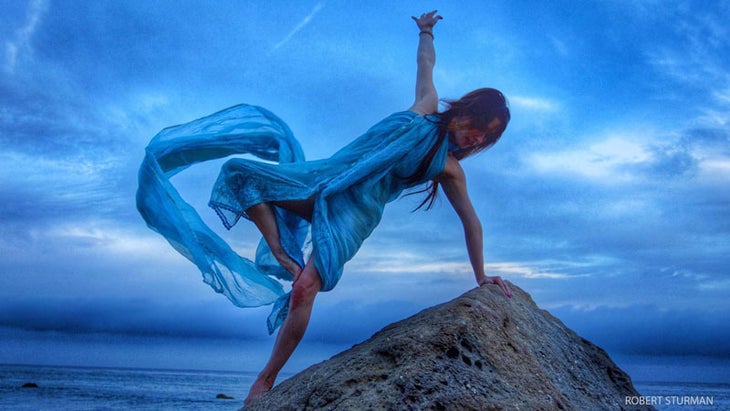 Noelle Beaugureau is a yogini I've created hundreds of images with over the last 5 years. She makes her own dresses for our shoots and is responsible for showing me the intersection of art, yoga, potential, and possibility. This is a piece from our most recent shoot in Malibu, California. "Yoga has given me the opportunity to go deep into myself to see what I am beyond the material form which is pure spirit soul," Beaugureau says. "It is so easy to forget that this is our essence and yoga pulls us back to this truth! My practice has also allowed me to dive into the core of my being and to see that we are all connected and that the sense of separateness is an illusion. After my first class I knew I had found something that was going to change my life… It felt like coming home. It is my sweet refuge. I will forever be grateful to my teachers and hope to be blessed enough to practice until my last breath in this life!"
See also In Focus: Creative Yogis where Asana + Art Collide
Cami Cote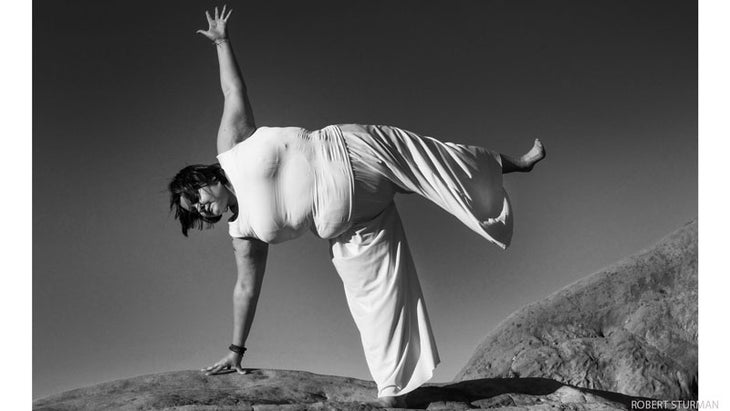 Cami Cote is a yogini from Montana whose images continue to inspire people all over the world. There's nothing I can say other than this is what a beautiful model looks like. "When I started practicing yoga, I realized how disconnected from myself I was," Cote says. "This new way of life was asking me to make peace with a body that I had hated my entire life. It wasn''t easy in the beginning. It still isn''t easy, but as I deepened into my yogic journey, slowly my attitude about my body began to change. As a plus-sized yoga practitioner and teacher, it takes a lot of courage to "show up" for myself and my students every day and to shift my awareness from self-hate to self-love. Now, I teach compassionate self-acceptance as an essential element of the yoga practice—helping students accept their body with all of its limitations. It has been an honor to teach and embody these qualities and to help my students change their awareness and raise their consciousness through these life-changing yogic practices. The one thing that I have become profoundly aware of in my years of practicing and teaching yoga is that most people, no matter who or what size, all have some hang up about their body. In that, I have realized, we are all one."
See also Beauty in Asana: How Yoga Helps One Woman Find Beauty In Her Body
Megan Marie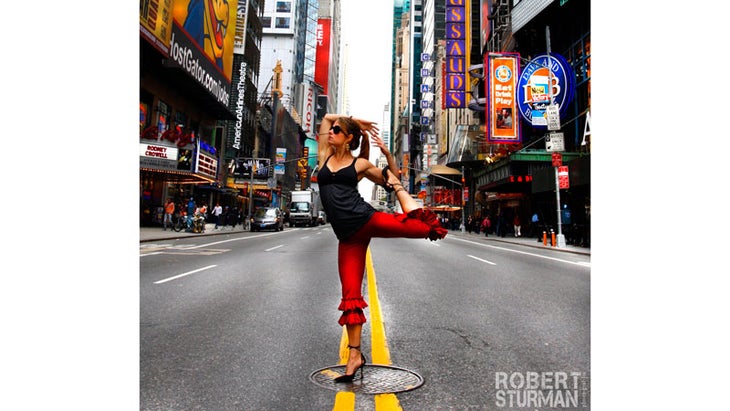 Megan Marie is my original New York model, a devoted wife, mother of two, yoga teacher, and badass practitioner. I still wonder how the sea of cars parted for us on 42nd street to make this decisive moment possible. I had to lie on the ground to achieve the dramatic perspective in the shot. And how about standing mermaid in 6-inch Manolo Blahnik heels?!
"I devote time to my yoga practice every day, be it 5 minutes or 75 minutes. Yoga provides my life with context, direction, compassion and joy. My time on the mat allows me to explore my inner landscape, and when I make time to nourish myself on the inside, I have more to give on the outside."
See also A Meditation on the Joy of Motherhood
R. Askari Johnson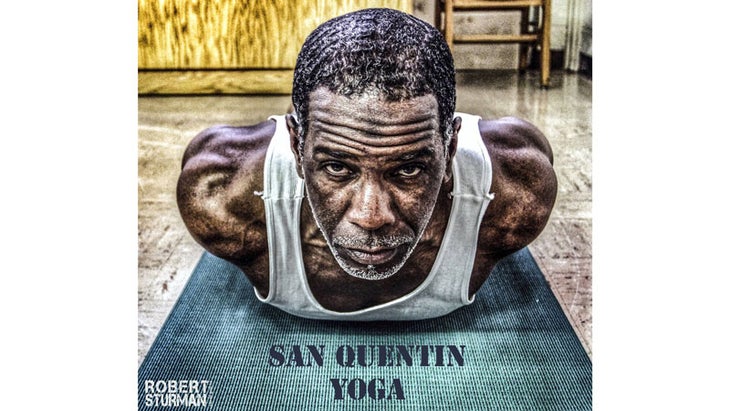 On any given day, I could be photographing a princess in the morning and a prisoner in the afternoon. This is an image from one of my visits to San Quentin State Prison in Northern California. My work includes all of humanity. There is one thing that I have noticed about people—we want to be seen. We light up when we reflect back to each other that we are being seen, heard, and are OK. We do not have to be a photographer to do this, we just have to be human.
I love working in the prison system and seeing how valuable yoga is to the inmates. Yoga has a way of inspiring us to look within, grow, and, ultimately, lead us to our own conscience. These men who have taken the courageous step to come to this thing called yoga, which is not necessarily viewed as the most masculine recreational activity in the prison system, have something inside of them that longs to crumble. My camera is a voice for that man.
There was a lot of humor in the class on my last visit. Before class, this inmate R. Askari Johnson, called me over in a very tough kind of way, and then pointed to both of his cheeks and told me to make sure I got his good side.
See also Yoga in Prisons
Kelly Kamm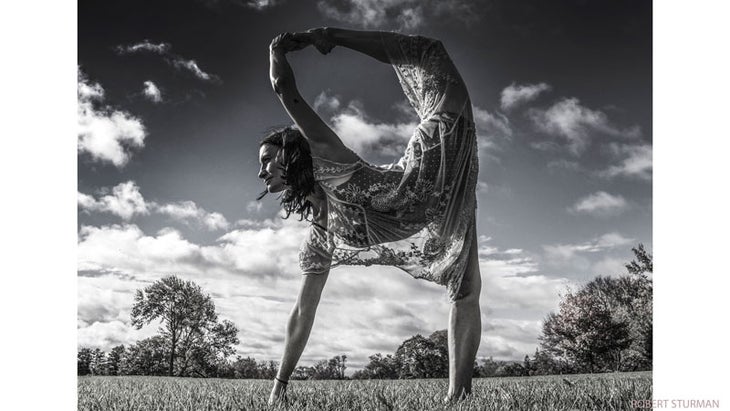 Kelly Kamm is a yogini from New York's Hudson River Valley, who I've had the privilege of working with numerous times. Each time we take a unique creative journey into the heart of vast vulnerability and trust. If I had one word to describe her, it would be "deep." Just read what she has to say about becoming yoga:
"Yoga reminds me daily of my own grace as well as the inherent grace and goodness of the universe. It proves to me that difficulties transform into lessons, that pain shifts into beauty, again and again. When you understand that truth in your heart and in your bones, you are never not 'doing' yoga. You become yoga. Every act is a spiritual act, from leading a class to putting your child to bed. The whole world is your ashram and your heart opens to receive the gifts hidden in every situation, even the most challenging ones."
See also 2014′s Most Inspiring Yoga Pics on Instagram
Christen Press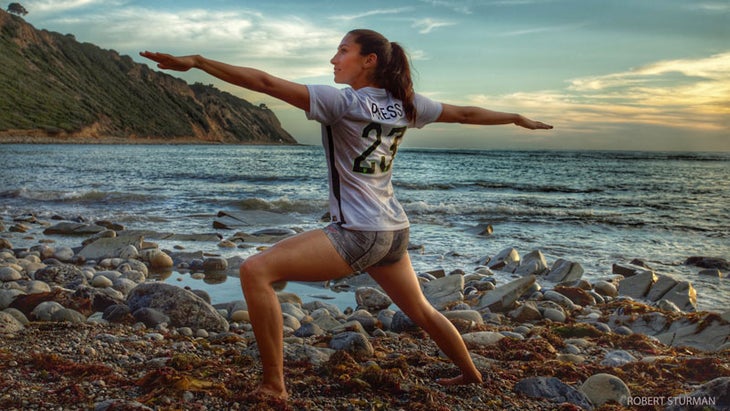 World Cup Women's Soccer Superstar Christen Press and I created a portfolio together just days after she recently brought home the gold from Canada. Not only was it an honor to work with Press, but I also saw the game-changing potential of photographing a soccer star practicing yoga. It was an opportunity for yoga to crossover into a massive mainstream arena of millions of fans seeing one of their favorite athletes embracing the practice of yoga. The more pictures, the more "normal" it becomes. And, we often communicate and create the new normal with the ideas we are putting forth through our photographs.
"The hardest part about my yoga practice is simply staying committed to it," Press says. "The moment that I'm most exhausted is the moment my practice is most relevant. If you give yoga energy, it gives you more energy in return."
See also How World Cup Soccer Champ Christen Press Focuses with Yoga + Meditation
Marlize Joubert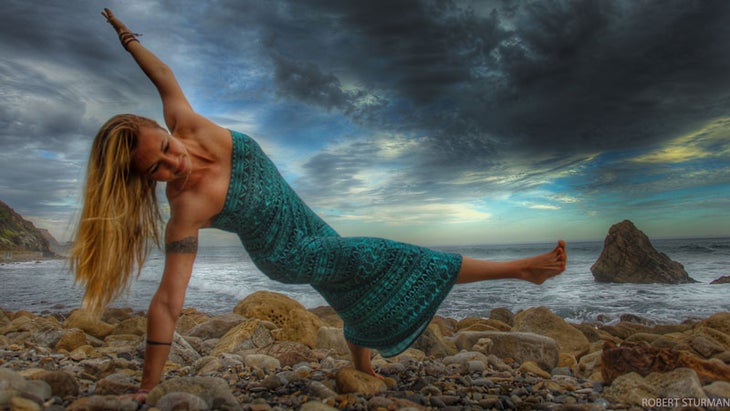 Marlize Joubert is a yogini from South Africa who I used to know and I'm fortunate to have the opportunity to be getting to know again. This is why I practice yoga—not with an intention to get good at yoga, but more so to become better at life. "Yesterday was one of my favorite days of this year," Joubert said. "Something really important happened. Robert Sturman and I collaborated once more. Robert and I were once married. Now after 5 years of going our own way, we've finally discovered our connection through friendship again. I never knew him to be so sweet. It was a time in my life where I didn't know who I was. And if I can't see myself, well, how am I ever going to recognize the beauty in someone else? I guess I can consider myself a grownup now, to be able to share space in a balanced and grounded way. We are even able to talk to each other about our romances along the way after separation till now. I feel proud of who we've become."
See also The Yoga Of Relationships
Prison Inmates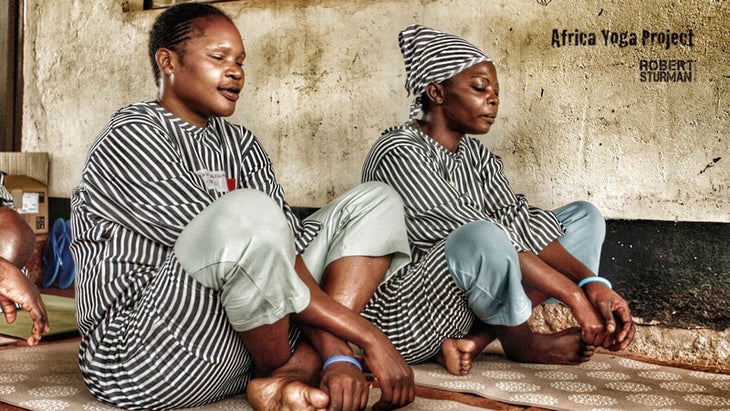 While I was working with the Africa Yoga Project I visited a Kenyan prison for women. The visit brought me unexpected joy, when the inmates (many of whom are HIV positive) shared that yoga has become a rare source of happiness in their daily lives.
After yoga, the women are asked to paint what they feel. Most of them wrote about how much they loved yoga. I tried to capture this joy and the relaxing effects that this practice is bringing into their current reality.
See also Africa Yoga Project: 5 Yoga Teachers from Nairobi, With Love
Sarah Thompson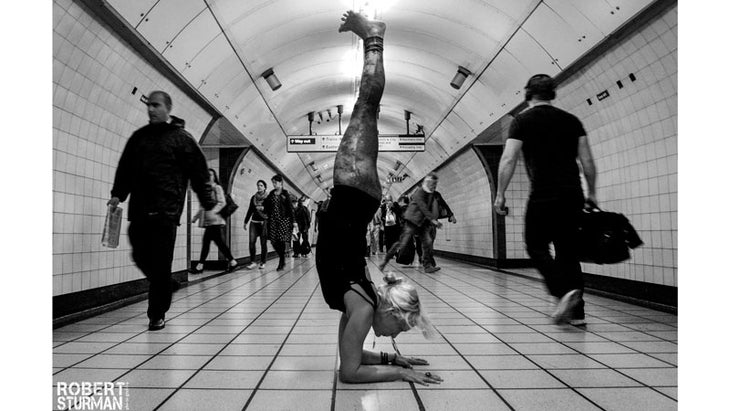 Sarah Thompson is a deeply devoted and humble Yogini I met up with on the Victoria Line in the London Underground at King's Cross, St. Pancras Station. Nothing excites me more than when the poetry of everyday life meets the poetry of asana. And, on this afternoon, everything lined up perfectly.
"Sri T. Krishnamacharya described yoga as the process by which the impossible becomes possible and the possible over a long period of time becomes easy," Thompson says. "Yoga reveals to me time and again the power of quiet ritual and patience. When I try to push too hard or to rush, yoga reminds me that the door rarely opens in that way. There is a more subtle and enduring form of strength in gentleness and compassion. Rather than hurrying, yoga urges me to slow down and breathe into my experiences; to trust the timing and to see the magic in the journey with all of its unpredictable side trips and detours. The alchemy is always in the process."
See also Memories of a Master
Lockey Maisonneuve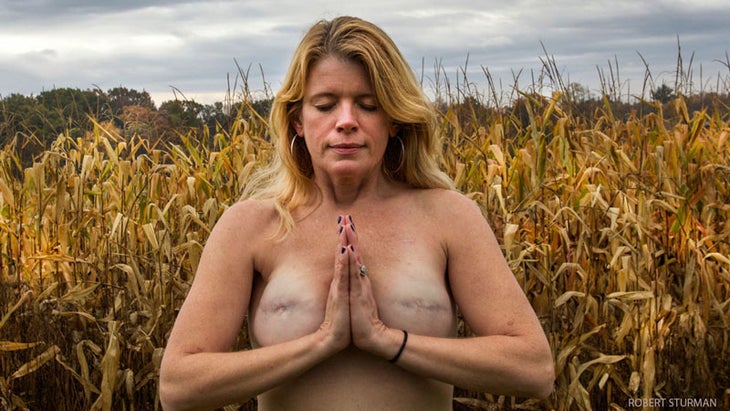 Lockey Maisonneuve is a yoga teacher, blogger, wife, mother, and breast cancer survivor. Lockey and I did an awareness campaign together a few months ago in some cornfields in Woodstock, New York. "I am on a journey of healing," Lockey says. "The intention of rehabilitating my body at the end of cancer treatment brought me to yoga. My yoga practice brought about an unexpected result: a peaceful mind. I learned how to quiet my internal conversation which freed me up to further heal my body, mind and soul from both breast cancer and childhood sexual abuse. I still have painful memories, but they no longer have me."
See also 5 Ways Yogis Can Support Breast Cancer Awareness
Jolie and Holland Bentley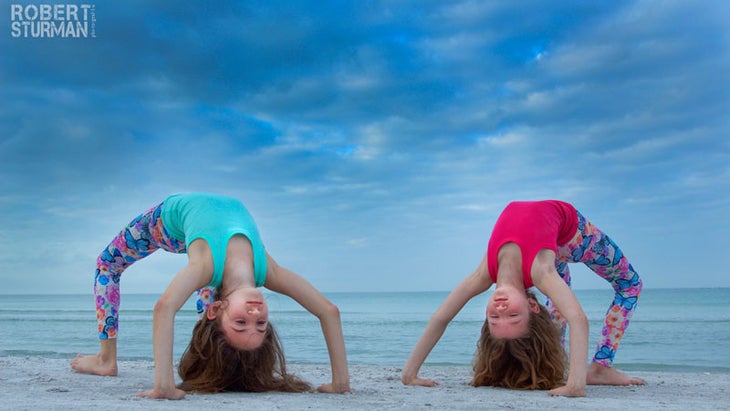 I met these 10-year-old twin yoginis, Jolie (left) and Holland (right) Bentley on the Gulf Coast of Florida a few months back. They sang songs, danced and practiced yoga by the sea with me. It was one of those meetings that I will always cherish. "We love how yoga taught us how the breath works like magic," they say. "We especially use the magical breath when playing music gigs and during exams. We also love how yoga reminds us we are all one and to love all equally—especially through the drama that sometimes happens in middle school."
See also The Benefits of Yoga for Kids
Katharine Cassandra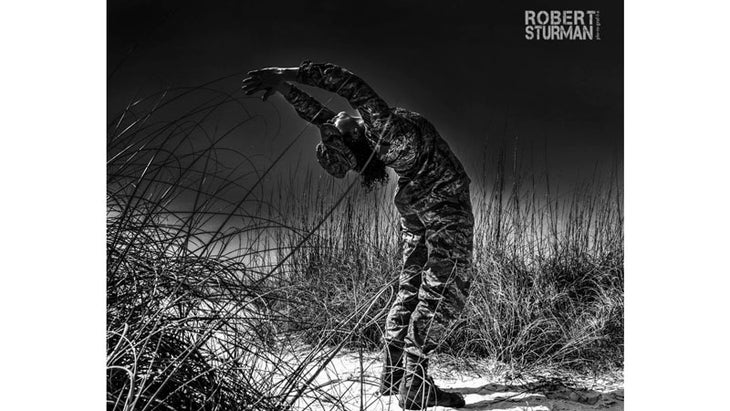 I met yogini and United States Air Force Staff Sergeant Katharine Cassandra in Saint Petersburg, Florida. "I never thought at 30 I'd just now be learning how to be human or what that even means," Cassandra says. "But I do know that I need daily reminders to stop beating myself up in such a distracting world. Yoga has become one of my reminders. And every day that goes by, my awareness gets stronger and I am reminded that the only moment I have is the present and nothing else matters. The more I practice yoga the better I get at tapping into a power greater than myself, which gives me strength."
See also The Healing Power of Yoga for Veterans
Tommy Valencia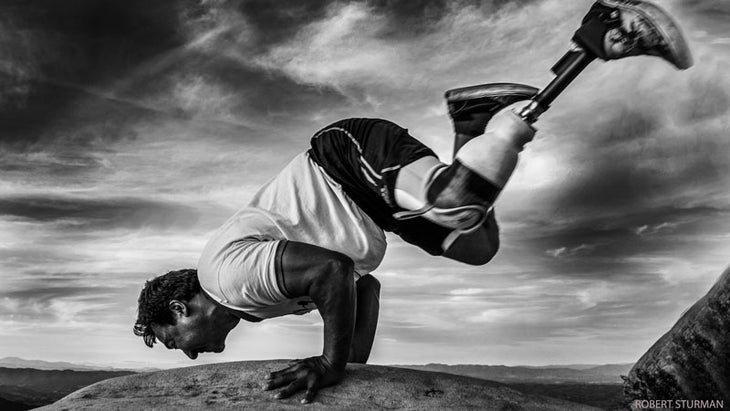 Tommy Valencia is a true gentleman, warrior, ygoi, inspiration, and friend, who had his leg amputated 2 years ago due to several blood clots in his left leg. "Yoga allows me the opportunity to not only physically move, but to improve and purify my mind and address the moral and ethical components of yoga," he says. "This has opened me to be awake and neutralize negative situations over long periods. I feel I'm moving toward a harmonious state of being."
See also Teacher Spotlight: Chuck Burmeister on MS + Healing
Micheline Berry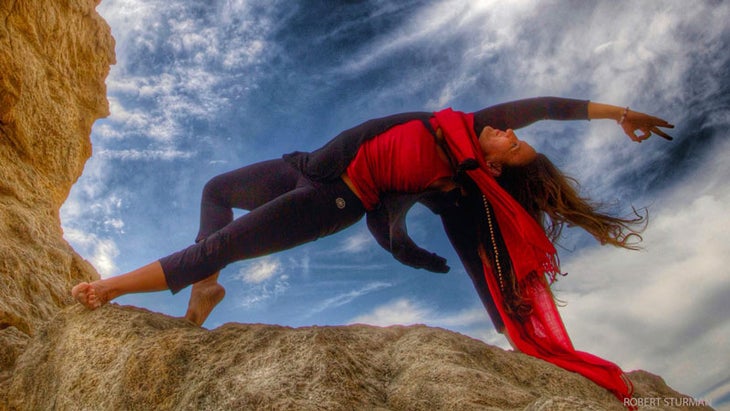 My yoga teacher, Micheline Berry, is special and dear to me—to the very core of how I learned to take care of myself, to balance my life as a creator, and to sit still within myself no matter how challenging life becomes. These were the essential tools that they never taught me at the art academy.
"For me yoga is so much more than an asana or a sequence," she says. "It is the very challenging practice of keeping our hearts open in the face of life's tremendous suffering; the challenging practice of getting still and making friends with difficult emotions; the difficult practice of loving the wounded, fragmented parts of ourselves and others. These are the advanced asanas in yoga. With practice and a healthy dose of fierce compassion, over time we learn to cultivate a radical inclusion, a radical acceptance, that allows us to transform our own poison into moonshine poetry over and over again through the dharma of the breath. This is my yoga. This is what helps me heal. This is what I try to share with others."
See also Powered By Love: 3 Mudras To Open Your Heart
About the Artist: Robert Sturman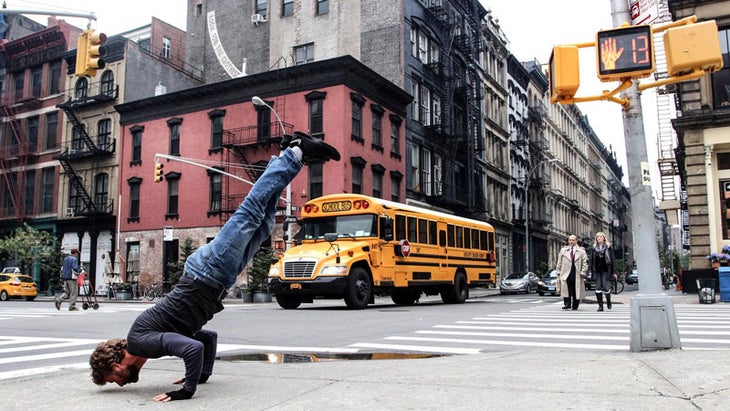 A dedicated yoga practitioner, photographer Robert Sturman has increasingly focused on capturing the timeless grace and embodied mindfulness of asana in his work. His portraits, whether set in the lively streets of Manhattan, the expansive beaches and canyons of Malibu, the timeless elegance of Walden's New England, or the bleakness of Marin County's San Quentin Prison, remind us that there is beauty everywhere. In Sturman's own words, "I often think of Rumi's words, 'I can't stop pointing to the beauty.' That feels right to me." Sturman's honors include Official Artist of the 47th Annual Grammy Awards, 2010 FIFA World Cup Artist Representing America, and Official Artist 2007 United States Olympics. In 2012 and 2013, Sturman was the subject of two separate New York Times articles celebrating his photographs of yoga from around the world. See more on:
www.RobertSturmanStudio.com
Twitter: @robertsturman
Instagram: @robertsturman
Facebook: @Artist.Photografia