Daily Practice Challenge: Inversions for Illumination with Clio Manuelian
Los Angeles-based yoga teacher Clio Manuelian offers an inversions-focused plan to prepare the body and mind to open to the insight of meditation.
Heading out the door? Read this article on the new Outside+ app available now on iOS devices for members! Download the app.
Happy National Yoga Month! We're celebrating by recommitting to a daily practice and challenging you to join us. Making home practice a habit is one of the most powerful ways to build strength of body and mind to serve you both on and off the mat. This week, Los Angeles-based yoga teacher Clio Manuelian offers an inversions-focused plan to prepare the body and mind to open to the insight of meditation.
The promise of yoga is citta vritti nirodha; the capacity to quiet, to calm, to pause the mind. This practice is designed to deliver just that, using inversions to prepare the body and mind for meditation. Both grounding and invigorating, inversions are called the Kings and Queens of the yoga practice, for good reason. They are one of the best ways to stimulate, invigorate and rejuvenate the mind.
How Inversions Prepare Us for Meditation
With the heart above the head, the brain is bathed in fluids—both cranial-sacral and blood flow—that soak and soothe the central nervous system. This freer flow of blood boosts energy and enhances life-force (prana). As the inversion enhances circulation toward the crown, changing pressures within the cranium, we can sense the shift in awareness—from from the external to the internal. Almost half the nerve input to the brain comes from the face and head and by changing gravitational pressure and pulls, our biorhythms and neurological patterns recalibrate; so does our mindset.
When inverted the influence that the belly brain and cranial brain assert on each other can also shift the paradigm of our experience. In constant communication, the intuitive mind and the rational mind share information through hormonal surges and respiratory rhythms that signal and trigger psychological and emotional responses. When these organs are inverted, the instinctual energies of the belly brain (creativity and emotionality) and the strategic capacities of the cranial brain (analysis and logic) rearrange to a new order. As gut reactions and feelings beneath the surface begin to bubble up, the racing cognitive brain begins to slow and drop down to get quiet. Thoughts (usually the crown jewel) are suddenly submerged elevating feelings to new heights. Yin and Yang find equilibrium.
Inversions also directly affect respiration. When suspended upside down, the diaphragm (the primary muscle of breathing) creates an organic bandha. Change in the breath affects a shift in consciousness. When breath flows freely, mind is smooth and calm. When respiration is short or choppy, the mind tenses and tightens. By inverting, the diaphragm strengthens and becomes more supple. The heart is exercised, the spinal cord and nervous system are hydrated and rinsed. Cardio and circulatory rhythms increase, enhancing and expanding lung capacity. These biophysical adjustments send signals to the brain. Autonomic shifts take the body out of a sympathetic state ("fight or flight") and usher it into a parasympathetic state ("rest and digest"). While saturating the deep lobes of lungs and heart energizes the system, it simultaneously offers profound psychological states of grounding, serenity, ease and real contentment (santosa). The mind becomes more responsive and receptive to joy. This joy is at the heart of every spiritual practice.
Through direct stimulation of the crown (Sahasrara Chakra) in Headstand, the mind becomes more creative, intuitive, introspective, and expansive—ripe for the contemplative and spiritual practice of meditation along with the illuminations that accompany it. As consciousness settles and clarifies, it reflects an innermost luminosity—its own sparks of insight and life-giving prana.
What Next?
Yogis know that this is where the real practice begins. In Patanjali's Eight Limb Path, the higher states of consciousness directly follow asana. In Savasana, the yogi relinquishes all doing and becomes the watcher, with a curious, awake and yet deeply relaxed awareness. This process is called Pratyahara, directing attention inward and letting it spread into awareness. From here, the meditative states of Dharana, Dhyana and Samadhi become more available than ever before.
NOTE: This sequence is should not be practiced while menstruating.
Week 3 Daily Practice Plan
Day 1
Practice Sequence 1 as instructed.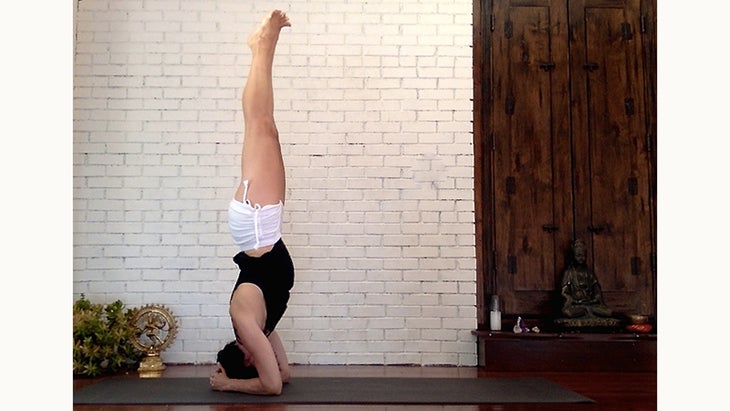 Day 2
Practice Sequence 2 as instructed.
Day 3
Practice Sequence 3 as instructed.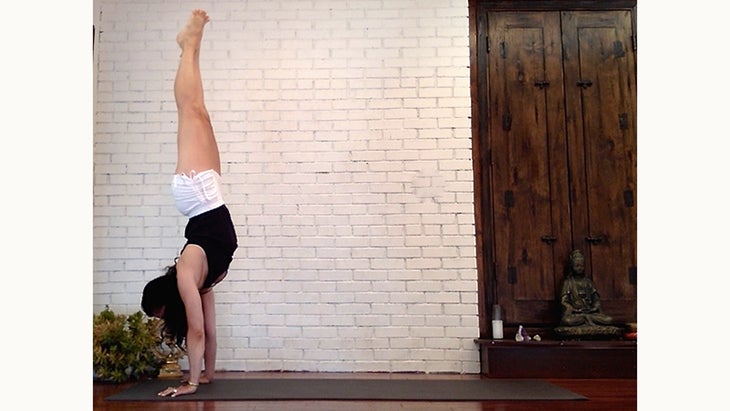 Days 4–7
Practice Sequence 4 as instructed.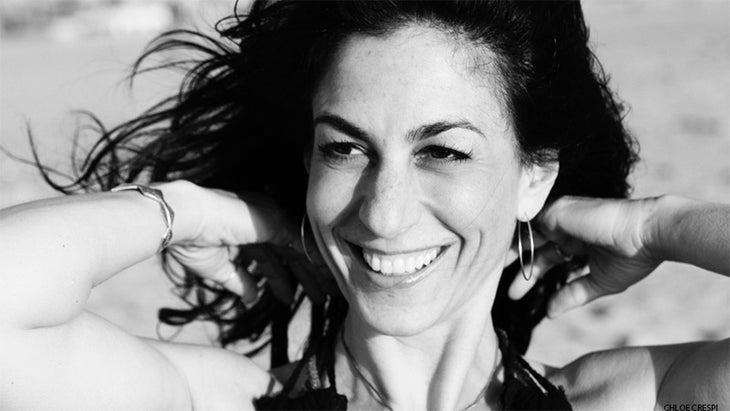 About Clio Manuelian
Clio Manuelian is a student, mother, wife, a follower of the sun, the fun, the flow. She is an ex-New Yorker, a former fashionista, an enlightened mind-in-training, a hot tea fiend, a composter, a chanter, a recovering type A, an emissary for joy, and an ERYT-500 through YogaWorks. For Clio yoga is a practice, a challenge, a calming, a calling, a community, a religion, her health, her home and the Hanuman monkey on her back since 1995. She teaches public classes and Teacher Trainings at Equinox and Wanderlust in Los Angeles and leads international retreats. At the core of her teachings is a celebration for our capacity to expand, love and live more fully. She's ever grateful to all her teachers—Tias Little, Lisa Walford, Joan Hyman, Annie Carpenter, Ruth Lauer-Manenti and Elena Brower—and every student who teaches her how to look, listen and connect more joyously.
Deepest gratitude to Tias Little and Lisa Walford for their illuminating teachings that are reflected here.